This guide is a work-in-progress- every time I find something I like that would make a great gift for a traveler, I add it to this list. This post contains affiliate links. If you buy any items using these links, I get a small commission at no extra cost to you. As an Amazon Associate I earn from qualifying purchases.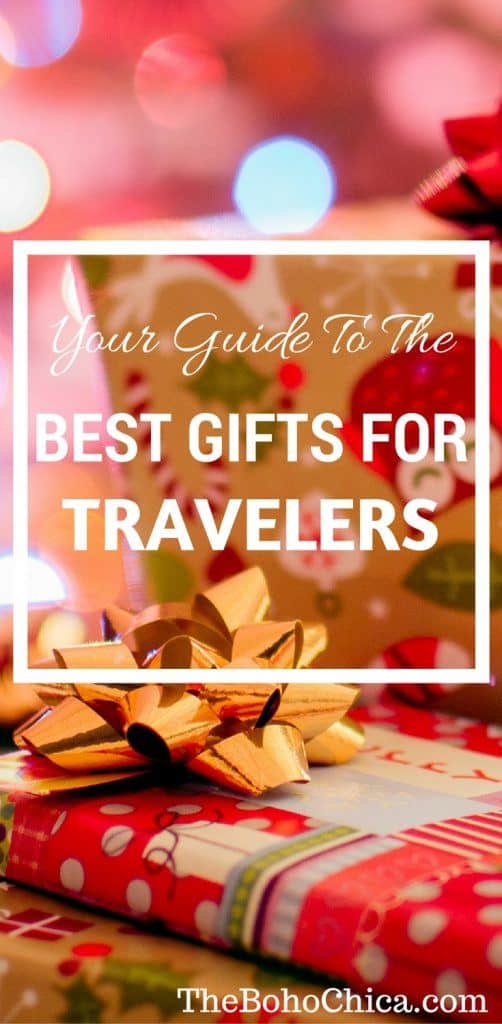 You see, we travel lovers are a strange kind. Our currency consists of flight tickets, hotel/hostel rates per night, restaurant meals in new cities, and cost of adventures. There's a whole bunch of stuff we'd like but we don't just go and buy it. We prioritize and ensure that our travel funds have enough money to keep our adventures going and only then, if we have a little extra, do we go and buy that new dress (that can also be worn as a skirt) or that cute personalized passport cover that proclaims our love of travel.
As such, we're always looking to get the highest value and buy things that suit our travel-centered style because, you know, travel is our thing. Travel makes us who we are- it's such an inseparable part of our identities that we need the limited things we use to be reflective of our personalities. So, if you have a traveler in your life and he or she sounds just like me and having to buy gifts for this person drives you nuts, and also because the holiday season and my birthday (wink wink to my friends) is just around the corner, here's my ultimate guide to gifts for travelers- both men and women, organized by budget. There's also a whole lot more suggestions here.
Budget Gifts for Travelers under $50
If your traveler isn't a permanent nomad and has a home, this scratch map is the perfect gift to help them brag about their adventures- something every traveler loves to do, even if they won't admit it.
I know you're probably thinking, "A water bottle?" If you aren't outdoorsy, I totally get the confusion, but, trust me, for a hiker or adventure traveler, this is a really useful gift. When I traveled to Iceland and Sweden, I didn't buy any drinking water. Why would I when the water from springs, lakes, and even taps there is perfectly safe for drinking? I took my CamelBak water bottle along and filled up as I went. The CamelBak Chute is high quality, leak-proof, and lasts forever.
Most travelers love to read because what could be a better companion than a book at an airport, train station or cafe in a new city? Bill Bryson is one of the most talented travel writers of our times and his inspiring, witty and humorous books would be a great gift for any traveler. By the way, there are a whole bunch of other travel books I think would make great gifts, you can see them here.
I've used a Swiss Army knife to unlock a jammed bathroom door at 2.00am in New Zealand, open a bottle of wine while watching the sunset over a lake on a remote island in Sweden, and open cans of beans while hiking, and I haven't even used it to its full potential. The Huntsman Pocket Knife is a great tool for a traveler to own and most people who have one are proud owners. The quality has been superior for years and no one does Swiss Army knives like Victorinox- this is the real deal, well worth the price.
If your travel loving friend is also a photographer, this beautiful leather camera strap that can also be personalized with their name, initials, favorite travel quote, or a message from you makes for a lovely gift. If someone doesn't end up gifting me this, I'm going to order it for myself!
These super cute airplane cufflinks are perfect for a stylish traveler guy.
These cufflinks feature the popular travel quote by Dr. Seuss and are another cute alternative.
A Hat That Makes a Statement $16.95-29.95
Guess what other business greatly benefited with the increasing popularity and usage of Instagram? Hats- I'm pretty sure there's a statistic somewhere to prove it. I own several hats but not one of them makes a statement like these. In colors from white and sand to coral and aqua, they're pretty neat IMO. Click on the images to check them out.
A really cute gift to show your bearded travel buddy you really care about his grooming needs, the Beard Care Gift Set is something he can carry on one of his trips.
If your travel lover likes whiskey and has a special love for the wilderness, like I do, they will totally love these Forest Landscape Whiskey Glasses. Simple but thoughtful, I know I'd love them.
This simple easy-to-set-up Pop-up tent is great for beach camping and light use. The best part? It can be set up in two minutes and folds into a compact size to carry in a bag.

The Gobi Gear Hoboroll Midnight Lava
is a great gift for outdoorsy travelers who like to hike, bike, kayak, paddle, and for backpackers who would like to get organized. The compartments in the pack means that you never have to fumble around looking for your stuff within a bigger backpack. You could also use it on its own to function as a daypack or gym bag- it comes with a shoulder strap.
The Coleman Adult Sleeping bag is a good quality sleeping bag for adventurers who love the outdoors.
Simple, elegant, and customizable to feature your traveler's name, initials or favorite travel quote, the personalized leather passport cover is a great gift at an excellent price.
Herschel is much-loved by us travelers for its very stylish, clean and practical backpacks and bags. In fact, most travelers either own a Herschel piece or want it. This beautiful floral tote is a great gift for a woman.
If she's a girly girl who travels a lot, she will love this floral carry-on bag.
This set of duffel and toiletries bags is a smart, no-nonsense and practical gift.
Frequent travelers run out of headphones quickly, especially if they love music- and most do. I'm always plugged into my music on road and train journeys and at airports and I'm a big fan of Skullcandy for sound quality and the fun colors it's available in.
How else is your traveler going to enjoy their wine in the great outdoors if not for this tumbler?
The Sea to Summit is a quality microfiber towel, i.e., a lightweight towel that dries super quickly, something that's practical and useful to travelers, especially adventure travelers.
I used to own one of these and it's perfect for a book lover who wants to read while camping overnight in the comfort of their tent or by a bonfire, on an overnight bus or train or on a flight when you don't want to disturb others with a brighter light. This LED Book Light clips on to your book and is rechargeable so you never run out!
An Innocent Abroad is a great read for travel-lovers that is currently on my bedside table. It's an anthology of 35 travel stories from talented writers and makes for good light reading enjoyable to anyone who likes to read. I got this book as a gift and it's definitely one of my favorites.
To help your travel-lover get organized when it comes to packing. Whether it's in a suitcase or backpack, packing cubes help you to pack more and know exactly what is packed where.
Adventure travelers use a dry sack to throw in their essentials such as a spare set of clothes, phones, cameras, and a snack before they get on a kayak, canoe, or boat. This is also perfect for biking or camping and helps to keep your stuff dry in rainy weather.
As someone who travels quite often with limited luggage pieces, I can totally see the value in the SHOLDIT Infinity Scarf with pockets. The pockets mean that I can slip in my phone, passport cover, money, debit card, and a small tube of lip gloss into my scarf and simply get going at airports and on flights. I love the red plaid color- I think it's trendy and would go with most casual outfits.
This is perfect for a female traveler who likes to avoid paying excess luggage fees and still carry a dress that allows for a bit of dolling up for nice occasions like dinners and parties. When I packed in a medium size suitcase for 3 months, I couldn't find a single dress in my wardrobe that could be worn multiple ways. This transformer dress that you can wrap differently to create multiple looks would have been perfect. There's a whole bunch of colors available but I love the eggplant, navy, teal, and Kelly green. By the way, I also curated a set of recommended gifts for women who love bold statement fashion. Go here to see bags, jewelry and shoes that make a statement and are affordable.
I know I love captioned clothing such as this sweatshirt that helps me express my love of travel and the outdoors. I'm sure she will too. Comes in six colors.
This sweatshirt looks great, has a nice minimal design and is made of quality material.
Many travelers love to maintain a journal while on the road so they can hold onto precious memories. If your traveler friend is one of those, this wood journal has an aesthetically pleasing design and makes for a lovely present. They'd love to flaunt it too.
Mid-range Gifts for Travelers $50-$100
You'll definitely score brownie points with your outdoorsy adventure traveler with the SteriPEN Water Purifier. It's super useful when you're on a hike or traveling through a country where the tap water is not safe to drink. Simply put the SteriPEN into your bottle of water (whether it's filled from a lake, river, or the tap), turn it on, and let the device work its magic and voila, the water is safe to drink- this works great for travelers who're on a budget and most of us are. Choose from the two options above depending on your budget.
Every traveler needs a good-looking backpack of this size to have any traveler street cred. You don't want to carry around your laptop, camera, passport, and other essentials at airports and on day trips or hikes in a flimsy pack. I had my eye on this daypack forever though I quite like my Under Armour daypack that fits my laptop, camera, lenses, tripod, and a warm jacket with room to spare. Finally, on my last birthday, my superstar sister-in-law gifted this to me. I have to say this pack by Herschel Supply Co. really scores in the looks department along with being high quality. It works well in cities when you want to look stylish carrying a day pack. My favorite color is khaki (that's the one I own), though grey and navy look great too.
This is a gift that I personally LOVE and have gifted to many of my friends and family on their special days- from wedding presents and anniversaries to birthdays. This is a perfect way to gift someone an experience or an adventure rather than a materialistic object. A Tinggly voucher opens up a host of experiences for your recipient- they can choose to redeem their voucher that's valid for two years in a country and experience of their choice- a Game of Thrones tour in Croatia, or a scuba diving experience in the Cayman Islands. With over 900 experiences in a 100 countries, your gift recipient will be spoilt for choice!
Instead of buying lame travel themed jewelry that you see in every travelers' gift guide, (usually dirt cheap because it's so low quality), why not buy your traveler girl this beautiful handmade personalized map bracelet? The map could be of a place that is special to her- where she grew up, got married, celebrated an anniversary, was proposed to, or her favorite country or city, with an engraved heart on it to pinpoint a certain location. Comes in gold, silver, and rose-gold. This is definitely one of the more meaningful travel jewelry gifts that I've seen.
Image:
No traveler wants to find themselves in a new country without a travel adaptor considering how hooked we are to our devices these days. I've only ever used high-quality travel adaptors like this one because I know I'm not going to cause a short-circuit or have the adapter die on me when I need it. This is the kind of thing you want to buy and have last a lifetime, and this one by Eagle Creek does just that.
Makes for a great gift because travelers love their music. This speaker is great for someone who'd like to impress a new group of friends in a dorm, on a road trip, or around a bonfire by whipping out a lightweight but high-quality to play music and get the party started.
Generous Gifts for Travelers $100+
Because every traveler needs power, especially when on the go through airports, at a layover, or while outdoors. This beast by Crave will even power up your laptop in addition to other devices.
The first time I saw another blogger carry a Sandqvist backpack on a press trip, I fell in love with the beautiful minimalistic design. A pricier alternative to the Herschel pack, this is great if your traveler loves good design and is more of a city traveler than a hiker. The rolltop design of the Dante is unique and so are other models by Sandqvist.
I'm a proud owner of this handy, compact, superstar of a travel tripod and I can tell you if your traveler likes photography, they will really appreciate this gift. I've taken this tripod along while hiking everywhere from a glacier in Iceland to Swedish Lapland and I simply love how lightweight it is. Photographers need a tripod to take amazing shots such as long exposures (where waterfalls appear silky smooth), astrophotography (star-filled night skies) and even phenomena such as storms and the Northern Lights.
This is a fantastic winter coat by The North Face and something your traveler girl will own and wear for many years to come because that's how high quality and good-looking it is. I wore it everyday during a winter trip to Iceland and it looks great whether you're in the city or hiking in the wilderness.
If your gift recipient is a special little adventurer, then there can be no better gift than the GoPro Hero action camera (at present the GoPro Hero 7 Black) is the best one out there with stabilization features and hyperlapse capabilities for video footage. They will love you for this! This came as an early birthday present from the husband this year and I could not be more thrilled!
So there you have it, the ultimate list- several of these things are either owned by me or on my wishlist. I hope this list helps you shop for your own special traveler.