Located at the mouth of a fjord on the southwestern coast of Greenland (and south of the Arctic Circle), with a name that translates to 'cape', Nuuk, the vibrant capital of Greenland offers plenty of things to do, and is quietly emerging to become an exciting, diverse, cultural, and modern Arctic capital that's worth exploring for its own sake.
Home to nearly 15,000 residents (of Greenland's total population of just over 56,000), Nuuk is the only official city in Greenland- it's the seat of Parliament, and center of administration, education, healthcare, and economic activities such as fishing and related industries, hunting, and shipbuilding and repair. It's a hotspot of urban life, arts, design, culture, and cuisine, all of which proudly flaunt a strong, defined Greenlandic identity that's rooted in tradition, while simultaneously taking confident strides towards a sustainable future.
While there's no doubt that the greatest adventures on any visit to Greenland lie outside city limits in towns such as Ilulissat, and in the territory of slow-drifting icebergs, frozen lakes on which resilient Greenland sled dogs run, and snow-clad mountains illuminated by moonlight or the faint green waves of the Northern Lights, Nuuk, Greenland's largest city, beckons to slow travelers who are curious- not only about modern everyday life in the Arctic- one of the world's most extreme environments, but also how Greenlandic society and culture are evolving, enriched by global influences.
A few days in Nuuk, Greenland offer the chance to wander the city, with its eclectic architecture of traditional wooden houses, apartment blocks spruced up with street art, and award-winning contemporary buildings, and explore the trails and settlements that lie just beyond, to sail on the waters of Nuuk Fjord to see icebergs, humpback whales and seals, to visit museums that tell of the country's 5000-year old history, to enjoy the cuisine- local and international, traditional and innovative (and find that perhaps the best omelets in the world are to be found here), to see yourself loosening your purse strings, drawn to one-of-a-kind designs in local boutiques, and to listen to fascinating stories of Inuit traditions of names that are passed on from other souls, never to be asked or whispered to strangers, and childhood tales of hunting and fishing, and polar bears wandering around villages.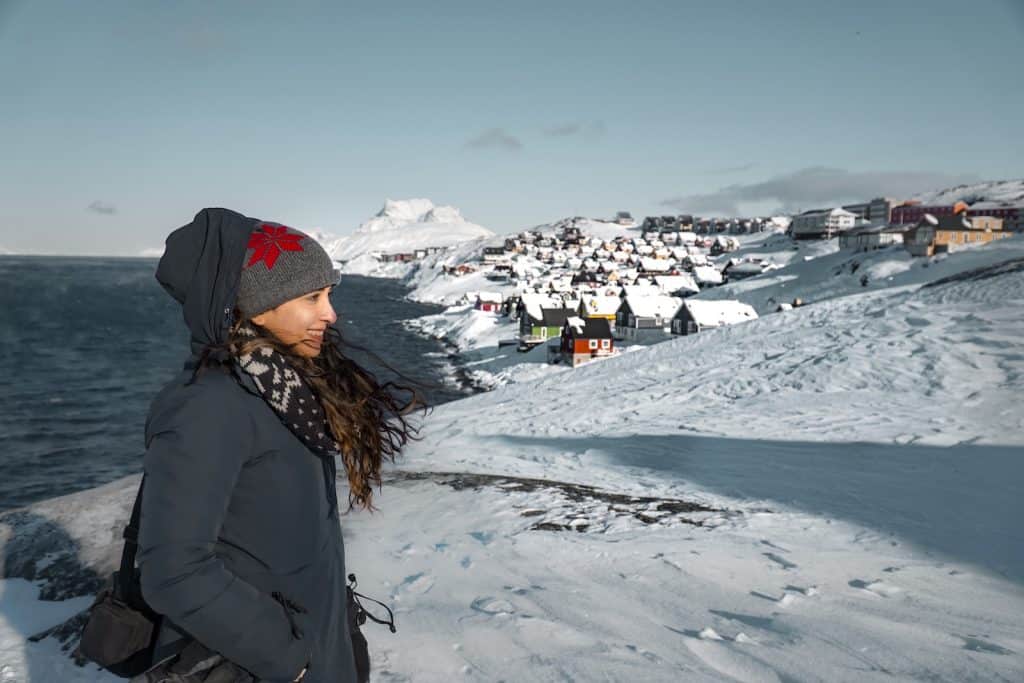 For the perfect introduction to what is likely to be a life-changing trip, here are the best things to do in Nuuk Greenland.
Map of Best Places to Visit in Nuuk Greenland
Best Things To Do in Nuuk Greenland
Explore the Old Colonial Harbour in Nuuk
To get a sense of the city's history, begin at the old colonial harbor in Nuuk, where among the centuries old colorful wooden houses along the water, you'll also find Hans Egede House, the oldest house in Nuuk and former residence of Danish Lutheran missionary Hans Egede, who founded Nuuk in 1728 (also the year the house was built). When he founded the city, he named it Godthab, a name that translates to 'Good Hope' in Danish and was used to refer to the city until 1979 when it officially became Nuuk.
Today, Hans Egede House is used by the government of Greenland for official purposes only.
Not far away, a statue of Hans Egede stands on a hill near Nuuk Cathedral, wearing Lutheran robes and staff in hand.
Visit the Lutheran Nuuk Cathedral
The simple but beautiful brick-red wooden exterior of Annaassisitta Oqaluffia, also known as Nuuk Cathedral or Church of Our Saviour, a Lutheran church, rises among the cluster of houses along the coast, and is hard to miss when walking around in the area. Built in 1849, with the tower being added in 1928, the church became the Cathedral of Greenland in 1993.
Location: Church of Our Saviour, Nuuk 3900, Greenland
Pay Your Respects to the Mother of the Sea
If there's one cultural aspect that's common between communities that depend on the whims of nature heavily for survival, prosperity, and daily life itself, such as in Greenland, it's the presence of folklore and legends that acknowledge that something more powerful than us is out there- an aspect that I find intriguing (perhaps because the child in me believes?).
One night over dinner, our host in Nuuk, Salik Hard, a proud Greenlander and gifted storyteller told us about the Inuit legend of Sedna, the Mother of the Sea and goddess of all creatures, also called Sassuma Arnaa, she controls the destinies of fishermen and hunters in Greenland.
A walk along the colonial harbor, just below Nuuk Cathedral, brings you to the brass statue of the Mother of the Sea, with her long hair, a polar bear by her side and walrus at her back, and a man combing her hair. Be sure to visit at low tide to be able to see the otherwise submerged statue.
Legend has it that as a little girl, Sedna angered her father, who took her out to sea and threw her off his kayak (fun fact: the English word kayak comes from the Greenlandic word qajaq which means boat). She clung to the sides with her slender fingers, which he then cut off. She fell into the sea and became a goddess.
The legend continues that when she was angered by the evil deeds and greed of men who took too much, all the creatures such as fish, whales, seals, foxes, walruses, and birds, remained entangled in her long, flowing hair, out of the reach of fishermen and hunters. According to mythology, a shaman was then sent to placate her- he combed her hair and the animals were released again to be found abundantly in nature, and to be hunted by the Inuit.
There are several versions of the story in Inuit mythology, depending on who you ask, and which part of Greenland they're from. But I guess the moral of the story is for us humans to take from nature only what is essential for our survival and give her the chance to breathe- which is fitting in our times.
Location: Mother of the Sea Nuuk 3900, Greenland
Visit Nuutoqaq- Nuuk Local Museum
Housed in an old shipyard in the harbor area, is Nuuk Local Museum or Nuutoqaq, that's worth a visit to get a sense of Greenland's recent history (beginning in the 1950s). The museum's permanent exhibition comprises of donations made by individuals and public bodies. The venue also hosts temporary exhibitions and cultural events, and has a store where you can browse unique local designs.
Location: Nuuk Local Museum, Hans Egedes vej 29/B-234
Get Arty at Nuuk Kunstmuseum- Nuuk Art Museum
Located in a bright yellow building that was formerly a church (hence the tower), the Nuuk Art Museum, founded in 2005, houses art from the 20th century and is a must-visit in Nuuk. The exhibits, comprised of 300 paintings and 400 sculptures and handicrafts in ivory, wood, bone, and soapstone from Greenland, are part of a private collection amassed over 45 years, that were donated to the city by late Svend and Helene Junge Pedersen. Here you'll find pieces, both old and contemporary, that have a deep connection with Greenland- either having been created by local artists or inspired by the landscape, heritage, or culture of Greenland.
Most notable among these is the collection of nearly 150 works by the artists Emanuel A. Petersen (1894-1948), whose paintings depict the sheer magnificence of the Greenlandic landscape, and the uniqueness of life in the Arctic, something he experienced for the six years that he lived in the country. His deep artistic relationship with the country earned him the nickname 'The Greenland Painter'. Another section of the museum hosts temporary exhibitions by local and international artists.
Location: Nuuk Art Museum, Kissarneqqortuunnguaq 5, Nuuk 3900, Greenland
More Stories from Traveling to Greenland: Northern Lights, Icebergs, & Dogsledding: Things to do in Ilulissat, Greenland's Adventure Capital
Go on an Artwalk Around Nuuk
One of the best things to do in Nuuk, the Nuuk Artwalk was designed by the Nuuk Art Museum and is a self-guided walk that takes you on a journey, not unlike a treasure hunt, to the best art spots around the city that are hidden in plain sight.
An interesting and engaging way to experience contemporary Greenlandic art, the Nuuk Artwalk offers a deeper sense of underlying themes that point to the foundations of and changes taking place in Greenlandic culture and society.
Whether it's the massive painted mural of a local hunter by Australian artist Guido Van Helten, the kayak family sculpture at the entrance of the cultural center Katuaq, or the sculpture Inussuk that symbolizes a cairn, but also perhaps more importantly, unity among Greenlanders, there are common themes of the relationship between nature and Greenlandic heritage, and cultural pride. You'll find a detailed map you can download, as well as a podcast that tells you more about the stops and works on the Artwalk page.
Visit the Greenland National Museum
A visit to the Greenland National Museum is one of the top things to do in Nuuk and is in order to understand and appreciate the country's history over the past 4,500 years, shaped by the migrations of various nomadic communities in waves, from the first Arctic Stone Age Cultures and Norse settlers to the Thule people, of whom most present-day Inuit are descendants.
It's easy to spend a few hours here looking at art, photography, models, artifacts, and depictions of life, homes, and culture, that have been sourced from all over Greenland, including but not limited to traditional clothing, beautiful jewelry and accessories, boats including the world's oldest umiaq or sealskin boat dating to the 1470s, kayaks, dog sleds, hunting tools, burial rituals, and religious practices.
A haunting but not to be missed exhibit is a collection of four 15th century mummies from northwest Greenland including a six-month old baby. Preserved by ice for over 500 years, they were discovered in graves north of the Arctic Circle, wearing seal and reindeer skins.
An interesting section about religion, spirits and the soul explains in great detail about the Inuit belief in two worlds- the one that is visible to us, and the other- the spiritual world- that remains invisible and is seen only by shamans, mask and drum dances and drum songs used to resolve conflicts, and the moving of souls from one person to another after death.
These beliefs, and surrounding myths and folklore, are in many ways, an integral part of Inuit heritage and identity. Of course, the work of Lutheran-Evangelical missionaries (such as Hans Egede) in the 18th century and introduction of Christianity meant that there wasn't room for them, but from conversations with locals, it seems like they did survive through the ages and do exist among younger generation Inuit in modern society.
Location: Greenland National Museum, Hans Egedesvej 8, Nuuk 3900, Greenland
Watch Costume Makers in Action at Kittat Economusee
Traditional Greenlandic costumes are vibrant, colorful works of art with incredibly intricate details and meaningful symbolism, and are an important part of national heritage. In my opinion, a visit to Nuuk is incomplete without a closer look at traditional Greenlandic costumes. At the Kittat Economusee workshop, visitors can take a peek at the workflow and process involved while costume makers are hard at work.
Here, animal hides from seals are cleaned and prepared, embroideries and beadwork are designed, painted, and painstakingly crafted, and accessories and footwear are put together. This is also an excellent place to visit to understand the differences between the types of costumes.
Workshops are available, with prior appointment, if you want to try your hand at some costume making.
Location: Kittat Economusee, Hans Egedesvej 29 B-45, Nuuk
Check Out the Katuaq Cultural Center
The contemporary wave-like façade of the Katuaq Cultural Center is one of Nuuk's top attractions and is hard to miss in Nuuk's city center, and was inspired by icebergs, snow, and the Northern Lights. Founded in 1997, Katuaq is the city's art and culture hub, playing host to events, exhibitions, theater, performances, film screenings, workshops, lectures, and conferences through the year.
It's a good idea to step inside to see if there are any interesting events, screenings, or exhibitions during your visit to Nuuk, and perhaps enjoy a quick coffee or a leisurely modern Greenlandic meal at Cafétuaq, the venue's in-house café, considered to be one of Nuuk's best.
Location: Katuaq Cultural Center, Imaneq 21, Nuuk 3900
Take a Postcard-Worthy Photo of Myggedalen
Undoubtedly, one of the best things to do in Nuuk is to stroll down to the end of the road Isaajap Aqqutaa, all the way to the views over the water, to take this postcard image of Myggedalen. The area has clusters of timber houses painted bright yellow, blue, red, and green, that are perched on the hilly landscape overlooking the water, with Sermitsiaq mountain in the distance. This just might be Nuuk's finest view, where you truly begin to understand the nickname 'Colourful Nuuk' (#colourfulnuuk on social media).
Go on a Fjord Safari
A fjord safari with Nuuk Water Taxi is one of the top things to do in Nuuk and offers the chance to see Nuuk Fjord up close with the backdrop of Sermitsiaq mountain, and the many inhabitants of the fjord, such as seals, whales, eagles, and other birds. If you're looking to see icebergs, you can also sign up for their Icefiord Cruise that takes you closer to the Greenlandic Ice Cap. Other excursions take you deep sea fishing, puffin-spotting and to settlements such as Kangeq (abandoned) and Kapisillit. During summer, you can also explore Nuuk Fjord by kayak.
Go on a Snowshoe Hike to Kangilia
If you're visiting Nuuk in winter, have a high level of fitness, and are craving a real adventure, that makes you work hard but also rewards you with extraordinary views, then sign up for a snowshoe hike to Kangilia with local tour operator Two Ravens (they also run other hiking and overnight tours depending on the season). The tour is one of the top things to do in Greenland in winter. No prior experience with snowshoes is necessary- as they'll teach you the basics and guide you into Nuuk's vast backcountry. The hike begins in the outskirts of Nuuk, ascends between mountains and frozen lakes, and brings you to Kangilia, where you'll enjoy grand views all around- the infinite sea to the west, and a spectacular fjord system to the north, east, and south.
By the way, here's an excellent resource to hiking in Greenland.
Shop for Greenlandic designs in Nuuk's boutiques
If you're interested in local designs, then visit the many boutiques in Nuuk's city center on Imaneq street, and Nuuk Centre (Greenland's only shopping center) where you'll find unique clothing, accessories, and jewelry inspired by Greenlandic culture and heritage.
While some designs are traditional, there are others with modern interpretations that offer a glimpse into how local design sensibilities are evolving. You'll also find paintings, sculptures, and decorative art, that makes for great souvenirs and gifts.
Some stores to visit are Nuuk Couture (modern Greenlandic fashion), Inuk Design (local-inspired fabrics, home-décor, porcelain and wooden figures), Qiviut (sustainable warm clothing made of muskox wool- super warm and luxe), and Dooit Design (beautiful glassware, also offers glass-making workshops).
Locations linked above.
Take a Dip at Malik
Fancy joining the locals to take a dip while in Nuuk? Head to Malik (the wave-shaped roof is a hint to what lies inside) where you'll find an indoor swimming pool, warm water pool, and hot tub, as well as a café.
Location: Malik, Nuuk 3905, Greenland
Sample Traditional Greenlandic Cuisine at Café Inuk
I had one of my most memorable meals in Greenland at Café Inuk at Inuk Hostels, a 20-minute walk from Nuuk and with incredible views of Nuuk Fjord (that's also a great spot to watch the Northern Lights in winter), and can recommend it to anyone looking to try the local cuisine (free of judgment).
Here in the cozy interior, sample Greenlandic dishes such as mattak (raw narwhal skin with blubber), ammassat (dried capelin fish), panertoq (dried cod), traditional Halibut soup, Asian-inspired reindeer curry, reindeer burger, and wash it down with delicious Qajaq beer from South Greenland.
Traditionally Greenlandic cuisine consist of seafood, meat, and birds that have been easily available in the Arctic, and includes meat such as seal, whale, reindeer, and musk-ox, which many Inuit believe are one of the reasons why their ancestors survived the harsh conditions. These foods are unique to Greenlandic culture and there's a considerable amount of pride associated with their heritage, so if you're interested in the stories behind them, it's a good idea to ask the locals at Café Inuk.
What's also good to know is that the hunting of whales and seals in Greenland (both abundantly found in the country) is done in a sustainable way- a hunting quota is assigned to every town, special licenses are required, and there are systems in place to ensure that there is no overhunting or overfishing.
Location: Café Inuk, Qernertunnguit Kangerluat, 1, Nuuk 3905, Greenland
Enjoy Innovative Greenlandic Cuisine at Sarfalik
If you're curious about modern, gourmet Greenlandic cuisine and don't mind a bit of a splurge, I highly recommend the six-course tasting menu at Restaurant Sarfalik at the Hotel Hans Egede in Nuuk. At Sarfalik (the name translates to 'gathering place'), local and traditional ingredients are prepared with innovative flair making the seasonal dishes a great way to get a taste of where Greenlandic cuisine is headed in the near future. This is one of the best things to do in Nuuk for foodies.
Expect Greenlandic gastronomy at its very finest with dishes such as snow crab with ice wine, fennel and parmesan, Greenlandic halibut sashimi with pickled shitake, musk ox tartare, and saddle and breast of Narsaq lamb with Jerusalem artichokes and leeks.
The 5th-floor restaurant offers fantastic views over Nuuk, so don't forget to bring your camera.
Location: Sarfalik, Hotel Hans Egede, Nuuk 3900, Greenland
Best Time to Visit Nuuk Greenland
While the popular opinion is that Greenland is best visited in summer, Nuuk is a year-round destination that offers different activities depending on when you're visiting. So before you plan your trip to Greenland, it's good to know what to expect in terms of temperature, hours of daylight, and weather conditions.
In summer, from June to September, average high temperatures range from 4°C to 12°C and average low temperatures range from 0°C to 6°C with plenty of daylight. There can be some warmer days with highs such as 15°C and lows such as 8°C. July and August are usually the warmest months. Summer in Nuuk also sees some light rainfall, with September being the rainiest month.
June 21 is Greenland National Day, when you'll get to witness celebrations around the country.
If you plan on going whale watching, hiking, overnight trekking, kayaking, and fishing, then summer is the best time to visit Nuuk- just be prepared for the mosquitos.
In winter, from November to March average high temperatures range from -14°C to 9°C and average low temperatures range from -20°C to 2°C with fewer hours of daylight. When I visited in early March, there were days with temperatures as low as -18°C with the wind chill factor making it feel like -36°C. March is the coldest month in Nuuk.
Dressing right is key to enjoying a winter trip to Greenland. There can be snowstorms and windy days when it can feel like an ordeal to be outside, and flights and boat trips might be delayed or canceled.
But there are also some pleasantly sunny days when the snowy winter landscape can feel surreal and -19°C does not feel so bad (you get used to it, I promise). Winter offers the opportunity to go dogsledding, snowshoeing, skiing and to see the Northern Lights- all once-in-a-lifetime memories.
Oh and let me not forget that special winter light that one sees in Arctic skies- a shade of blue you won't find anywhere else, that has attracted painters, photographers and artists for centuries. My first trip to Greenland was in winter, and that's when I fell in love with the country.
Ultimately, you'll need to think about the activities you're looking to experience and how you generally feel about traveling in summer versus winter, and decide the best time to visit Nuuk that's right for you.
If you're planning a trip to Greenland in the years to come, you should know that the weather and average temperatures in Greenland are changing every year. When I went in March 2020, I was told that it was colder than usual on some days.
By the way, Greenland is one of those places where the effects of climate change can be seen clearly, in fact, that's something the locals notice in their everyday lives- be it in the climate, in the changes in sea ice and icebergs, and in the behavior of wildlife such as polar bears. If you're interested, you can read more about it here.
Where To Stay in Nuuk
Accommodation in Nuuk includes hotels, hostels, B&Bs, and apartments, but there aren't too many providers, so perhaps it's best to book well in advance of your trip. When it comes to hotels in Nuuk, at least in terms of what you'd conventionally think of as hotels, the choices are limited.
I stayed at Hotel Hans Egede, Nuuk's only 4-star hotel, that is a good choice if you want more of a proper hotel experience. Expect comfortable, well-appointed rooms with ensuite bathrooms, a great breakfast, two highly recommended restaurants including Restaurant Sarfalik, and Skyline Bar with one of the best views over Nuuk. It's just steps away from the city center and the main shopping street, and a pleasant and easy walk to the colonial harbor and other sights around town. Check prices on Hotels.com.
If you're visiting Nuuk as a family or group, or are on a budget, consider choosing from hostels and apartments such as:
The Blue Guesthouse by Greenland Escape
Located in the Nuussuaq area, the guesthouse offers five basic but comfortable private rooms, with options suitable for singles as well as two guests. Rooms come with TVs and free Wi-Fi. There are shared kitchens and bathroom and toilet facilities. Laundry facilities are available. It's a 15-minute walk to the city center.
The hostel offers comfortable and simply decorated single rooms, double rooms (sleeps 2), family rooms (sleeps 3-4), and apartments, with shared and private bathroom options, access to a communal kitchen (so you can cook meals) with utensils, stovetop, refrigerator, and microwave. Rooms come with TVs and free Wi-Fi. Apartments come with living rooms and private entrance. Washing machines are available. Location in the city center is a plus with an easy 10-minute walk to the harbor.
Simple but cozy and comfortable rooms with choice of twin and bunk beds in cabins with epic views over the water, and a great in-house café that serves local and international dishes. The cabins come with shared toilets and bathrooms, kitchens, and common living areas (with free Wi-Fi and TV), and have plenty of character. It's a 20-minute walk to the city center. Suitable for families, groups, couples, and singles who would appreciate a place with a view.
If you're on a budget, then consider this modern hostel that offers everything you need for a comfortable stay in Nuuk. There are rooms available for single travelers as well as two guests, and these come with free Wi-Fi. Bathroom and toilet facilities are shared, and a washer-dryer is available to use. There's a shared kitchen where you can choose to cook, and a lounge area to meet other guests. It's well-placed in the city center with the Nuuk Art Museum just outside.
Useful Tips & Practical Advice for Nuuk
It's easy to walk around Nuuk to get to the colonial harbor, museum, shopping street, and other main sights. Look out for stairs that take you up and down the hilly streets. Nuuk also has a well-connected bus system (schedule available online)- tickets can be purchased onboard using cash.
Wi-Fi isn't readily available outside of towns and cities (like Nuuk and Ilulissat), especially in the backcountry. Where it is available, it is quite expensive and certainly not free.
As such, the Colourful Nuuk App (Android here) is a handy guide to have while exploring Nuuk. It lists restaurants and cafés, culture spots, shopping, events, and sightseeing, weather advice, and has an offline city map you can use without Wi-Fi.
How to Get To Nuuk Greenland
There are only two ways to get to Nuuk- by air or by boat. There are no roads that connect towns in Greenland.
You can fly to Nuuk internationally either from Reykjavik, Iceland or Copenhagen, Denmark. In summer, there are direct flights to Nuuk from Iceland on Air Iceland Connect (departing from Reykjavik domestic airport) or Air Greenland (departing from Keflavik International Airport). The flight time is 3 hours.
If you're coming from Copenhagen, Denmark, you'll fly on Air Greenland with a change of aircraft at Kangerlussuaq Airport, Greenland's main international airport. The total flight time is 6 hours. Skyscanner offers great prices on flights to Greenland.
Air Greenland also connects Nuuk to other towns in Greenland, such as Ilulissat, Sisimut, and Kulusuk via domestic flights.
Nuuk is also one of the stops on the Sarfaq Ittuq Ferry of the Arctic Umiaq Line that connects Ilulissat (north Greenland) and Qaqortoq (south Greenland). This is also a popular means of travel within Greenland.
Should you combine a trip to Greenland with an Iceland trip?
Considering that you can fly to Nuuk and other destinations in Greenland directly from Reykjavik, Iceland, and several tour companies offer trips to Greenland beginning and ending in Reykjavik, it is a good idea to add a few days or week in Greenland after your trip to Iceland. It isn't exactly cheap or quick to fly to the Nordic countries- why not make the most of it and visit Greenland as well?
Additional Reading
Northern Lights, Icebergs, & Dogsledding: Things to do in Ilulissat, Greenland's Adventure Capital
Things to do in Reykjavik for First Timers
Tours in Greenland
It's easy enough to travel to Greenland and book your activities directly with local operators such as Greenland Escape and World of Greenland, but if you'd like to not have to deal with the logistics, there are plenty of tours to Greenland available at reasonable prices that allow you to sit back, relax, and let someone else take care of the planning. Considering that these tours include flights from either Iceland or Denmark, and include accommodation in hotels, they're well-priced. Here are some recommendations:
Greenland Explorer (starts and ends in Reykjavik, Iceland)- 10 Days
On this ten-day trip, you'll visit Nuuk, stay overnight at the 4-star Hans Egede Hotel, see all of Nuuk's highlights including museums, galleries and the Mother of the Sea, try some delicious local cuisine, and do the Art Walk around the city. You'll visit Kangerlussuaq to get close to the wonder that is the Greenland Ice Sheet- walk on the ice breathing in the fresh air, spot reindeer and musk oxen. Finally, you'll make your way to Ilulissat, 300km north of the Arctic Circle to see massive icebergs in the Icefjord, and hike to the settlement of Sermermiut to see Inuit life and traditions, before finally heading back to Reykjavik.
Winter Smiles in Greenland (starts and end in Copenhagen, Denmark)- 8 Days
This winter trip to Greenland takes you to the adventure capital of Ilulissat, where you'll visit all the highlights of the town such as the Zion Church, museums, harbor and fish market. You'll hike to Sermermiut to see where the Inuit first arrived in Greenland over 4000 years ago. You'll get close to the Icefjord, a UNESCO World Heritage Site- it's remote but exceedingly beautiful with cracking icebergs and a frozen landscape that is the playground of the Greenlandic sled dog.
Amazing Days in Ilulissat (starts and ends in Reykjavik, Iceland)- 5 Days
After arriving by flight from Reykjavik, Iceland, you'll go on a city walk in Ilulissat, also known as the world's iceberg capital. The highlight of your day here is the sunset cruise to the Ilulissat Icefjord to see massive icebergs tumble into the sea. The next day, you'll visit the old settlement of Sermermiut to hike along the Icefjord and learn more about the first Inuit settlers.
On your third day, you'll sail south along the Icefjord to see more icebergs and visit Ilimanaq Settlement that is still dependent on hunting and fishing. On your way back, you might also spot whales in Disko Bay. On your last day, you'll visit the calving Eqi Glacier getting close to its edge by boat. You'll visit another settlement to get a sense of what life is like in this region. This tour is packed with all the highlights of Ilulissat, Icefjord and the surrounding settlements.
South Greenland Explorer (starts and ends in Reykjavik, Iceland)- 15 Days
This tour is pretty unique in that it's a hiking and trekking tour that takes you to some of the most spectacular sights in south Greenland. You'll enjoy the "big walls" of the Arctic in Tasermiut fjord, relax in the unique Uunartoq hot springs, hike and kayak in the green landscape of the sheltered fjords, visit the picturesque Inuit villages and navigate by zodiac among icebergs to glacier fronts descending from Greenland's Ice cap,
You'll sleep in spectacular wilderness camps, right in front of the ice cap and glaciers and under the huge granite walls of Tasermiut.
You'll spot the magnificent northern lights from mid-August, see caribous, seals and even whales, and go fishing for Arctic salmon and cod or collect mushrooms and blueberries.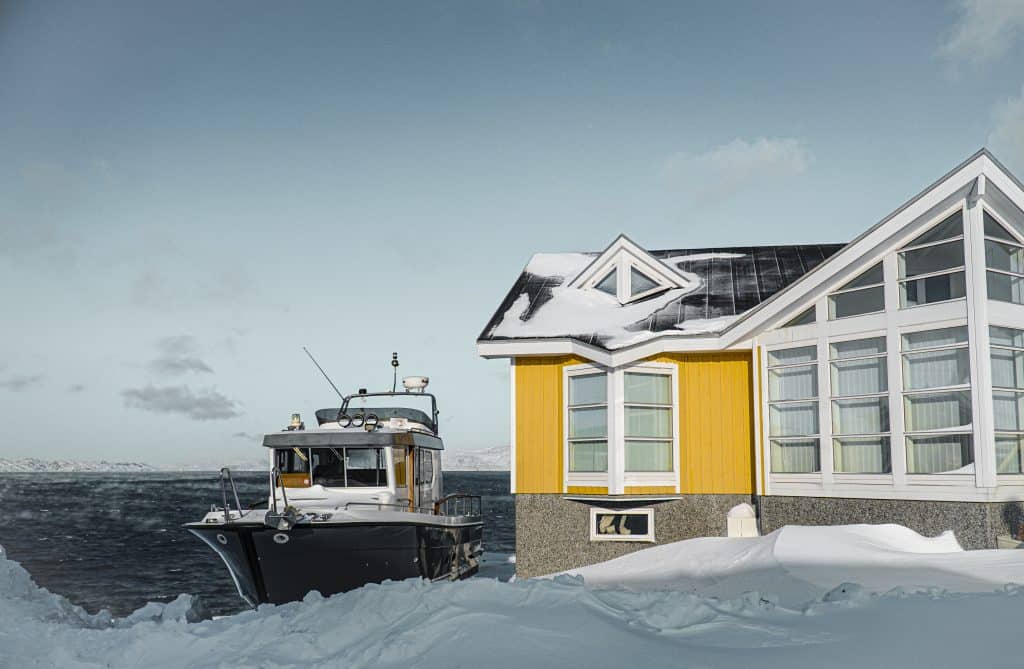 Plan Your Trip
Looking to book your next trip? Check out the following services to help plan your trip:
This post may contain affiliate links. If you make any purchases using them, I may receive a small commission at no extra cost to you.
I visited Greenland as a guest of Visit Greenland. All opinions as always are honest and independent.