With Inputs by Guest Contributor Samantha Karen
With a jaw-droppingly beautiful coastline along the Adriatic Sea, far more natural beauty than one can imagine in a country of its size, and the sheer diversity of things to do in Montenegro, the country is a highly underrated destination in the Balkans and all of Europe. Add to that the fact that Montenegro travel is very easy to do and the ease of planning your Montenegro holidays, even independently, and you have a winner.
A Montenegro holiday ticks all the right boxes for everything you think of when you visualize a holiday in Europe; rich history, breathtaking nature, winding mountain roads, cobbled towns, lush vineyards, sun-bleached beaches, incredible architecture, and azure sea views like no other- there are so many incredible places to visit in Montenegro, that you'll wish you had more time to explore the country.
But what makes it special is the absence of crowds and the fact that travel costs aren't nearly as high as Western Europe. This underrated gem is one of Europe's youngest countries, having become one in 2006.
It's a small country in terms of size, but is in a prime location along the Adriatic Sea surrounded by towering mountains. The Adriatic coastline provides ample space for beaches, the mountains offer wonderful hikes and views, and the towns and villages are so untouched it's almost as if you are taking a step back in time to partake in slow, simple life. 10% of Montenegro is covered with national parks, so you can imagine that if you like nature and appreciate pretty landscapes, you'll enjoy traveling around Montenegro.
With so many different things to do and places to visit, Montenegro is getting increasingly popular with travelers who are keen to get off-the-beaten-path in Europe, and more importantly avoid places that are reeling under the pressure of mass tourism. Plus with so much to offer, it's easy to come up with a Montenegro itinerary that has a bit of everything, no matter how long you're visiting for.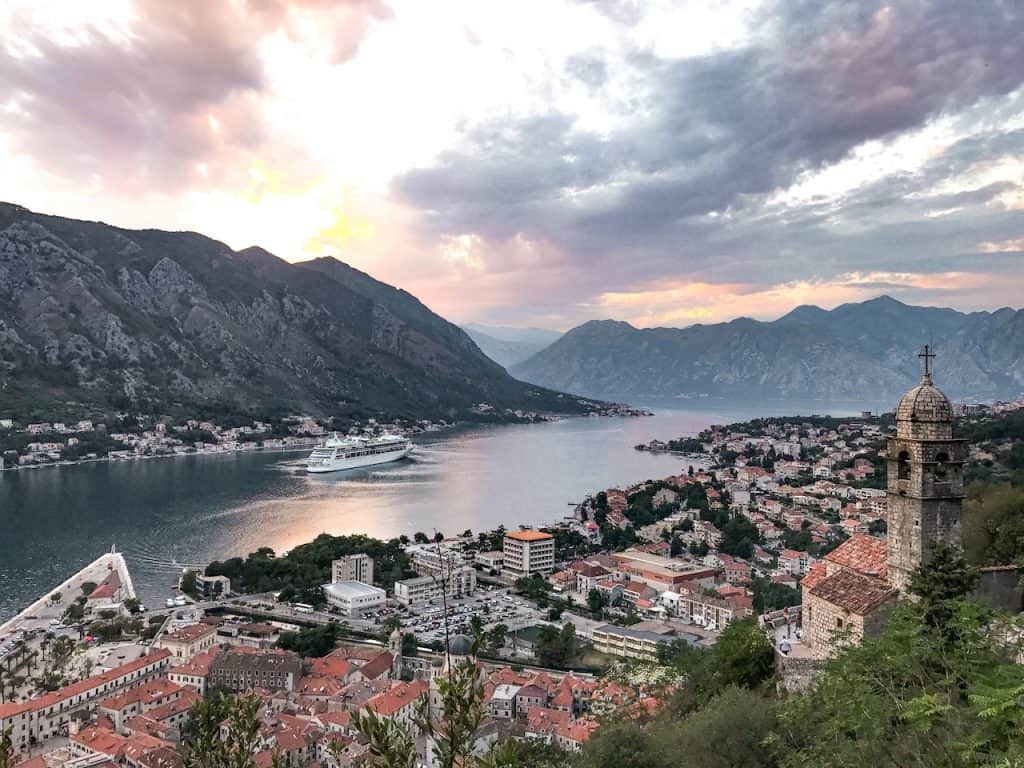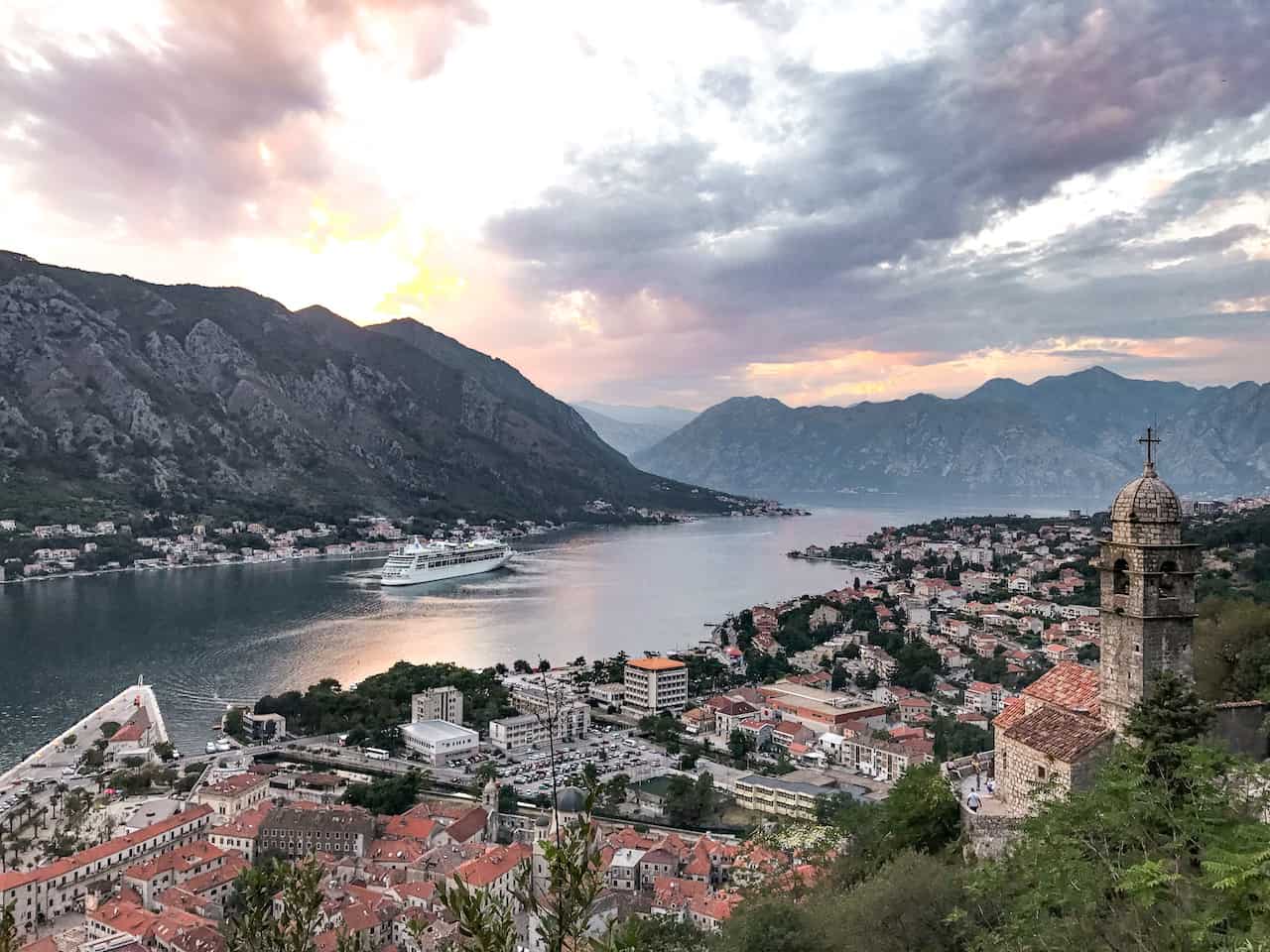 One of the best things about Montenegro is that it is not quite as touristy as other European destinations- think parts of Italy, Spain or even neighbouring Croatia. Although tourism is on the rise and the city of Kotor sees hordes of cruise tourists, there are still places to visit in Montenegro that are relatively untouched, thanks to being in the interior or the mountains, and therefore (thankfully) take a bit longer to get to.
Plan your Montenegro trip
Here's a list of the best things to do in Montenegro and our favorite places to visit, including popular spots as well as some lesser known ones.
Best Things to Do in Montenegro
1. Explore the UNESCO World Heritage Site of Old Town Kotor
Old Town Kotor, bordered by the beautiful harbour of the Bay of Kotor on one side, and the mountains on the other, is a cobbled maze of restored medieval stone houses, Venetian palaces, churches, museums and charming cafes where the lazy, the romantic, and the somewhat lost sit with glasses of wine or beer under fluttering laundry strung on window lines in narrow back alleys or in lively squares where children scatter like peas, musicians play the guitar, and the town's feline residents observe from under café tables.
I won't lie- the UNESCO World Heritage Site of Old Town Kotor is perhaps as touristy as it gets in Montenegro, thanks to the many tourists who arrive on daily cruises to wander through town. But even then, when you compare it to neighboring Dubrovnik, Kotor's Old Town is a breath of fresh air.
Wandering around the Old Town, with or without a plan, is the top thing to do in Kotor on your Montenegro holiday, and the kind of thing that you can do more than once. Read my travel guide to Kotor for tips and practical information.
Modern life plays out in the medieval streets and there are sandwich shops and pizzerias and immigration lawyers' offices and beachwear boutiques and tourists in hats and sandals, yes, but escape into a quieter alley away from the main squares, and it's easy to imagine that this could be a time long long ago and you could be a seafarer who just got off a boat in Kotor's harbour to explore this grand old town.
(Natasha) Ah, the romance of Old Town Kotor, sitting under the Castle of San Giovanni, is undeniable, and after spending almost ten days staying in charming stone houses to write and wander in the old town last summer, there are times that I long to return to do the exact same thing one more time.
So, what else is there to do in the Old Town besides wander? Other than climbing up 1355 steps by the fortified city walls (built between the 9th and 14th centuries to create a ring to encircle the old town) to the Castle of San Giovanni, or St. John's Fortress, or Kotor Castle as it's often called, there are many churches and a few museums to visit.
Don't forget to see all three gates leading in and out of the Old Town- there's the Sea Gate or the main entrance where you'll find a tourist information office as well. Built in 1555 under Venetian rule, the Sea Gate bears the Venetian symbol of the winged lion of St Mark. Then there's the Gurdic Gate dating to the 13th century with a drawbridge over the spring and few tourists (this is the entrance most locals use to get in and out of the old town) and the River Gate by the Skurda River. You can also choose to do this guided walking tour of Old Town Kotor.
Begin at St Tryphon's Cathedral that was reconstructed after destruction during earthquakes- there are two baroque bell towers, of which one still remains incomplete. Step into the Romanesque interior to admire a glorious, silver altar screen, see what's left of Byzantine frescoes, and visit a museum with paintings and other artifacts. Other churches to visit include St Luke's Church, St Nicholas' Church and St. Mary's Collegiate Church. Step into the Maritime Museum of Montenegro, housed in an 18th century palace, to learn about the glory of Kotor as an important maritime town on the Bay of Kotor and look at photographs, paintings, and other maritime memorabilia.
Afterwards, when your feet begin to get weary, sit down for a meal and a drink at one of Kotor's many café-bars and restaurants. Seafood is a specialty and it's hard to have a bad meal. If you're craving a more casual vibe away from a main square, check out the Letrika café that is great for a coffee or beer during the day and has a lively and social vibe come evening. For a lovely wine bar outside of the old town, head to Ladovina, to sample delicious seafood and local wines, plus amazing live music.
Don't forget to visit the local market or pijaca in Old Town Kotor located just below the medieval walls, across from the harbour. You won't miss it if you enter or leave from the Sea Gate. This is a great place to sample local prosciutto, sausages, cheeses with pepper, mushrooms and herbs, honey, and olives.
2. Climb Up to the Castle of San Giovanni, the Fortress of Kotor
If you want to see one of the best views Montenegro has to offer, then you have to climb up to the Castle of San Giovanni, or the Fortress of Kotor that sits over the city, 260m above sea level. Seriously, this is absolutely one of the top things to do in Montenegro.
The way up from Old Town Kotor is quite steep and is a staggering 1355 steps, ascending 1200m and with over 7 switchbacks to reach the top, but if you have the time and have even a pretty basic level of fitness, the view is beyond worth it. From the top you can see the Bay of Kotor in its entirety and along it, the medieval Old Town Kotor. The Old Town as well as the Castle of San Giovanni (or St. John's Fortress like it's also called) are a UNESCO World Heritage Site.
Expect to take anywhere from 1.5 to 2 hours to get up there, depending on your fitness levels, but the way down is much quicker. There's an entrance fee of 3 euros to do this hike.
(Natasha) Since I love hiking, my Airbnb host in Kotor advised me to do the Ladder of Kotor hike to get to the Kotor Fortress instead of taking the steps from the Old Town. While this is a much longer and strenuous hike (I took 2.5 hours to get to the castle) on an old Austrian military trail, there are few other people, unlike the crowded stairs that lead to the castle from the old town. The road connected Kotor with the old royal capital of Cetinje.
I'll take a longer hike at an incline to steps any day, and thanks to that along with the constant company of mountain goats and the peace and quiet, I was glad to have taken this route. This hike requires a reasonable level of fitness (and time) and starts at the Skurda River just outside the Northern Gate. As you get higher, you'll see the switchbacks (over 70) across the face of the mountain going all the way up.
You'll pass by a house that offers cold beverages to tired hikers and a rest stop with a view before you continue on to a path that splits into two.
To the right is the village of Spiljari and its ruins and eventually the Castle of San Giovanni or Kotor Fortress, and to the left is the path that continues on the Ladder of Kotor.
On the path to the right, you'll come to the 1000-year old Church of St. John and eventually find a hole in the old wall, jump across to the other side and find yourself on the way to the Castle of San Giovanni.
The fortress that was built over centuries (beginning in the 9th century) is mostly ruins but has some sections of the wall and structures that are well-preserved. But after a quick few minutes looking at the ruins, you'll find yourself on one of the viewpoints around the castle, looking at the orange-red rooftops and charming medieval squares of old town Kotor, the blue of the bay and the forested slope of the mountains in the distance that rise up around the bay.
As I already took the hard way up, I took the easy way back into old town Kotor, by the steps, and would advise you to do the same, so you can enjoy the views on your way down, sort of as a reward for the hike. Or you can do the steps uphill and the Ladder of Kotor route downhill.
Tip: Begin your hike in the late afternoon so that you're up at the castle before sunset and can perhaps watch the sunset from up there. There are enough lights along the way to get down safely after sunset (if you take the steps into the old town, not the Ladder of Kotor), and you'll find plenty of others doing the same. Otherwise, go early in the morning around 8.00am to get there before all the cruise tourists.
Wear comfortable athletic shoes that won't slip on the worn stairs and carry plenty of water, it gets hot during summer.
3. See the Quirky Museum of Cats in Kotor
Given how many cats there are in Kotor, it makes sense that someone would think of setting up a museum of cats in the city. Visiting the Kotor Museum of Cats is one of the more unusual things to do in Kotor, but a must for animal-lovers. The museum was set up by the International Cats' Adoption Centre 'Badoer', based in Venice, after they received a donation of a collection of period images from the Italian Countess Francesca di Montereale Mantica.
The city's present day feline residents are believed to be descendants of the cats that came to Kotor in 1918 with Slav soldiers revolting the Austro-Hungarian navy. They're thought to be a symbol of good luck in Kotor.
If you're a cat-lover or have a free hour in Kotor, then visit the Kotor Cats Museum to look at pictures, postcards, paintings, books, antique posters, coins, souvenirs and other cat-related memorabilia. If you're a cat-lover, you'll enjoy looking at portraits of other cat-lovers with their cats Proceeds from entry go towards the welfare of cats in Kotor. There are some cats in the museum if you'd like to play with them and a gift shop (cat magnets, anyone?). Read more about the Kotor Cats Museum.
4. Eat at Kotor's Best Barbeque Place
An easy walk from Old Town Kotor, the family-run BBQ Tanjga is a must for travelers on a budget for a hugely satisfying and filling meal at a price you're not likely to find in the restaurants in the old town. The food here is so good, that personally, this is a must-try when in Kotor.
This is essentially a butcher shop with a restaurant, so you can choose your meat (lamb, chicken or beef) and how you'd like it; grilled as a plate, skewered as a kebab or in a sandwich, plus your choice of sides, salads, vegetables and sauces. The meat is always marinated and cooked perfectly to be juicy and succulent. Portion sizes are massive, so if you're just by yourself, a sandwich is plenty. This is a great place to try ćevapi, a Balkan specialty, sort of like a short kebab, that is usually made of beef and pork mixed.
BBQ Tanjga is very popular, so you almost always have to wait your turn patiently, whether you choose to dine in or take away. But the staff is friendly, so don't worry if they're not paying you attention initially, they've got their eye on you and will serve you when it's your turn. You can also dine in the garden outdoors. You won't find a better meal in all Kotor for the same price.
5. Go Kayaking or Stand Up Paddleboarding in the Bay of Kotor
Want to experience the beauty of the Bay of Kotor up real close? What better way than to get in the water and go on a kayaking trip in the bay; you can see what Kotor looks like from the water, visit caves, see quaint villages, snorkel and even cool off in or simply admire the turquoise water of the Adriatic and the glorious landscape to your heart's content.
Kayaking in the Bay of Kotor is a fun activity that you should try on your Montenegro holidays, one that is suitable for beginners as well- you'll be paddling along the shore quite a bit and there are professional guides who lead the way while they share stories and legends associated with the towns along the bay.
There are kayaking tours that take you further into the Lustica Peninsula and to visit the famous Blue Cave as well. Most tours stop here so you can snorkel or swim. If you're up for more of a challenge, you can also go on a stand-up paddleboarding tour in the Bay of Kotor.
6. Visit the Maritime Town of Perast, One of the Best Places to Visit in Montenegro
If you think Kotor is charming, then wait till you see the UNESCO World Heritage town of Perast, undoubtedly one of the best places to visit in Montenegro. A twenty-minute bus ride from Kotor, Perast is a picturesque town, a former naval powerhouse, that lies along the Bay of Kotor, and perfect if you want to escape the tour groups of Kotor's Old Town. Perast is car-free in summer and that makes walking around the town a delight.
In the old days Perast was even more important than Kotor, and many of Montenegro's most accomplished naval officers and sailors hailed from Perast. If you're interested in learning more about the town's maritime history, head to the Perast Museum housed in the Bujović Palace to look at medieval-era documents and letters, portraits, and all manner of artifacts and exhibits telling stories of the town's seafaring history.
The main thing to do in Perast, a town that you can walk around in a single afternoon, is to wander its mostly residential streets, visiting its 16 churches (including the 17th-century St Nicholas' Church that was never completed, on the main square that you're unlikely to miss) and 17 Venetian palaces, cool off with a gelato, and enjoy a glass of wine and a meal of fresh fish at one of the restaurants along the harbour. Afterwards, take a boat to visit the island of Church of Our Lady of Rocks to learn about the town's most famous local legend.
To relax, pick a spot on one of the jetties or a sunny spot along the coast, or head to Pirate Beach at the end of town.
If you're visiting in summer, it's worth making note of the International Klapa Festival that happens at the end of June and features Croatian-Montenegrin traditional music klapa (that you might have heard in Dubrovnik or Split).
Another festival worth attending is Fasinada held on 22nd July every year. On this day, the townsmen descended from seafarers row out in flower-laden boats to the island of the Church of Our Lady of the Rocks to deposit rocks just off the shore, followed by a thanksgiving mass at the church. There's also a regatta to mark the celebrations.
7. Take the Boat from Perast to the Church of Our Lady of the Rocks
The top thing to do in Perast is to take a boat (water taxi) from the harbour to the little manmade island of the blue-domed Church of Our Lady of the Rocks.
Legend has it that in 1452, two fishermen, one of whom was crippled, came upon a rock with a painted icon of the Virgin Mary and Child, at the exact spot where the church stands today.
The crippled fisherman took the icon home and found that he had had a miraculous overnight recovery the next day, and the icon had disappeared. A few months later, he found it again at the same spot.
The townspeople decided to drop a rock on the site every time a local ship returned home safely. Over time, an island was built here, thanks to all the rocks, and a church was erected, dedicated to the Virgin Mary who is believed to be the protector of local sailors and fishermen.
Today, you can take a boat to visit the island (water taxis run there and back frequently) and take a guided tour of the church that was built in 1630. Expect to see paintings and icons, as well as an embroidered icon of the Madonna and Child.
You're not allowed to visit the island in swimwear, so cover up and wear proper clothing before you visit the island and religious site. From Perast and here, you'll see another island (this one's natural) with thick cypress trees. This is Sveti Djordje– it's home to a Benedictine monastery where monks still live and a cemetery, and is closed to tourists. The two islands of Perast look especially beautiful in the morning when the water of the bay is calm and mirror-like.
8. Sail around the Bay of Kotor
If you have limited time, like just a day or two, and want to make the most of your Montenegro visit, I highly suggest you take a boat tour around the Bay of Kotor. The Bay of Kotor or Boka Kotorska is one of the most magnificent sights you'll lay eyes on; dramatic bays bedecked with green mountains, thick with lush forest that rise up to the skies, brilliant blue waters, sparkling at some times of the day, and mirror-like at others, and charming medieval maritime towns, some of the most powerful in history, with palaces, churches and monasteries, along the bay.
A day long boat tour costs around 20 euros and will bring you to Perast, Our Lady of the Rocks and some tours go as far as the Blue Grotto and Lustica Peninsula.
9. Explore Lovćen National Park
Nature lovers visiting Montenegro should not miss Lovćen National Park located in the mountain that the country is named after- Montenegro meaning Black Mountain. There are marked hiking and walking trails (there are a few different short and long trails) and opportunities to go mountain biking and see more of the spectacular views and diverse flora and fauna of the region.
But it would be a mistake to come here and not visit the Njegos Mausoleum, the mausoleum of Petar II Petrović-Njegoš, the poet prince who is credited with major modern cultural reforms in the country, that is located on the mountain's second highest peak Jezerski Vrh (461 steps to the top) and offers incredible views over the area.
You can also visit Njeguši, the village where Njegoš was born. Old stone houses stand around the village and one of the things to do here is to sample the cheese, smoked meats, prosciutto, sausages and other specialties in one of the restaurants.
This full-day tour to Lovćen National Park, Njeguši, and other spots including the old royal capital of Cetinje, is great if you're short on time and want to see the important sights and get some cultural context.
There's also an adventure park here with courses for different skill and ability levels and you can also go zip-lining and quad biking. The best way to get here is by car (20km from Kotor and 7km from Cetinje); you'll need to drive carefully- the road to the top is full of hairpin turns and needs good driving skills but the views are downright epic. If you're traveling around Montenegro using public transportation, you can take the bus to Cetinje, and then hire a taxi to get here.
10. Tour Lake Skadar National Park By Boat
Lake Skadar is the largest freshwater lake in Southern Europe and the Balkans, with two-thirds of it located in Montenegro and the rest in Albania (where it's called Shkoder). Lake Skadar National Park is located in the country's interior, far from the coastline and this beautiful area sees very few tourists, and none of the cruise tour groups that amble in the streets of Old Town Kotor every day.
All of this, coupled with the landscape of mountain villages, water lily pads on the lake, island monasteries, lush forests, churches and fortresses, and many opportunities for birdwatching in one of Europe's top bird habitats (270 different bird species such as Dalmatian pelican, cormorant, grey egret, and yellow heron, and 50 species of fish such as eel, bass and carp), makes a visit to Lake Skadar a must for every Montenegro itinerary.
(Natasha) When I hurriedly roughly planned my Montenegro itinerary during my last few days in Dubrovnik, the first place I was sure I needed to go visit was the sleepy village of Virpazar in Lake Skadar National park. This is a quiet spot where you can get on a flat-bottomed wooden fisherman's boat (I took a lovely one called the Golden Frog that I highly recommend) for a few hours' tour of the lake- one of my favourite things to do in Montenegro.
I was joined by a lovely couple and our excellent guide was a young Montenegrin girl from the village who was very knowledgeable about the bird life. She was nice enough to bring us homemade snacks and a drink in what was a nice personal touch. One of my favourite memories of Montenegro is sitting still on the Golden Frog admiring the water lilies that surrounded the boat on both sides and telling myself, "I can't believe I'm somewhere so pretty and peaceful." I haven't had that feeling in the longest time.
I stayed in Virpazar for four nights and hiked to surrounding villages, visited the Bezac Fortress that overlooks Virpazar and generally enjoyed writing and slow living in the village. While you may not like the idea of staying as long, you can also visit Lake Skadar on a Montenegro road trip, but that's easiest if you've got your own car. Otherwise, this tour takes you to Lake Skadar and also involves wine tasting at some great wineries in the area.
Tours to Lake Skadar stop at the town of Rijeka Crnojevica, home to some 200 people, for the iconic horseshoe bend views at Pavlova Strana. Another photo stop here is a stone bridge, built in 1853, that makes for a pretty picture when it's reflected in the water.
11. Go Wine-Tasting Around Lake Skadar
You might not know that Montenegro produces some lovely wines so good in quality that they could rival the best Italian and French wines. The viticulture tradition in Montenegro is old thanks to a dry climate, mountainous terrain and Mediterranean soil, coupled with sunny days. There are over 50 wine producers in the country located in various wine regions such as Podgorica, Rogami and Crmnica, producing wine from the country's indigenous grapes and other internationally known ones such as Syrah and Cabernet Sauvignon.
Of Montenegrin varieties, Vranac is an award-winning deep, intense, dry red wine from the indigenous Vranac grape variety that is well-known in the region and perhaps the country's most famous wine. Locally, it's often referred to as black wine instead of red wine.
The area around Lake Skadar and the village of Virpazar is one of Montenegro's top wine regions and you'll find plenty of small family-run wine producers offering tastings next to their vineyards and farms in the area. Many don't export or have websites and such, so the best way to taste their wines is to show up in the villages around Lake Skadar and ask around. Virpazar also hosts an annual fish and wine festival.
Some important wineries to visit for wine tours include the Savina winery and the state-owned Plantaze that is actually the largest vineyard in Europe and the only one producing the indigenous Krstač white wine.
If you have limited time, it might be easier to go on a wine tour organized to include a bit of sightseeing around the area as well such as this Lake Skadar sightseeing and winery tour from Kotor or this one from Podgorica.
12. Hike Mrtvica Canyon for a Bit of Adventure on your Montenegro Holiday
If you're a nature lover aching for some adventurous things to do in Montenegro, then hiking lesser-known Mrtvica Canyon is an activity that should not be overlooked. While there's not a lot of information available about this hike, it's totally do-able independently and should take between 6 to 8 hours.
Beautiful turquoise waters, streams and rapids, jagged granite cliffs, lush forests, waterfalls, a stone bridge, village houses and farms- these are just some of the things you can expect to see on the hike. There's also a beam tunnel carved into the face of a rock-cliff for easy passage for a small section of the trail. The 15km hike starts at Medjuriječje Selo on the road between Podgorica and Kolašin. Read more about the Mrtvica Canyon Hike here.
13. Go Zip lining Over The Canyon Near the Durdevica Tara River Bridge
The Tara River Canyon is the second largest and deepest (1300m deep) canyon in the world and the beautiful concrete arch Đurđevića Tara Bridge stands over the Tara river offering dramatic views. Both are part of Durmitor National Park and are a must-visit on any trip to Montenegro.
While you can walk on the bridge along epic canyon views, perhaps a better way to experience the area and a bit of adventure on your Montenegro holiday is to zip line for 1050m over the canyon, shooting off at at 80-100km/hr, by signing up with one of the adventure operators located by the bridge.
14. See The Mountain Eyes in Durmitor National Park
Durmitor National Park is one of the most beautiful places to visit in Montenegro and with good reason. There are 18 glacial lakes in the park that offer some of the most stunning landscapes in the country; pine-covered forests, shadowy mountains, and calm lakes that reflect the sky above. Of these, the Black Lake is popular as it's quite easily reachable from the town of Zabljak on a 3km hike. If you have just enough time for a day trip, then do the 3.6km walk around the lake, alternating some of the way with forested trails.
The mountain town of Zabljak serves as a worthy base for most hikers who want to explore the fantastic trails in Durmitor National Park over a few days or summit the highest peak in the national park, Bobotuv Kuk at 2,500m. This region of Montenegro is among the top places to visit in Montenegro for hikers and adventurous travelers. You'll find accommodation for every budget here including backpacker hostels. Durmitor National Park is popular for skiing in winter.
15. Go River Rafting on the Tara River
A great way to experience the Tara River is to go whitewater rafting with a tour operator. Rafting trips can be from two to four hours and take you to some of the most beautiful parts of the river. You'll have time to stop for a swim and appreciate the views along the way. This is a great way to get your adventure fix while enjoying the beauty of Montenegro.
This whitewater rafting trip on the Tara River can arrange to pick you up from Kotor, Budva, Tivat or Herceg Novi.
16. Visit the Ostrog Monastery
If you want to get a sense of Montenegrin spirituality and religion, or devotion-call it what you may, then a visit to the Ostrog Monastery is in order. This religious site is one of the best places to visit in Montenegro for the culture. There's something unexplainably calming about the sight of the white monastery that is embedded into a vertical cliff face, sparking the question, "How was it even built?" The Orthodox Christian place of worship attracts a million visitors each year including pilgrims, not just from around the country, but also the region, many who sleep on mats outside the Upper Monastery in summer.
While there's a Lower Monastery home to the Holy Trinity Church (with ancient, beautiful frescoes) and the Church of St Stanko the Martyr, most tour groups head to the Upper Monastery. The white structure and the interior is something of a marvel, especially when you consider it was built in two caves in 1665. Head to the higher level where you'll see frescoes from the 1600s in the cave chapel.
The monastery is dedicated to Saint Basil of Hercegovina and his bones, wrapped in a cloth, are placed in the main shrine. To enter, you'll need to be wearing long pants or a skirt and women will need to cover their heads with a scarf.
(Natasha) While visiting and seeing the devotion of locals, I happened to ask my tour guide Slobodan if young Montenegrins are religious (I ask this question to people everywhere). He said that while many are, and many are not, and many somewhat in between, almost everyone he knew had faith in the Ostrog Monastery, in a way that wasn't necessarily religious, but more spiritual.
On this tour, you can visit Ostrog Monastery, Durmitor National Park and the Tara River Canyon.
17. Explore the Old Town of Budva
Budva is a stunning coastal city located along the Adriatic Sea with a history that goes back over 2500 years, it is one of the oldest cities in Montenegro. While it's definitely among the top most popular places in Montenegro, thanks to a large number of hotels and resorts, its rich history, charming old town, and many beautiful beaches make it one of the most picture-perfect places to visit in Montenegro.
One of the best things about Budva is the Old Town or Stari Grad that is located on a small peninsula. Leave behind touristy modern Budva and find yourself in the walled Old Town Budva that is a cobbled maze of streets and alleys and lively squares surrounded by old stone architecture filled with local shops, boutiques, souvenir stores, restaurants, wine bars, and cute cafes.
It's great that Old Town Budva is a car-free pedestrian zone; its charm only more enjoyable without having to move out of the way of cars. Some important sights to visit here are the churches Sv. Trojica, Sv. Ivan, Sv. Bogorodica and the monasteries of Stanjevici, Podostrog, Rezevici and Gradiste.
If you're interested in learning a bit about the history of Budva, then head to the City Museum of Budva to look at archaeological exhibits, most were found after an earthquake in 1979. You can also visit the Maritime Museum, also in the Old Town. If you're more into art than history, then head to the Modern Gallery of Budva to see art by local artists and those from former Yugoslavia such as Milo Milunović and Milan Konjović.
The best way to explore? Plan to get wonderfully lost in the old town and you won't be disappointed. Going on a kayaking tour in Budva is another fun way to explore the area.
18. Visit the Beaches near Budva in the Budva Riviera
Budva is popular with beach lovers and with good reason, so getting in some beach time is one of the best things to do near Budva. One, the setting is stunning with the bluer than blue waters of the Adriatic on one side and the mountains on the other, and two, there are at least 20 beaches along the 25km long coastline around the Budva Riviera. Several of these have the Blue Flag status which means they're organized with beach bars, sunbeds and changing facilities. This is one of the main reasons why tourists staying in Kotor get on the bus and make the 45-minute journey to Budva- to enjoy a good beach day of doing little else but lying on the sand.
There are many options to choose from ranging from quiet, relaxing beaches to party-heavy beaches, family-friendly beaches full of water sports and also nudist beaches. Becici Beach is the perfect combination of both. It is located near Budva but is not overcrowded and there are plenty of water sports to stay active. If you are staying near Budva and want to escape the more crowded beaches without travelling far this is the perfect beach for you.
Closer to the Old Town, at walking distance are the Mogren I and II beaches and Ricardova glava. There's also Pizana, Przno and further away Drobni pijesak. About 2.5km away from Budva, Jaz beach is also one of the more popular and gorgeous beaches in the area. Other than organized beaches, you'll also find quiet coves that you might have almost all to yourself if you're in luck.
19. Dance Like No One's Watching on Ploce Beach
If you're into epic daytime pool/beach parties, then head to Ploce Beach in Budva- in fact, for hard-core partiers, this is probably one of the top things to do in Montenegro.
The water is clean, there are swimming pools, foam machines, and bars over multiple levels. The best part of this beach is the vibe- expect a party-happy young-ish crowd, mainstream commercial music, and to dance till your feet hurt. Good thing there are pools to cool off in afterwards then.
20. Paraglide over Epic Landscapes in Budva
If you like the idea of seeing how awe-inspiring Montenegro looks from the sky and getting your adventure fix while on your Montenegro holiday, then go tandem paragliding in Budva. You'll see the orange-red roofs of Budva, the medieval cobbled Old Town, the azure Adriatic and the towering mountains that overlook the bay, all together in an image of Montenegro that you're not likely to forget quickly. This is one of the coolest adventurous things to do near Budva.
21. Go to the Aquapark Budva Water Park in Budva
If you're visiting Montenegro as a family with young kids, consider a trip to Aquapark Budva, a waterpark with pools and slides, and other attractions overlooking the city of Budva. There are restaurants and bars and attractions for adults as well (think foam parties).
22. Enjoy Budva's Legendary Nightlife
In addition to the Old Town, Budva is also famous for its nightlife during the summer months. There are many clubs and casinos that are full of people that like to keep the party going until the wee hours of the morning. One of the best clubs in Budva is called Top Hill– it is a massive open-air seaside club with several bars inside and a dance floor, that holds about 600 people and hosts famous DJs all throughout the summer. If you want to experience some great Montenegrin nightlife this is a great option.
If you're into music festivals, then it's worth checking out SeaDance Festival that happens annually in July/August. It's a massive three-day festival that sees top DJs and artists from around the world perform in Budva. The 2019 line-up included David Guetta and other artists from the region.
23. Visit the Superyacht Marina at Porto Montenegro
Want a taste of Monaco in the Balkans or have a love for the finer things in life? Head to Porto Montenegro, a luxury development with residences, hotels, restaurants, bars, a high-end yacht marina, luxury shopping and a glamorous (and pricey) beach club. Check out the Porto Montenegro Yacht Club– there's an infinity pool, restaurants, lounge, an outdoor theater and a nightclub.
While the development was built to appeal to billionaires and superyacht owners, it's now also accessible if you just want to spend a day, not stay overnight. The area is still being developed, with many resorts planned to open in the next couple of years.
24. Eat at the Family-Run Catovica Mlini Restaurant
If you are in or near the town of Morinj (that you can visit if you're going from Kotor to Herceg Novi or vice versa), going to eat at the tavern Catovica Mlini is a must. It's a favourite for Montenegrin seafood and fish dishes in an idyllic setting, frequented by those in the know and some tour groups.
But, what's so special about a restaurant, you say? Well, this family-run restaurant (run by the Catovic family) is located in the family's mill and family house (hence the name) that have been in the family for generations- around 200 years. Morinj used to be home to many mills but modern times saw their decline. Around two decades ago, owner Lazar Catovic decided to convert the family mill into a restaurant that quickly became famous for its unique setting, great service and delicious food. For food lovers, Catovica Mlini is among the best places to visit in Montenegro.
Dining al fresco means you'll dine in the heart of nature, surrounded by greenery, with views of the beautiful stream, stone and wooden bridges and pathways, and geese, ducks, peacocks and hens for company, while the indoor area is housed in a lovely stone building that feels like it's from another time (because it is).
Seafood is the specialty here, think Octopus Salad, Shrimp Cream Soup, White Fish in Salted Crust and Seabass Fillet with White Truffle and Shrimp Sauce. They've got great local wines too, ask for recommendations. The restaurant is pricey, but totally worth it for both the experience and the delicious food. It's perfect if you're celebrating a special occasion or want to do one fancy date night or date lunch on your trip. Read reviews of the restaurant before you go.
25. Take a Day Trip or Stay Overnight at Herceg Novi
Herceg Novi is a charming coastal city near the Croatian border- in fact, if you're coming to Montenegro by road from Dubrovnik, Herceg Novi is the first city the bus stops at. If you compare it to Kotor, it's significantly less touristy, and has an appeal of its own.
With a history that spans over six hundred years, Herceg Novi used to be an important trading town in the region. The old wall of the city was built between the 14th and 19th centuries. One of the best things to do in Herceg Novi is to wander the Old Town, you can get there by taking the stairs from the harbour. The town's many stairs (believed to be more than 100,000) have earned it the nickname "Town of Stairs".
Herceg Novi's Old Town is home to churches, galleries, museums, beautiful squares, and fortresses worth visiting such as Kanli kula, Spanjola Citadela (Spanish Fortress) and Forte Mare that also host events during town festivals. Climb up to the Clock Tower for fantastic views over the area.
The zelena pijaca is a local produce market where you can buy prosciutto, cheese, olives, figs, and other fresh fruits and vegetables. You can easily spend a day sightseeing in Herceg Novi. When you tire of all the cardio from the stairs, grab a coffee at one of the town's many cafes in Belavista Square, preferably with views over the town and harbour.
Festivals worth visiting include the Mimosa Festival in February– expect music and dancing, good food and other entertainment and the music festival Suncane Skale, in July.
If you're looking for some beach time after exploring Herceg Novi, check out beaches like the pebble City Beach in town or nearby beaches like Igalo and Savina.
Learn more about some great Montenegro cities for holiday here.
26. Visit the Open Air Cinema in Herceg Novi
(Samantha) Herceg Novi is where I have spent most of my time in Montenegro and it is actually my favourite place in the country!
You should plan to spend a night in Herceg Novi if you have the time and during that evening head to the open-air cinema located on top of Forte Mare. It's a very unique viewing experience of watching a film at a historic location while the cool ocean breeze hits you. In the summer there is an annual film festival that has both Balkan and English productions and has become quite popular in the region.
27. Go to the Local Market or Pijaca
A pijaca (pronounced piazza) is another name for a local market. There are one or more pijacas in most Montenegrin cities and towns. They're stocked with fresh fruits and vegetables, cheese, meat and fish, often sold directly by the producers themselves who come from the countryside. Often, you'll find little shops selling souvenirs, jewellery, handicrafts and other trinkets not far from these markets.
Most are open during the day and close mid-afternoon. You'll find one in Herceg Novi, Kotor, Ulcinj, and a weekly market in Virpazar. The market in Kotor is located just below the medieval walls of the Old Town, across from the harbour. This is a great place to sample local prosciutto, sausages, cheeses with pepper, mushrooms and herbs, honey, and olives.
They're a great way to experience a bit of the local culture while stocking up on some local treats- nuts, olives, honey, cheese, marmalade, jams, and fresh fruit to pack with you for your daily adventures or to take back home.
28. Spend a day on Žanjic Beach
Located on the Luštica Peninsula, the beautiful 300m long Žanjic Beach is a pebble beach that is popular among both locals and tourists. In the summer you can get there by boat from Herceg Novi, Meline, and Igalo and the journey takes around 15 minutes. Surrounded by olive groves and trees, this picture-perfect beach has calm turquoise waters and is great for swimming. There are restaurants, cafés, and beach bars around as well as beach facilities such as sunbeds.
There are also other beaches on the Luštica Peninsula, from quiet beaches to party beaches. Other beaches on the peninsula are Almara Beach, Movida Beach, Miriste Beach, and the blue flag awarded Blue Horizons Beach.
29. Explore the Gorgeous Blue Cave
From around the towns on the coast, there are boat tours that run to the Blue Cave or Blue Grotto. The Blue Cave is a secluded cave, that you can only get to by boat or kayak, and has crystal blue waters like you've never seen before. But the cave itself also appears blue, thanks to the reflection of the water on the walls of the cave. This gorgeous natural site is one of the most stunning places to visit in Montenegro.
When taking a boat tour here you can even jump off the boat into the waters and swim or snorkel around a little to appreciate the view. This is a really fun adventure to split up your beach day.
30. Relax on the Island of Ada Bojana
Ada Bojana is a triangle-shaped island surrounded on two sides by the serene Bojana River located near the Albanian border and the Adriatic on the third side. The shallow waters on the 3.8km beach here make it perfect for families with toddlers. There are plenty of watersports here such as sailing, windsurfing and you can even go horseriding.
Ada Bojana is home to a nudist community since the 70s and used to be popular with hippies and presently, free-spirited vacationers. A visit to Ada Bojana is one of the more unusual things to do in Montenegro.
The nearest town is Ulcinj and you'll find restaurants, bars and accommodation on the island including beachfront apartments.
31. See the Picture-Perfect Sveti Stefan
Sveti Stefan is an island located on the Adriatic Sea and perhaps is Montenegro's most photographed site; think orange-red roofed medieval stone houses and a beautiful beach surrounded by the sea. The island is connected to the mainland and is home to the ultra-luxurious resort Aman Sveti Stefan, loved by celebrities and the rich and famous.
It was originally built by monks as a fortified island village named after St Stephan who was considered the protector of the village. During the Second World War, the island began to be attacked by pirates and most residents fled to the mainland, leaving it almost abandoned.
In the 50s the island was nationalized and in 1960, it became home to a luxury resort visited by the likes of Sophia Loren and Elizabeth Taylor. Since late 2009, the resort that was renovated and re-designed, is operated by Aman Resorts. The island isn't open to the public and you cannot visit unless you're staying at the Aman Sveti Stefan (pricey) or have a reservation at one of its restaurants (also pricey but worth it if you really want to get on the island without staying overnight).
The town on the mainland is also called Sveti Stefan, and if you want to get as close to the islet as possible without spending a dime, then visit the south beach that offers sunbeds and loungers for hire with views of the island.
32. Go Hiking in Mt Orjen
If you're staying in Montenegro for a while or slow traveling through the country on your Montenegro holiday and want to venture into lesser-known but epic landscapes, then head to Mt Orjen, close to Herceg Novi. The Coastal Mountain Traversal trail is a 180km hike that begins here in Herceg Novi in the north and goes to Lovcen National Park, Lake Skadar, Mt Rumija and all the way to Bar in the south but there are also shorter trails (marked trails), some that begin and end in Herceg Novi. Expect to see diverse flora and fauna, old military fortifications, and breathtaking views. There are also companies offering guided hikes in the region and elsewhere around the country.
If you plan on doing the entire trail, it should take you about ten days. It's good to know that some sections of the trail are inaccessible for six months of the year, and as the weather changes quickly in the mountains, you should be prepared for all kinds of weather and have enough layers.
Map of the Best Places to Visit in Montenegro
Where To Stay in Montenegro
Where To Stay in Kotor
Old Town Kotor is the best place to stay in the city- there's something amazing especially about staying in a charming, restored stone house with windows that overlook cobbled alleys and pretty medieval squares. But if you can't find anything in your budget, then it's worth looking just outside the walls of the Old Town.
Budget Stays in Kotor
Mid-range Stays in Kotor
Luxury Stays in Kotor
Where To Stay in Budva
Budget Stays in Budva
Mid-range stays in Budva
Luxury stays in Budva
Where To Stay in Perast
Budget Stays in Perast
Mid-range Stays in Perast
Luxury Stays in Perast
Where To Stay in Herceg Novi
Budget Stays in Herceg Novi
Mid-range Stays in Herceg Novi
Luxury Stays in Herceg Novi
Where To Stay Around Lake Skadar
The sleepy village of Virpazar is a good base to explore Lake Skadar National Park. There are apartments and guesthouses as well as restaurants in town.
Budget Stays in Virpazar around Lake Skadar
Search for hotels or apartments in Montenegro
Montenegro Travel Tips
Plan your Montenegro trip
Visa for Montenegro
While certain nationalities need a visa to visit Montenegro, the country allows for visa-free entry for many others, you can check the visa regime for your nationality here. At the time of writing, holders of valid US, Schengen (multiple entry), UK and North Ireland and Republic of Ireland visas can enter Montenegro and stay for a period of up to 30 days provided they have both visa validity and duration of stay beyond those 30 days.
Passport holders with a EU Member State, US, Norway, Ireland, Swiss Confederation, Canada, Australia, Japan, or New Zealand passport can enter and stay for a maximum period of 30 days visa-free. For a lot of privileged nationalities, ease of visa regime makes it super convenient to arrange their Montenegro holidays even last minute.
How to Get to Montenegro
You can fly to Montenegro arriving at one if its two international airports in Tivat and the capital Podgorica.
Many visitors come from Dubrovnik by road. You can also take a direct bus from Dubrovnik to Kotor that stops at Herceg Novi as a first stop in Montenegro. I took the bus and it was comfortable, the border crossing from Croatia to Montenegro was smooth and quick, the coastal views were epic and it was all pretty straightforward.
How to Get Around Montenegro
You can either rent a car to drive around on your Montenegro holidays or use public transportation to get around Montenegro. There are local buses that connect most major towns on the coast and you can use them to get from Kotor to Perast, Budva or along the coast.
Buses also leave to cities like Podgorica and Bar from the bus depot just outside the Old Town of Kotor. There is a train network that connects cities like Podgorica, Virpazar, Kolasin and others, you can check schedules here.
That said, there are some towns and villages that are not connected by public transportation, and it's easiest to get a taxi there which can be expensive, so it's best to find other people to split the cost with.
Hitchhiking is very popular and Montenegro is generally a safe country to hitchhike in. In the Lake Skadar area, I was offered rides by local farmers even without asking, and it was super-easy and safe.
Best Time to Visit Montenegro
The best thing about Montenegro travel is that there's no bad time to visit Montenegro.
Montenegro has great weather and is sunny for most of the year, except in the mountains where you'll have snow in some parts. Summer, from June to August end is the most popular time for Montenegro holidays with many tourists coming on cruise ships and from neighbouring Dubrovnik. Expect temperatures between minimum of 14-16 degrees Celsius and maximum of 25 to 30 degrees Celsius. It's also a good time to visit the interior parts of the country in the mountains, and places like Lake Skadar (that can have heavy fog during the rest of the year).
At this time of year, it's best to book your accommodation in advance as it can be difficult to find exactly what you want at your preferred prices.
The shoulder season in Spring (April to June), and in Fall (September to October) is also a great time to visit Montenegro if you want less crowds and good weather plus sunny days on the coast. In Spring, expect temperatures between 7 to 10 degrees Celsius and 20 to 25 degrees Celsius. In Fall, expect temperatures between 10 to 13 degrees Celsius and 20 to 25 degrees Celsius.
During this time, it can be easier to find apartments and hotels at a more agreeable price. You're also likely to see less crowds at beaches or while hiking on popular trails.
November to March is winter in Montenegro and the country sees winter tourists thanks to ski resorts in Zabljak and Kolasin. Expect temperatures to drop just below zero on the coolest days and highs of 10 to 12 degrees Celsius.
Montenegro SIM Card
Montenegro isn't part of the EU yet so if you're based in Europe or traveling from a EU country, that SIM Card won't work anymore on your Montenegro holidays. You can buy a local Telenor SIM, I bought mine at the Kamelija Shopping Center just outside the Old Town in Kotor. It cost me 10 euros for a SIM card valid for 15 days with 10GB of data. That was plenty for me and I did not need to top up or recharge. Staff at the Telenor kiosk there spoke excellent English and helped set it all up in a few minutes.
Before You Go
Looking to book your next trip? Check out the following services I use:
Guest Contributor Samantha Karen is the founder of the travel bog Sam Sees World. She is a millennial traveler on a mission to seek the new and unknown so she can document her experiences and inspire others to travel this wonderous world. Connect with her on Pinterest and Instagram.
This post contains affiliate links. Any purchases you make using the links in this post may earn me a small commission at no extra cost to you.