"Natasha, looking", Diego's enthusiastic voice boomed over the whirring of the car. Embarrassed about my clumsiness that was now out in the open after I'd dropped my iPhone face down on the floor of his car for the fifth time, I looked up at him, one hand still reaching for the phone. He was holding up his own iPhone, waving its severely cracked screen at me with a crooked smile that said, "See what happens when you're careless". We'd stopped outside the Hotel Nou Estrelles where he was dropping me off. I thanked him; I had enjoyed our conversation during the day. Diego's favorite phrase was "My English is terrible", but it wasn't as bad as he thought and we had even managed to talk about a topic as deep as how not everyone was rich where I came from.
I first met Diego earlier that afternoon. I'd called the number for Ecocar mentioned on a tourist map that was given to me by a friendly gentleman in a souvenir store outside Casa Dali, a quirky museum in Port Lligat that had once been the home of the Catalonian artist Salvador Dali. The man had been kind enough to take the time to show me an album of photos from Cap De Creus, a Natural Park he said I could not miss, especially since I had made it as far as Cadaques. This wasn't the first time I had heard about Cap De Creus, a Natural Park on the eastern tip of the Iberian Peninsula, 67 meters above the Mediterranean Sea. The park is a protected natural reserve, home to a variety of plant, animal and marine life.
Earlier that morning, I had bargained with myself to take it easy for the day. The last week had been chock-full of travel experiences and coastal hikes and my body was begging for a day of doing nothing. But it was becoming clearer with each picture that I had to go to Cap De Creus. I knew I didn't want to hike the 8 km distance both ways and he suggested I hire an Ecocar, an electric golf car that could take me there for 10 Euros. After waiting for 15 minutes, during which I'd convinced myself that the person on the other end of the line hadn't understood where I'd asked to be picked up from, Diego showed up, leaving a small cloud of dust behind his black sporty looking car.
I buckled up next to him, holding onto my daypack between my feet and off we went up and down the windy coastal road to Cap De Creus. "8km from here", he yelled over the revving of his car. He thought his English was terrible but it wasn't bad at all. We talked about Dubai, where I was from and how it didn't have natural parks like Cap De Creus but a beautiful desert and an impressive urban cityscape. "Looking", he said pointing out to a beautiful bay.
Soon, the landscape felt alive and breathing, seamlessly changing form and color like a chameleon. At first, flanked by intermittent pockets of elms, pines and oaks, the narrow road appeared to gradually ascend into the unknown, surrounded by rugged wind-sculpted rock formations and scrub vegetation. "Bonito, eh?", Diego would proudly ask each time he stopped or slowed down at a viewpoint over a hidden cove or a golden beach hugging the Mediterranean. Overwhelmed, I would silently lean forward to stare, as if hypnotized by the sublime landscape that was painted in shades of turquoise, gray, green and the occasional ochre.
Diego pointed out giant rock formations that when looked at with a little imagination appeared to be shaped like animals. The most famous of these was the Camel Rock, against which a family was getting their picture taken. It really did look like a giant sized camel that could have been the hero of a grand legend set in old world Arabia. There was also a rabbit shaped rock here to keep an eye out for and I made a mental note to find it on the way back. These animal shaped formations had fuelled the already fertile imagination of Salvador Dali, who found inspiration in these masterpieces of nature not far away from his home in Port Lligat. He spent considerable time in Cap De Creus studying the dramatic features of the rugged landscape sculpted by the fierce Tramuntana winds that hit the easternmost tip of Spain and decades of erosion.
Reminded by my growling stomach that I had skipped breakfast that morning, I asked Diego to drop me off at the Bar Sa Freu by the viewpoint and meet me at the Camel Rock in two hours for the return journey back to Cadaques. I would hike in the park for the next two hours, losing myself in the much-needed serenity that only a landscape as splendid as this could offer. After wolfing down a delicious Spanish omelet, I headed back down the way we'd come up to the restaurant following the marked walking trails while not losing sight of the main road.
Few things sweep me off my feet as the bold and unabashed beauty of a trail that revels in the glory of its wildness. It was as though I had magically fallen into another realm, one that had remained true to its natural state and wasn't tarnished by the effects of inhabitation. The infinite horizon stretched out before me in a perfect curve. The jagged ends of the rocky terrain reached out to the sea, its waves dancing and glistening in the sunlight. Every step I took led me deeper into my state of wonder, amazement and shameless satisfaction of not having to share this experience with someone. There were hardly any others on the trail and I felt incredibly grateful and humbled that this moment and this trail had somehow wheedled their way into my destiny.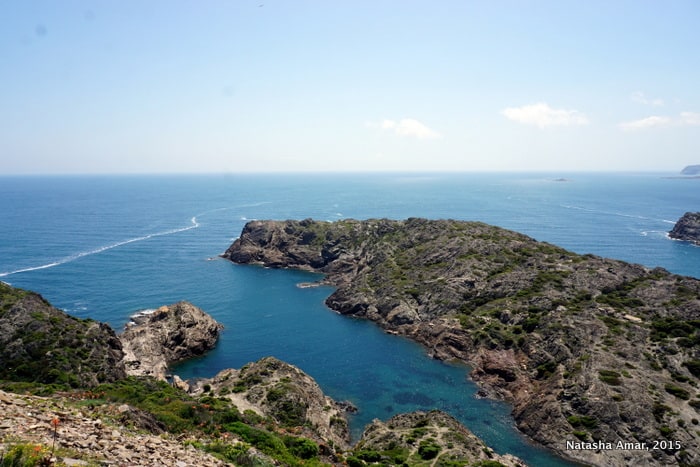 The name 'Costa Brava', that translates into 'Wild Coast' made more sense here in Cap De Creus than it had in the other parts of the Spanish coastline that I had explored in the past few days. The wind was playfully ferocious, often slapping my face hard as I pulled up the zipper on my windcheater, only to completely disappear for the next several minutes causing me to sweat profusely. I'd peel off the layers and it would sneak up on me again at the next corner.
Suddenly, I realized that I was supposed to meet Diego at the Camel Rock in forty minutes. It seemed as though I was walking faster than I had imagined but I didn't remember the rocks being that far out. The reasonable explanation was that I'd somehow missed the rocks but this seemed improbable because well, the Camel Rock was a rather hard to miss enormous rock formation. I had probably sauntered a good way off the main road before coming back to it and had crossed the section with the rocks. I called Diego and responded with "I don't know" when he asked where I was. I asked him to come find me on the main road and he responded with, "I come now Cami Cap De Creus!"
Hiking in the otherworldly terrain, my legs didn't feel the burn. Walking along tirelessly they were fuelled by their lust for the trail. I crossed the sign welcoming visitors to the park. The sun had been shining brightly all afternoon and I was aware that my face had turned a bright red and my arms a deep golden. Diego, who appeared in his golf car confirmed this, greeting me with "Too much walking, Natasha", emphatically whirling his hands close to his face, he added, "Too much color".
As he drove away towards Port Lligat, I turned out around one last time to look at the Cap De Creus Natural Park. The sweeping vista still struck me as speechless as it had when I first laid eyes on it.
About Cap De Creus Natural Park
Created in 1998 and located in the Alt Emporda region, the Cap De Creus Natural Park is the first marine and terrestrial nature reserve in Spain spread over 13,843 hectares. It's home to more than 800 plant species such as sea lavender and saxifrage. Some common trees in the area are the Aleppo pine, varieties of oak, and shrubs such as juniper and mastic. Bird species in the park include the peregrine falcon, eagle and types of seagulls. Fauna includes the snail, European toad, European tree frog and the Moorish gecko. The red scorpionfish, American lobster, dusky grouper and saddled sea bream are notable marine species. The region also has the highest density of bottlenose dolphins in Catalonia.
The spectacular and diverse landscape of islets, cliffs, coves and bays along the coast was formed by the erosive action of the sea and strong winds on the Crap De Creus peninsula. The peninsula is made up of the metamorphic igneous and sedimentary rocks of a mountain range formed 400 million years ago. The area is rich in minerals as a result of intense geological processes. A distinctive feature of the park is the presence of exposed deposits of orange pegmatite rock. The fierce Tramuntana winds that can reach speeds of 150km/h erode the soft gray metamorphic rocks to expose the hard pegmatite rocks beneath and form peculiarly shaped structures such as the Camel.
The park is easily accessible from the fishing village of Cadaques and Port Lligat, via a walking trail or Ecocar.
More information is available on the Cap De Creus website.
If you like this post, please share it to Pinterest:
This post contains affiliate links. If you make a purchase using these, I might get a small commission with no extra cost to you, which goes towards running this site.