Walking in the neighborhood of Gràcia feels different from being elsewhere in Barcelona. The streets are narrower, the smell of freshly baked bread wafts onto the street as you pass by a home bakery, and art is everywhere; painted on walls and store shutters, inked on the bodies of locals and proudly displayed through the open doors and windows of artist studios. There's neither the chaos of busy La Rambla nor the crowds of camera-toting tourists that wander in the Gothic Quarter. Gràcia is different, its character exuding the rare charm of a place so comfortable in its skin that it isn't vying for your attention.
The village of Gràcia was independent until the late 19th century and it's no surprise that its residents, a community of artists and intellectuals that's fiercely proud of its heritage, still say they're from Gràcia, not Barcelona. After spending a few days eating around the rest of the city and the best chocolate places in Barcelona, I happily took the first opportunity I got to experience authentic Catalan cuisine from the kitchens of family-run establishments on a walking food tour with Devour Barcelona on the Gràcia Neighborhood Tour. The company offers tours that focus not only on the meals, but also the people behind them, intertwining their stories with the culture and history of Gràcia while exploring this hipster neighborhood on foot.
The meeting point for the tour was the upscale Passeig de Gràcia, a street lined with fashionable stores boasting big names such as Valentino. Here I met our guide Renée, a long time resident with an infectious enthusiasm for Catalan cuisine, who would lead our group of twelve into the backstreets of Gràcia.
The Botifarra at Can Tosca
We had been advised to skip breakfast as there would be a lot of eating on the tour and our rumbling stomachs could not have been happier for our first meal at Can Tosca. Founded by two sisters from the neighborhood and now managed with the help of their children, Can Tosca is casual and inviting, with old black and white family photographs displayed on the walls.
My request for no beef or pork was well accommodated and as the rest of my group enjoyed their grilled botifarra (pork sausage) sandwiches, I relished my omelet sandwich with a refreshing glass of Cava (a sparkling wine similar to champagne) made from a blend of grapes native to the Penedès region in Catalonia. Cava is considerably cheaper than champagne and this has nothing to do with quality but is due to highly favorable conditions in Catalonia for production in greater quantities.
The pork sausage or botifarra is a traditional favorite in Catalan cuisine and the two main types are the white sausage made of minced pork and spices or the black sausage with the additional ingredient as boiled pork blood. But if you're vegetarian or botifarra doesn't sound like your thing, Devour Barcelona can accommodate your food preferences, provided you let them know in advance.
Market treats at Selecció d'Olives I Conserves Gloria
Our next stop was the Mercat de l'Abaceria Central, a market selling fresh homegrown produce, meat, seafood and dairy products, it's entrance tucked away in a lane.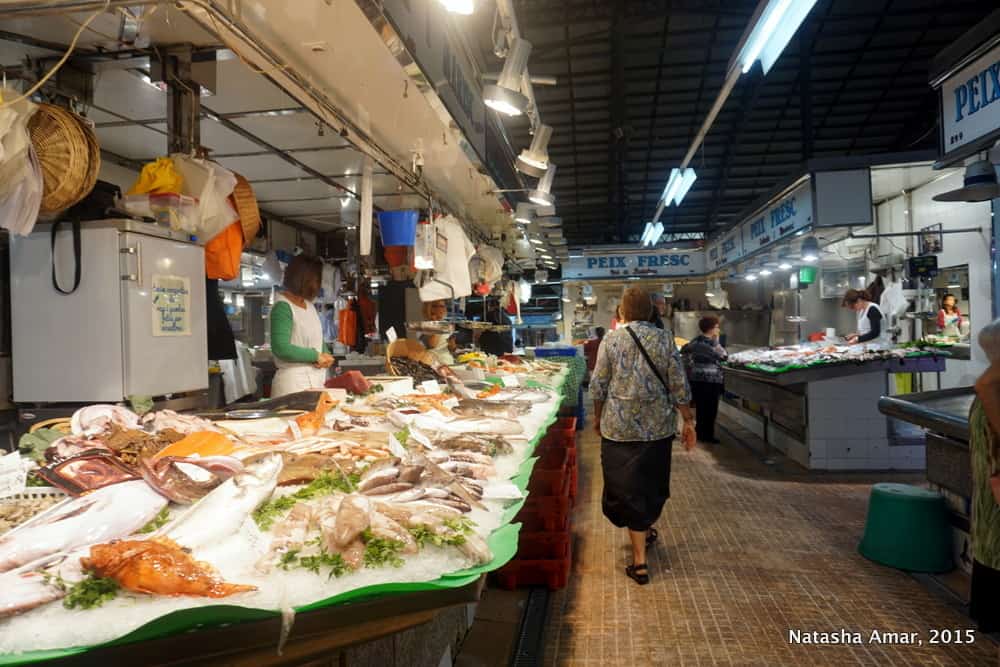 We smiled at the friendly vendors, some still setting up their counters, and followed Renée through the aisles to find ourselves at Selecció d'Olives I Conserves Gloria. The store display was a colorful smorgasbord of varieties of green and black olives, bright red cherry peppers stuffed with cheese, wrinkly sun-dried tomatoes, pickled carrots and silver anchovies. We were each handed a skewer with an olive, sun-dried tomato and salt cod and on Renée's advice, we popped it into our mouths all at once to be hit by an explosion of spicy, tangy and juicy flavors, something like an espresso shot for our tastebuds.
Award winning cheese at La Trobada del Gourmet
Just a couple of steps away, at La Trobada del Gourmet, we tasted a selection of delightful Spanish and Catalan cheeses, Urgelia, Idiazabal and Manchego which won the World Cheese Awards for the last two years. I particularly enjoyed the perfectly balanced sweet and savory tastes of the Manchego cheese served with a thin slice of membrillo, a dense sweet jelly made from the quince fruit, and casting aside my usual self-consciousness, helped myself to an extra slice.
The art of olive oil tasting at Oli Sal
Leaving the market behind, we followed Renée again as she led us into Oli Sal, a store that at first appears like olive oil heaven. The walls were lined with bottles of olive oil in different shades of gold. We headed into a tiny tasting room where we tasted three organic Spanish extra virgin olive oils as a spoonful and then with a small piece of bread, most of us surprised by the differences in the flavors and intensity, having never paid as much attention before.
Olive oil is a mainstay in Spanish cooking and it's common to drizzle it over salads, bread and even dessert. Renée explained how extra virgin olive oil is made (without the use of chemicals or heat) and how labels on olive oil sold in supermarkets can be misleading.
Leaving Oli Sal after our quick lesson, we walked towards Plaça de la Vila de Gràcia, a lively town square where people enjoyed al fresco lunches around an impressive clock tower. When Gràcia was still an independent village, the square, also home to the historic Town Hall, served as a central hub for events of political and social significance.
We stepped into the district office to find the Gegants or Giants of Gràcia, standing proudly, painted smiling faces and a horned devilish head scowling at us. These giants take over the streets and squares of Gràcia during the Festa de Gràcia (Gràcia Festival), an annual street festival held in August during which the neighborhood, dressed in all its finery, comes alive with processions, parades, concerts and community events.
Pa amb tomàquet at L'Anxoveta
We arrived at L'Anxoveta to the welcoming smile and warm demeanor of the friendly owner Carlos and a large table that was set up for our make-your-own pa amb tomàquet session. The delicious pa amb tomàquet (tomato bread) is a Catalan favorite that is enjoyed for breakfast, as a tapa or a mid day snack. It's found in every restaurant in Barcelona and is always served as an accompaniment to the Spanish omelet. Throughout my travels in Spain, I ate this bread every day, unfailingly ordering it where it wasn't already served because I just loved it so much! Following his instructions, we rubbed vine-ripe tomatoes, which were cut in half, on toasted crusty bread making it soft and moist from the pulp. We seasoned it with a sprinkle of sea salt and a generous drizzling of olive oil.
This simple dish has an interesting story of how it became a Catalan favorite. Even the humblest of Catalan kitchens would usually have the three ingredients- bread, tomatoes from the family's garden and olive oil from the farm, to never have to go to bed hungry. It was an economical way to utilize hardened day old bread that otherwise could not be consumed.
As we sat around the table enjoying the bread, Carlos brought in dishes of Bomba potato and ground beef croquettes and Patatas Bravas for the vegetarians, topped with fiery brava sauce and alioli. The La Bomba tapa is a round croquette of potato and meat in a pool of red brava and topped with a dollop of alioli (aioli). It was invented in the 1920-30s in La Barceloneta, a fishermen's village by the sea and a hub for anarchists, to look like a bomb with a lit fuse in a pool of blood. Patatas Bravas (fried potato cubes in brava sauce topped with aioli) is another favorite in Spanish cuisine. Renée explained that there were many versions of Patatas Bravas and some restaurants would use little or no brava sauce, drizzling only aioli on the potatoes before serving them. I'd tried the dish in Barcelona and elsewhere in Costa Brava before but the one served at L'Anxoveta was by far my favorite.
Syrian pastry at Pastisseria Principe
Little did I expect a taste of the Middle East in Barcelona, but I have to admit I was right at home (next to rows of assorted Baklava) at Pastisseria Principe, a Syrian pastry shop. It was opened by Mostafa who first came to the city thirty years ago on vacation. In two months, he was married and had started the pastry shop serving Middle Eastern sweets like Baklava (a rich sweet pastry made of layers of filo, nuts, syrup and honey). The pistachio pastry, recommended by Renée, was crunchy, sweet and simply delicious.
The Old Man's Bar Bodega Ca'l Pep
As we entered this atmospheric bar, it was easy to see why Renée had described it as a classic 'Old Man's Bar'. For one, the only other patrons were old men who seemed to be having a jolly ol'time as they hung out engaging in banter and watching TV. Simple wood furniture, retro themed posters, ladles on the walls and a checkered towel that hung by the sink made it seem like we were in somebody's kitchen.
A glass of sweet, warm Perruchi red vermouth (wine flavored with herbs and caramel) was paired with pickled anchovies, olives and a piece of bread. Sweet, salty and sour, it was an interesting combination and a great introduction to vermouth for first timers.
Home cooking at La Botigueta del Bon Menjar
La Botigueta del Bon Menjar is a cozy shop tucked away on a quiet street with mouthwatering dishes of homemade meals like meatballs in gravy, pasta and fideuà (a vermicelli dish similar to Paella) displayed in the only counter.
"Traditional meals for half the price you'd spend at a touristy place", Renée explained. Under the watchful gaze of Jose, the owner, we tried the escalivada and romesco pintxo (grilled vegetables, an olive and romesco sauce). It was a fantastic pairing of contrasting flavors. This was followed by espinacas a la Catalana (Catalan style cooked Spinach). Warm, simple and hearty, it felt like something you'd expect to find in a traditional Catalan home. Thanking Jose for the lovely meals, we were on our way again.
Sweet treats at Pastisseria Ideal
Our last stop was Pastisseria Ideal, a modern café and pastry shop on the main street Carrer Gran de Gràcia that first opened its doors in 1919. Here, we tasted their invention, the mini cremat, an innovative version of the crema catalana, believed by some to be a predecessor of the famous crème brulee, with the creamy custard contained in a spongy cake. The dessert is made using milk, orange rind, cinnamon, lemon and eggs and is slightly tangier than crème brulee that uses vanilla. Unlike the crema catalana, the mini cremat had a jelly like texture, with the creamy top settling into the soft cake. The mini cremat now proudly wears the crown of my favorite dessert anywhere ever (yes, it has knocked kunefe off its throne!).
Afterwards, over cups of cortado (espresso with milk), we tried to pick our favorite stops on the tour, a rather difficult choice. Not only had we enjoyed learning about the unique cultural identity of Gràcia but had also discovered traditions of Catalan cuisine that are difficult to uncover in a city where you don't always know where to look for an authentic food experience.
If you're in Barcelona, I highly recommend this tour as a way to explore Gràcia and enjoy the best of traditional Catalan cooking.
Contact Devour Barcelona : http://devourbarcelonafoodtours.com/, [email protected], fee €65 for a day tour of 4 hours.
I was invited on the tour as a guest of Devour Barcelona. All opinions, as always, are honest and independent.
This post contains affiliate links. If you make a purchase using these, I might get a small commission with no extra cost to you, which goes towards running this site.