Between my many travels and my time living in multicultural Dubai, I've tried a good number of different cuisines. Some have become regular go-to's while others I haven't given a second chance. Yet, somehow, I'd never tasted Georgian food, or even food from around the region (Armenia, Azerbaijan, or Russia). As Georgia shares a border with Turkey, I expected some similarities in the food. But beyond that, it was a whole new culinary adventure, one that I enjoyed thoroughly topped with generous dollops of legendary Georgian hospitality.
Meals in Georgia are more like feasts, even if you're ordering for one- because the portions are never just for one. When you're eating with people, the dishes on the table are usually to share. Hosts are insistent, portions are generous, dishes are flavorsome, cheese is rich and abundant, service is impeccable, wine is intense, and the toasts, well, they're never-ending.
Georgians aren't big on breakfast and good luck to you if you're an early riser looking for breakfast in Tbilisi or anywhere in Georgia before 10am. Most hotels, guesthouses, and apartments provide a breakfast option- take it. They're usually generous and serve something like eggs, cheese, jams, milk, tea, coffee, juice, bread, butter, fruits, salad, and cake. If you don't mind a light breakfast after 10-11am, head to a bakery or café for warm pies or khachapuri bread stuffed with cheese, mashed beans, potato, or spinach.
Eating out in Georgia is very easy on the pocket and you'll get great value for money, whether it's in cities like Tbilisi or Kutaisi or in the mountain villages of Svaneti. If you eat at places serving Georgian food, it's difficult to have a bad meal.
A word of caution though- if you do go on day tours with a local tour company, expect below-average meals at some restaurants during your lunch stop. There's obviously a commission at work here and they usually serve tour groups one after the other with no locals eating there. If you find yourself in such a place, order something simple like khachapuri or mtsvadi (grilled skewered meat).
At the time of writing, a meal for one should cost you anywhere between 6GEL to 25GEL, depending on if it's a city or small village, whether you're eating at a bakery, family-run kitchen, fancy place, with or without a glass of wine.
I've enjoyed a delicious freshly baked khabizgina (a large potato bread that could be breakfast or lunch) for as little as 2GEL, khachapuri filled with chicken stew or lobio (a big clay pot of beans in stew that I couldn't finish for 6GEL, five khinkalis (dumplings) for 5GEL, and a chicken dish (meant for four) for 15GEL. Then, I also ate at my guesthouse in Svaneti for 10GEL per meal, buffet style with pies, rice, stews, fresh bread, soup, and what not.
If you're someone who likes to eat their way around places, you'll love eating and maybe learning how to cook the food in Georgia. You'll return home with love handles as solid evidence of just how rich Georgian cuisine, that marries the flavors of Asia, the Middle East, Balkans, and Mediterranean, really is. By the way, if you're visiting Georgia, here is my ultimate guide to Tbilisi and a guide to traveling around Georgia.
Here are some Georgian dishes to try:
Khachapuri
Perhaps the most famous national dish in Georgia, you'll find Khachapuri served everywhere from fancy restaurants and cafés to hidden basement bakeries in Tbilisi and market vendors.
"Small, for one," answered my server at a café in Tbilisi as I confirmed the size of my first khachapuri. What came, was in fact, six slices of the cheesiest cheese pizza of my life, and not surprisingly, I shared half of it with a cheeky little kid outside.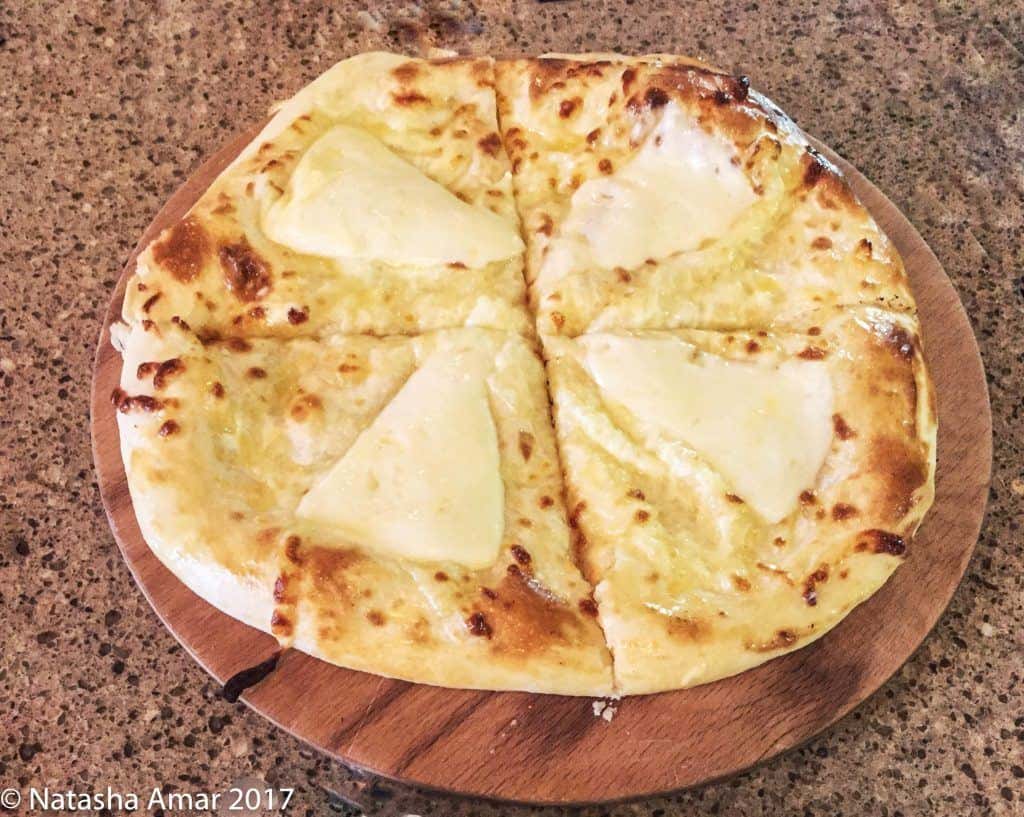 Khachapuri comes with various toppings and fillings. Here's your khachapuri dictionary:
Megruli khachapuri is a large round bread generously topped with imeretian cheese.
Imeruli khachapuri is the same but the bread is filled with cheese instead.
Acharuli khachapuri in which shape of the bread is long and hollow, like a boat, and it's served topped with cheese, butter, and a raw egg, which must all be mixed together into a creamy rich texture before you eat.
Ajarian khachapuri refers to the boat-shaped khachapuri that can be topped with chicken stew, a creamy spinach mix, curried meat, or just cheese.
Khabizgina
Khabizgina is bread stuffed with potato in addition to cheese and is typical of the Ossetian region. It makes for a great breakfast or snack on a cold evening.
Kubdari
Kubdari is bread stuffed with spiced minced meat (pork and beef) and fried before baking. It's typical of the mountainous region of Svaneti, and I tried it in Mestia, the central town in Upper Svaneti.
Lobiani
Lobiani is bread stuffed with mashed kidney beans cooked with ham or smoked pork for flavor. It's another great breakfast option.
Pkhali
Pkhali is a pâté (usually shaped like a ball) that can be made with spinach, beetroot, carrot, walnuts, beans, eggplant, or other vegetables. It's usually served with bread or cornbread as a cold appetizer.
Badrijani nigvzit
Badrijani nigvzit (pictured above) are fried eggplant rolls filled with a mixture of garlic and walnuts and are served as an appetizer. Each eggplant parcel packs a punch and the flavors of the filling ease into your mouth blanketed in the eggplant. This dish actually reminded me of a dish my mum used to make when I was a kid- fried eggplant slices topped with a spicy sautéed onions, that I'd very often roll up and eat, much like these rolls.
Khinkali
Khinkali is a Georgian dumpling that is also one of its national dishes. The steamed dumpling can be stuffed with meat, mushrooms, cheese, cottage cheese, or boiled potatoes. It definitely feels like an Asian influence on the cuisine. There's a technique to eating khinkali correctly; hold the dumpling by the twisted knob of dough, take a small bite, slurp away at the sauce inside, and eat everything except the twisted knob. Eating the knob is considered rude and it also tastes like uncooked dough.
Khinkali is quite filling and four to five of these should fill you up for a meal. These dumplings were one of my favorite Georgian dishes.
If you're visiting Tbilisi, try these at the famous restaurant Pasanauri.
Lobio and Mchadi
Another one of my favorites that I particularly enjoyed on chilly days in the mountains of Svaneti is lobio, a hearty stew of kidney beans, onion, herbs, and spices served in a claypot along with mchadi or cornbread. Again, this reminded me of the most popular Indian preparation of kidney beans or rajma served with rice.
The best lobio I had was at Café Leila in Mestia on what was a miserable, gloomy day of relentless rainfall and gray skies over the town.
Chicken Shkmeruli
Shkmeruli is chicken cooked in a milk and garlic sauce. Those two ingredients together would be unthinkable in Indian cuisine and frankly, I wasn't the biggest fan of this dish which felt a little bland for my Indian taste buds. But others seemed to love it, so definitely try if it sounds appealing.
Chicken Tabaka
Tabaka is whole chicken, marinated with spices, and seared and grilled to be crispy outside and soft and juicy within. It can be served with different sauces.
Satsivi
Satsivi is a thick, creamy walnut sauce that is served at room temperature and paired with different ingredients. I loved Chicken Satsivi- pieces of chicken buried in a bowl of rich Satsivi sauce and garnished with pomegranate seeds. Dip a piece of bread in the sauce to taste all the flavors.
Mushrooms in Sulguni
Mushrooms cooked in a pan with sulguni cheese- and all the melted goodness that comes with it.
Kebab
Now as someone who grew up in Dubai, I am a huge fan of kebabs and if I see kebab on a foreign menu, I always try it, and that also holds true for hummus. But the kebabs in Georgia, well, they're really something else. The first time I tasted a Georgian-style kebab after four hours of non-stop walking around Tbilisi, I said to myself, "Whoa, what is that? This beats kebabs in Dubai. But wait, what, this isn't even the Middle East, how can it be?" But it's true, people, it's true.
In Georgia, the kebabs are packed with more flavors and spices, introduced when the minced meat is kneaded and shaped. The meat, by the way, can be lamb, beef, pork, or a mixture and even salmon. I mean, salmon? I'd never tasted a salmon kebab and I was blown away by how amazing it was. The kebab comes wrapped in a thin bread, with thinly sliced onions, and a light sauce.
If you're visiting Tbilisi, try the kebabs at Machakhela and KGB.
Mtsvadi
Mtsvadi is meat roasted on a shashlik or iron rod, and can be pork, mutton, chicken, beef, and nowadays, even fish. Order some bread and freshly made tomato sauce and it's a simple but full meal.
Chakhokhbili
Another dish that tasted similar to Indian food, Chakhokhbili is chicken cooked in a gravy of tomatoes, onions, spices, and herbs, served in a clay pot. This was one of my go-to comfort foods along with bread that I dipped into the sauce.
Try it at Friend's House (name of a restaurant, you guys) in Tbilisi.
Cotleta
I'm not sure how traditionally Georgian this is but cotleta is a meat cutlet that can be pan-fried or deep-fried. I tried a few different types, always chicken, accompanied with bread, cornbread, greens, mashed potatoes, and salads. But my favorite was the one I devoured at Café Gabriadze in Tbilisi served on creamy Satsivi (walnut sauce).
Chicken in Red Wine
A modern, not necessarily Georgian dish that I enjoyed at KGB in Tbilisi that deserves a mention because of how delicious it was: Chicken breast on a bed of spinach, topped with cheese, and served in a red wine sauce.
Chicken in Blackberry Sauce
A whole chicken roasted and served in blackberry sauce, this was simple and tasty.
Churchkhela
Everywhere on the streets of Tbilisi, this candle-like Georgian candy is sold for as low as 3GEL a piece. The candy is made of dried grape juice thickened with flour and is filled with nuts (like walnut, almond, hazelnut etc) and just one can fill you up with high energy for hours. Don't buy it from touristy shops where the candy looks dry and has a white layer on top. Buy brightly colored, fresh, and soft candy from the ladies in the street, ask them to remove the thread in the center and cut it into little pieces.
Special mention: Vanilla filled croissants at Coffeesta, Tbilisi
Coffeesta is a Georgian chain of coffee shops around Tbilisi and they serve the most sinful (but so worth it) vanilla and chocolate cream filled croissants. Go there for breakfast or any time you need an excuse for great dessert and coffee. There's a big branch at Rustaveli 52 in Tbilisi.
I encourage you to try the local food and ask for recommendations while ordering. Given the influx of tourists in Tbilisi, it's easy to go to a place and order safe dishes that you could eat anywhere else in the world (pasta, pizza, steak etc) or slip into McDonald's but then, you'd be missing out on what is a very valuable part of the Georgian experience- the food. I hope this post gives you ideas about what to eat in Georgia.
If you're Georgian, I'd love to know what would you add to this list. If you've traveled to Georgia, I'd love to know your favorite Georgian dish.
This post contains affiliate links. If you make a purchase using these, I might get a small commission with no extra cost to you, which goes towards running this site.