"Where is Georgia?" I was asked more than once when I told my friends and family about my Tbilisi travel plans. "The country," I had to explain, "shares borders with Turkey, Armenia, Azerbaijan, and Russia. Not too far from Dubai, only a three-hour flight." I booked this trip very impulsively one afternoon, thanks to an affordable Flydubai flight and a growing sense of restlessness. It helped that as a UAE resident, I could get a 90-day visa-free entry. Then, with plenty of time to explore the city, I set about finding the coolest things to do in Tbilisi.
When I first arrived in Tbilisi, I didn't know what to expect and had done no research on what to do in Tbilisi. Unlike other, more well-planned trips, this time I only had a rough idea of the places I'd travel to within Georgia during my month in the country. But I found so many cool and interesting places to visit in Tbilisi, that I did not want to leave and ended up staying longer than planned.
I spent about three weeks in Tbilisi, wandering tirelessly through its crumbling old town, looking up at intricately carved wooden balconies, ruined buildings with gaping walls and overgrowth, leafy lanes where artists sat painting, and many many churches, fuelled by nutritious churchkhela (Georgian candy) and warm potato bread from basement bakeries, whose aromas beckoning from street-level windows, were impossible to resist.
I explored the posh neighborhoods around Freedom Square and Rustaveli, joined the stylishly dressed locals to watch the Opera, and dined in fancy restaurants with ample enthusiastic toasting to good health and celebration. There was no lack of cool, interesting and quirky places to visit in Tbilisi.
After I was done sightseeing in Tbilisi, I set about discovering life like a local. I stepped into places that didn't have English menus, learned how to eat khinkali (steamed dumplings) the right way, and joined the locals to shop, not in the fancy stores along Rustaveli Avenue, but in the open subway market at Station Square. To work, I visited many cafés, some, with far more interesting décor than coffee, and to rest, I joined families, retirees, and, artists in the city's many quiet parks.
I got to the point where I didn't need to read the boards to know if I was taking the right metro and I knew exactly what I wanted to eat when I entered a restaurant. Thanks to a two-day trip to the Kakheti wine region, soon, I knew my Georgian wines well enough. I even found an indie theater where I watched a performance that seemed part-fantasy.
What I loved about Tbilisi, as I did about Georgia as a whole, was its ability to surprise me with something when I least expected it. The thing that stood out to me was the friendliness of the locals, who in spite of being used to tourists, are not bored, irritated, or indifferent. Chivalrous behavior, smiles, a warm greeting, and a genuine interest in others was the norm everywhere I went and I can say, without a doubt, that Georgia is the friendliest country I've been to.
If you're planning a trip to Tbilisi, I put together this very detailed Tbilisi travel guide with the very best things to do in Tbilisi, plus practical tips and information, so you can enjoy this city as much as I did.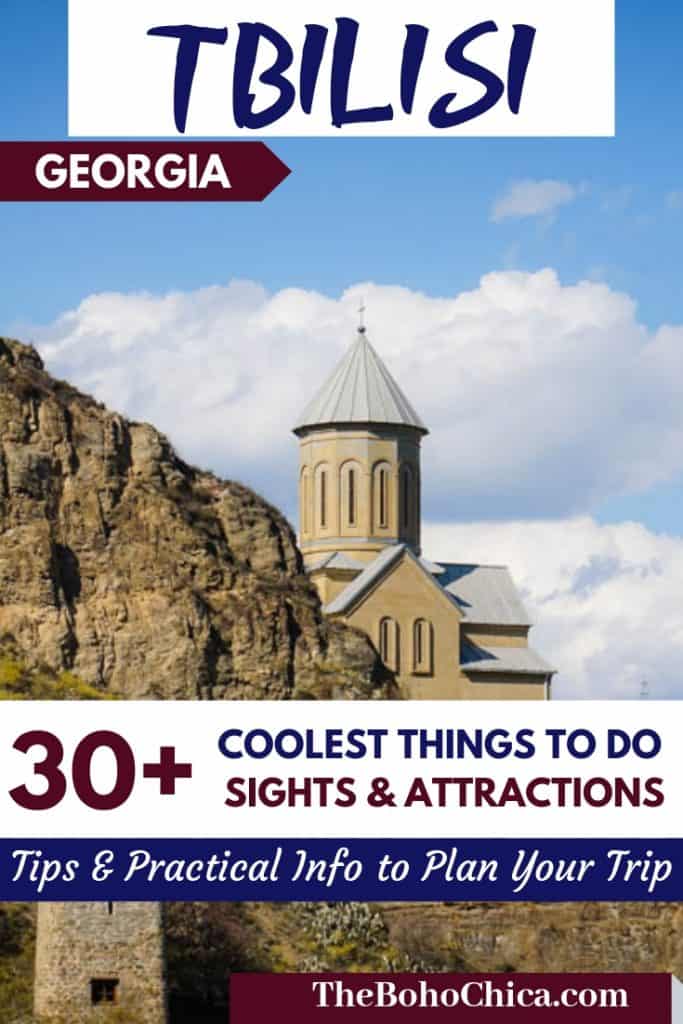 What To Do in Tbilisi
There are plenty of interesting places to visit in Tbilisi, so don't rush through the city in a day. Give it time, because Tbilisi is one of those cities that has so many layers to it and most tourists never get to the most fascinating parts because they're rushing through. I spent around three weeks in the city and I still did not run out of things to do in Tbilisi, perhaps because I wasn't just interested in the very touristy activities, but also in the cool and somewhat quirky every day things.
Explore the Old Town and the Best Places to Visit in Tbilisi
Tbilisi's old town begins around the sulphur bathhouses in Abanotubani, under the shadow of the historic Narikala Fortress ruins and runs all the way to Freedom Square. Hidden in its labyrinth streets are monuments, churches, a mosque, museums, cafés, 19th century houses, and buildings with gaping holes in their facades that have their own stories to tell.
There are regal balustrades and carved wooden balconies, and creepers and ivy that dress the faces of half-demolished buildings. There are old ladies with kind faces selling churchkhela and old men singing older Hindi movie songs in drunken stupor. Travel Tbilisi for even a day, preferably outside of the busy season and you begin to see that its charms are in the most unexpected of moments.
There are children who call out to each other across the maze-like lanes and young women dressed in black dresses and impossibly-heeled black boots marching downhill with an urgent sense of purpose. And then, right next to you on benches, there are the retirees, taking it all in, this life that goes on around Tbilisi. Tbilisi's old town is truly one of the best places to visit in Tbilisi- so I suggest starting your exploration of Tbilisi here.
You can easily spend a leisurely day walking around the old town and stopping to rest by the river or at one of many quaint cafés. Sioni Cathedral, Anchiskhati Church, Erekle Square, Gabriadze Theater (and its whimsical clock tower), Metekhi Church, and the Bridge of Peace are just some of the Tbilisi attractions and sights in the area. Alternatively, you can also do a hop-on, hop-off bus and boat tour around the main sights at your leisure.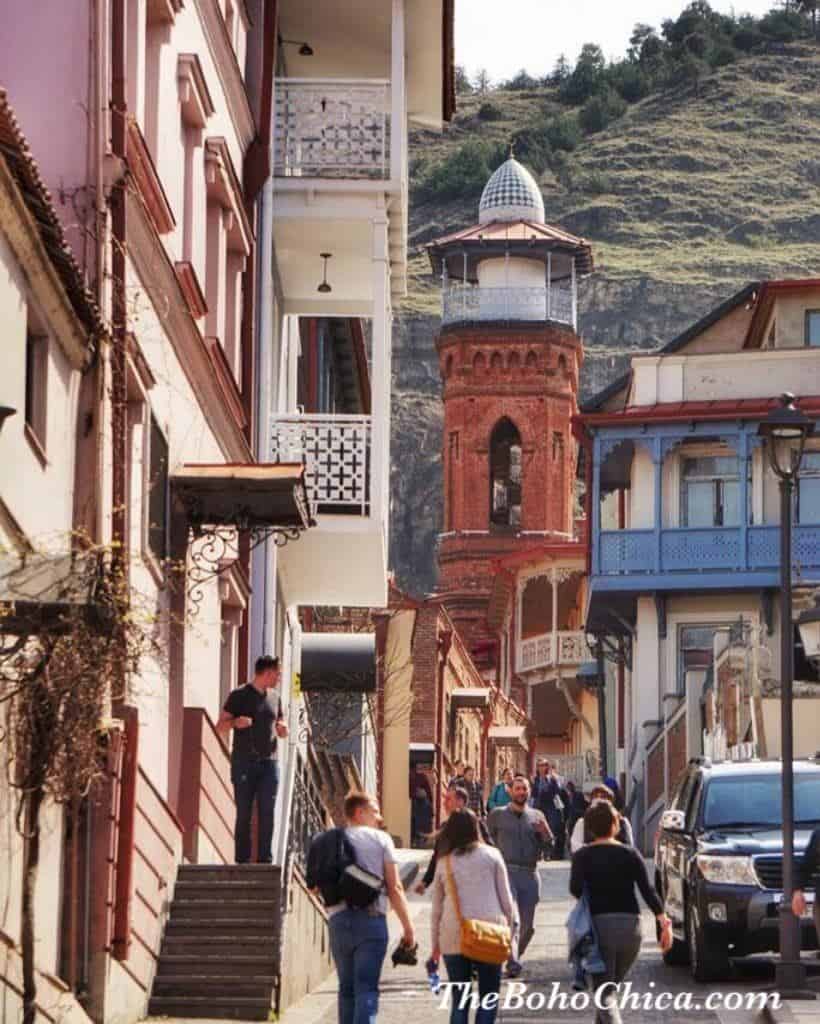 Watch My Video: 48 Hours in Tbilisi
Ride up the cable car to the Narikala Fortress
Head across the Metekhi river to the same side as Avlabari metro station and ride the cable car from Rike Park all the way up to Narikala Fortress. Before you head to explore the ruins, walk along the ridge to pay your respects at Kartlis Deda, the 20m tall Mother of Georgia statue that was erected in 1958 and stands over Tbilisi like a guardian, welcoming friends with a cup of wine in one hand and enemies with a sword in the other.
The Narikala Fortress dates to the 4th century with a large part built by the Arabs in the 7th and 8th centuries. Much of the damage to the fortress came from the 1827 explosion of Russian ammunitions stored here. Inside the complex, the Church of St Nicholas dates from the 12th century and was rebuilt in 1996. The walls of the fortress offer panoramic views over Tbilisi but is broken in parts, so be careful of how far you climb up.
Relax in the Tbilisi Botanical Gardens
On your way back from Narikala Fortress, head into the lush, sanctuary-like Botanical Gardens complete with a waterfall, ponds, and a photogenic bridge. These gardens were formerly the city's royal gardens and today, local families are seen relaxing around, especially on weekends and public holidays. It's easy to spend a few leisurely hours here but remember to wear good walking shoes and bring a bottle of water. This isn't a big tourist attraction, but a more laidback thing to do when you travel to Tbilisi.
Soak in a Sulphur Bath at a Traditional Bathhouse
Tbilisi's traditional sulphur bathhouses are located in the Abanotubani area of the Old Town and with their brick domes and stinky clouds of sulphur steam, are hardly difficult to find. They're definitely one of the best places to visit in Tbilisi- both for their historic significance and the local experience. Just follow the smell of rotten eggs when you travel to Tbilisi's old town. The city is located on sulphuric thermal springs and gets its name from them, Tbili- meaning warm.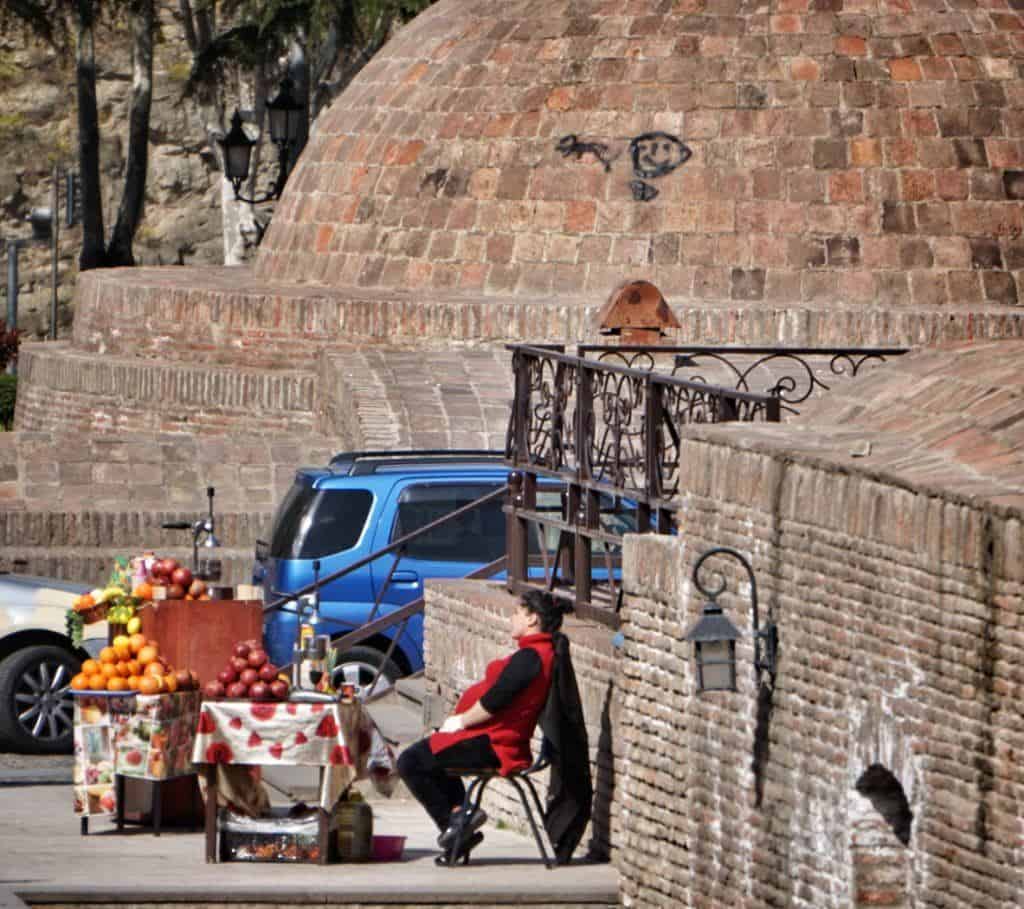 Indulge in the centuries' old tradition either at a public bathhouse, separated by gender but otherwise where you'd need to leave all your modesty behind and get in naked, or, at a more comfortable and pricier private bathhouse, where you can book a private bath, with an additional massage or scrub for yourself, or together with a friend or partner. Gulo's Sulphur Spa comes highly recommended, even by locals, and if you want to know exactly what the experience is like, here is a detailed post by another travel blogger Ellie, who also shares tips on how to choose a bathhouse that is right for you.
Experience Drama, Theater, and Opera
Tbilisi has a lively and mature drama, theater, arts, and opera scene, and if you want to go beyond the tourist experience, it's worth taking the time and planning in advance so you can see the cultural side of the city.
The Georgian National Opera and Ballet Theater of Tbilisi on Rustaveli Avenue is a sight to behold, with its neo-Moorish architecture and was founded in 1851, making it one of the oldest opera houses in the region. It was recently renovated and now hosts internationally acclaimed opera, theater, and ballet performances. It is one of the most beautiful places to visit in Tbilisi.
The easiest way to book a ticket and find out about the shows is to walk up to the ticket booth inside the opera house. We watched the acclaimed musical Carmen inside the grand opera house and enjoyed it. Not to mention that the price of tickets to watch opera, theater or ballet in Tbilisi is way more reasonable compared to other cities.
Along Rustaveli Avenue, and elsewhere around Tbilisi are several opera houses, many independent, and venues where the styles range from classic and contemporary to new age, underground and experimental.
I found myself in a daze, mesmerized by a larger-than-life production of music, song, dance, mimodrama and aerial acrobatics in an unassuming venue known as the Movement Theater, and if you can find tickets available online, I can only highly recommend it. There is also the Gabriadze Theater, a delight for lovers of puppetry and marionette. Info Tbilisi and Tbilisi Guide are some websites where you can find out more about theater listings and live entertainment.
Do a Wine-Tasting in Tbilisi
Georgia is the birthplace of wine after all, or so the Georgians claim and given how great the wine is, I believe them. If you're a wine drinker traveling to Tbilisi, drinking lots of local wine should be high up on your list of things to do in Tbilisi.
Head to Vintage wine shop along Kote Aphkhazi St. in Tbilisi for a free wine tasting and to buy bottles of excellent wines from independent small producers.
While there are tons of wine shops offering free tastings in Tbilisi, the quality and the attitude of the staff really varies. After being thoroughly ignored by the staff at Vino Underground, I returned for a second time to Vintage where after a fun tasting session, we bought six bottles of wine from intense dry reds and semisweet reds to fruity whites.
The friendly staff here is really passionate about wine, well informed and eager to share that knowledge peppered with cultural context and interesting narratives. Most of all, they're not in a rush to whisk you out and move onto the next customer or pushy to get you to buy a certain wine.
Of course, if you have an extra day, head an hour away to Signaghi, in the wine region of Kakheti to visit different wineries and do wine-tastings outside of the city.
Watch a Dinner Show in Tbilisi
If this is your first time to Tbilisi, you absolutely must do a dinner show with traditional dancing and music. Yes, it sounds like a typical tourist attraction in Tbilisi, but this is one experience you will love and look back at fondly, provided you do it at the right place.
When you see that local families are out celebrating at what might otherwise be a touristy experience, it is a good sign. There are many restaurants in Tbilisi that offer dinner with a traditional show and out of the two that I tried, I loved In the Shadow of Metekhi, so that's the one I'll recommend.
Ankit and I watched in fascination as talented Georgian artists twirled and pranced to the music and a group of singers broke into a soulful ballad over mouth-watering local dishes and wine at In The Shadow of Metekhi. The hours passed by quickly and before we knew it we were dancing (yes, in the restaurant) in a circle with members of a Georgian dinner party of 20 that was out celebrating a special occasion. The service was outstanding as was the food. Reservations are essential and recommended four to five days in advance.
Take a Day Trip From Tbilisi
If you're only visiting for a weekend or a few days, I highly recommend doing one or more day trips from Tbilisi. Luckily, there are some amazing landscapes, fascinating monasteries and an incredible wine region, a short drive from Tbilisi, that can easily be visited on a day trip.
This great value-for-money day trip in the wine region of Kakheti and the restored town of Sighnaghi combines sightseeing, visiting David Gareji monastery, and wine tasting and tours.
If you don't have enough time to visit the mountainous region of Svaneti, definitely do a day trip to Kazbegi, to see snow-clad mountains and enjoy fantastic views over Mount Kazbeg, paraglide and visit the ski resort of Gudauri in winter.
A day trip to Mtskheta and Svetitskhoveli Cathedral is one of the most popular day trips from Tbilisi.
You can also visit the Prometheus Caves, 11th-century Bagrati Cathedral and Gelati monastery on a day trip from Tbilisi.
Shopping in Tbilisi
If you plan to do some shopping while in Tbilisi, here is what I think you should buy and where to get it:
Tbilisi Travel Tips: Where to Go for Souvenirs and Quirky Finds
Tribal jewelry, vinyl records, old briefcases, gramophones, saxophones, Soviet-era silver cutlery, ornate plates, classic timepieces, hunting knives, instant cameras, camera lenses, and fake Ray Bans lie sprawled along one side of the Dry Bridge Market in Tbilisi, a treasure trove of quirky and vintage finds and stuff from everyone's grandma's house. If you're into that sort of thing, then the Dry Bridge Market is one of the quirkiest places to visit in Tbilisi.
With a love for flea markets that borders on obsession, I visited the market four times and each time found something interesting to look at or buy.
The souvenirs here and in the artists' park (just under the bridge) are cheaper than elsewhere in Tbilisi and some, hand painted, are unique and more value for money. The scarves, fridge magnets, art, and trinkets here make for good gifts and souvenirs.
The market is open from 10am to 6pm and is busier on Sundays. To avoid disappointment, don't come here around closing time or on national holidays.
Tbilisi Travel Tips: Where to find Art & Crafts
If you want to take home a beautiful piece of art from Tbilisi, shop around at the park just under the Dry Bridge Market and along the bohemian neighborhood of Shavteli Street leading upto the Gabriadze Theater. On weekends, you'll see artists painting on the streets with their pieces on display on the walls behind them.
There are beautiful landscapes of the Georgian countryside, interesting pieces that draw from street scenes in Tbilisi, and some pieces crafted in wood. Ask for permission before taking photos and always pay compliments if you really like something, even if you do not plan to buy; the artists are usually the ones selling as well.
Tbilisi Travel Tips: Shopping for Clothes and Footwear
Seeing as I had my ankle-high winter boots that served me well while part-walking part-sinking through a concoction of cow-dung, mud, and snow on the slushy streets of Ushguli in Svaneti and hiking in Mestia, I hadn't carried an alternate pair of walking shoes for warmer days in Tbilisi. Luckily, Tbilisi is a cheap city to shop in and soon, in a shoe store in the underground subway at Freedom Square, I found the perfect shoes; a pair of lightweight and smart black Oxfords that made me blend in (all the Georgian women were wearing them).
On a local's tip I went to the subway market at Station Square (just outside Tbilisi Central Railway Station) and was surprised to see a huge market of shoes, clothes, and leather jackets. It's a local market mainly for women, English isn't widely spoken, sizes are not standard (so try before you buy), and haggling is the norm. But if you're into shopping on a budget, this is a must go-to place to visit in Tbilisi.
Which is the Best Month to Visit Georgia (and Tbilisi)?
Summer can be very hot and harsh in Georgia, so I'd choose to come either in spring (March to May) or autumn (September to November) that is in my opinion, the best time to visit Tbilisi. Winters are quite cold, snowy and road closures are common.
Tbilisi is rightly getting a lot of attention at the moment as Tbilisi tourism is booming. If you didn't already know, Tbilisi is wildly popular with travelers in the Middle East (and cities like Dubai, Abu Dhabi, Muscat and Riyadh) as a preferred destination for short breaks, long weekends and public holidays. I met four other people I knew in Dubai while simply strolling around Tbilisi during an Eid holiday. So if you're visiting Tbilisi during one of these times, expect crowds.
That said, when I arrived in Tbilisi in late March, early April, it was not so crowded, and it was cold with sunny days (that I much prefer over hot summer days), so for me, that was perfect to explore. There was still plenty of snow in Gudauri, Kazbegi and Svaneti, so if you plan to hike around in Georgia, maybe best to come in May.
Does it snow in Tbilisi Georgia?
It rarely ever snows in Tbilisi, even in December- January, but it does snow in places like Gudauri, Kazbegi and Svaneti. So if you're looking for white snowy landscapes in winter, head out of Tbilisi to higher altitudes. When I visited in April, there was still plenty of snow in Kazbegi, Gudauri, as well as Mestia and Ushguli in Svaneti.
How to Get to Tbilisi
Visit Tbilisi By Air
If you're flying to Georgia from abroad, you'll arrive in one of three international airports in either Tbilisi, Kutaisi or Batumi. Several airlines fly to Georgia and these include flydubai (affordable flights from Dubai, flying direct), Air Arabia, Turkish Airlines, Gulf Air and others.
To get to Tbilisi city from the Tbilisi International Airport:
A taxi should cost about 30-50 GEL ($11-19) (depending on the meter) and is available just outside the Arrival Hall. The journey to the city center should be about 30 minutes, depending on traffic.
The public bus route number 37 from Tbilisi airport to Tbilisi city center is available 24/7 and costs just 0.50GEL ($0.18) one-way. The bus stop is just outside the Arrival Hall.
The train to Tbilisi central railway station is one of the cheapest public transportation options from the airport to the city and costs just 0.50GEL ($0.18) one-way. The airport railway station is just a few minutes walk from the arrivals area, and you can buy tickets when you get there.
If you're a couple or a group, this private airport transfer might be more convenient and good value-for-money.
If you arrive in Kutaisi and want to get to Tbilisi:
If you arrive in Batumi and want to get to Tbilisi:
Also visiting Batumi? Here are the best things to do in Batumi.
Visit Tbilisi By Road
If you're coming from Armenia or Azerbaijan, the other two destinations in the Caucasus region that a lot of people visit when they're visiting Georgia, you can also arrive by road or train.
Where to Stay in Tbilisi
When in Tbilisi, apartments are the smarter and more affordable choice versus hotels. During my trip, I stayed in four different apartments and one hotel (for just one night) and it was easy to see that apartments offered far greater value for money.
I found my apartments through Airbnb and Hotels Combined and found that they were of similar quality. If you join using Airbnb using this link, you'll get $25 credit to use on your first booking.
A good thing to know about staying in Tbilisi is that a lot of the buildings, even residential ones, are in a state of part disrepair. It's not unusual for buildings to have one or two broken façades or walls with ongoing construction or repairs. I joked that the sound of Tbilisi is, "thud thud thud," because that's the constant sound you can hear through the paper-thin walls during the day (never in the evening so you can sleep soundly).
But once you get over the appearance of the buildings and enter the apartments, you'll see that they seem new and styles range from classic, elegant, cute, vintage grandma, quirky, and artistic to luxe. Every place I stayed at was modern, comfortable, and had a fully equipped kitchen with a fridge, kettle, pots and pans, and cutlery.
Search for Accommodation in Tbilisi
The apartments were always clean and hosts were extra nice and always available to help. The apartments usually have hot water, an AC, a heater, TV and free WiFi. Hosts are ready to help you with taxi and transport bookings, and can also arrange tours for you around the country.
Lastly, from my experience traveling as a solo female, apartments are safe- the buildings are residential and there are other locals and families living there.
Here are the places that stood out to me and are worth recommending:
Super luxurious, modern, and beautifully designed apartment, on a street parallel to Rustaveli Avenue. Easy walk to all the major sights and the old town as well as Rustaveli Avenue. Nice and new building, great amenities, and responsive host.

Also on Rustaveli Avenue- excellent location, cute vintage décor, spacious for one or two persons, open plan design with a kitchen, located in a residential building, and central to main sights.

Simply designed, comfortable, centrally located on Rustaveli Avenue, and comes with all modern amenities.

Traveling to Tbilisi & Looking for the Best Neighborhoods To Stay In Tbilisi as a Tourist?
I stayed both in the old town, near the sulphur baths in Abanotubani and in the newer part of the city, on and around Rustaveli. I'd recommend looking for something along Kote Apkhazi, the main street running through the old town, or the streets parallel to it, around squares like Meidan Square, Erekle Square, Freedom Square, along Rustaveli Avenue or the streets branching off or parallel to it. The area around 9th of April Park and the neighborhood of Sololaki are also great and close to the metro.
The tourist sights are located here and there are great cafés, restaurants, bakeries, and pubs around, as well as three metro stations to get anywhere (Rustaveli, Freedom Square, and Avlabari). Taxis are also easily available here at all times of the day or night.
What and Where to Eat in Tbilisi
Meals in Georgia are more like feasts, even if you're ordering for one. When you're eating with people, the dishes on the table are usually to share. The portions are generous, the cuisine is flavorsome, the cheese is rich and abundant, the service is impeccable, the wine is intense, and the toasts, well, they're endless.
If you're someone who likes to eat their way around places, you'll love being in Tbilisi and the rest of Georgia because Georgian food is absolutely delicious. You'll return home with love handles as solid evidence of just how rich this cuisine, that blends the flavors of Asia, the Middle East, Balkans, and Mediterranean, really is.
From the wildly popular national dish khachapuri, a large round bread generously topped or filled with cheese or cheese, butter, and a raw egg, or a meat stew or creamy spinach and khinkali, Georgian dumplings filled with meat, potatoes, or cheese, to lobio, a stew of kidney beans, onions, and herbs that provides steaming comfort in the colder climes of Svaneti, here is a detailed post about what to eat in Georgia, and I suggest you use it to get oriented with the cuisine.
While wandering around Tbilisi, you are sure to spot churchkhela, this candle-like Georgian candy is sold for as low as 3GEL a piece on the streets and in shops. The candy is made of dried grape juice thickened with flour and is filled with nuts (like walnut, almond, hazelnut etc) and just one can fill you up with energy for hours.
Buy it fresh from the ladies in the street, ask them to remove the thread in the center and cut it into little pieces so you can carry it around and share.
Tbilisi Travel Practical Information: Where to Eat in Tbilisi
Over two weeks, I tried many places and returned to some that became my favorites for the food, service, value for money, and the ambience. The quality of food served in most restaurants in Tbilisi is high and you have to be really unlucky to have a bad meal, especially if you go with local choices on the menu. By all means, make your own discoveries and walk into places that appeal to you but feel free to use my recommendations as a starting point.
Machakhela
Machakhela has a few different branches around Tbilisi, but it's probably easiest to get to the one behind the big I Love Tbilisi sign in the old town next to the sulpur baths.
Favorite dishes: Kebabs (try the salmon or meat), Pkhali and Badrijani Nigvzit.
Pasanauri
Pasanauri is a simple restaurant that seems to be quite popular with locals gorging on khinkali. There are a few branches around Tbilisi.
Favorite dishes: Khinkali and Kebabs
Friend's House
Friend's House Restaurant and Bar became my go-to place for dinner on Erekle Square because not only was the ambience great with live music downstairs and a saxophonist in the outdoors section, it was much more reasonably-priced than its neighbors, the food was excellent, and the service was attentive. I even took a group of new friends here and re-visited with a friend who spontaneously booked a weekend trip to Tbilisi while I was there and with Ankit when he joined me for four days.
Favorite dishes:
Chicken Shkmeruli, Satsivi, Mushrooms in Sulguni, and Chakhokhbili
KGB
KGB is a casual restaurant in Erekle Square that does Georgian cuisine with a modern flair and the slightly high prices are worth it for the good food.
Favorite dishes: Kebabs (to die for) and Chicken in red wine.
Café Gabriadze
Ankit and I enjoyed our anniversary dinner at the quaint, aesthetically designed restaurant Cafe Gabriadze by the Gabriadze theater that does a modern, creative spin on Georgian cuisine that delivers on taste, service, and ambience. Dining here makes you feel like a character in a film about the golden era of Georgian theater as you move about the different dining rooms and lounge areas of the house. Not only is this restaurant recommended for its food, it's also one of the more beautiful places to visit in Tbilisi, right next to the quirky clock tower in the old town.
Favorite dishes: Cotleta and Mtsvadi
Coffeesta
This Georgian coffee chain has a few different locations in Tbilisi but the Coffeesta on 52, Rustaveli Avenue, close to Rustaveli metro station is my favorite. Head here for breakfast and don't forget to try their vanilla or chocolate cream and almond croissants, they're just irresistible.
Where to Drink in Tbilisi: Cafes and Bars in Tbilisi
Tbilisi nightlife options range from cute or quirky artsy cafés with vintage décor, and edgy bars where tattooed teenagers with goth make-up drink and dance to a trendy dive bar perfect for drinks over live music and conversation and clubs where silhouettes sway to techno music, lost in smoky anonymity.
I've included some of the places that I found and liked in this Tbilisi travel guide because when it comes to nightlife in Tbilisi, you can never really say about the bars and clubs- sometimes a place with promising reviews might be full of teenagers on a certain night. I for one, am too old for that kinda thing.
Café Linville
Tbilisi is home to eclectic, artsy cafés where people go during the day to drink cocktails, wine, or coffee. One such place is Café Linville that might remind you of your grandma's house with vintage décor, floral wallpaper, and old-fashioned lamps. It's perfect for intimate conversation, taking a break during the day, or simply sipping wine as you write or read.
DiveXFabrika
DiveXFabrika in the premises of the popular Fabrika Hostel in Tbilisi is one of the coolest bars in the city and is buzzing with 20 and 30-something hostel residents, expats, and tourists, as well as locals. The ambience is casual and relaxed and there's a large selection of local craft beers.
Bassiani
An underground techno club underneath the Soviet-era Dinamo Stadium, stepping into Bassiani is like entering a whole other world, far from the Tbilisi of the conservative and religious; where people seem like ghosts hypnotized by techno and floating through a realm of smoke and shadows. Bassiani holds a number of LGBTQ-friendly events in a country that still battles homophobia. If you're a techno fan or just curious like us, it's worth visiting but remember to call in advance- it's only open one night a week. Here's an interesting piece on Vice about Bassiani's activist role in modern-day Tbilisi.
Tbilisi Travel Tips
Exchanging Money in Tbilisi
Georgia's currency is the Georgian Lari or GEL and one lari is divided into 100 tetri. While most big places, especially in the cities such as Tbilisi, Batumi and Kutaisi will accept cards, and you'll find ATMs easily, make sure you have enough cash for eating at smaller restaurants or buying things from markets, shops and flea markets.
When you head into smaller towns and villages such as those in Svaneti, ATMs might not be readily available and not many places will accept card payments, so definitely bring some cash.
You can exchange USD and Euros at the airport, banks and will also find slightly better rates at small money exchange offices in Tbilisi city center.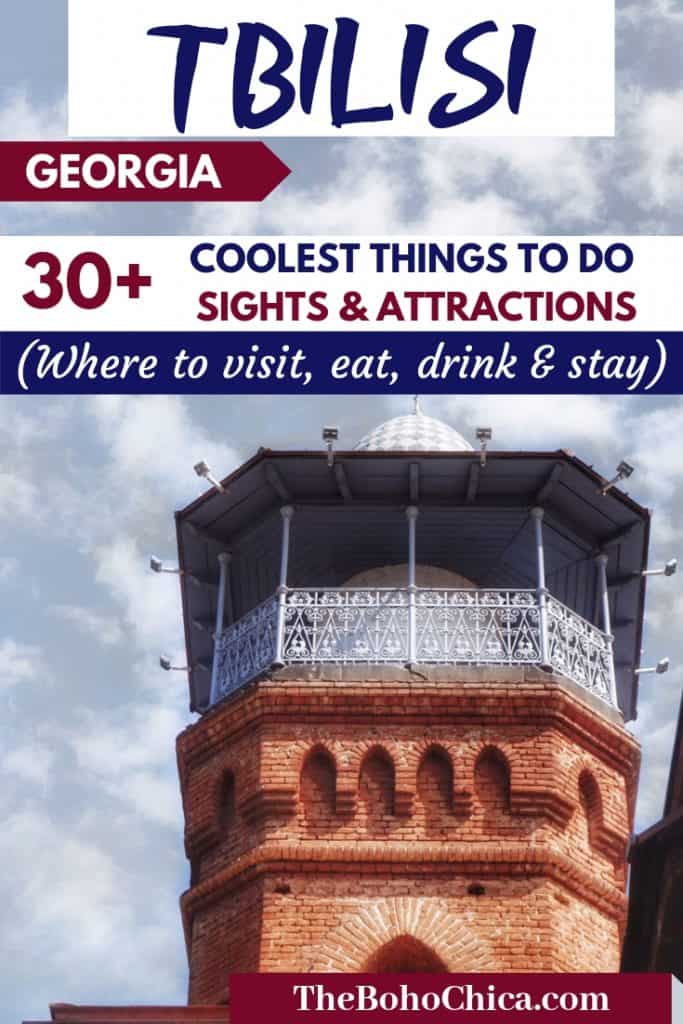 How to Dress in Tbilisi
Tbilisi locals love black and I'm glad I packed a lot of black, neutral, and navy pieces for my trip. That's not to say you can't wear fuchsia or yellow but you're more likely to stand out in a sea of dark, neutral, and earthy tones. The general style is smart and practical, think fitted denims with t-shirts, tops, or shirts, and sundresses, sometimes paired with a jacket or cardigan (depending on the weather). Spaghetti straps, mini-skirts, and hot shorts? Not so much except for the tourists.
You'll be walking a lot on the city's cobbled hilly streets, so bring comfortable, lightweight walking shoes or sandals plus a nicer pair for going out.
For formal dinners where you can watch a traditional dance show while you dine and if you plan on watching any theater or opera, carry something that's semi-formal at the least, as many restaurants have a no-ripped jeans and sneakers policy. Locals at such venues are generally smartly dressed and you don't want to look like the oddball tourist who showed up in their North Face jacket.
Men should pack a pair of pants, one or two shirts, and a semi-formal blazer or jacket, and a pair of formal shoes. Women should bring an elegant dress or top to pair with trousers or fitted dark wash jeans and pretty shoes.
You will be visiting orthodox churches and monasteries when you visit Tbilisi, where you'll need to have your head (women only), shoulders, arms, and knees covered. So dress appropriately and women should use the spare headscarves and wraparound skirts placed outside churches for visitors.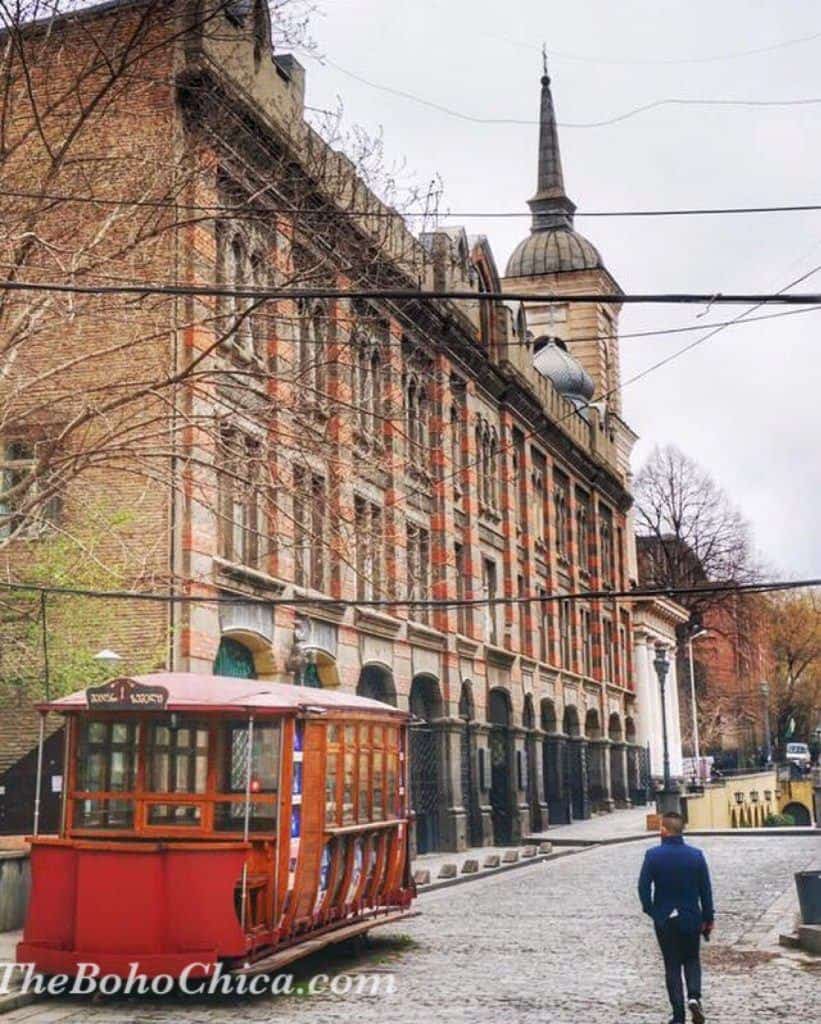 Winter can get really cold in Tbilisi. When I visited in April, there were some chilly and windy days when the temperature dropped by 10-12 degrees Celsius from the previous day. I was grateful for my all-weather North Face Suzanne jacket that comes with multiple layers that can be zipped on and off. On warmer days, I simply zipped off the warm shell and the quilted layer that was left wasn't only perfect weather-wise but also looked great to wear around the city.
How to Get Around in Tbilisi
Getting around in Tbilisi is really easy, thanks to easy and cheap taxis (only 5GEL anywhere within the city center, downtown and the old city), an excellent metro system, and lovely walk-able streets that connect most of the tourist interest places to visit in Tbilisi.
For the metro, it's best to buy the Metromoney Card for 2GEL that you can recharge (for as much as you like) to use while traveling by metro or the local bus. You get discounted rates on all transportation versus if you were to buy point-to-point tickets without the card. When you leave Tbilisi, you can return the card at any metro station and get back your 2GEL.
It's an easy and leisurely walk between the old town, Freedom Square, and Rustaveli, but if you don't want to walk, there is the metro and several buses.
To get to the city from the airport a taxi should cost about 25-30 GEL (at the time of writing) or ask about the bus to the city. If you're a couple or a group, this private airport transfer might be more convenient and good value-for-money.
Travel Tbilisi Essentials
Visa for Georgia
Some nationalities can travel to Georgia visa free, while others may be granted visa on arrival. Yet for other nationalities (depending also on where they are resident), it is recommended to obtain the visa from a Georgian embassy in advance. You can check conditions of visa for your nationality here. There is also an e-visa portal, but before you apply, check that you're eligible depending upon your nationality.
As an Indian national who is a UAE resident, I was eligible for a visa on arrival in Georgia, and had no problems getting this with a return ticket and apartments booked, as well as travel insurance that was mandatory to travel to Georgia (the airline asked for this at check-in). Still, as visa rules can and do change frequently, and there have been some mixed reports about travelers facing issues at Tbilisi passport control, I suggest checking the requirements online and calling or emailing a Georgian embassy closest to you to confirm.
Travel Insurance for Georgia
During my visit in 2017, travel insurance was mandatory to enter Georgia. Anyway, I never travel without travel insurance because you never know what might go wrong on the road- accidents may happen, or you might seriously fall ill and need medical help that can be costly abroad. Wherever you're going and no matter for how long, I always suggest getting travel insurance.
How to get a SIM Card in Tbilisi?
Tourism in Tbilisi is booming at the moment, so it's really easy for tourists to get a Georgian SIM Card at the Arrivals Hall at Tbilisi airport. There are three companies selling tourist SIM cards at the airport- Geocell, Magti and Beeline with different offerings when it comes to calls and data. I mainly use data, but need to be able to make some international and local calls as well, so I went with Magti. But you can choose from the three depending on what you need.
Magti and Beeline reportedly have better coverage– that might be important if you're visiting the mountains in Kazbegi or Svaneti or traveling elsewhere outside of the big cities. If you're just interested in data, then Beeline turns out to be the cheapest with their data packages. If you're looking for a bit of international and local calls, as well as decent data, then pick Magti.
Languages Spoken in Tbilisi
The languages spoken in Tbilisi and the rest of Georgia are Georgian and Russian, as well as English. If you don't speak any Russian or Georgian, don't worry- Georgia sees a lot of tourists and English is widely spoken in Tbilisi and other cities. I had no problems communicating in English even in Mestia and other villages in Svaneti.
If you find yourself confused by Georgian signs or schedules, just ask a local for help. Whether or not they speak any English, they will definitely find a way to help you because like I said before, the Georgians are extraordinarily kind.
Useful Georgian phrases to know
Here are some nice Georgian phrases to know so you can interact with the locals, something I highly recommend doing. Speaking a bit of Georgian brings a smile to their faces.
Hello- Gamarjoba (ga-mar-jo-ba)
Thank you- Madloba (mad-lo-ba)
Yes- Ki
No- Ara
Please- Tu Sheidzleba (tu-she-id-zle-ba)
Goodbye- Nakhvamdis (Na-khvam-dis)
Cheers- Gaumarjos (Gau-mar-jos)
Is Tbilisi Safe?
I visited Tbilisi solo and spent most of my time there alone. I stayed in apartments alone, both in slightly run down buildings in the old town, as well as somewhat nicer ones in the newer parts of the city. I walked home alone late at night from bars and restaurants, and took taxis as well.
Not once did I feel unsafe or alarmed, or like I had to look over my shoulder. As with any other place that sees a lot of tourists, I'd be careful about my stuff in overly crowded places, but otherwise there is nothing to worry about, even as a solo woman.
To share an example of how well I felt taken care of, I'll tell you about the time I took the overnight train from Tbilisi to Zugdidi to get to Mestia in Svaneti. I was in a compartment of four, and as is the case when I travel solo on overnight trains, I hoped I'd not be in the company of three other men (would make me uncomfortable, especially if they were too chatty or something, luckily that has never happened). I shared the compartment with an older woman and two young men.
When the ticket inspector came and said something to me in Georgian, the lady who didn't speak any English told him something, pointed to my ticket and sent him on his way. She also got me a blanket and pillow sleeping set when I did not know where to get it. One of the two young men, very chivalrously, carried my bag off the train and across a small section of tracks, without me asking, and placed it on to the platform with a gentelman-ly, "Good day".
Especially in Svaneti, people were very helpful, and I'd say even somewhat protective of me traveling solo as a woman.
To answer the question, yes, if you're going to visit Tbilisi, you should know that Tbilisi is very safe and if you're a woman traveling alone, you will be more than fine here and elsewhere in Georgia.
Have you been to Tbilisi? Don't forget to try the amazing food, and read about my experience traveling there as an Indian.
If you have been, I'd love to hear what you thought of it or if you would like to go. Would you add any other places to visit in Tbilisi to this list?
Some links in this post are affiliate links. If you book tours or accommodation using them, I get a small commission, at no extra cost to you, that goes towards running this site. That said, I never recommend accommodation or tours that I haven't booked or wouldn't book myself, and spend a considerable amount of time to find the best deals and value-for-money tours and accommodation rates. I have stayed at two out of three apartments mentioned in this post.