Rotorua in New Zealand's North Island is a geothermal wonderland of erupting geysers, active volcanoes and gurgling hot springs. With a spectacular landscape and a deep connection to its Maori roots, Rotorua makes for a particularly enjoyable experience in New Zealand. It is my favourite spot on the North Island with plenty of cool things to do.
Rotorua is a popular stop for travellers driving across the country and was our last stop on the North Island before we headed onto Nelson, our base for exploring the Abel Tasman National Park. It is perfect if you're looking to get a taste of traditional Maori heritage, be amazed by natural wonders that you cannot see elsewhere, or simply recharge your batteries before you move onto your next destination. If you're lucky like we were, you'll even get to see the landscape in all its glory with the burst of autumn colours.
Plan your New Zealand Trip
If you have a day to spend in the lovely city, here is my list of things to do in Rotorua and Rotorua accommodations.
Rotorua Attractions and Activities
Lake Rotorua
Begin your day with a leisurely stroll or jog around picturesque Lake Rotorua and stop by one of the many cafes for a lovely breakfast. I recommend Lime Caffeteria in the block just across from the park around the lake. After breakfast get into one of the peddle boats and spend some time just watching the swan families gliding by or sit by the lake sipping on hot coffee.
Skyline Gondola
A few minutes away from the heart of the city, Skyline Gondola at Skyline Rotorua is a cable car that takes you 487 metres up Mount Ngongotaha and offers spectacular views. Soak in the view over lunch at the Market Kitchen Café. A fun way to come down the hill is the Luge, a three wheeled cart that uses the rider's body weight, posture and gravity to move down the windy track, letting you steer and brake to navigate the course. I guarantee that once on the Luge will not be enough as it can get quite exciting!
Polynesian Spa
Next, head to the luxurious Polynesian Spa because there's nothing like a mid-day pampering session and Rotorua hot springs and mud pools are famous for good reason. The Polynesian Spa is consistently rated as one of the top things to do in Rotorua. With its perfect setting overlooking Lake Rotorua, there couldn't be a better place to relax and rejuvenate. Choose from one of the many hot pools, mineral baths, mud baths or spa therapies. The mineral pools are believed to have remedial effects on those who suffer from muscular problems, arthritis or rheumatism. With options such as Adults only, Private, Couples and Family and varied pricing to suit every pocket there's something for everyone.
The Indigenous Experience
With your batteries recharged, get ready for a Maori Experience at an indigenous cultural center which has to be one of the most enjoyable and captivating cultural experiences that I have seen on my travels. It aims to offer tourists a glimpse into Maori culture and heritage, while educating and entertaining them. Book online in advance to avoid disappointment.
Our tour started around 4.00pm with a guided walk by a local guide in Whakarewarewa village. The first stop is by the Pohutu geyser where you get to see it erupt high and mighty into the sky and sit on hot rocks around the area, heating up with the pressure of the lava below the earth.
The geyser is a major draw for tourism and helps the development of the local community, creates jobs and provides electricity and heating to village homes. You are then taken through the forest, and told about the different trees and how their leaves, barks and other parts were put to use in homes. It's amazing how creative and skilled traditional communities were to use nature to fulfill needs for which we use gadgets and appliances today.
You are also taken to the Kiwi House where you get to see a few Kiwi birds in a low lighted enclosure. Post this, the walk ends with a stroll through some traditional homes and buildings where you can see excellent examples of traditional wooden carvings, sculpture and art. All through the tour, the guide tells you about the local language, culture, practices and how the culture has evolved over the years and adapted to modern ways, this makes it a very interesting and insightful experience.
As the sun sets, you get to watch how a traditional Hangi (feast) is prepared. Baskets of meat, chicken, kumara (sweet potato) and other vegetables are lifted from underground ovens where they are being cooked since afternoon in preparation for the evening feast.
The highlight of the evening is the lively, captivating song and dance show where traditionally dressed Maori artists perform various routines ranging from traditional war dances to ballads of forlorn lovers. The artists are highly talented, enthusiastic and clearly enjoying themselves in spite of performing to an audience every single day. By the end of the show, you are starving and a wonderful feast awaits. Unlike the average quality of meals in most tourist shows, the feast was one of my most memorable meals in New Zealand.
The hospitality and warmth of the guides, artists and staff is a real value-add to the whole experience. Post dinner, you are invited to sip hot chocolate under the stars, seated on hot rocks by the geyser and exchange stories with fellow tourists, an especially lovely experience on a frosty night.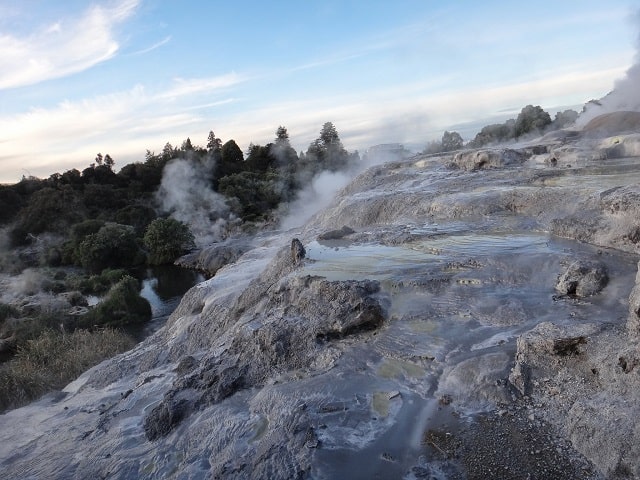 Rotorua Accommodation: Where to Stay in Rotorua
Book your hotel in Rotorua or choose one of these options.
Don't like any of these? Look for more options here.
For general travel information for Rotorua, visit the official website. Looking for more ideas for the North Island? Here's a NZ North Island itinerary.
Some links on this page are affiliate links, which means if you use them to book, I get a small commission at no extra cost to you, which goes towards running this blog. That said I never recommend tours, accommodations and products that I wouldn't book or haven't booked myself.