A relatively less explored destination in East Asia, the island of Taiwan packs a punch with a pleasing mix of varied offerings; gorgeous national parks and mountainous scenic areas with hiking trails and few visitors, indigenous cultures rich in tradition, art and crafts, delicious cuisines from the mountains and coast, and cities that are effortlessly cool, fashionable, hipster, arty, and intriguing, all at once.
Then of course, there are the people – friendly, open, welcoming (also of diversity) and so polite they put the rest of the world to shame, and you begin to wonder how Taiwan has remained a secret for so long.
Here's my 8-day Taiwan itinerary with places to visit in Taiwan, tips, practical information and additional ideas for shorter and longer itineraries. If you're mainly visiting the capital Taipei, then you might be interested in my guide to the best things to do and places to visit in Taipei.
An 8- Day Taiwan Itinerary
You can use this 8-day Taiwan itinerary to plan your trip but I've written it down in a way that allows for some flexibility- whether you're traveling in Taiwan for a week, are looking for a 10-day itinerary or are visiting Taiwan for two weeks.
You can add extra days in places that seem more appealing or visit a few more famous spots such as the Taroko Gorge, reduce the days in cities that might not seem as interesting to you, and also consider the additional days itinerary and suggestions at the end of this post.
Day 1: Sightseeing and Urban Exploration in Taipei
While I'm usually not much of a city person, I was pleasantly surprised by Taipei, and I can safely say that I would love to return and see more of the city. It's totally one of the top places to visit in Taiwan, something I don't necessarily say of every capital.
There are so many amazing things to do and places to visit in Taipei, that you can easily spend a week here.
Make no mistake, this city (along with New Taipei) is home to a population of six million, but surprisingly, I saw and felt none of the chaos that I've come to associate with Asian capitals- think the daredevilry of strategically navigating the traffic of a Hanoi intersection or the sea of humanity that you find yourself in in a floating market in Thailand.
In contrast, Taipei is calm and orderly and easy. No one jaywalks here, no one litters, queues are patient and orderly, and busy spaces don't feel claustrophobically overcrowded.
It's incredibly easy to get around with an excellent public transportation system (and Uber), and English is widely spoken.
And the people? In Taipei, and the rest of the country, it was hard not to acknowledge again and again just how polite, welcoming and friendly the people were.
In fact, if you're Muslim, you should know that Taiwan is very Muslim-friendly, with many halal restaurants in Taipei, mosques such as the Taipei Grand Mosque, prayer rooms at the airport, as well as hotel rooms that indicate the direction of Qibla and provide prayer mats.
In fact, Taipei felt like the most live-able Asian capital I've visited- think bike lanes, plenty of green spaces, great food (both local and international), art and culture, and an active lifestyle.
The city is home to beautiful temples, museums, and historic sights, but also feels modern and cool with creative parks, galleries, cafés, shopping and nightlife. If these aren't already reasons enough, here are more reasons to visit Taipei.
To get around Taipei, use public transportation or Uber. You can also get on a Hop On Hop Off Bus to see the main sights or book a private car. If you're more an active traveler, consider doing a bike tour of Taipei.
While two or four days is barely enough to see everything that Taipei has to offer (hence my desire to return and stay longer), here are just some of the amazing things I did during my few days in the Taipei.
Get a Traditional Soy Milk Breakfast
Yong He Soy Milk King is a little hole-in-the-wall breakfast place that sees a long queue of diners patiently waiting outside in the early hours of the morning. They're open 24/7 and seem to be quite a hit with the afterhours crowd as well.
There's lots of action going on in the kitchen that looks upon the street; a wrap being prepared here, a donut-type bread being fried there, dumplings being steamed, and bowls of hot soy milk being poured for hungry customers.
It's self-service, so you collect your order, grab the cutlery and join the locals to enjoy your breakfast.
On our guide's recommendation I got the steaming hot salty doujiang or rich, creamy soymilk with vinegar, shrimp and tofu, and seasoned with spices and spring onions (35NTD=1USD), plus an egg pancake (shaobing) (25NTD=under 1 USD).
I'd never tasted this version of soymilk before and it was delicious (but a huge portion that I couldn't finish), as was the egg pancake.
There's also a fried doughnut-type bread (you tiao) that you can dunk in the hot soymilk, as well as dumplings, and steamed buns. If you sit inside, there's an English menu with pictures, so you should be okay to order.
You can also find them on Facebook.
No. 102號, Section 2, Fuxing South Road, Da'an District, Taipei City, Taiwan 106
Visit the Chiang Kai-Shek Memorial Hall
When in Taipei, you'll inevitably find yourself at the grand Chiang Kai-Shek Memorial Hall and the square is also home to two beautiful examples of Chinese architecture- the National Theater and National Concert Hall, at what is one of Taipei's most visited tourist attractions.
At Liberty Square, you'll find tourists ambling along taking photos as well as locals- groups of retirees playing drums and children practicing Tai Chi.
And while it makes for pretty pictures, it's good to know a little bit about the country's complicated history with China and under former President Chiang Kai-Shek.
You might know that China, or the People's Republic of China (PRC) claims sovereignty over Taiwan, which is a self-ruled democracy, and intends to unify it with mainland China.
What you might not know is that Taiwan was under Japanese colonial rule for 50 years, at a time when mainland China was governed by the Kuomintang (KMT), or the Republic of China (ROC).
After the Second World War, Japan surrendered Taiwan to the ROC in 1945. In 1949, the ROC lost control of mainland China to the Communist Party or PRC. It was President Chiang Kai-Shek who brought the Kuomintang or ROC to Taiwan.
That political camp still claims to represent all of China and supports eventual unification with China, whereas the opposition (Democratic Progressive Party) considers Taiwan to be an independent democracy and resists any claims on Taiwanese sovereignty.
Under the ROC and President Chiang Kai-Shek, Taiwan whose economy had prospered under Japanese rule, was subjected to economic abuse and corruption, and any protests were met with injustices and atrocities, eventually resulting in martial law for 38 years (ending in July 1987, this was the world's longest period of martial law until Syria).
If you want to learn more about this, read about the February 28 incident.
After Chiang Kai-Shek's death in 1975, Taiwan carved out its separate identity and established a successful multiparty democracy, though it faces political challenges and a looming threat from China.
The white, blue, and red (colors of the Taiwanese flag) marble building in the center is the Memorial Hall, and just outside, Liberty Square is Taipei's gathering spot for protests, movements, gathering, concerts, festivals, and public events, some like the Wild Lily movement, which have shaped the course of history for the island nation.
Two sets of 89 stairs, depicting the age of the former President when he died, on either side of a marble mural with ROC symbolism lead up to the main hall where his giant bronze statue looks upon visitors.
At the bottom of the stairs, is a gallery with exhibits (such as his official state cars- Cadillacs) to learn more about his life and work. There's a changing of the guard ceremony that takes place in the main hall every hour on the hour and attracts quite a crowd.
The National Theater and National Concert Hall are home to performance venues, galleries, libraries, and cafés, and are worth a visit, as is the landscaped park behind the buildings. This half-day tour takes you on a guided visit of the Chiang Kai-Shek Memorial, National Palace Museum and other sights around Taipei.
106, Taiwan, Taipei City, Da'an District
Wander around Ximending, Taipei's Walking District
No visit to Taipei is complete without a wander around Ximending (pronounce shi-men-ting), the city's buzzing pedestrian shopping and entertainment district.
Here, bright lights, neon signs, street art, pop-up exhibitions, theaters, quirky stores, local boutiques, and themed cafés surround you, and the sounds of music and animated advertising and the chatter of hundreds of people are in the air- it's all quite visually stimulating if you've never seen that kind of thing before (I hadn't).
While Ximending might look like a new recreational district, it's actually been around since the Japanese colonial times when it was built as a suburb near the west gate of the old city- hence the name Ximending which translates to West Gate District. The area has been home to culture and the arts at least since the 1930s.
There are stores selling everything from clothing and shoes to vintage finds and antiques, and this is also the place to try some street food and Taiwanese favorites such as fried chicken (tasty and worth trying) at places like Hot-Star.
If you plan to visit one of many themed cafés that Taipei is famous for, then the toilet-themed Modern Toilet in Ximending, that serves food that looks like poop, drinks that look like urine, and where you eat seated on a toilet, is a good place to start.
Ximending is also popular for its outdoor bars and nightlife, especially in the LGBT district behind the iconic Red House Theater. While it was built in 1908, also during the Japanese colonial times, as a public market, today it's a creative and cultural hub, one of many in the city.
The entire area really comes alive in the evenings with performances on the street, and if you want to carry on the fun times late into the night, then consider one of the KTV or karaoke rooms here.
And because I don't want you to miss all the cool stuff there is to do and see here such as trying craft beer in Taipei, I'll share this post about Ximending (that I wish I'd seen before I went to Ximending) by a Taipei insider.
No. 9, Lane 50, Hanzhong Street, Wanhua District, Taipei City, Taiwan 108
Taste Taipei's Famous Beef Noodles
For an authentic no-frills meal, try local favorite beef noodles at the highly regarded but easy to miss hole-in-the-wall Chang's Beef Noodles Shop. This place has over six decades of history and is recommended in the Michelin Guide to Taipei.
The restaurant only uses Taiwanese beef (never frozen) and the meat here is halal, so it's Muslim-friendly. The specialty of the house is their beef noodle soup and the beef jerky stuffed flatbread also comes highly recommended.
No. 21, Yanping South Road, Zhongzheng District, Taipei City, Taiwan 100
Visit a Night Market in Taipei
Taipei's night markets are a huge part of the city's nightlife as well as the food scene with several food stalls at the night markets having been recognized by the Michelin Guide.
With having begun in the 1950s to slowly develop as centers of social life, to visit a night market in Taipei is to have a true cultural experience in Taipei.
There are tons of night markets in Taipei, from those that cater to tourists to others where you'll find locals enjoying their dinner, to ones geared towards students looking to buy the latest local fashions at cheap prices. Here are the best night markets to visit in Taipei.
Where To Stay in Taipei
The Howard Plaza Hotel Taipei is a luxury hotel that is centrally located, and is within walking distance of many interesting sights, restaurants and neighborhoods. There are a couple of restaurants and cafés in the hotel building as well as a shopping mall.
Taipei has various types of accommodation to suit every budget- from hotels and apartments to hostels.
Day 2: Art, Culture and Night Markets in Kaohsiung
Considering how off-the-beaten-path Taiwan is, I won't be surprised if you haven't heard of Kaohsiung. I hadn't, but Taiwan's second largest city was full of surprises, and as is true of every place I visited on my trip, I'd have liked to stay longer and see more. So I'm definitely going to recommend it in my Taiwan itinerary.
As the biggest port in Taiwan, Kaohsiung is important to Taiwan's economy. Considering that, the location of my hotel and the view from my window was fitting. Thanks to its southern location, the weather here can be considerably warmer and sunnier than in Taipei.
It's also pretty easy to get to- we took the high-speed rail from Taipei to Kaohsiung and got there in a very comfortable 2 hours and 6 minutes. See other options on public transport from Taipei to Kaohsiung.
You can tour Kaohsiung on your own or do this guided trip with a local that's very reasonably priced.
Admire the Pagodas and Temples at Lotus Lake
Lotus Lake is an artificial lake in Zuoying District that was opened in 1951 and is a hit with Instagrammers visiting Taiwan, and I could totally see why. Right in the lake are twin Tiger and Dragon pagodas, each seven-storied and a sight to behold with dramatic colors, designs, and craftsmanship adorning the exterior.
Entrance is free and I can imagine the area being even more beautiful when the lotuses in the lake are in full bloom.
You can enter the pagodas to look at scenes depicting heaven and hell, and climb the stairs up to the top for views over the area.
Legend has it that you must enter through the dragon's mouth and exit through the tiger's mouth to turn your bad fortune into good luck.
But these pagodas aren't the only sight worth checking out. Around the periphery of the lake and across the street are around 20 Buddhist and Taoist temples that are examples of gorgeous Chinese architecture.
These include the Wuli pavilion, Spring and Autumn pavilions dedicated to the God of War and featuring a statue of the Goddess of Mercy, Qi Ming Tang temple, Fu Gong temple, Yuandi temple, as well as a Confucian temple.
Note that they're functional temples and actual places of worship so be mindful of your camera inside and respect people's privacy.
You can walk or bike around the area on dedicated bike paths. Plan at least two hours for your visit. Thanks to how photogenic it is, Lotus Lake is one of the top places to visit in Taiwan for Instagrammers.
Zuoying District, Kaohsiung City, Taiwan 813
Check out the Art at Pier-2 Art Center
One thing you can't miss about Taiwan, and one of the things I love- is that in the cities here, art is important.
You'll find many creative parks in Taipei (more on that later) and Kaohsiung has its own art and culture hub at Pier-2 Art Center that's completely worth a visit. The area is home to artist studios, galleries, exhibitions, and boutiques selling artisanal goods and crafts, in formerly abandoned warehouses.
You'll also find exhibits, murals, installations, and instagrammable nooks, so spend enough time wandering around- here's are some of the coolest public art installations you should not miss. When you need to rest your legs, take a break at one of the cafés around.
803, Taiwan, Kaohsiung City, Yancheng District
Go Souvenir Shopping at Meinong Folk Village
For a taste of Hakka culture, stop by the Meinong Folk Village in Meinong, home to a sizeable Hakka community- Han Chinese that originated in mainland China, speak the Hakka language, and migrated to this part of Taiwan.
The cultural village is essentially a compound that's home to little stores selling souvenirs such as handmade jewelry, crafts, bamboo baskets and other products and beautiful paper umbrellas, adorned with colorful designs and patterns. The stores are housed in buildings that are ancestral homes.
You can also see the umbrellas being made, and stop for lunch to taste Hakka cuisine (try the Hakka specialty Ban tiao noodles). Afterwards, make a quick stop at Zhong Zheng Lake to spend a few minutes enjoying the fantastic view surrounded by mountains.
No. 80號, Lane 421, Section 2, Zhongshan Road, Meinong District, Kaohsiung City, Taiwan 843
Take a Boat Tour on the Love River
Kaohsiung Harbor is also known as Love Pier, as the name of the river that runs through Kaohsiung, Ai He, translates to Love River. On a 40-minute boat tour you'll see the colors and lights of Ruifeng Night Market as well as various landmark buildings along the banks.
We visited just before the Taiwan Lantern Festival was about to begin, so there were plenty of brightly lit lanterns displayed in the park by the banks.
Visit the Ruifeng Night Market
When in Taiwan, you shouldn't miss visiting the night markets- they're an integral part of any Taiwan itinerary. Night markets are an interesting mix of people, food, lights, music, art, and shopping.
While at first, all of the sights, sounds and crowds can feel overwhelming, once you relax and take the time to wander around without set plans, it's one of the most authentic market experiences you'll get to see in Taiwan.
Just after our boat tour of the Love River, I found myself following the crowds at Ruifeng Night Market. That evening, perhaps as part of the New Year celebrations, there was a traditional theater performance in action, as swelling crowds watched and applauded.
The mood was festive, as families and groups gathered to watch the show. And I have to say this again- the Taiwanese are polite and respectful of personal space, even in largely crowded settings.
804, Taiwan, Kaohsiung City, Zuoying District, Yucheng Road
Where to stay in Kaohsiung
We stayed at the 85 Sky Tower Hotel in Kaohsiung, a luxurious, centrally located hotel with modern rooms.
You can also search for other hotels, hostels and apartments in Kaohsiung.
Day 3: All of the Lights at Taiwan Lantern Festival
If you're planning to visit Taiwan, then it's worth timing your travels to coincide with the annual Taiwan Lantern Festival held in February each year. I was lucky to be invited to attend and experience this spectacular celebration of lights, music, art and technology at the Taiwan Lantern Festival 2019 and it was absolutely incredible.
The festival is held in a different city in Taiwan each year. Bear in mind that the Taiwan Lantern Festival is different from the Pingxi Sky Lantern Festival that is held in New Taipei and involves releasing paper lanterns into the sky.
This year the festival, in its 30th year, was held in the coastal county of Pingtung from 19th February until 3rd March. The event that took over a year to plan saw thousands of people come together to appreciate colorful, artistic, interactive and often high-tech lanterns of all sizes and shapes on land, in the air and on water, as well as drone light shows and performances on the water.
The main lantern was a giant Bluefin tuna, a symbol of prosperity in the fishing-centered coastal county of Pingtung.
The lanterns, designed by local and international artists follow the themes of harvest, ecotourism, indigenous cultures, immigration, natural landscapes, cuisine and history, among other sub-themes. The festival marks the end of the Chinese New Year celebrations.
If you plan to visit Taiwan in 2020, you should know that the Taiwan Lantern Festival will be held in Taichung from 8th to 23rd February 2020 and plan to include it in your Taiwan itinerary.
The lanterns are usually spread out over a few different areas and the main festival grounds are massive, so wear comfortable shoes. Food stalls and clean toilets are available, as is a Visitors Center with information on the different lanterns and themed areas.
Days 4 and 5: Escape to the Mountains in Alishan
If it's about mountains, then you know it's going to be my most favorite part of the trip. Located in Taiwan's Chiayi County, Alishan (or Ali Mountain), with its highest peak Tower Hill at 2663m is Taiwan's most popular mountain destination and did not disappoint.
The spectacular green landscape of Alishan National Scenic Area, fresh mountain air, ancient sacred trees, and cherry blossoms, as well as forest hikes and a surreal sunrise are all solid reasons why a visit to Alishan should be on every Taiwan itinerary.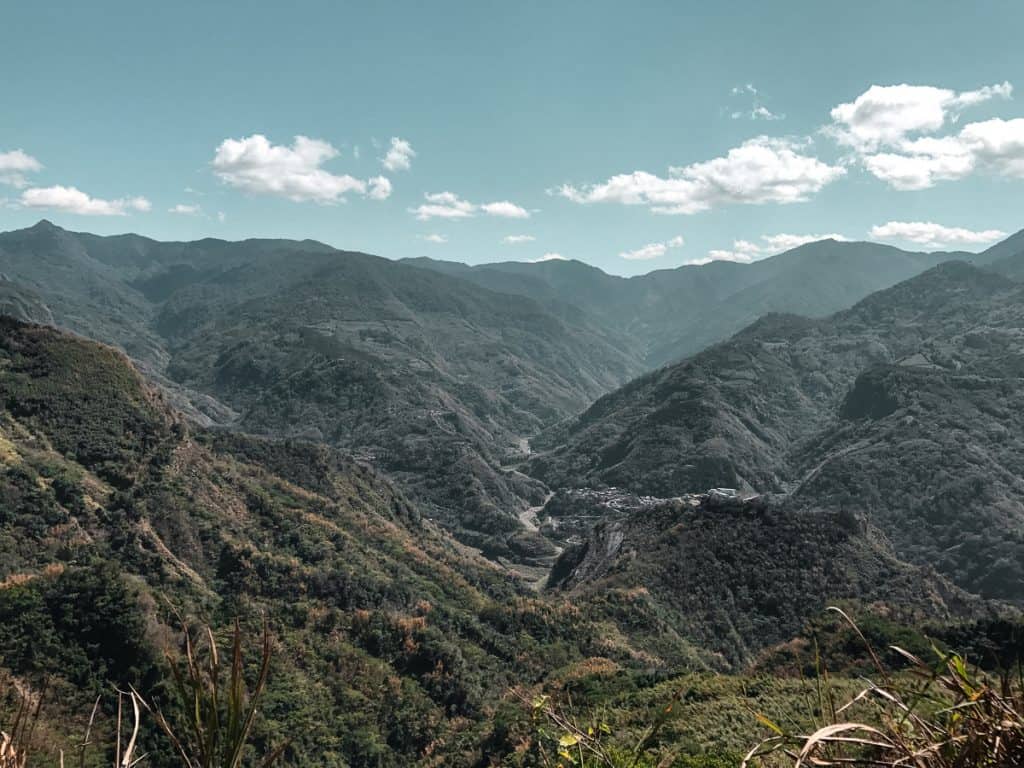 Experience an Alishan Sunrise and Ride on a Small Gauge Forest Train
We arrived at our amazing hotel Alishan House just around sunset when the skies turned a fiery orange-pink. The next morning we woke up at 4.30am to see the famous Alishan sunrise.
Now I'm not a morning person and I hadn't seen a sunrise in years, but this sunrise was definitely something special and totally worthy of waking up at that unearthly hour.
What makes this experience cool is taking an old train through the forest (get there early if you want to seats) at an hour when the world is just waking up.
When Taiwan was still under Japanese colonial rule, they built the Alishan Forest Railway to transport logged wood from the trees in the forests. Alishan was a major tourist destination even before they left, but eventually the train began to be used for the transportation of tourists.
You can buy tickets for this train either at Alishan train station or ask your hotel.
Alishan House sells tickets, and offers a shuttle to the train station (ours left at 5.10am) for a train that leaves at 5.40am. They'll also confirm the sunrise time and arrange a wake-up call should you so wish.
To see the sunrise, get off at the second (final) stop called Chu-Shan, and follow the crowds to the viewing platform. It can get pretty crowded, so try to get yourself a good spot easily.
There's a tree smack in the middle if you stand to the right side, so if you plan to take photos, think about your frame.
And here's what I wish I knew before I went: While this viewing platform with the fence is the most obvious spot to see the sunrise, and is as crowded as it is, there's another octagonal viewing platform at Mt. Ogasawara, that you can walk to in only ten minutes from the Chu-Shan train station.
We're told we were lucky to see the sunrise in all its glory, as usually the sky is very cloudy (so much that most accounts of Alishan sunrises include the term 'sea of clouds'), so I guess we have to thank the weather gods for cooperating.
There were two trains back to Alishan after the 6.50am sunrise- at 7.05am and 7.25am, but I imagine this changes depending on the time of the sunrise, so be sure to check the signs when you get off the train.
It can get very cold at that hour (it was about six degrees when I went in February) so be sure to wear a warm jacket, get a beanie, scarf, gloves and whatever else you may need to keep warm as you wait for the sunrise.
There are food stalls and you can also get hot coffee or tea to keep warm while you wait. The trains can get crowded so you may or may not get a seat on your way there and back, but you can still travel standing.

Hike in the forests of Alishan National Scenic Area
If you're staying at Alishan House or in Alishan township, there are several trails (on interconnected wooden platforms and easy steps) that lead from the hotel and town (where the grand Taoist temple is) into the forests that are worth checking out. We were lucky to see cherry blossoms in bloom quite close to the hotel.
Further along on the Giant Tree trail are red cypress trees that are thousands of years old (some over 2000 years), as well as red pine, spruce, elm and fir.
There is something quite humbling about walking in silence surrounded by beings that have been around for thousands of years on the very planet you now call home.
From the town square with the temple, there are also signs pointing to the Elder Sisters Pond. It's a quick hike through the forest, taking some stairs and past a Magnolia garden to a calm pond with a perfect mirror reflection.
The forest trails aren't crowded at all, and you can explore all of these easily after you return from watching the sunrise.
Tsou Cultural Experiences at YuYuPas Cultural Park
Head to YuYuPas Cultural Park, a tourist attraction run by the indigenous Tsou ethnic tribe, the original inhabitants of this region. The park serves as a means to sustain the community, preserve the culture, and share their traditions and heritage with tourists.
The park is home to a tea plantation, traditional houses, and an exhibition hall. There's a restaurant with a set menu of Tsou delicacies (can be altered depending on your preferences of meat and vegetarian dishes) and the food is excellent, so definitely have lunch here.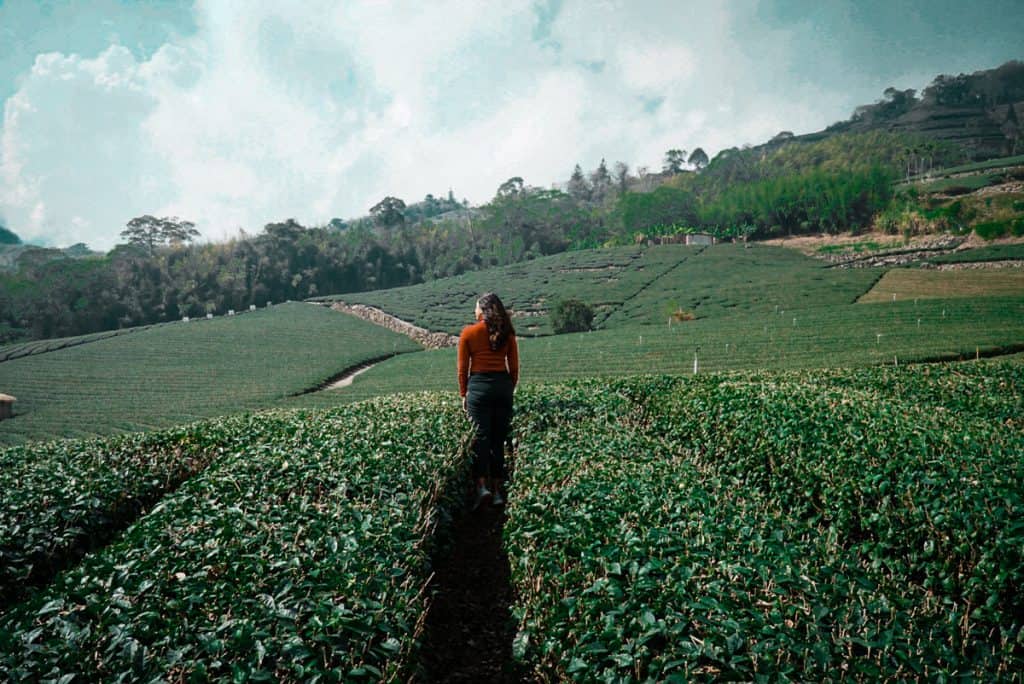 You can also taste (and buy) their lovely Alishan High Mountain Oolong tea and there's a café onsite as well. There's a cultural performance at the community theater at set times with Tsou community members singing and dancing in their traditional costumes. While there's some folk music, there's also a bit of warrior dancing on Enigma's 1993 release- Return to Innocence.
605, Taiwan, Chiayi County, Alishan Township
Watch The Video on Youtube
Where To Stay in Alishan
I have to say I was pleasantly surprised by our lovely luxury hotel Alishan House as I was expecting simpler lodgings in the mountains. But then again, it was obvious on our first day that Alishan is used to tourists, as it is one of the top places to visit in Taiwan, and has been seeing tourists since at least four decades.
The modern hotel has a great observation deck and a restaurant that serves buffet breakfast and dinner. They also arrange shuttles to the train station so you can see the sunrise. They have both modern rooms and rustic rooms in the heritage section of the hotel, and all rooms have modern amenities.
605, Taiwan, Chiayi County, Alishan Township
Alishan offers a variety of hotels, B&Bs, and guesthouses for every budget.
Day 6: Quirky & Cool Taichung
Taichung is a city in western Taiwan that has better weather when the days are grey and rainy in Taipei. We used it as a base to break up the journey from Alishan back to Taipei and check out the World Flora Exposition 2019.
Taichung is a modern city, with a cool arts and culture scene, quirky attractions, museums and galleries, shopping, and a dining scene that's worth exploring if you have the time. If you like cities, then Taichung is one of the top places to visit in Taiwan.
It's also been voted as the most liveable city in Taiwan. Plus, it's also home to Taiwan's largest night market- Fengjia Night Market and Rainbow Village, as well as several other sights and attractions.
If Instagram-travel is your thing, then you'll most certainly want at least two days in Taichung on your Taiwan itinerary.
If you're short on time, consider this guided tour of Taichung so you don't miss out on the city's unique offerings.
Interactive Nature Exhibits at the World Flora Exposition
Open until the 24th April 2019, the Taichung World Flora Exposition 2018-19 is an international event with interactive exhibitions and installations that explore the relationships between the natural world and people. The theme for the exposition is Rediscover GNP: Green, Nature and People.
The venue is home to many country pavilions with their own interpretations of the theme as well as exhibits around conservation, mindfulness, diverse ecosystems and the many relationships between man and nature. You can read the details here.
While I wasn't even sure that I wanted to visit, once there I was completely blown away as it was one of the most interesting experiences I had in Taiwan. You can use this resource to plan your visit.
Dinner and Desserts at Hogwarts at Miyahara
My love of ice-cream means that there was just one thing I knew I had to do on our only evening in Taichung, and that was to visit Taichung's famous Hogwarts-themed specialty ice cream store Miyahara.
Housed in a red-brick heritage building that was built as a clinic in 1927 by Japanese ophthalmologist Miyahara Takeo, and later became the Taichung Health Bureau, only to be abandoned, today Miyahara is a dessert store and restaurant that was designed to look like Hogwarts.
The grand interior, designed by a pastry company that bought and restored the building, is gorgeous and if you're looking to get a nice dinner in Taichung, (plus amazing dessert), then don't think twice about visiting Miyahara.
While there's plenty to buy at the store downstairs in Miyahara (pineapple and sun cakes are just a few of Taiwan's famous cake-pastry specialties), the upstairs restaurant is great as well. There's a minimum spend of 380NTD per person, which you'll spend anyway if you dine here.
We ordered a platter to share and can confirm that everything in it was great- fried squid, charred asparagus, pork sausage, lotus root fritters, and walnut persimmons.
The star of the show, of course, is the ice-cream sundae, where you can choose from flavors like green tea, smoked chocolate, mango, and a host of toppings like cheesecake, cookies, nuts, sprinkles, and what have you. Pure bliss.
No. 20號, Zhongshan Road, Central District, Taichung City, Taiwan 400
Where to Stay in Taichung
Stay at the Evergreen Taichung, a luxury modern hotel in Taichung.
There are also various other accommodation options available for every budget.
Day 7: Art, Shopping & All Things Cool in Taipei
As you make your way back to Taipei, you realize that there is just so much to see and do in the city, there really is never a dull moment.
Art in the City at Songshan Cultural and Creative Park
As I mentioned earlier, Taipei is home to a few creative parks- these are essentially art and culture hubs with studios, exhibitions, pop-up exhibitions, boutiques, galleries, and all things cool, quirky and hipster in the city.
I actually found myself in Songshan while looking for a bakery (as you do) that has shut for good. Songshan Cultural and Creative Park is an art district located on the site of a former tobacco factory that was set up during the Japanese colonial rule.
Today, the buildings here house exhibitions, stores, shows, and meeting spaces. Outside you'll find a lovely Baroque Garden, pond as well as cafés and kiosks selling food and drinks.
Songshan Cultural and Creative Park
No. 133號, Guangfu South Road, Xinyi District, Taipei City, Taiwan 110
Get a Bubble Tea at Teazzi
A pleasant ten minute walk from Songshan Creative Park, Teazzi is where I finally tried my first bubble tea, and it was great. The House Special Milk Tea (5.50NTD) comes highly recommended and it's what I got.
It was quite milky, and something like a frappé, only less creamy. There are multiple locations around Taipei, so find one that's close to you.
Go Shopping and Eat at Yongkang Street
If you want to go shopping for clothing, shoes, souvenirs, crafts, face and skincare, tea, or anything else, it's worth heading to Yongkang Street. There are high-end boutiques and budget-friendly stores, and certainly something for everyone.
You'll also find cosmetics, jewelry, and famous Taiwanese skincare brands. If you're tired, rest your legs at one of many cafés or grab a bite to eat at one of the restaurants here.
I'd heard about Vigor Kobo pineapple cakes and sun cakes, among other famous Taiwanese pastry types and got a few boxes as gifts for back home. They were delicious and much appreciated. They have a few branches around Taipei, and there's one on Yongkang Street as well.
Da'an District, Taipei City, Taiwan 106
Gorge on Delicious Fried Chicken
I don't know what it is with me and my food priorities when I travel, but somehow food becomes closely intertwined with any and all itineraries and travel guides I chart out.
Well, it was by chance that I read about how Taiwanese fried chicken is a big thing in Taipei, and how it's so much better than regular KFC-style fried chicken, and I'm so glad that I did.
Don't ask me why or how, because I was too busy biting into soft and juicy on the inside and crunchy on the outside fried chicken, greasy fingers and all, to focus on the reasons behind why that chicken was so damn good. Maybe this post does a good job of revealing the secrets of Taiwanese fried chicken.
If that description made you hungry and you're determined to go to the exact place where I had it, then head to the fried chicken place (couldn't find the English name) next to VVG Action in the basement food court at the Taipei New Horizon Building in Songshan.
Otherwise the fried chicken at Hot-Star (multiple locations around Taipei) also comes highly recommended.
No. 88號, Yanchang Road, Xinyi District, Taipei City, Taiwan 110
Day 8: Explore Nature, History and Icons in Taipei
Escape into Nature at Yangmingshan National Park
Yangmingshan National Park, located in Taipei, is one of eight national parks in Taiwan, and is easily accessible from downtown Taipei (a 30-minute drive). There are several parks, forests, hiking trails, waterfalls, and hot springs in the park, and you can explore some and all of these depending on how much time you've got.
You're likely to enter through the Visitor Center, and begin your tour at the Yangming Park with gardens, pavilions, streams, a large flower clock, an observation tower, and several beautiful cherry blossoms along the way.
After visiting the park, we did an easy 1km hike to Juansi Waterfall on a beautiful and quiet trail with very few other people. Check their website to find other scenic spots around the national park.
You can also check out this organized tour of Yangmingshan so that you can easily visit the highlights and hot springs in a day.

Visit the National Palace Museum
While I'm not crazy about museums, Taipei's National Palace Museum, home to the world's largest and greatest collection of Chinese antiquities and art, dating as far back to Neolithic times, is definitely worth a visit.
You'll find jewelry, sculptures, books, calligraphy, paintings, weapons, ceramics, jade, and other objects of cultural and religious significance spread over four levels.
A vast majority of these collections, acquired by Chinese emperors over 8000 years, were part of the Forbidden City's Palace Museum in Beijing (founded 1925), and include objects from the Ming and Qing dynasties. During the Chinese Civil War, Chiang Kai-shek transported these invaluable works of art to Taiwan, so they wouldn't fall into the hands of the Communist army.
Free guided tours are available (twice a day) as are audio guides (in English too) for a small fee. The exhibits, some interactive, are interesting- so keep at least two to three hours to get the most out of your visit.
Bear in mind that the exhibitions are rotating (because it wouldn't be possible to display them all at once), so visit the website to plan your trip and know more about current exhibits.
No. 221, Sec 2, Zhi Shan Rd, Shilin District, Taipei City, Taiwan 111
Get Up Really High at Taipei 101
Rising up above the city, sometimes into the very clouds that appear over Taipei, Taipei 101, at 508m is a skyscraper that was the world's tallest tower from 2004 to 2010 until the Burj Khalifa claimed the title. It was also the world's tallest green building until 2011.
The skyscraper's exterior was designed to look like a bamboo stalk (symbolic of learning and growth). Innovative features and construction methods were used to withstand typhoon winds and earthquake tremors- that occur frequently in Taiwan.
The exterior features eight segments of eight floors each- the number eight is associated with abundance, prosperity and good fortune.
Access is via the Taipei 101 shopping mall. A high-speed elevator takes you to the observation deck on the 89th floor in just 40 seconds. There's an outdoor deck on the 91st floor and another deck on the 88th floor.
You can spend as much time as you like, and whether you get clear views of Taipei or dreamy views of clouds over the city, it's one of Taipei's top experiences.
No. 7, Section 5, Xinyi Road, Xinyi District, Taipei City, Taiwan 110
Eat at one of the World's Top 10 Tables at Din Tai Fung
The Michelin-starred Taiwanese restaurant Din Tai Fung, with its original location in Taipei, was rated one of the top 10 gourmet restaurants in the world and the late Anthony Bourdain said he'd "travel half way round the world to eat dumplings at Din Tai Fung." I should have kicked myself for not visiting when it opened in Dubai, but well, better late than never.
Just like its worldwide locations (Dubai, Sydney, London etc), there are long queues that wait outside Din Tai Fung, all for the promise of a meal to remember. Inside, chefs dressed in all white expertly roll dough, and wrap dumplings with the speed and precision of the artists that they are, all behind large glass windows.
The specialty of the house is xiao long bao- a soup dumpling that comes with various fillings- shrimp, beef, chicken, truffle and pork, shrimp and squash, and vegetarian, as well as chocolate for dessert.
The House Special chili noodles are nothing short of divine, and the fried rice is considered by many to be the best in the world. I don't think there's anything on the menu that isn't good.
There are a few locations in Taipei including Taipei 101 and the original one that opened in Xinyi in 1972.
Day Trips from Taipei
This itinerary is just a starting point for the host of incredible experiences that Taiwan offers tourists. From cuisine, art and culture, to adventure and nature, the sheer diversity of things to see and do in the island nation is nothing short of awe-inspiring.
I'm confident that the secret's going to be out in the next two years, and Taiwan will see a marked surge in tourism. Until then, it's time to go there before the crowds do.
Practical information
Best Time To Visit Taiwan
Taiwan has four seasons: Spring (March until May), Summer (June until August), Autumn (September until November) and Winter (December until February). But the best time to visit Taiwan also depends, in part, on your own preferences- if you like cold weather, want to see the cherry blossoms or prefer a mild summer. The one thing we can agree on is that you want to avoid being in Taiwan during typhoon season (July to September).
The average temperature also varies depending on which part of the country you're in. As we experienced during our trip in mid-February, it is considerably warmer in the south and much colder in the mountains.
Here are the average temperatures and what to expect during Taiwan's four seasons:
Spring (March until May)
Cool, pleasant weather with temperatures of 15ºC to 26ºC. Bring a light spring jacket.
Summer (June until September)
Hot, sticky and humid weather with plenty of rainfall, thunderstorms and typhoons. Temperatures between 24ºC and 31ºC. Bring umbrellas, a light rain jacket, and breathable fabrics that don't cling to your skin.
Autumn (October until November)
Less rain and temperatures between 18ºC and 27ºC. Bring a light jacket and umbrella.
Winter (December until February)
Mild and pleasant with very little occasional rain and temperatures between 13ºC
And 21ºC. It can get as low as 6ºC in the mountains- that was the temperature at sunrise in Alishan. Bring a thick jacket with layers that you can zip on and off, depending on where you're going. I took my trusty Columbia jacket and it served me well- in rainy and cold Taipei, in freezing Alishan, and elsewhere.
Best Time to Visit Taiwan for Cherry Blossoms
Yes, you totally can and should come to Taiwan to see the cherry blossoms, among other things. There's nothing like it if you can come during the best time to visit Taiwan for cherry blossoms. Expect to see these pretty pink flowers in bloom between early February to late March in most parts of the country, and even until early April in mountain regions like Alishan and Yangmingshan.
Visa for Taiwan
Depending on your nationality, you may or may not need a visa to visit Taiwan. Some nationalities can get a visa on arrival, others need to get an e-visa and yet others need to apply in person in their own countries. Check your visa eligibility and rules here.
How To Get Around Taiwan
Taiwan has an excellent, easy-to-navigate public transportation system to get around the country. On the west coast, you're likely to make use of the Taiwan High Speed Railway (HSR) that runs at 300km/h . We took this from Taipei to Kaohsiung, and it was very quick, convenient and comfortable.
Other than that, there are also slower and cheaper regular trains (TRA) that run between major cities.
You can use this site to plan your transport between different cities and towns in Taiwan- jus enter the origin, destination and dates and you'll see options, schedules and can buy tickets online where possible.
Within cities like Taipei, Kaohsiung and Taichung, travel like the locals and make use of the Mass Rapid Transit system or subway, commonly known as MRT.
Bike-share is also available in major cities with dedicated bike lanes.
It's also helpful to know that the Taiwan Tourist Shuttle is available to transport tourists to certain places.
I used Uber in all three cities- Taipei, Taichung and Kaohsiung and it was super affordable, quick and convenient.
Currency in Taiwan
Taiwan currency is NTD or the New Taiwan Dollar. You'll see this denoted with a $ in most menus- remember that prices quoted with a $ aren't in USD but in NTD. At the time of writing 1USD= 30.79NTD
Taiwan SIM Card
Buying a local SIM Card with fast internet is the second thing I do as soon as I'm in the arrival lounge at the airport of a new city (the first being a bit of currency exchange). It's super easy to get a Taiwan SIM Card at the airport in Taipei.
I bought a Taiwan 4G SIM card from Chunghwa Telecom and got a 7-Day package with unlimited internet and 150NTD for local calls and texts. There was excellent connectivity everywhere and the data was fast with 100% coverage. You can actually pre-order this online and just pick it up from the Chunghwa Telecom to save time when you arrive.
Wi-Fi in Taiwan
You'll find Wi-Fi in most cafés and hotels in Taipei- not necessarily in most restaurants (depending on where you are). But it's easier to rent your own pocket Wi-Fi to get unlimited 4G internet on upto 5 devices. You can pick it up and drop it off at the airport- so easy!
Additional Reading
Best Things to Do & Places to Visit in Taipei
Best Taipei Night Markets You Should Not Miss
5 Amazing Things to do in Hualien City
Travel Insurance
I trust World Nomads for my travel insurance, and seldom travel without insurance because you never know what might go wrong on the road.
You can buy and claim online, even after you've left home. Travel insurance from WorldNomads.com is available to people from 140 countries. It's designed for adventurous travellers with cover for overseas medical, evacuation, baggage and a range of adventure sports and activities.
Tell me, have you been to Taiwan or would you want to go? Tell me what you think of this Taiwan itinerary.
Disclosure: Taiwan got on my travel wish list late last year, and after seeing photos of its spectacular landscapes, I was certain I'd visit in 2019. Call it the power of manifestation or what you like, but in February, I found myself invited to Taiwan by the Taiwan Tourism Board. All opinions, as always, are honest and independent.
This post contains affiliate links. If you make any purchases using these links, I may get a small commission at no extra cost to you.