This article contains affiliate links that I may be compensated for, at no extra cost to you.
Taipei, Taiwan's capital city is a place where a hip, cultural vibe co-exists with ancient traditions in the backdrop of what is perhaps one of the greenest and cleanest capitals in Asia. It's where taxi drivers munch on betel nut all day long, locals pay daily visits to ancient Taoist temples to pray for good luck and health, and the evenings can be spent ambling in the bustling lanes of Taipei night markets where bowls of steaming soup and piping hot oyster omelets beckon to the passer-by.
Taipei is full of unique cultural parks (visiting is among the top things to do in Taipei), beautiful nature and parks, fun activities to discover, and some of the best food and coffee culture in the region. If you're wondering about what to do in Taipei and the best places to visit in Taipei, be rest assured, whether you're visiting for a week or a month, you'll simply not get bored of Taipei attractions. By the way, if you're traveling around Taiwan, then here's my Taiwan itinerary to help you plan your trip.
In the meanwhile, here are 39 things to do in Taipei that will turn it into your favourite city in Asia, just as it did for me. I've also included a Taipei attractions map so you can bookmark this page and save the map, and use it also on your phone.
What To Do in Taipei: 39 Best Things to Do & Places to Visit in Taipei
Taipei Attractions Map
Visit the Best Traditional Breakfast Spot in Taipei
Breakfasts are a big deal in Taiwan and a perfect way to get together after a busy week or eat something tasty before work. Now, we know that you might not think of breakfast when you think of Taipei attractions but embracing the breakfast culture in Taipei is among the top things to do in Taipei, even if you fall into a food coma after.
Yong He Soy Milk King is a little no-frills but popular breakfast place that sees a long queue of diners patiently waiting outside in the early hours of the morning. They're open 24/7 and are popular with the post-party crowd as well.
There's lots of action going on in the kitchen that looks upon the street; a wrap being prepared here, a donut-type bread being fried there, dumplings being steamed, and bowls of hot soy milk being poured for hungry customers. It's self-service, so you collect your order, grab the cutlery and join the locals to enjoy your breakfast.
It's a great experience, simply because of how authentic and reasonably priced it is- and just how delicious. There is limited seating but things move quickly or you can take out. Pick your soy milk and then order a little of everything that's on the menu.
On our guide's recommendation I got the steaming hot salty doujiang or rich, creamy soymilk with vinegar, shrimp and tofu, and seasoned with spices and spring onions (35NTD=1USD), plus an egg pancake (shaobing) (25NTD=under 1 USD). I'd never tasted this version of soymilk before and it was delicious (but a huge portion that I couldn't finish), as was the egg pancake.
There's also a fried doughnut-type bread (you tiao) that you can dunk in the hot soymilk, as well as dumplings, and steamed buns. If you sit inside, there's an English menu with pictures, so you should be okay to order. You can also find them on Facebook.
It's a great spot to start a day of sight-seeing in Taipei. If you're looking for what to do in Taipei in the morning, this should top your list.
Location on Google Maps:
Yong He Soy Milk King No. 102號, Section 2, Fuxing South Road, Da'an District, Taipei City, Taiwan 106
Find Tranquility at Longshan Temple
Longshan Temple can be found on almost every 'top things to do in Taipei' list and with good reason. If there's just one temple than you plan on visiting on your Taipei trip, this should be it. The temple was built in 1738 and is a place of worship for people of the Buddhist, Confucian and Taoist faiths. It follows that you should dress modestly when you visit.
Step out of Longshan Temple Station and you'll immediately be hit with the smell of incense and the notes of calming music that draws you in, off the busy streets that surround it on all sides in the historic district of Bopiliao. You can buy incense there to take part in prayer or just walk around and enjoy the atmosphere and stunning ornate decoration of the temple
If you want to delve deeper into the history of this area and learn more about the beautiful architecture, this walking tour of Longshan temple and Bopiliao District is an excellent way to do that. What's more- there's traditional tea tasting and fortune telling included in this tour.
Location on Google Maps: Longshan Temple No. 211, Guangzhou Street, Wanhua District, Taipei City
Go Shopping in Taipei City Mall
Taipei City Mall isn't a mall in the way you might be used to in any other part of the world, Taipei City Mall is more of an underground shopping centre and spreads across four stations. Aside from being full of independent shops selling everything from cute stationery to clothes and souvenirs, this is also Taipei's equivalent to Akihabra in Tokyo (aka a nerd's paradise). Japanese anime, films and video games are super popular in Taiwan and if you love them too then this is the perfect place to get yourself some cute gifts. For something truly unique, why not get a traditional knife massage (it's ok, the cleavers are blunted!) while you're there? Imagine the story you'll have to tell about what is there to do in Taipei! City Mall is best accessed from Taipei Main Station.
Location on Google Maps: Taipei City Mall 100, Taiwan, Taipei City, Zhongzheng District, Section 1, Shimin Boulevard
Admire the Views from Taipei 101
At a height of over 509 meters, Taipei 101 is Taipei's tallest skyscraper (it was the world's tallest skyscraper before the Burj Khalifa came along and claimed that title) and it's one of Taipei's top tourist attractions. Shaped like a bamboo stalk, you'll see it loom over the city from most parts of Taipei. Taipei 101 is one of the greenest skyscrapers in the world and the design takes into account the city's location in an area that's prone to earthquakes and typhoons. There's a gigantic 660-tonne stabilizing wind damper inside (that you can see on the 88th floor) that keeps the building stable during such occurrences.
The experience starts on a Guinness World Record Breaking high-speed elevator where you'll travel at over 60.6kph to reach the 89th floor observatory in 37 seconds.
The observation decks are located between the 89th and 91st floors of the building, so expect a view of Taipei and the surrounding mountains that's truly majestic, even on a cloudy day. The indoor observatory on the 89th floor also houses a museum, refreshments bar, high-powered binoculars and a photo service.
The observatory on the 91st floor is an outdoor one and is open on days with favorable weather. Understandably, as visiting the observation decks is one of the best things to do in Taipei, Taipei 101 is one of the most popular and hence busiest sights in Taipei. It's a good idea to buy a Taipei 101 skip-the-line advance ticket so you don't waste time queuing up for entry.
Location on Google Maps: Taipei 101, No. 7, Section 5, Xinyi Road, Xinyi District
Visit the Highest Starbucks in the World for an Unbeatable View
This isn't as much of a hidden gem as it used to be but the view from the 'highest Starbucks in the world' is impressive, so it's still worth a visit. If you want to catch the Taipei skyline from the 35th floor of the Taipei 101 building and get a coffee at the same time, you really can't go wrong with a visit to this branch of Starbucks. But note that this is an office building- and Starbucks here isn't open to the public like it is everywhere else. The café seats about 30 people, so you'll need an advance reservation and there's a minimum spend of NT$250 as well.
You can make a reservation by calling them in advance or having your hotel do this for you. Note down your reservation number- you'll need this and it will be checked when Starbucks staff comes to escort you from the lobby to the café. You'll then get a 90-minute slot during your visit. A useful tip is to make a reservation around sunset- the light is softer then so it will make for prettier photos. Shorts, slippers and flip-flops are not permitted as per their dress code, so dress nice.
Of course, if you're a true Starbucks fan, then visiting should top your list of what to do in Taipei.
Also, while this is no substitute to visiting Taipei 101 itself with an outdoor observation deck on the 91st floor (and an indoor one on the 89th floor), it's much cheaper as an experience, so you can do one of these or both, depending upon how much you love a good view or coffee or both.
Location on Google Maps: Starbucks, 110, Taiwan, Taipei City, Xinyi District, City Hall Rd
Feast on Xiao long bao (soup dumplings) at Din Tai Fung
Din Tai Fung, is a Taiwanese Michelin-starred restaurant with its original location in Taipei, and eating at this spot that was rated as one of the top 10 gourmet restaurants in the world is something that should be high on your list of things to do in Taipei. A bonus? This amazing meal is really easy on the pocket- as the restaurant is not expensive at all.
Just like its worldwide locations (Dubai, Sydney, London etc), long queues wait outside Din Tai Fung, just so they can finally be let in for an evening of slurping delicious noodles and stuffing their faces with the house specialty- xiao long bao- or soup-filled dumplings. Inside, are chefs dressed in all white expertly rolling dough, and wrapping dumplings with astonishing speed and precision, all behind large glass windows.
Xiao long bao- the soup dumpling comes with various fillings- shrimp, beef, chicken, truffle and pork, shrimp and squash, and vegetarian, as well as chocolate for dessert (so delicious). Food wise, I think that nowhere else in Taipei did I enjoy my meal as much as I did at Din Tai Fung- so for food lovers, a visit should top their list of what to do in Taipei. My personal favorite main on the menu are the House Special chili noodles, while friends swear by the fried rice.
There are a few locations in Taipei including Taipei 101 and the original one that opened in Xinyi in 1972. If you plan on tasting a few different dishes (and you should), then this Din Tai Fung voucher allows you to have a feast and try different types of dumplings and other dishes (including dessert) at a reasonable price.
Some reviews recommend takeout instead of waiting in the queue, but to me dining in the restaurant is a big part of the experience- it's not just about the food (that's delicious) but also about the whole buzz of activity, being able to see the chefs prepare the dumplings, and the excellent service.
Location on Google Maps: Din Tai Fung, 110, Taiwan, Taipei City, Xinyi District, City Hall Rd
Go Boutique Shopping at Red House Theater
Apart from being a gorgeous red brick building right in the centre of the historical district, the Red House Theater is perfect for picking up some unique souvenirs and supporting local artists while you're in Taipei. It also features a stage and a distinctive octagonal structure and is a fun place to visit in Taipei simply to wander around. It has become one of the number one spots for buying boutique and handmade items in the city. The stalls regularly change but you'll find items ranging from paintings to jewelry and traditional crafts. If you're lucky, you can catch a concert while you're there!
Location on Google Maps: Red House Theater No. 10, Chengdu Road, Wanhua District, Taipei City
Try Tiger Sugar Tea (the best tea in Taipei)
Whether you've tried it before or have just heard about this tea by someone who loves it, trying bubble tea in Taiwan should be quite high on your list of what to do in Taipei. Why? Because Taiwan is the home of bubble tea- a milky iced tea with tapioca pearls called boba (or bubbles). The chewiness of the boba pearls is pleasant with the milky sweetness of the tea.
To try the absolute best, don't think twice before you try Tiger Sugar Tea. It's like milk tea's cooler sibling and absolutely delicious (if you like very sweet drinks!), the tiger stripes on their tea are created by caramelized sugar and you still get the chewy tapioca pearls you get in standard bubble tea. Tiger Sugar comes highly recommended, also by the Michelin guide. A perfect sugar rush for those long sight-seeing days.
Location on Google Maps: Tiger Sugar No. 6-2, Lane 140, Section 1, Zhongshan North Road, Zhongshan District, Taipei City, Taiwan 10491
If you like tea, check out this tea tasting and sampling tour to learn more about Taiwan's tea culture.
Hike Elephant Mountain for Incredible Views of the Taipei 101 skyline
Even if you don't normally set aside time on trips for hiking, if you're going to try it once while visiting Taipei, I'd recommend this one. Elephant Mountain is conveniently situated within the city and requires climbing hundreds of steps with viewing points scattered the whole way up. You'll also find benches made up of Chinese characters on the way up. At each point, you'll be rewarded with gorgeous sweeping views of the city and the Taipei 101 Tower.
To begin the hike, get off at Xiangshan Station, walk through the Xiangshan Park and you'll find yourself at the beginning of the trail. It's best to get here very early in the morning or just before sunrise so you can enjoy the lovely colors of the sunset sky and avoid the heat.
If you manage to reach the very top and feel confident in your jelly legs then you can climb some of the big stones for amazing pictures that look like you're on top of the world. This is still one of my favourite hikes for the perfect combination of convenience and feeling rewarded! If you're going on your own and want photos of yourself in the best spots here, book this Elephant hike tour with a guide who will also be your photographer and tell you about the most instagrammable spots to see. Instagrammers, this should totally be on your list of what to do in Taipei!
Location on Google Maps: Elephant Mountain Xinyi District, Taipei, Taiwan
Go Cafe Hopping on Yongkang Street
Yongkang Street is a delight and the ideal spot if you want to check out Taipei's cafe and boutique shopping scene. Some of the best coffee shops in the city are tucked on this street (I loved the friendly staff and tea menu in Xiao Miju) as well as some of the must-try restaurants and street food stalls in the city can be found here. Many people come here to try the original Din Tai Fung, you'll also find the famous mango shaved ice parlour named Smoothie House, a bright yellow exterior that's impossible to miss.
In addition to these places though, I'd recommend a visit to Yong-Kang Beef Noodle to try the traditional and succulent Taiwanese dish at its finest. This YongKang walking food tour is a great way to try the best things to eat on this street. If walking around new cities is your thing, then this street should be on your radar for what to do in Taipei.
If you travel to eat, you might appreciate this private food tour in Taipei where you get to taste at least 10 different dishes around the city- from sushi at a 40-year old sushi stall and a Chinese meat pie to signature braised meat with rice and Japanese mochi rice cakes.
Location on Google Maps: Yongkang Street, Da'an District
Visit Chiang Kai-shek's Memorial Hall
Although the former (and first) President of the Republic of China, Chiang Kai-shek is a controversial figure, visiting the memorial named after him, and also referred to as CKS Memorial Hall, is on most lists of what to do in Taipei. The tour starts with the iconic blue and white gates at the front in Liberty Square.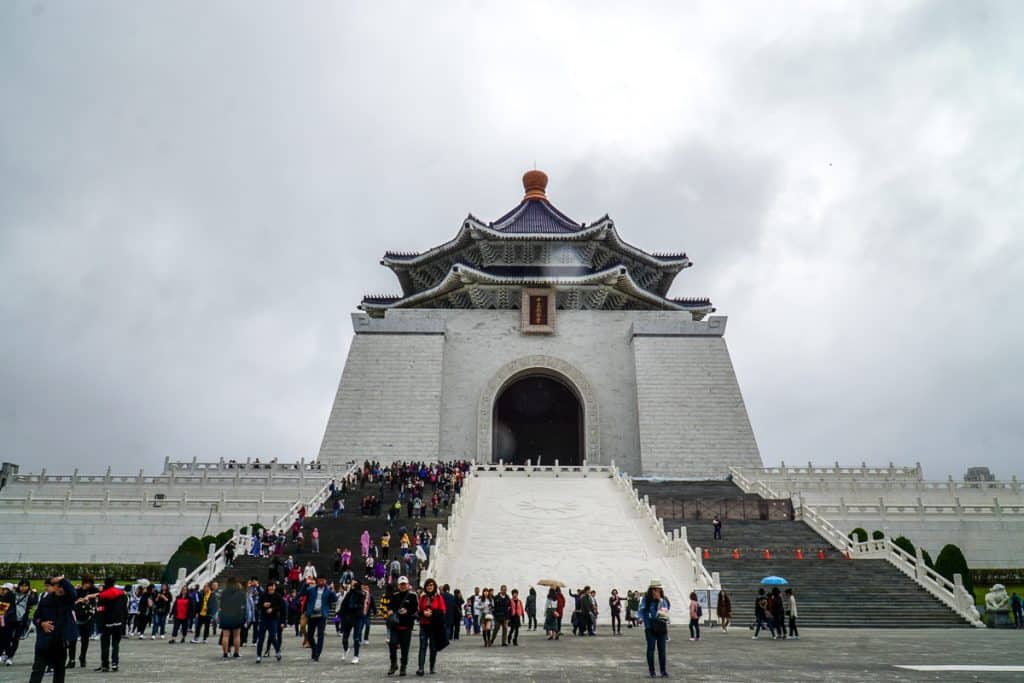 In Chinese culture, the number 8 signifies fortune, and this is symbolized by the eight sides of the memorial, and the 89 steps signify his age when he dies. Inside the memorial hall itself you'll find a statue of Chiang Kai-shek and a library and museum downstairs. One of the best things to do is catch the hourly changing of the guards for an impressive sight that's easily missed if you don't know to hang around.
Location on Google Maps: Chiang Kai-shek Memorial Hall, No. 21號, Zhongshan South Road, Zhongzheng District, Taipei City
Enjoy a Show at the National Theatre and Concert Hall
If you visit Liberty Square and Chiang Kai-shek Memorial Hall, you'll see that the square is framed on either side by the Taipei National Theatre and Concert Hall. The two orange-red roofed buildings in the complex house a concert hall on the left and an opera theater on the right.
Here, in these incredible examples of traditional Chinese architecture, you can enjoy performances of both traditional Chinese opera as well as modern musical acts, comedy shows, theatre, and ballet. Just visiting is enough to be in awe of their beauty, both inside and out, and then to have the chance to see traditional opera is just gravy. The venues host regional and international artists who are held in the highest regard- so it might be worthwhile to find out about concerts and shows and try to get tickets.
Try Delicious Pineapple Cake at Chia Te Bakery
Honestly, the existence of pineapple cakes is one of the most beautiful aspects of life in Taiwan, and trying a pineapple cake is one of the best things to do in Taipei- think crumbly fruity goodness that are the perfect size for keeping in your bag. But, you haven't tried pineapple cakes until you've had one from Chia Te, they're simply perfect. You can also find other Taiwanese cakes here and twists on the usual pineapple filling so there really is something for everyone. Make sure you head there early, they sell out quickly! Chia Te also sells their famous pineapple cakes in a pretty gift package that you can choose to pick up at the airport- I got these as gifts for back home and my family loved them.
Location on Google Maps: Chia Te No. 88號, Section 5, Nanjing East Road, Songshan District, Taipei City
Also try Taipei Leechi's Sun Cakes
If you're on board for trying more unique Taiwanese cakes (and why wouldn't you be) then you have to try the buttery sun cake which pairs perfectly with Chinese tea. The crumbly texture and sweet centre is an ideal combination, in my opinion, but many people actually dissolve them in hot water to make a sort of porridge. Taipei Leechi makes some of the best sun cakes and also sell some fantastic savory and sweet moon cakes if you want to delve further into Taiwanese sweets.
Location on Google Maps: Taipei Leechi No. 67號, Section 2, Chang'an East Road, Zhongshan District, Taipei City
Explore Dadaocheng Historical Area
The Dadaocheng area, particularly Dihua Street, is one of the must-see places to visit in Taipei if you want to experience traditional Taiwanese life. The shops are small and spill out onto the streets selling various goods- from bamboo utensils to dried fruit, tea and spice shops. You'll also find traditional medicine shops and even practicing doctors.
Personally, I love this area for the architecture, you can really get (wonderfully) lost wandering the side streets, admiring the red brick buildings and embracing the bustle. If you see any tiny doors above the shops, these were to protect the shopkeepers from pirates in the past, kind of like an old version of a door viewer. Definitely an area where it pays to look up! This is one of the nicest free things to do in Taipei.
One of the cool things to do here is to rent a traditional Chinese outfit, a qipao, and feel like you're in the 1920s while you wander and take photos of yourself wearing a qipao in the historical district.
Top tip: you'll also be able to visit Ningxia night market which opens here in the evening.
Go Shopping in Ximending
If you're looking for all things colorful, quirky and like nowhere else in Taipei, then Ximending, the famous walking street that's also one of the top places to visit in Taipei, is where to find them. This pedestrianized shopping district is bright with neon billboards and packed with the most fashionable boutiques and restaurants in the city. Visiting this quirky walking street where the crowds are always buzzing in every direction should be on your list of what to do in Taipei. There's also always something going on in terms of street entertainment.
The beauty of Taipei is that you can just as easily experience this big city vibe along with the traditional side streets and night markets over the course of a single day. Start at Ximen station and get lost in the crowds.
Location on Google Maps: Ximending
Visit Taipei's Amazing Night Markets
You know I'm a big fan of Taipei's many night markets and you can find a detailed post of the best night markets in Taipei. Visiting Taipei's night markets are top of my list of things to do in Taipei at night. My personal favourite is Ningxia market which can be found near the historical district of Dadaocheng. It offers a perfect combination of great atmosphere, wonderful food and entertainment and it's also a manageable size so you can really dig in and experience everything a Taipei night market has to offer.
When you do visit a night market in Taipei, don't forget to try the food- that is a real highlight of the experience. From Japanese-style takoyaki (octopus balls with toppings) and pepper pork buns to shaved ice and braised pork with noodles, you'll eat well at Taipei's night markets. This food tour of Ningxia Night Market is an excellent way to ensure that you don't miss the food highlights of the market.
Location on Google Maps: Ningxia market Ningxia Road, Datong District, Taipei City
Choose from a Unique Menu at the Themed Gudetama Café (or visit another themed café in Taipei)
Guedetama is one of the best things to come out of the Japanese Sanrio company in the last few years. Yes, it's a depressed egg who's lost his vigour for life and that's a bit odd but it works! Taipei has certainly embraced the Gudetama love at the Gudetama Chef Cafe. There are lots of other themed cafés and restaurants in Taipei (some more gimmicky than others), the most famous probably being the Modern Toilet Restaurant but Gudetama Chef is the most fun and the dishes are also incredibly innovative and genuinely good quality. If you're interested in quirky cafés, then this is one of the best places to visit in Taipei.
We decided to go down the dessert route and order the nest of Gudetama cakes and the themed sundaes – if you like instagrammable desserts then you'll be very happy. Also, the attached gift shop is full of one-of-a-kind souvenirs and everything Gudetama you could possibly want.
Location on Google Maps: Gudetama Chef Cafe No. 12號, Lane 236, Section 1, Dunhua South Road, Da'an District, Taipei City
Try Karaoke Taiwanese Style
I'm of the opinion that karaoke is done so much better in East Asia than we do in the West, it's a more intimate experience where you can take a group of friends into a booth with some drinks and snacks or even sing by yourself! If you love all things eclectic and want to experience a bit of modern local flair, then visiting a karaoke bar in Taipei should be on your list of what to do in Taipei.
Karaoke bars are generally open 24-hours a day as well so they can be enjoyed as part of a drunken evening post-night market or a more civilized afternoon affair. The popular chain of KTV (karaoke) in Taipei is called Partyworld and you'll find them scattered all over the city, I like this particular branch for convenience and size.
Enjoy Live Music and Craft Beer at Revolver
One of the absolute best things to do in Taipei at night is partake in its lively alternative scene. There's a hefty and vibrant tattoo culture, an alternative punk and metal music scene, and a great rowdy bar scene. Revolver is one of the best bars to experience the heart of that culture. It's a local bar that offers delightfully cheap local Taiwanese beers and has a live stage where local garage bands often play long into the night. Revolver is a very popular bar for foreigners and expats in Taipei, so if you're new to the city, or travelling alone, it's a great place to meet up with other English-speakers.
Location on Google Maps: Revolver No. 1-2號, Section 1, Roosevelt Rd, Zhongzheng District, Taipei City
Make and Release Lanterns at Shifen
Shifen is a small village to the north of Taipei city. It can be explored as part of a trip to Jiufen, but it's very different from the bigger tourist hotspot of Jiufen. Shifen is a more understated but rustic little town, and one of the very best things to do there is take a lantern-making class. There are several lantern-making studios that teach you how to make a traditional Chinese lantern. You can write a wish on the side, light it, and let it fly in the hopes that your wish will come true. Our lantern wished for a long and happy life for our cat.
You can also choose to take this day tour to see the famous Ping Xi sky lanterns. Shifen is also famous for the gorgeous Shifen Waterfall that makes for pretty photos.
Location on Google Maps: Shifen 226, Taiwan, New Taipei City, Pingxi District
Hike the Qixing Mountain Trail at Yangmingshan National Park
Yangmingshan is a beautiful national park just to the north of Taipei. It's a short bus ride from the centre of Taipei, bus tickets available here, and the Qixing Mountain Trail can be followed to the very peak and back again in a single day. The hike is pretty tough on a hot and humid day, as I found out at the height of summer, but certainly not something for professionals only. Being a very unprofessional climber, I can attest to this. This trail can be conquered by anyone, but it still feels like a pretty tough feat you've accomplished. And the views are like nothing else in all of Taiwan. If you're wondering what to do in Taipei in the morning, then this is a good way to get active early in the day and see some amazing views.
If you're not so much into hiking, but appreciate an epic sunrise, then take this sunrise tour to Yangmingshan for an experience you won't forget. Yangmingshan National Park is worth a visit even for non-hikers to see the beautiful nature of the area including hot springs, Milk Lake, Bamboo Lake, cherry-blossoms in the right season, and epic views.
Location on Google Maps: Qixing Mountain Trail Yangmingshan National Park, Taipei
Sip on Taiwanese Tea at Lin Hua Tai Tea Company
A true slice of cultural history in Taipei, Lin Hua Tai Tea Company is the oldest remaining tea house in Taipei. It's still going strong, and you can even take a private tour of the inner workings of the tea shop if you ask. This tea shop originally opened its doors in 1883 and has been passed down through four generations to today. Touring the tea shop's inner sanctuary and seeing the huge metal vats where the tea is prepared is very impressive and really gives you a new-found respect for the tea-making process. Tea lovers, this experience should be on your list of what to do in Taipei.
Location on Google Maps: Lin Hua Tai Tea Company No. 193號, Section 2, Chongqing North Road, Datong District, Taipei City
Try Taiwanese Hamburgers from Local Vendor Lan Jia Gua Bao 藍家割包
Bao are a staple of Eastern Chinese cuisine that dates back centuries. They're essentially steamed buns filled with shredded meats and vegetables. Gua bao are a style of Taiwanese bao that closely resembles a hamburger, and they're a great way to blend Eastern and Western styles of cooking. The best place to sample these steamed buns of meats and spices for yourself is at Lan Jia Gua Bao, a small street vendor near Luosifu Road that's a mainstay of the local area and a favourite pitstop for busy locals. It's also right by Gonguan night market.
Location on Google Maps: Lan Jia Gua Bao No. 3號, Alley 8, Lane 316, Section 3, Luosifu Road, Zhongzheng District, Taipei City
Wander around in Taipei Botanical Garden
Located in a beautiful district, right beside both the National Museum of History and the Qing Dynasty Provincial Administration Hall, the Taipei Botanical Garden, over 100 years old, is a peaceful and picturesque escape from the hustle and bustle of the busy city streets, and among the best places to visit in Taipei. The site was actually carved out during the Japanese occupation but stands today as a preservation area of tropical plants, birds, and insects, home to over 2000 species of flora. You can explore, photograph, and take in the soft and calming atmosphere of the garden at your own pace. You don't have to pay to enter- so this is one of the best free things to do in Taipei.
Location on Google Maps: Taipei Botanical Garden No. 53號, Nanhai Road, Zhongzheng District, Taipei City
Surround Yourself with History at the Taipei National Palace Museum
Perhaps the best, and most culturally vital, museum in all of Taiwan. The Taipei Palace Museum is an enormous and grandiose structure on the northern edge of Taipei, and inside you'll find a dizzying number of rare and unique artefacts and pieces of art from across thousands of years of Chinese history. You'd be hard-pressed to find a more informative, dazzling, and awe-inspiring collection if you're even slightly interested in either Chinese art or Chinese history. Again, this is one of the most popular Taipei attractions, so it's smart to get a skip-the-line online ticket for the Taiwan National Palace Museum.
Location on Google Maps: Taipei Palace Museum No. 221, Sec 2, Zhi Shan Rd, Shilin District, Taipei City
Feel Zen on Jiantan Mountain
The Jiantan Mountain trail is popular among nature-lovers who visit Taipei and it's an easy-moderate hike up to the observation deck for breathtaking views. This Zen Hiking Tour of Jiantan is an even better way to do this trail for two reasons- one, the group takes an alternative lesser-known route that isn't nearly as crowded, and two, when you get to the observation deck, you'll get to experience Qigong, a traditional exercise (sort of like tai chi) that helps you learn how to control your breathing and meditate. Afterwards, you'll enjoy a cup of tea surrounded by beautiful forest before you head back into the city. So zen!
See the Beautiful Baoan Temple
Built over two hundred years ago to replace a small wooden shrine and create something grander, Dalongdong Baoan Temple is a place of worship for Chinese Folk Religion. The temple that has been restored several times has also received UNESCO recognition in 2003. Chinese Folk Religion is a kind of all-encompassing term for the religious traditions and beliefs of Chinese and Taiwanese culture, which blends elements of Buddhism and Taoism. Taoism is still very much an integral part of Taiwanese society, and Baoan Temple is a beautiful demonstration of that long-standing tradition.
Location on Google Maps: Baoan Temple No. 61, Hami Street, Datong District, Taipei City
Take a Break at Daan Forest Park
Found a little to the north of National Taipei University and just beside Taipei Public Library, Daan Forest Park is the most famous and renowned park in Taiwan's capital and a popular Taipei attraction. Similar to New York's Central Park or London's Hyde Park, it's an area that's perfect for a Sunday stroll, a family picnic, or a place to bring children to wander and play. Daan Forest Park is a huge, open space of playgrounds and ponds, where birds sing and children play. It's a great place to enjoy the more peaceful side of life in Taipei.
Location on Google Maps: Daan Forest Park No. 1號, Section 2, Xinsheng South Road, Da'an District
Be Inspired at Huashan 1914 Creative Arts Park
This creative arts park is an exciting part of Taipei, as well as a great example of how intrinsic innovation and art are to modern Taiwanese culture. Around the country, creative parks and artistic districts serve as a means to repurpose and restore old, abandoned areas and properties. These serve as cultural hubs that host exhibitions, pop-up shops, and events and have programs to support artists. Entrance doesn't cost anything- so visiting is among the best free things to do in Taipei.
The area that now houses Huashan Creative Park was originally the site of the Taihoku Winery during the Japanese occupation (Taihoku being the Japanese name for Taiwan). Today it's a dynamic art space that showcases local arts and crafts in its many shops and exhibition spaces, as well as tranquil cafes nestled deep inside the park, in amongst all the peaceful greenery. There are also some amazing modern installations where you can take quirky pictures and join in the fun atmosphere around you.
There are other creative parks in Taipei such as Songshan Cultural and Creative Park that is housed on the site of a former tobacco factory.
Location on Google Maps: Huashan Creative Park No. 1, Section 1, Bade Road, Zhongzheng District, Taipei City
Try some Delicious Taiwanese Fried Chicken
If you eat meat, then trying some Taiwanese fried-chicken should be on your foodie priorities when it comes to what to do in Taipei. Fried chicken is a huge deal here. Do yourself a favor and sample some Taiwanese fried chicken that is so much more juicy and delicious than any fried chicken you've had in the west. Hot Star Fried Chicken, dishing out legendary fried chicken since 1992, is quite popular with branches around the city, and you'll find that waiting in the queue at Ximending is worth it!
Location on Google Maps: Hot Star Fried Chicken No. 104, Hanzhong Street, Wanhua District, Taipei City
Go Kayaking on Taipei's Northern Coast
Want to escape the city for a bit of nature and adventure? Then head to the northern coast of Taipei for a kayaking experience in calm waves to enjoy the gorgeous landscape of the Yehliu region. Along the Wanli coast, you'll see the famous Shenao Elephant Trunk Rock and also have the option to go snorkeling in a nearby bay to see the rich marine life. The kayaking experience is suitable for all levels and is under the guidance of a qualified instructor and safety equipment and procedures.
Try a Betel Nut
Beloved by taxi drivers in Taipei, if you see some dubious red liquid on the floor, chances are it's the remnant of this coveted stimulant rather than blood (phew!). You'll see vendors in various locations around the city marked out with a neon square and sign (檳榔) and they're happy to show you how to eat it if you haven't before. Otherwise, corner shops also stock them. Chewing on the extremely bitter nut will give you an intense buzz akin to a huge caffeine hit. Honestly, it was a bit much for me and made my heart race but it's definitely worth a try if you want the experience. I visited this particular stall in Xinyi.
Go Vintage Shopping at Damn it! Vintage
If you love finding cute vintage items while abroad then you'll have to pay a visit to this tucked away treasure trove near the historical Datong district. You could easily pass by Damn it! Vintage As it's housed in a former temple and it certainly doesn't look like a vintage store from the outside. However, once inside you'll find everything from high fashion to traditional clothing and accessories. The owners are incredibly friendly and passionate too.
Location on Google Maps: Damn it! Vintage No. 1, Lane 33, Chifeng Street, Datong District
Take a Taiwanese Cooking Class
What better way to appreciate local cuisine than to learn how to cook it in its own home? Cooking classes are one of my favorite things to do while traveling, especially if it's a cuisine that I've loved. On this Taiwanese Cooking Class in Taipei, you'll learn from a Taiwanese chef how to prepare three signature dishes, in the company of a small group in a homey cooking studio. There are add-on options if you'd like to combine this with a market tour complete with tastings and also learn how to prepare an authentic Taiwanese dessert. The best part? You get to sit down to enjoy the meal you've just prepared with your group.
Take a Day trip to Jiufen
Jiufen is a short and easy day trip just east from Taipei, which is a must if you have the time. The famous attraction of this former gold mining town is the tea house which inspired the bath house in the Japanese film Spirited Away. The century-old Amei teahouse, with its red lanterns and traditional façade, can get very crowded- it's believed to be the inspiration behind the film.
If you'd rather skip-the-line and go straight in, then these skip-the-line tickets to the iconic Amei Teahouse in Jiufen are a smart choice. You'll be served oolong tea and snacks, cakes and pastries along with breathtaking mountain views.
Aside from the tea house, you can enjoy the view of the ocean and enjoy the shops, cafes, and vendors along the main street of Jiufen. Naturally, you'll find the most Ghibli merchandise here outside of Japan, so if you're a fan, you'll be very much spoilt for choice. Buses leave every 20-minutes (towards Keelung 1062) from Zhongxiao Fuxing MRT.
If you aren't sure of visiting on your own or simply don't want to plan, then this organized day trip from Taipei to Jiufen is a good way to see the highlights of Jiufen- from the quaint teahouses to the rock formations of Nanya.
Learn More about Taiwanese Art at the Taipei Fine Arts Museum
To really experience the arts culture of Taiwan, and broader East Asia, the Taipei Fine Arts Museum, is a wonderful place to visit. The exhibitions change frequently, giving you a reason to visit multiple times, which is especially useful if you're staying in Taipei for a while. Although it is branded as the fine arts museum, and that is true, there are often more abstract and experimental art exhibitions on to demonstrate the breadth of styles welcomed and explored in Taipei. Once you've seen the Palace Museum, this should be your next stop to delve further.
Location on Google Maps: Fine Arts Museum No. 181號, Section 3, Zhongshan N Rd, Zhongshan District, Taipei City
Relax in the Beitou Hot Springs
If there's one thing you need to do in Taipei for relaxation, it's to visit the hot springs in Beitou that are fed by the geothermal landscape around the Yangmingshan Volcano. An easy journey on the subway or a 30-minute drive, you'll find yourself in a completely changed environment of steaming hot springs, sulphur, and oh-so-sweet tranquility in what is considered to be among the best Taipei attractions.
There are both public hot springs in the Beitou Hot Spring Park and private baths with fancy options in hotels and resorts- you get what you pay for in terms of the quality of luxury.
For the public baths, bathing attire is quite strict (women in bathers and men in swim shorts) and you pay to enter (40 NTD).
However, for a more private experience most of the hotels around the area (and there are many) will charge you by the hour to use theirs or you can stay overnight. There are various packages available at the Beitou Hot Springs City Resort. Another option is Phoenix Pavilion which has a choice of private/ couple hot springs or a bigger shared bath.
You can also go hiking around the area, visit the Hot Spring Museum as well as the library, or enjoy some of the cafes or local eateries, I loved Laibeitoupao Cafe for their excellent green tea (and wifi!) and the amazing view over Beitou.
If you're not sure about visiting on your own, or want to make the most of a day, then consider this day trip to visit Beitou hot springs and Yangminshan National Park.
Location on Google Maps: Beitou Beitou District, Taipei City
Enjoy Tea and Spectacular Views on Maokong Mountain
Taiwan is a very mountainous place, and Taipei itself has several surrounding mountains to explore, but Maokong is special amongst them for being a place famous for growing tea. You can take a gondola up Maokong for ease of access, and get a fantastic view along the way. The gondola leaves from right beside Taipei Zoo and be accessed just outside the Taipei Zoo MRT. Tickets to the gondola are available here. The view from the summit, which takes in the whole of Taipei from the south of the city, is utterly spellbinding, and the mountain still grows tea to this day. It's a pure and traditional example of the lively and vital role of tea and its cultivation within Taiwanese society.
Where To Stay in Taipei
Taipei has a wide variety of accommodation to suit every budget, and the city is well-connected by the subway system and generally feels safe. I've picked options for the best centrally located accommodations here to suit every budget but you can also look for other options here.
Backpacker and Budget Stays in Taipei
A short walk from Ximen Metro Station Meander Taipei Hostel is clean, comfortable, cheap and has a great atmosphere. There are also female-only dorms (something I consider while staying in hostels). As far as hostels go, this one is great.
Located within walking distance of Taipei Bus Station, We Come Hostel comes highly rated if you're staying in Taipei on a serious budget. The hostel is fully air-conditioned and there's a coffee bar plus luggage storage. It's clean, modern and a great place to meet other travelers. Ningxia Night market is a short stroll away. There are male, female and mixed dorms as well.
Mid-Range Stays in Taipei
If you're after a centrally located hotel in Taipei that isn't too expensive, then consider Hotel 73 Taipei. The rooms are modern and comfortable with amenities such as tea and coffee makers, flat-screen TVs and private bathrooms, plus the hotel has an in-house restaurant. It's also within walking distance of the Chiang Kai-Shek memorial and Yongkang Street.
This mid-range hotel offers fairly luxurious, modern and clean rooms, a short walk from Dongmen Station. There's an in-house restaurant, lounge and gym as well.
I wasn't sure whether Le Suites Taipei Da-An belonged in the mid-range or luxury hotels category- because it seems quite luxurious and grand at what seems to me a great and reasonable price. This very much feels like an elegant boutique hotel with spacious rooms, an in-house restaurant, lounge bar, and gym, and is within walking distance of Zhongxiao Fuxing Metro Station.
Luxury Stays in Taipei
Stay at the W Taipei for a luxury stay you're not likely to forget. While I did not stay here, but just visited the rooftop bar at the W Taipei, it was easy to see that if you're after a luxurious and stylish stay in Taipei, located close to the city center and within walking distance of many sights, this is the place to stay in Taipei. The W brand is synonymous with modern luxury and service par excellence, so if this suits your budget, don't think twice before booking. Even if you don't stay, it's worth getting a day pass to enjoy the pool, sauna and light bites and cocktails at Woo Bar.
Located in Songshan District, the Sherwood Taipei is another luxurious hotel with a spa, swimming pool, fitness center and a sauna. There are two restaurants (Italian and Japanese) in-house and a lounge bar. Modern, classy and understatedly elegant, this one is for discerning travelers.
If these suggestions did not quite make the cut for you, you can also look for other options here.
Visa for Taiwan
Depending on your nationality, you may or may not need a visa to visit Taiwan. Some nationalities can get a visa on arrival, others need to get an e-visa and yet others need to apply in person in their own countries. Check your visa eligibility and rules here.
Get Around Taipei
Within cities like Taipei, Kaohsiung and Taichung, travel like the locals and make use of the Mass Rapid Transit system or subway, commonly known as MRT.
Bike-share is also available in major cities with dedicated bike lanes. If you're visiting for just a few days, then this Taipei hop on- hop off bus is a great way to see the main tourist attractions in Taipei.
It's also useful to get a Taipei EasyCard that you can pick up at the airport for cashless payments and discounts on transportation, stores, and Taipei attractions.
If you're planning to take day trips such as to Jiufen, then consider this bus ticket to day trips around Taipei.
I used Uber in all three cities- Taipei, Taichung and Kaohsiung and it was super affordable, quick and convenient. Otherwise, this bike tour of Taipei is also a cool way to the city. If you have an entire day and don't mind spending it on a bike, then this full-day cycling tour of Taipei sounds like fun. If you want more flexibility, you can also rent your own car in Taipei.
You can book a return bus ticket between the airport and downtown Taipei or for a bit of luxury, book your private airport transfer in Taipei here.
Currency in Taiwan
Taiwan currency is NTD or the New Taiwan Dollar. You'll see this denoted with a $ in most menus- remember that prices quoted with a $ aren't in USD but in NTD. At the time of writing 1USD= 30.79NTD
Wi-Fi in Taiwan
You'll find Wi-Fi in most cafés and hotels in Taipei- not necessarily in most restaurants (depending on where you are). But it's easier to rent your own pocket Wi-Fi to get unlimited 4G internet on upto 5 devices. You can pick it up and drop it off at the airport- so easy!
Taipei SIM Card
Buying a local SIM Card with fast internet is the second thing I do as soon as I'm in the arrival lounge at the airport of a new city (the first being a bit of currency exchange). It's super easy to get a Taiwan SIM Card at the airport in Taipei.
I bought a Taiwan 4G SIM card from Chunghwa Telecom and got a 7-Day package with unlimited internet and 150NTD for local calls and texts. There was excellent connectivity everywhere and the data was fast with 100% coverage. You can actually pre-order this online and just pick it up from the Chunghwa Telecom to save time when you arrive.
Taipei Deals & Discounts
Klook offers some great deals and discounts in Taipei– everything from entrance tickets and hot springs in Beitou to live shows and restaurants. It's worth your while to check this page before you go- as the savings can nicely add up.
Travel Insurance
I trust World Nomads for my travel insurance, and seldom travel without insurance because you never know what might go wrong on the road.
You can buy and claim online, even after you've left home. Travel insurance from WorldNomads.com is available to people from 140 countries. It's designed for adventurous travellers with cover for overseas medical, evacuation, baggage and a range of adventure sports and activities.
Additional Reading
If you're visiting Taiwan, you might also be interested in the posts below:
Best Night Markets to Visit in Taipei
The Perfect Taiwan Itinerary for a Week
5 Amazing Things to Do in Hualien city
Have you been to Taipei? What would you add to this list?