One of the most charming and beautiful cities of Europe, Prague is elegant and grand (think castles, cobbled streets, bridges and the kind of architecture that seems like it was built for a fairytale), and a fitting introduction to the Czech Republic, the country that is sometimes rightly called the Bohemian gem of Eastern Europe.
Prague offers tourists rich history, cultural sights, museums and galleries, magnificent views, great food, interesting nightlife and world-famous Czech beer. The cherry on the cake? It's all do-able even if you're on a budget. Consider this essential 3-day itinerary in Prague as a start.
But are 3 days in Prague enough, in terms of being able to see the main sights and attractions? Well, truth be told- there's a lot of things to do, see, taste, and experience in Prague, that is also called the City of a Hundred Spires, and even a week there won't have you bored for a single day.
So 3 days in Prague definitely gives you a fair amount of time to see the city's best parts- interesting sights and historical attractions, delicious food, iconic cafes and restaurants, and the lovely fairytale architecture, as well take a few day trips from Prague.
If you have more time in the Czech Republic, you might be interested in a wine trip to South Moravia, the country's biggest wine region.
Here are some top recommendations for what to do in Prague in 3 days.
What to Do in Prague in 3 Days
What to do in Prague in 3 days: Day 1
Old Town Sights, Charles Bridge & Museum Hopping in Prague
First stop for your 3-day Prague itinerary is the Old Town or Staré Město, which is also where most of the city's tourist attractions are. Dating back to the 9th century, Prague's Old Town is a cobbled maze of streets and squares that will make you feel like you're walking through the pages of a medieval fairytale.
For a better sense of orientation, note that the New Town surrounds the Old Town. If you walk across the Charles Bridge over the Vltava River, you'll find yourself in Malá Strana or the Lesser Town, and further in that area, you have the Prague Castle– the area arround it is actually the oldest part of Prague. You can walk between all of these areas and sights.
Best Things to Do in Prague Old Town
Explore the Old Town Square
A good place to begin is the Old Town Square (Staroměstské náměstí), the heart of all commercial activity and the main marketplace in medieval Prague. This lively square is a fun introduction to Prague- there are food stalls and in winter, you can expect a festive vibe with lights and revelry. The iconic buildings here are evidence of Prague's rich history, and these historical structures are also some of the main sights in Prague's Old Town.
See The Church of Our Lady Before Týn
It's hard to miss the twin Gothic spires of the 14th-century Týn Cathedral that rise up over the Old Town Square. Notice the two tower sizes; you'll see that one is slightly taller and wider, some say the difference represents male and female symbolism, while others think it was deliberately designed like that to avoid the vanity of trying to create perfection.
For a respite from the sun, head into the Baroque interior, that was created in the 17th century, for a closer look. Here, you'll find Gothic, Renaissance and Early Baroque works, highlights include altar paintings by Karel Škréta, Prague's oldest organ (1673) and the tomb of astronomer Tycho Brahe.
Visit the Old Town Hall and Tower
Sightseeing in Prague will invariably bring you to the Old Town Hall, a complex of medieval buildings and cobbled streets. The draw here is the Old Town Hall Tower with the famous Astronomical Clock. While you'll eventually get up there for splendid views over the area, take some time to explore the Old Town Hall.
You can take a guided tour of the Old Town Hall to visit the council chamber, assembly room, Gothic chapel, and cellars, as well as the Old Town Hall Tower. Not far from here is the House at the Minute, once home to Franz Kafka when he was a child.
The Old Town Hall Tower, which is nearly 60 meters high, offers a breathtaking sight over the Old Town Hall Square, once you're at the top. Think orange-red roofs, medieval architecture and all the people in the square looking up at the hourly show of the Astronomical Clock. You can walk up the spiral steel staircase or take an elevator to the top. Either way, the views on top are completely worth it.
See the Astronomical Clock
Considered to be the third-oldest astronomical clock in the world, Prague's Astronomical Clock is definitely a sight that you shouldn't miss- as attested by the hundreds of tourists you'll see taking photos and videos below the clock on Old Town Square, every hour on the hour.
The oldest functioning astronomical clock in the world, which was built in 1410, treats tourists to the historical Walk of the Apostles show that lasts all of 45 seconds every time the clock strikes an hour. The four figures besides the clock represent Vanity, Greed, Death and Pagan Invasion, and the four below represent the Chronicler, Angel, Astronomer and Philosopher.
You can choose to time your visit accordingly. Once you hear the chime, look for a nice position in front of the clock and enjoy the procession of the 12 Apostles. As a final touch, you'll hear a trumpet player signaling the start of another hour.
Visit the Prague Jewish Museum
Located in the former Jewish Quarter of Josefov, the Prague Jewish Museum, established in 1906 is among the oldest Jewish museums in the world. It was started as a collection of artefacts and items from synagogues that had been demolished. It consists of the Maisel Synagogue, Pinkas Synagogue, Spanish Synagogue, Klausen Synagogue, Ceremonial Hall, and Old Jewish Cemetery, as well as the Old-New Synagogue. It's worth visiting to understand the sufferings of the Jewish community in Prague, as well as further beyond in Bohemia and Moravia. The Old-New Synagogue, built in 1270, is the oldest working synagogue in Europe.
Walk along the Charles Bridge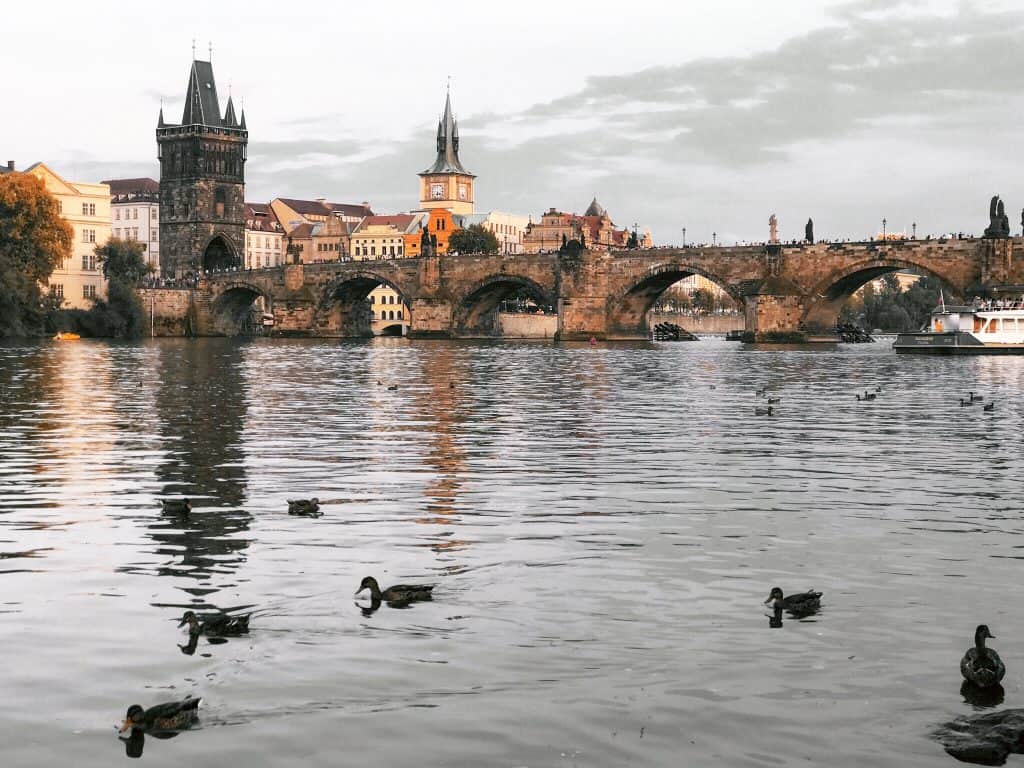 The iconic Charles Bridge, Prague's oldest bridge dating to 1357 and completed in 1390, stands over the Vlatava River and connects the Old Town with Malá Strana or the Lesser Town. This is one of Prague's busiest attractions, a must on every Prague itinerary, and you'll see hundreds of people on the bridge through the day, along with musicians, vendors and portrait artists. If you want a really good photo, rise early and be here at 5.30-6.00am.
With about 16 arches and 30 statues lined on both sides of the bridge, it's a spectacular sight to behold. It was named the Stone Bridge until the 19th century and connects the Old Town and the Malá Strana Towers. You can go up for more views over the area. Don't forget to stop by the statue of St. John of Nepomuk, a patron saint supposedly thrown off the bridge by Wenceslas IV owing to the conflict between church and state. Don't be surprised by the crowds gathered around the statue-rumor has it that rubbing the saint's foot brings you back to Prague someday.
If you're game for a walk to explore the best sights in the Old Town, you can book a guided walking tour. And if you're in for some dark adventures and want to know more about Prague's shadowed past, try an evening Ghost Tour and walk along the dark streets of Old Town while listening to the ghost-related legends of the town.
If you're into photography, here's a list of instagrammable spots in Prague, especially in winter.
Other Cool Things to Do in Prague Old Town
Do a Prague Beer Tour
Prague (and all of Czech Republic actually) is widely known for its beer. If you drink alcohol, then your visit to Prague is incomplete till you've tasted their delicious craft beer. Luckily, the Prague Beer Museum (in Vinohrady and Old Town) makes it easy to taste 30 beers on tap from local microbreweries around the country (not just Pilsner) plus beer cocktails. You can learn more about the beers in the pub setting, enjoy typical pub snacks and look at old photographs and memorabilia.
Go Museum Hopping
Prague is home to many museums, so if it's too sunny outside, step in to one or more of these museums in Prague.
Prague City Museum
Opened in 1898, the Prague City Museum holds historical treasures of the capital city that takes you through its history from prehistoric times to the 20th century, and is a worthy stop on your 3-day Prague itinerary. You'll see some permanent exhibits and artefacts related to various periods in Prague's history, including one popular exhibit called the Baroque Prague, where you can see vast collections of artefacts, documents, paintings and sculptures the portray the lives of the baroque Prague residents. Other notable items include a 16th-century bronze figure of Hercules.
The showstopper here is a 1:480 handmade cardboard model of Prague called the Langweil's Model of Prague by Antonín Langweil. It depicts what Prague looked like between 1826 and 1834 and shows 2000 buildings in the Old Town and Jewish Town, Mala Strana and Prague Castle. It's an important exhibit because it is the only evidence of some of the buildings which have since been demolished.
Czech Cubism Museum
Located in the Old Town between Celetná Street and Ovocný trh, this cubist building, House of the Black Madonna, was built in 1911-1922 by Czech architect Josef Gočár. The Czech Cubism Museum houses exhibits on the cubist archiecture in Prague and an exhibition of the Museum of Decorative Arts with cubist furniture, ceramics and glassware.
Apple Museum
Prague's Apple Museum is supposed to be the biggest private collection of Apple products in the world. If you're a die-hard Apple fan, you'll probably enjoy looking at these displays of Apple products and special exhibits like Steve Jobs' business cards and old Apple computers.
Lego Museum
The largest Lego Museum in the world, the Lego Museum in Prague houses over 3,000 models and exhibits documenting the history of this world-famous building set, earning the title "Toy of the Century". There's also a LEGO Store, making this a great place to check out on your Prague itinerary, especially if you're traveling with kids.
Chocolate Museum
On the other hand, if you're a chocolate lover, stop by the Chocolate Museum and discover the history of chocolate and its journey from the Aztecs to Europe, health benefits of chocolate and learn more about how its made- from plantation to production. Plus on this tour (only $17) you get unlimited tasting sessions (in case you need more motivation to visit), and a store where you can buy gifts for home.
Sex Machines Museum
This is the world's first museum that's dedicated to sex gadgets, from mechanical erotic appliances, an erotic-themed art gallery, a cinema with old erotic films, and sexual clothing to other sexual paraphernalia. If you're interested, read more here.
What to do in Prague in 3 days: Day 2
Visit the Prague Castle
The magnificent Prague Castle is one of the top attractions in Prague and perhaps the most impressive sight you'll see on your Prague itinerary. Sitting on a hilltop, this castle complex of palaces, churches, temples, museums, monuments, and buildings is spread out over a large area, so you'll need time and good walking shoes, a hat, and water to explore at a leisurely pace.
Prague Castle is also one of the oldest castles in Europe dating back to the 9th century with several additions and restorations over the course of its life. According to the Guinness World Records, it is the largest ancient castle complex in the world, and within it you'll find invaluable and rare artistic and cultural treasures, all proud chapters in the story of Czech heritage.
There are different types of tickets, valid for two days. But the one that most tourists prefer and as did I was Ticket Option B which includes entry to the main highlights and isn't too expensive. You can get audioguides and maps to help you get an orientation and learn more about the sights within the complex such as St. Vitus Cathedral, The Royal Summer Palace, Lobkowicz Palace, Golden Lane, and St. George's Basilica.
The impressive St. Vitus Cathedral is where the coronation of several kings took place, and perhaps the most important cathedral in the country. There are 287 steps that take you to the top of the Bell Tower for views over the area.
At St. George's Basilica, you can also see a classical music concert– a surreal experience. It might also make sense to do a guided tour of some sort and buy tickets online so you can skip the line (which can be very long in tourist season).
Golden Lane is a lovely lane of buildings that housed the workshops of goldsmiths and men and women involved in other crafts and trades. Peek into the windows and step into the houses to be transported into daily life and work scenes in the old days of the city.
Tip: Don't miss the changing of the castle guards at the gates of the Prague Castle 12:00 daily. While the changing of the guards happens every hour, the ceremony at 12:00 is the one you want to experience if you can- the marching and change is accompanied by a military band.
Wander Around Malá Strana
Although the name Malá Strana translates to Lesser Town or Little Quarter, there's nothing 'lesser' about this part of town that lies on the other side of the Vltava River, and is an easy walk over the Charles Bridge. In fact, I actually like this area more than the Old Town, because in my opinion, it's architecturally more beautiful, and not as crowded. I didn't see any giant ugly pandas in the square here and none of the tourist traps of the Old Town.
The area has many sights, restaurants, cafes, and stores, and lovely little streets that call for a leisurely no-plans-necessary wander. You know that Instagram photo of the Charles Bridge with white swans on the Vltava River? It's a lesser-known spot that you can walk to from the castle side bank. If you're coming from the Old Town, head to the right side of the bank, and wander through a maze of alleys so you're kind of under the bridge (but not in the river obviously). You'll eventually find yourself there, and few others, at least for now.
See the Square Malostranske Namesti
Malostranske Namesti is the central square of Malá Strana, the heart of all the action in the Little Quarter of Prague. Around the square, you'll find restaurants, bars and cafés, and some of Prague's finest architecture. If you're staying or visiting here, this is also where you'll find your tram connection.
Admire the Architecture of Malostranská Beseda
One of the first buildings to catch my eye and my admiration every single time I walked by was Malostranská Beseda, a grand example of Renaissance architecture that sits in the heart of the central square in the Lesser Town, just looking over a tram stop.
Dating back to 1478, the building that today houses a cultural center originally opened as a City Hall, later becoming a fiscal office, tax archive and political prison, eventually becoming a cultural center- more suitable given how beautiful it is. This is also the address of the famous Café and Pilsner Urquell Restaurant which is a must-try for local food and beer. Head inside to see a Music and Theater Club, Video Café Trick Bar and a Gallery with exhibitions.
Visit the Churches in Malá Strana
Other sights here include the iconic Baroque St. Nicholas Church with its green dome, that's a highlight of the city's skyline in any view. Both Mozart and Bach have had concerts in this church.
By the way, if you like churches, there is plenty to see and visit all over Prague. Important ones in this part of town include The Church of Our Lady of Victory, which is also one of the oldest Baroque buildings in Prague, St. Joseph Church, the former Baroque church of St. Mary Magdalene that now houses the Czech Museum of Music, and the wooden St. Michael's Church.
Relax in the Gardens
I don't know about you but when I spend too much time in touristy areas of cities, I need to get away for a few hours at least, to someplace that isn't filled with camera-toting tourists (exactly like myself), especially when I've spent a few days in the city. Most times, these places tend to be gardens- green spaces to just relax and people watch.
There are quite a few beautiful gardens to see in Malá Strana- the landscaped Wallenstein Garden with a pond and marble fountain of Hercules, Greek statues, and an Italian grotto, as well as a space with frescoes and the Vrtbovska zahrada or Vrtba Garden, opened in 1720 and one of the finest Baroque gardens in Europe, complete with sculptures, terraces, frescoes and more. Also head to Kampa Park on Kampa Island which comes alive with food stalls and a farmers market on weekends and is home to the famous Crawling Babies exhibit by artist David Černý
See the Lennon Wall
One of the most famous sights in Prague's Malá Strana is the Lennon Wall, covered in vibrant graffiti dedicated to John Lennon and the music and lyrics of the Beatles. If you're a Beatles fan, then the Lennon Wall is a must on your Prague itinerary. The wall served as a medium for the youth of Prague to raise their voices against communism. Every time the authorities painted over the wall to hide the voices of dissent, the student community of Prague painted right over it again in protest. Today, it's owned by the Knights of the Maltese Cross, and you can leave your own messages of peace and love if you like.
What to do in Prague in 3 days: Day 3
Head to Petřín Hill
One of the former vineyards of King Charles IV, head to beautiful Petřín Hill, once you've seen the other main sights in Prague. Get your cardio in by doing the steep hike up or take the funicular all the way to the top. Petřín Hill is home to many sights such as a miniature Eiffel Tower called the Petřín Lookout Tower, a mirror maze, walking paths and gardens, and a wooden church. You can easily see all of these sights in a day, with ample time to stop, lie on the grass, and smell the fresh air.
Memorial to the Victims of Communism
The work of Czech sculptor Olbram Zoubek, the Memorial to the Victims of Communism is a group of statues located at Petřín Hill that depict the effect on the victims of the Communist era (1948-1989). The memorial is grim, but a strong work of art, and worth seeing.
Petřín Lookout Tower
Prague's very own miniature Eiffel Tower, the Petřín Lookout Tower, built in 1891 stands at a height of 378m above sea level and offers fantastic views over Prague, that must be earned by climbing 229 steps to the top. On a clear day, you can see as far as Sněžka, a mountain between the Czech Republic and Poland, and the highest peak in the Czech Republic. While Hitler wanted to have it demolished, it somehow managed to survive. You can take the funicular to the top of Petřín Hill to get to it or hike up through lovely gardens on the hill. If you're visiting with kids, or have the inner child still alive in you, pop into the Mirror Maze next door.
See the Kinský Gardens
The lovely Kinský Gardens are set on the eastern slope of Petřín Hill and are the perfect place to take a leisurely stroll on a summer afternoon. Sights here include the gothic Hunger Wall, the traditional Ukrainian wooden St. Michael's Church that was transported here in 1929, and the Kinský Summerhouse.
Where and What to Eat in Prague
It's no secret that Prague is touristy- and so it's highly possible that after or during a busy day of sightseeing, you might enter the first restaurant you see on a busy, crowded square in the Old Town, and eat average food (burgers or sandwiches or Italian food) and end up paying way more than you should. You could really spend your entire trip without tasting any Czech food- but that would be a shame and I don't recommend it.
If you've got 3 days in Prague, that's plenty of time to taste the best food in the city, whether it's a bit of Czech cuisine, international dishes, or both. Prague is also home to mid-range and fancier restaurants plus elegant cafés serving international cuisines, I've got a whole post about the best places to eat at in Prague.
While you don't need me to tell you that you have got to taste delicious Czech beers, I will suggest some local dishes to try:
Beef goulash (hovězí guláš): This dish may have originated in Hungary but it is center stage in Czech cuisine. It is a must when you visit Prague.
Beer (pivo) and beer snacks (utopenci): Beer is the pride of the Czech Republic. Pilsner Urquell, Staropramen, Gambrinus… you name it. They are delicious and cheaper than water (literally). Try them with the pickled sausage.
Fruit dumplings (ovocné knedlíky): Although this may seem like a dessert or a snack, they are usually served as a main dish.
Roast duck (pečená kachna): Delicious with a pickled beetroot salad on the side!
Fried cheese (Smažený sýr): The king of street foods in the Czech Republic, this breaded and fried cheese snack is real comfort food.
Pork knuckle (vepřové koleno): This glorious piece of meat, usually cooked with dark beer, is one a classic in Prague.
Czech sausages: It doesn't matter which variety, jaternice, klobása, utopenci… try them all!
Svíčková: Beef sirloin in cream sauce. One of the most popular Czech meals prepared with vegetables and seasoned with spices and herbs and boiled with double cream. Usually served with bread dumplings.
Some recommended places to try Czech food in Prague are the taverns and beer pubs such as Krčma (Kostečná 925/4, 110 00 Staré Město), Lokál Dlouhá (Dlouhá 33, 110 00 Staré Město) and U Parlamentu, (Valentinská 52/8, 110 00 Praha-Staré Město). For food on a budget, try Naše Maso (Dlouhá 39, Prague). For chlebicek or Czech open-faced sandwiches, visit Sisters Bistro (Dlouhá 39, Prague).
What, no Trdelník? Walking around the Old Town, you'll find this snack called Trdelník ("hollowed out log") or Chimney cake, and you'll see tourists queuing as if it's the best thing in the world. It's made with layers of dough on a tapered cylindrical spit, coated in sugar and cinnamon, and baked on an open fire. It comes with sweet fillings such as Nutella topped with ice cream, and some places also serve it with also savory fillings.
But you should know that the so-called chimney cake is not a Czech invention and the ones sold to Instagram-inspired tourists by many shops in the Old Town aren't even that good (and are over-priced). Locals vouch that you can skip it and you wouldn't be missing out on anything. I tried it in Dubai, didn't love it and so didn't try in Prague. If you've come across one that you really loved in Prague, and wasn't overpriced, tell me and I'll mention it in this post.
Prague Nightlife
If you're keen to check out the Prague nightlife, then worry not. Thanks to the tourists who come to party, you can experience the nightlife in Prague every night. Come nighttime, bars spill onto streets and there's no lack of spots to dance the night away. If you spend any time in Prague, you'll notice they love their beer, and rightly so- Czech beer is delicious, and even though I don't usually drink it a lot, I couldn't resist it in Prague, whether it was on hot sunny afternoons, or in the evenings.
There are several beer gardens (some with live music) and beer pubs where you can enjoy a Pilsner, before heading somewhere a bit more party-ish. Pubs wirth checking out include T-Anker (microbrews, food and views), U Fleku, and Novoměstský pivovar.
There are underground bars where you least expect them, cocktail bars, arty hipster bars, and plenty of nightclubs. Wenceslas Square is where you'd find yourself if you're into nightclubs as the city's best clubs are around that area.
If you're more about laidback arty, hipster bars (my kind of scene), then head to Zizkov. The vibe here is edgy and you'll probably find yourself hanging with the city's arty, intellectual bunch drinking craft beer. The famous Hemingway Bar, where you can pretend to be deeply interested in literature while sipping on cocktails, is also located here. If you really are interested in literature, (or not), you should also visit Bukowskis, another iconic bar in Prague, named after American author and poet, Charles Bukowski. Expect moody lighting and wooden bookshelves lined with books, great cocktails, and all the inspiration you need to start writing that novel.
Vinohrady is also great for its independent bars that are nice, but not overpriced and overly touristy. If you're a fan of Irish pubs, check out Beckett's Irish Pub for a laidback evening with good food and beer that does not disappoint.
Like cocktails? Check out Bar and Books, Cloud 9, Tretter's, Public Interest and Groove Bar.
If you like jazz, check out Ungelt Jazz & Blues Club, Jazz Dock, Blues Sklep, Bílý koníček (they claim to be the oldest jazz club in the world), and U Staré paní.
Other places worth checking out for live music are Akropolis, Chapeau Rouge, XT3, and Lucerna Music Bar, and if you want to dance, then check out clubs like Mecca, Roxy, Retro, Music Club Zlaty Strom, Karlovy Lazne, Loca Bar & Lounge, Epic Prague, and Radost FX. Ranging from 80's music and old school vibes to extravagant interiors and hip hop music to EDM clubs, there's so many types.
Prague Shopping
There's a lot of shopping centers and stores in Prague where you'll find clothes, gifts, artisanal foods, souvenirs, gemstones and other items at reasonably good prices. If you want to take home a one-of-a-kind souvenir or gift, then splurge on something from one of these Czech designer boutiques and concept stores. For fresh foods and quirky finds, check out one of Prague's outdoor markets.
The Best Souvenirs:
In addition to the below souvenirs, you'll also find wooden toys, puppet dolls, and Bohemian crystal and glassware that make for great buys in Prague.
Clothing, Shoes, and Fashion
Looking for urban fashion- cool apparel and sneakers- that sort of thing? Head to El Nino Snow and Skate Shop, StreetMarket, LoveMusic, Pour Pour and Segrasegra. For other clothing and apparel, head to shopping malls like Kotva Department Store, Nový Smíchov or Palladium. Other stores worth checking out are Girls Without Clothes, Fashion Shop Parazit, and Egoist Fashion.
Gemstones
If you're into gemstones like semi-precious stones, or you'd like to buy a memorable souvenir for yourself or your family back home, you should definitely buy the Bohemian Garnet which has been a part of the city's long royal history and tradition. Just be careful and be cautious in buying garnet stone as there are a few sellers selling fake garnets. Remember to always ask for a certificate of authenticity from the shop before paying. Some recommended places to buy are Granat Turnov and Halada.
Beer is a unique source of vitamin B, trace elements, and minerals, and whether or not you need reasons to like beer, Czech brand Manufaktura, known for its beer cosmetics and products has just the thing for you. Their products contain pure components of Czech beer, with hops and yeast extracts. You'll find a lot of products at Manufaktura such as shampoos, balms and shower gels, all with beer of course. Their products are available in shopping centers in Prague.
Artisanal Foods
At Gastronomica, you'll find baked goods, specialty coffee and tea, and other artisanal products you can bring back home. Prague Chocolate offers some great gifts that are sure to be loved. Another place to check out for gourmet foods is Moje Kredenc.
Getting Around Prague
Getting to The City Center from Prague Airport
From the Vaclav Havel Airport in Prague, it's about 30 minutes (17 kilometers) to the city center. Public transport is the cheapest way to travel from the airport to the city center. Take the bus 119 to Nádraží Veleslavín, transfer to subway line A, and then continue to the downtown or any other station. Taxis and airport transfers are some options for direct routes but they're expensive. You can also take an Uber to your accommodation from Nádraží Veleslavín.
Pro tip: Prague's taxi drivers are notorious for ripping off tourists so be sure to know the estimated costs before riding the taxi. An airport transfer is reliable when it comes to giving you decent rates and saves you the hassle of queuing.
Getting Around Prague's City Center and Main Sights
Prague has an efficient system of inexpensive public transportation that includes trams, metro, and buses that will get you around most main sights and attractions. When the weather's nice, you'll actually prefer walking because there's no better way to see how beautiful the city is.
During my first trip in August, I was literally mesmerized the first time I stepped out of my apartment, and I couldn't stop taking photos. Needless to say, I decided to wing it rather than plan my stops because I knew I'd like to wander around and walk more than usual, should a pretty street be in the sights.
Otherwise, you've got metros, trams and buses, and you can buy tickets and day passes at the automated machines at metro stations, tram stops and newsstands. Tickets are valid on all forms of transport, come in varying validity durations (90 minute, 1 day and 3 days), and allow for transfer between different modes. One and three-day passes are available and they turn out to be cheaper if you'll take metros and trams more than once a day and are staying for a few days. Make sure you always have coins on you to buy tickets from the machines at tram stops.
Don't forget to punch your ticket at the validation machines just before you get to the platforms at metro stations. You'll also need to do the same as soon as you get on trams and buses. Day passes should be punched from the first time of use, so as soon as you begin your first journey on a metro, tram or bus.
Metro lines are easy to follow and useful for covering longer distances, but they also connect most of the tourist attractions and stops. Trams are slower, but frequent and offer good coverage within the city- especially the city center, and areas of interest to tourists. They operate from 5 am to 12.30 am, and some lines also operate through the night with additional slots on weekends. You can check timetables and schedules at the tram stops.
If you're boarding a tram with a suitcase or luggage, do so from the rear so you have enough space for your luggage in the big compartment.
Taxis are expensive in Prague- book Ubers instead. Uber is reasonably priced, quick and reliable, in my experience at least.
Where to Stay in Prague
You should know that Prague offers different types of accommodation types for every budget. Whether it's hostels in Prague, apartments or luxury hotels that you're looking for, you'll definitely find something. But it is a wildly popular summer destination, so you should book accommodation in advance- I'd say at least a month or more if you want choices.
I'm thinking if you have three days in Prague, then you'll want to be close to the main sights and attractions, or at least within walking distance of metros and trams so you can get there are nightlife areas as well. Personally, I go for the scenic, even if quieter parts of town, sometimes even residential areas, if I can get to the city center and main sights in under 20 minutes by public transportation or walking.
Prague 1, which is where almost all of the city's attractions are is the most popular when it comes to tourist accommodation. This includes Staré Město or the Old Town, Mustek, and surrounding areas like Wenceslas Square and Republic Square that are home to sights, museums, restaurants, cafés, and bars, and plenty of nightlife (especially in Wenceslas Square and Republic Square). But to me, this area seems too noisy- it's somewhere I might like to go, visit, spend time in, but not necessarily sleep in. But you might like that it's super central- it all boils down to preference.
Budget Stays in the Old Town
Mid-range Stays in the Old Town
Luxurious Stays in the Old Town
The two times I stayed in Prague, I stayed on the other side of the Charles Bridge, in the much quieter Malá Strana or Lesser Town, that is the oldest part of the city, especially just under Prague Castle. This area is a quick, lovely walk to Charles Bridge and Old Town, but because much of the action is concentrated on the other side, it tends to be much more peaceful. Not to mention, it is insanely beautiful here and there are plenty of lovely restaurants serving traditional food.
Both times I stayed at this one street called Nerudova, just under the Prague Castle. What can I say, I fell in love with it. After I stayed here the first time in a hostel, when I came back I found a great apartment with large windows that looked out on the picturesque street with all of its fairytale architecture. While I can't find that one listed anymore, this apartment looks very similar to the one I stayed at. That view was priceless to have when it rained for an entire day. The area also felt very safe.
I've also listed some options that look good to me and I'd book with some level of confidence.
Apartments in Malá Strana
Nerudova Apartment Prague Castle
Old Town Apartments Mala Strana
Hostels in Malá Strana
Charles Bridge Hostel and Apartments
Little Quarter Hostel (stayed here in a female dorm and it was decent)
Budget Stays in Malá Strana
Mid-range Stays in Malá Strana
The Golden Wheel Boutique Hotel
Luxurious Stays in Malá Strana
If you don't mind taking a tram or metro to Prague 1, then from what I hear Vinohrady in Prague 2 is also a great area to stay in as it's quite lively with restaurants, cafés, and bars and a tad less touristy. Zizkov in Prague 3 is also a great residential area to stay in – something I like to do just to get away from the tourist crowds, especially if you're staying for a bit longer. Holesovice and around Letna Park in Prague 7 is also popular if you're looking for accommodation on a budget and don't mind staying somewhere residential.
Need more options?


More Days in Prague? Check out these Day Trips from Prague
There are tons of cool cities, quaint spa towns and national parks that can be visited on one of these day trips from Prague.
Bohemian Switzerland National Park
You may not know that there are some incredible national parks in the Czech Republic, and if you're a nature lover you can visit them as an easy day trip from Prague- especially if you have a couple of extra days. One such nature paradise is the Bohemian Switzerland National Park. The nature here is so otherworldly that several locations of the national park were used in the filming of the movie The Chronicles of Narnia: The Lion, the Witch, and the Wardrobe.
The highlights here include the rocks of Tisa that tower above the landscape, Pravcicka Brana, Europe's largest sandstone arch, a boat ride in the surreal gorges of Kamenice, and a coffee plus hiking tour with views over unbelievable canyon views. I went with a local company called Northern Hikes and it was one of my best-organized hiking experiences ever. You can read all about it here.
Cesky Krumlov
The UNESCO World Heritage Site of Český Krumlov is one of the more famous tourist sights and a popular day trip or overnight trip from Prague. Located in the southern Bohemian region, this castle town that was a trading center in the 14th century is worth a visit if you have a few extra days in Prague.
Other than the Český Krumlov castle itself, expect to see historical architecture in the Renaissance and Baroque styles, beautiful chateaus, museums, and a buzzing riverside with lots of tourists. In medieval times, this lovely castle town used to be the seat of many Bohemian noble families. Climb up to the tower for views over the town- a sight to behold and worth it. Guided tours of the castle are available. Afterwards, wander around town along the riverside and take in the sights of this lovely town.
Here are some more day trips from Prague.
How to Get to Cesky Krumlov from Prague
It takes about two and a half hours by bus, car, or train to get there from Prague. One of the best and cheapest ways to get there is to take a bus, either RegioJet, Flixbus, or Leo Express. It'll cost you around $5-$10 for a one-way ticket.
Need more ideas? Here are some things to do in Kutna Hora.
Here's the thing about Prague: You can explore the city more than once and still find it amazing with new things to see and do each time- which is one of the reasons why many visitors come to Prague more than once.
From historical sights, unique architecture, romantic spots, and lively nightlife to world-renowned craft beers, a laidback vibe, green spaces, and delicious food, Prague has every bit of charm that it's famously known for, and certainly offers plenty of experiences for every kind of traveler. I hope this Prague itinerary helps you make the best out of your trip to Prague.
This post contains affiliate links. If you make any purchases using them, I earn a small commission at no extra cost to you. That said, I'd never recommend a tour or accommodation in my post that I would not book myself.
Have you been to Prague? What would you add to this list?