"You're going to LOVE Gozo, don't miss it," I was repeatedly told by friends who had visited Malta before I had and knew of my love of villages, slow food, and the rustic charms of countryside living. They were right.
The second largest island in the Maltese archipelago (Malta, being the largest), Gozo, home to a population of just 30,000, called Gozitan, not Maltese (the difference is important to acknowledge unless you want to offend a Gozitan), was perhaps my favorite part of the country. By the way, the name Gozo translates to 'joy' and to me, the name is certainly fitting. Just an easy ferry ride away from its sister island of Malta, Gozo couldn't be more different with rolling fields, rustic farms, hilltop villages, ancient sites, gorgeous bays, and days that somehow feel less rushed, though that just might be the excellent Gozitan wine.
Is Gozo Worth Visiting?
Gozo was also home to Malta's famous geological feature, the limestone arch called the Azure Window that collapsed in 2017. That was probably one of Gozo's most famous attractions and also one of the most important tourist sights in Malta. Now that you can no longer see it, you might be wondering what else is there to do in Gozo, and might be tempted to ask, "Is Gozo worth visiting?"
The answer is a resounding YES, because there's plenty more to see and do in Gozo. For those who like diving, there are some incredible diving sites around the island, some considered the best in the world. More importantly, visiting Gozo is about experiencing life outside of the cities in Malta and enjoying clean air, fresh local produce and beautiful nature.
Gozo is also pretty historic and you'll see as I've explained more in detail below, the island of Gozo is home to prehistoric temples that are over 5,500 years making them among the oldest in the world. The full realization of what this means only hits you when you're actually standing among these ruins- no other feeling in the world equals this. Beaches, wineries, slow food and farmhouses and farmstays aside- all among the most incredible places to visit in Gozo, this is one of the big reasons why you should visit Gozo.
Once you're done with all the interesting things to do and places to visit in Valletta, and other cities, head to Gozo. Here are the best things to do in Gozo.
16 Best Things to Do in Gozo
Gozo Attractions Map: What to do in Gozo
Here's a map of Gozo attractions, sights, and places to visit in Gozo, that you can save and share to plan your trip. Click on the top left corner of the map to expand the index.

1. Visit the Pre-historic Ggantija Temples
The megalithic Ggantija Temples in Gozo, over 5,500 years old, are among the oldest freestanding structures in the world, built between 3600 and 3200 B.C, and are older (by over a 1000 years) than Stonehenge and the Pyramids in Giza, yet, it's surprising that not more people have heard of this UNESCO World Heritage Site. The temples are one of the top places to visit in Gozo.
At this site in Xagħra, there are two temples, believed to be dedicated to a fertility deity. 'Ggantija' comes from the Maltese word for giants; it was believed that these temples were constructed by a race of giants, considering that some of the stones weigh over 50 tons. The temples are built of hard coralline and softer globigerina limestone and it's kind of incredible that these structures have withstood the test of time.
It seems like the civilization that built these temples disappeared around 2500BC for reasons that are not known. There's an Interpretation Center at the entrance before you get to a pathway to the temples with interesting exhibits and background information.
By the way, there are more megalithic temple sites in Malta as well as other archaeological sites on Gozo, which is kind of fascinating when you think about the fact that these were constructed before modern tools had been invented.
2. Tuck into Fresh Produce & Taste Local Wines at Ta' Mena Estate
Joseph Spiteri, the owner of Ta' Mena Estate, is a passionate man who doesn't mince words. Showing us around his family-run estate, he talked of his relationship to the land and its bountiful produce; a love that perhaps grew stronger through moments like when his sister and he would put name tags 'Joe' and 'Margaret' to claim the first pears of the season. Named after his late mother Carmela (Mena) who founded it, the estate that started off over two hectares is now spread over 25 hectares and includes a fruit garden, an olive grove with 1500 olive trees, an orange grove and a vineyard.
An advocate of the slow food movement, he despises the idea of low quality produce to make a quick profit or keep costs low. While many farms couldn't cope with the high costs of maintaining the quality of organic produce, Ta' Mena Estate has evolved. Not only do they grow their produce (olives, lemons, oranges, strawberries, tomatoes, melons and other fruits and vegetables) organically, without the use of pesticides and chemicals, they also produce their own wine, liqueurs and a unique cold pressed extra virgin olive oil. To make it sustainable, they've added agritourism offerings such as events and weddings, wine tasting, winery and estate tours, and a farm-style lunch to the mix.
After a tour of the farm featuring a showstopper-worthy peacock and his favorite pet goat Dolly, whom he lovingly refers to as 'Sabiha' (translates to lovely), we were treated to a platter of fresh produce; tomatoes with flavor that just bursts into your mouth, aged peppered cheese, sundried tomatoes, fresh lettuce, delicious olives, and the tastiest sausages I've ever had along with bread and kunserva helwa (tomato sauce matured in the sun- unlike anything you've ever tasted), washed down with a glass of their amazing Juel Vermentino wine (must-buy if you're interested in taking back bottles of local wine).
If you're visiting Gozo, I highly recommend visiting Ta' Mena Estate for a quick tour, wine tasting and tour or a delicious meal in their lovely estate. You can also buy wine, cheese, olive oil, olives, capers, pâtés, jams and other fresh produce from their store here or their boutique winery in Xewkija; it's great quality for a very reasonable price. Just be sure to call and check/book in advance. In my opinion, a visit to Ta' Mena Estate is one of the top things to do on your Gozo holidays, and I highly recommend it.
Fun fact: Some Maltese and Gozitan wines have a salty aftertaste because the vineyards are close to the sea and the grapes absorb some of the salt. I only drank local wines in the country and absolutely loved each one, but the Gozitan Juel Vermentino was my favorite.
3. Visit The Old City of Victoria (Rabat)
The capital Victoria, still called by its original name Rabat (meaning suburb) by Gozitans is the main town on the island of Gozo and has been the center of cultural and commercial activity since it was formed. The town exists outside the fortified walls of the Citadel that rises up above the area and served as a safe refuge for locals during the threat of Turkish invasion. This hop-on hop-off tour of Gozo is an excellent way to get around the main sights on the island in a day.
While a visit to the Citadel is a definite highlight of visiting Rabat, other cool things to do in Victoria include exploring Pjazza Indipendenza and the market stalls at it-Tokk, in the main square of the town. Wander in the old streets around St. George's Basilica, shop for souvenirs at Republic Street, and relax in the Villa Rundle Public Gardens or at one of the town's quaint cafés.
4. Explore the Citadel in Rabat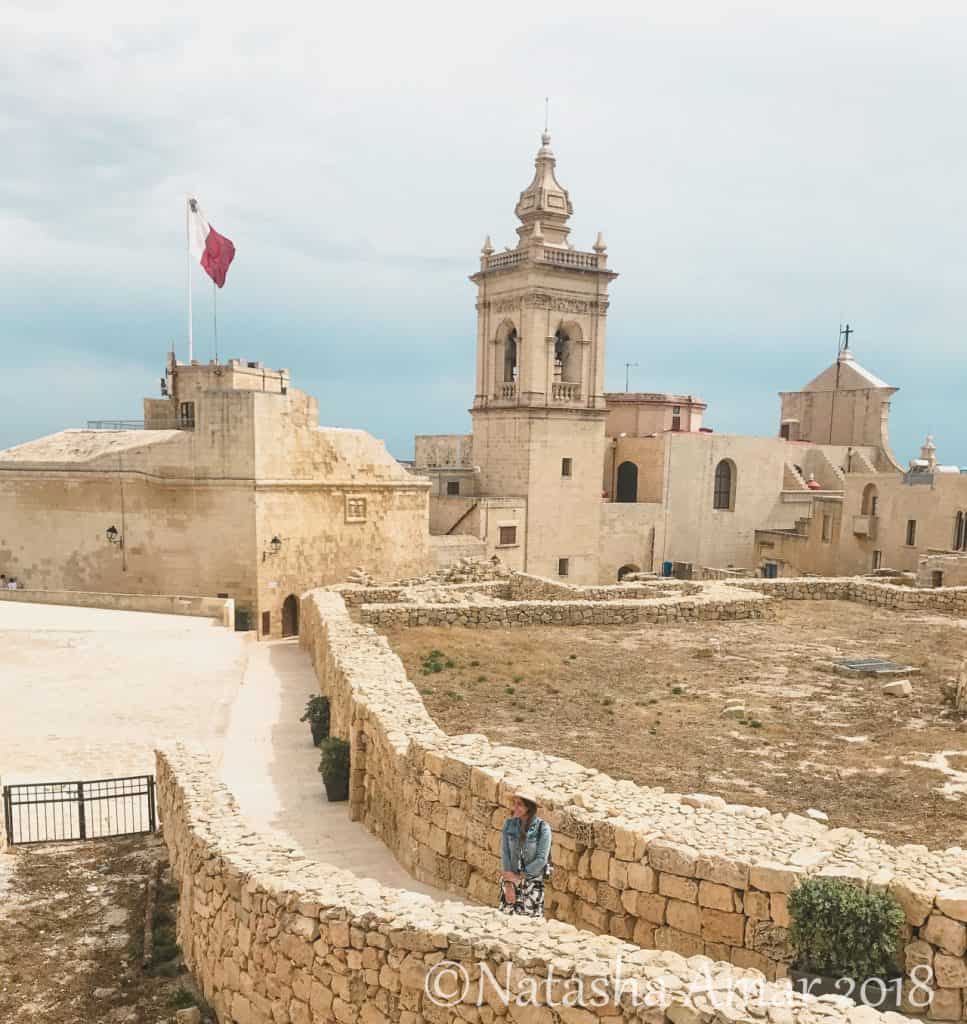 A trip to Gozo would be incomplete without a visit to the fortified Citadel that crowns the town of Rabat and is one of the top places to visit in Gozo. After the Great Siege of 1565 and until 1637, the residents of Gozo were required to sleep within the fortified walls of the Citadel for their safety in case of a Turkish attack. Today, the Citadel is home to just six residents.
Allow yourself at least an hour or two to explore the Citadel and its sights such as Gozo Cathedral, the Cathedral Museum, Museum of Archaeology, Folklore Museum, Old Prison, Old Gunpowder Magazine, Grain Silos, Battery and World War II Shelter. Afterwards, you'll want to walk around the medieval walls and spend a few minutes appreciating the fantastic panoramic views over Gozo.
5. Get Some Beach Time on Your Gozo Holidays at the Sandy Beach at Ramla Bay
The reddish golden sandy beach of Ramla Bay in Gozo is considered to be one of the most beautiful beaches in Malta, so be sure to spend some time here swimming or snorkeling in the beautiful blue waters of the Mediterranean or just relaxing on the beach. There are also other beaches in Gozo, if you're staying longer, and getting some quality beach time is definitely one of the must-do things in Gozo.
6. Take a Boat to the Blue Lagoon and Comino
The tiny island of Comino lies between the islands of Malta and Gozo, and is home to just three residents (who work at its only hotel), a chapel, watchtower, spectacular dive spots, gorgeous blue waters, laidback beaches and natural caves. When in Gozo, taking a chartered boat out to Comino and the Blue Lagoon should be on top of your list of things to do.
You'll want your visit to the Blue Lagoon to be unrushed; the crystal clear water is the kind of blue you think exists only in edited photos with their saturation turned up and the concept of time seems irrelevant when you're in a place as peaceful and beautiful. You can easily spend a few hours here swimming, snorkeling or soaking in the serenity of the Mediterranean. In summer, the lagoon can get pretty crowded, so try to go to early in the morning or late afternoon to avoid other tourists.
We went with skipper Kevin of Galaxy Charters (who has some great reviews by the way). Alternatively you can also book this reasonably priced full day tour of Gozo, the Blue Lagoon, Comino and some cool sea caves.
7. For Beautiful Views on Your Gozo Holidays Visit Marsalforn Bay
Visit Marsalforn Bay, one of the most beautiful bays on the island of Gozo and spend some time relaxing on the beach, snorkeling or enjoying an al fresco lunch along its promenade. Tuck into fresh seafood at Il-Kartell restaurant where it's hard to decide which one is better, the food or the view of the bay. If you're looking for good dive spots, then get in touch with the many dive schools located close to the promenade at Marsalforn Bay.
8. What to Do in Gozo for Adventure: Go Diving in Gozo
Gozo is full of spectacular dive sites such as Xlendi and Mgarr-ix-Xini, with wrecks, boat dives and shore dives, and rich marine life, so if you're staying a couple of days, you should definitely go diving in the azure, crystal clear waters. There are plenty of dive schools so whether or not you've dived before, there are courses and sites suitable for all levels. You can only dive if you've registered with a licensed dive center.
9. Get Active in Gozo
If you're spending a few days on Gozo, there are plenty of activities to keep you busy and active such as rock-climbing and abseiling in Dwejra and Ta Cenc, biking along the coastal routes and through villages, country walks and watersports such as kayaking, canoeing, water-skiing and wakeboarding.
10. Visit the Qbajjar Salt Pans, a Unique Gozo Attraction
For one of the more unusual things to do in Gozo, make a quick stop at the Qbajjar Salt Pans Bay. Why would you want to visit, you ask? While this may be a first for many (it certainly was for me), it's fascinating to learn how salt is harvested from the sea.
These salt pans, carved out of natural limestone, consist of pits to collect salt water and let it evaporate, leaving behind mineral-rich rock salt. The Qbajjar Salt Pans are run by the Cini family that has a history of sea salt harvesting spanning 250 years, and most of the harvesting methods and tools used today are the same as those used in the old days. The operation continues to be family-run and is indicative of how businesses usually are handed down through generations on Gozo. Don't forget to buy some sea salt during your visit.
11. Bring Out Your Inner Child on Your Gozo Holidays at the Pomzkizillious Museum of Toys
Another unusual thing to do in Gozo is to visit the somewhat eclectic Pomzkizillious Museum of Toys in the village of Xaghra. Before you dismiss this as a thing to do with kids, you should know that adults too will enjoy this privately-curated museum that shows how toys and games have changed through the ages.
The collection of toys, games and dolls at this charming museum might fuel some nostalgia from your own childhood and is a good example of what to do in Gozo when it rains, or if you want to spend some time indoors on a hot afternoon. The toy collection that originated in England in 1965 came to Gozo with its owner Susan Lowe on what was meant to be a holiday and has stayed since, having received gifts, donations and loans from well-wishers. Particularly fascinating is the collection of doll houses, the oldest of which dates to the 1860s and features its original furniture, wallpaper and candelabra.
Don't miss the 18th century Maltese doll, German clockwork toys from the 1920s, and a pair of pedlar dolls from the 1830s. There's also a lovely gift shop with toys, postcards, and books about Malta.
12. Visit Xerri's Grotto, Among The Unusual Attractions in Gozo
Yet another one of the unusual things to do in Gozo (Gozo is full of surprises, I'm telling you) is to visit the utterly unexpected site of Xerri's Grotto in the village of Xaghra. Xerri's Grotto is a real cave with stalactites and stalagmites, and after I've told you this, I won't be surprised if you drive up to this attraction, and want to turn away, thinking you've reached a wrong location. You'll see a proper house with the name of the cave 'Xerri's Grotto' but do not turn away just yet. You're at the right location!
The cavern lies below the house and was discovered by Antonio Xerri in 1923 while digging a well. During WWII, the family extended the cave and used it as an air raid shelter. Today, tourists can visit the grotto led by a member of the family, so expect stories about how the cavern was found. A spiral staircase descends into the cavern where you can see curious, animal-shaped and other fascinating formations. This is also one of the things to do in Gozo on a rainy day. Bear in mind that this activity ias not suitable for those who are claustrophobic.
13. See the Opera in Gozo
The wealth of culture in Malta and Gozo is apparent in the fact that there are two opera houses on Gozo alone, so it's worth seeking some of it out on your Gozo holidays. If you're lucky, you might be able to catch an opera at either the Astra Theater or the Aurora Opera House, or as part of the Festival Mediterranea. Be sure to check schedules and tickets availability before you go.
14. Visit the Ta' Dbiegi Crafts Village
If you love arts and crafts created by skilled artisans that preserve their cultural heritage through art, then a visit to the Ta' Dbiegi Crafts Village in the village of Gharb on Gozo is in order, even if it's one of the more unusual things to do in Gozo. The oldest crafts village on Gozo is one of the coolest places to visit in Gozo. It's spread over a large area where you can watch artists at work and also buy unique, one-of-a-kind pieces to take back home, think lace (that the country is famous for), silver jewelry, paintings, metal art, pottery, glass and candles, among other things.
You can also try your hand at creating pieces yourself and learn some techniques through workshops. Note that the village is open from Mondays to Fridays between 10.30am and 4pm and on Saturdays, only in the mornings.
15. Go Hiking in Gozo
If like me you love hiking and have a bit of time to spend on Gozo, then you should definitely try to a few of the hikes on the island. While Gozo is small, it has some wildly beautiful landscapes to explore on foot- think dramatic cliffside coastal walks, 360-degree views and heritage walks to see the island's most historic spots.
Most of these amazing trails are marked and easily do-able if you're an active traveler. The pleasant weather and sunny climate means that they're do-able round the year. If you're interested, you can find more information and maps on this page about the different hikes and trails in Gozo.
Things to Do in Gozo at Night
While you'll find plenty of nightclubs, bars and pubs on Malta, the nightlife in Gozo is more about laidback bars, pubs and breweries- for this, head to Xaghra Square. Remember when I said slow, relaxed living?
Still, if you find that your feet are itching to dance and you just can't pacify the party animal inside of you, then head to La Grotta, the biggest, most happening club in Xlendi on Gozo, located on a cliffside with stunning views of the area, and an indoor cave section! Talk about epic dance floor locations.
Open only in summer and with a few bars and indoor and outdoor dance floors, the party gets started late here and goes on till the wee hours of the morning. Expect big-name DJs, laser shows, and plenty of revelry.
How to Get to Gozo
Regular ferries run between the islands of Malta and Gozo, transporting both passengers and cars. The Malta to Gozo ferry takes about 25 minutes. There are over 20 departures on the Gozo Channel line daily, departing from Cirkewwa in Malta and Mgarr in Gozo, you can check schedules here. But during peak season, these fill up pretty quickly with locals and tourists and once full, you won't be allowed to board. So to avoid waiting 45 minutes for the next ferry, get there at least 20-30 minutes before departure.
Visiting Malta? Here's what you need to know about the capital Valletta, the European Capital of Culture 2018.
How to Get Around Gozo
You can rent a car or bicycle to get around in Gozo or use public transportation such as taxis and buses. There's also a Hop-on Hop-off bus in Gozo to get around the main sights over one or two days. Alternatively, do a full-day Quad Bike Tour of Gozo . If you prefer a bit more comfort and flexibility, then do this jeep and power boat tour of Gozo in a day.
You can charter a boat to visit the Blue Lagoon and Comino.
How Much Time to Spend in Gozo
If you're on a short trip, Gozo is an easy day trip from Malta, but one you must definitely do if you are not staying longer. If you've got more time, I suggest spending one, two, or even four days in Gozo, after all Gozo is well-connected to Malta and there are some amazing farmhouses and boutique hotels to stay at in Gozo. Accommodation in Gozo can be more affordable than Malta, so it's a good idea to base yourself there for a part of your trip.
Where to Stay in Gozo
In Gozo you can stay at boutique hotels or in farmhouses that are full of character and are an ideal way to experience rustic Gozitan countryside living but in totally luxurious and big homes. Most farmhouses come with modern amenities, spacious rooms with en-suite bathrooms, garden areas, and most even have their own pool.
Here are some farmhouses in Gozo to check out:
Babouche Villa with Pool in Gharb
Citadel View with Pool in Victoria

If you'd rather stay at a hotel, The Duke Boutique Hotel in Victoria is a bed and breakfast boutique hotel that has reasonably priced chic, modern rooms, a suite with its own hot tub, and rooms and suites with views of the Citadel and Rabat.

Fun fact: Gozo has been the filming location for many films such as By The Sea (starring Angelina Jolie and Brad Pitt) and Swept Away (starring Madonna). Gozo is also believed to be the island of the sea nymph Calypso in Homer's Odyssey where Odysseus was held captive for seven years until he escaped.
Looking for more things to do in Malta? Read
more Malta posts
here to help you plan your trip.
If you like this post please share it to Pinterest.
I visited Malta as a guest of the Malta Tourism Authority. All opinions are, as always, honest and independent. I would never recommend experiences that I haven't or wouldn't book for myself. Some links in this post are affiliate links.
Have you visited Gozo yet? Would you consider Malta and Gozo for your next holiday?
This post contains affiliate links. If you make a purchase using these, I might get a small commission with no extra cost to you, which goes towards running this site.