Hello from Iceland! As I write this post, I sit in a cozy café by a window overlooking Laugavegur, the main shopping street in Reykjavík, one of the few cities in the world that I find myself falling in love with a little more each day. This may be because it looks nothing like the image that I've come to associate with the word 'city' (skyscrapers, concrete structures, metro- you get the idea).
I look out to see people walk by the ochre building across the tiny street and feel grateful for the rush of inspiration that flows through my mind like electricity- a feeling I have missed and craved, and one I find is crucial to my ability to write anything that's worth reading.
I've been based here for most of my days during my two-week trip to Iceland so far, and with less than a week left until I fly home to Dubai, I am already beginning to dread no longer having the magnificent Hallgrímskirkja Church to look up to and stare in wonder at as I walk out my front door. It's strange how quickly things that at first seem new can begin to feel natural and places that were meant to be a fling can leave you longing for more.
I didn't expect to feel this way about Reykjavík, or Iceland in general- I thought visiting in winter might leave me longing for warmer days in Dubai, but that feeling has not kicked in- at least not yet.
Over the past week, I've spent a few days exploring Reykjavík, the Snæfellsnes peninsula, Golden Circle and South Coast and have been incredibly fortunate to have my one of my closest friends in the world, who happens to be an Icelander (just my luck!) take me around popular spots and secret off-the-beaten-path places that I most definitely would not see if I were traveling any other way.
The plan is to see as much of the country as possible without rushing- I hope to return in the summer of this year or the next to explore the remote Westfjords and East Iceland. Most people who have Iceland on their travel wishlist intend to visit it during the summer and from what I'd heard, the best time to visit Iceland is summer. That's understandable as places can be a lot easier to get to in summer and it's easier to see a fair bit even on a week-long self-drive itinerary for the south coast of Iceland, but there's an unexplainable quality about Iceland in winter and I'm so glad I chose to visit it during this time.
For the first of many posts about this beautiful country, I bring to you a few secrets about visiting Iceland in winter.
It's way too cold (obviously) but you do get used to it.
As someone who lives in Dubai, has only ever lived in warm places and owned almost no real winter clothes before this trip, it's not surprising that I was not overly enthusiastic about arriving in Reykjavík to wet snowfall and gray skies. Luckily, the weather since has been a lot better with days of plenty of sunshine-which meant I got to see a lot of places and make full use of precious Iceland winter daylight hours.
On my first evening, as I experienced my first real snowfall (yes, 28 years later it finally happened), I felt like my woolen gloves did nothing for me and my fingers would freeze anyway. After two days, I felt a lot better about taking them off for a few minutes to work my camera, and put on one less layer under my North Face winter coat. For the last two days, I completely forgot about the warm buff that I'd packed to wear around my neck.
I guess what I'm trying to say is that as long as you have adequate layers and a good winter coat, you get used to the weather and it gets easier.
Iceland in winter is unbelievable.
While planning my trip to Iceland in February weather was a huge question mark, at least in my mind, but once I saw what it looked like in winter I had zero regrets. Sure, Iceland in summer conjures up images of gorgeous flowing waterfalls, myriad greens and browns as you drive around the country and the warmth of the extra-long days of sunshine.
But Iceland in winter has its own charm- think snowy landscapes, beautiful frozen waterfalls, and grýlukerti– icicles that hang from cliffs and waterfalls, glitter in the sunlight, and are literally named to translate into 'Grýla's candles', Grýla being a mythical ogress who lived in the mountains of Iceland. For someone like me who'd never seen a winter wonderland before and had barely even seen snow, there couldn't have been a better place to fall in love with the feeling of snowflakes landing on my face.
Look for cheap flights to Iceland.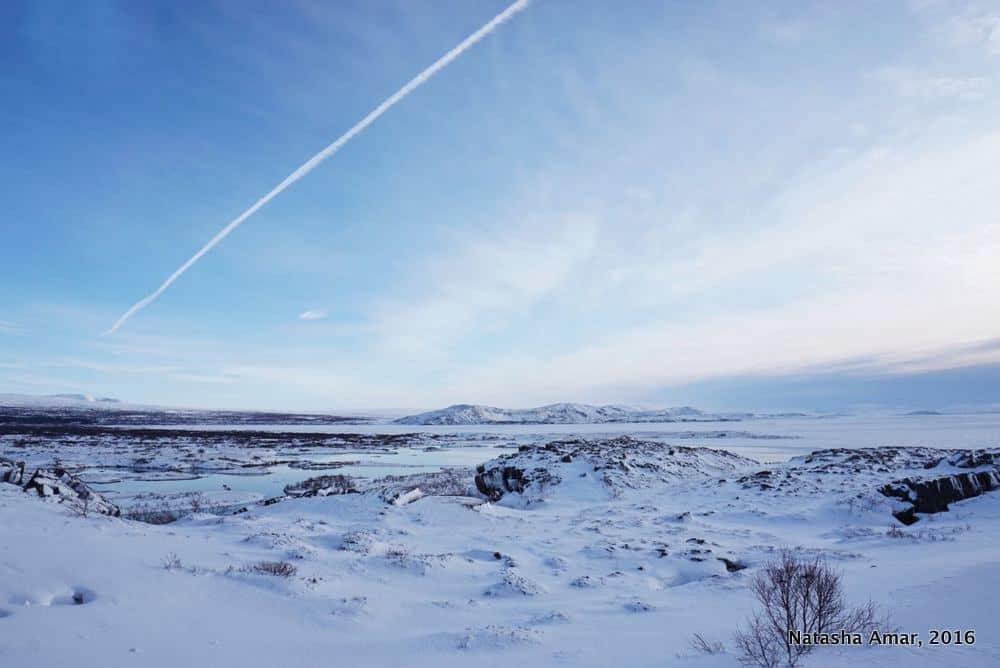 Watching the Aurora Borealis is magic. For real.
Here's a little secret and I promise I have not turned stark raving mad- magic is for real in Iceland. As strange as I feel about admitting that I do believe the stories I hear and read about elves and trolls and other such hidden folk, I'm not surprised I feel this way. There's something about being here and seeing for yourself a place with such surreal landscapes and other phenomena that can make you slowly begin to believe that some places might have a certain unexplainable element that is beyond your realm of understanding.
And then there is the Aurora Borealis of course, the famed Northern Lights that feature on many bucket lists. Of course, there is a scientific explanation behind the phenomenon, but when you see the green lights swirling and dancing across the sky, it's easy to forget what you know and believe instead that you're getting to witness something truly magical.
I saw the Northern Lights for the first time on my second evening in Iceland and was far too mesmerized to be able to remember clearly what I'd tried to learn about photographing them, to the point that my friend had to remind me to calm down. Though I don't have the best photos from that evening, I do have an invaluable memory that will last a lifetime.
By the way, don't be that tourist, that supposedly asked a hotel receptionist in Iceland, "When do they turn on the Northern Lights?" I don't know if that is true but at least it is part of modern-day tourist-bashing folklore, but then again, I would not be surprised.
The best time to see Northern Lights in Iceland is between November and March (but they've also been spotted in April). The lights are more visible away from city light pollution and how clearly you see them also depends upon how strong the activity is. You can chase the lights based on forecasts available on the local Vedur (weather) website.
Iceland in winter has just the right amount of tourists.
With over 2 million tourists expected in 2017, Iceland is not exactly a secret anymore. More and more people are now drawn to the idea of visiting the country, and that, unfortunately, means finding that most places are full of large groups disembarking from big tour buses, armed with selfie sticks (I have nothing against them- I own one too), and a checklist of 'must-see spots in Iceland', and this is especially true in summer, when more people are drawn to the more comfortable temperatures and longer daylight hours.
This means that the few moments of solitude you're cherishing on that picturesque cliff won't last very long and as selfish as it sounds, sometimes you just want to have to share some places with very few people. The good news is that if you agree with this thought, winter is a great time to visit because there are much fewer tourists, though this might change in a couple of years, seeing as tourism in general and winter tourism are both growing exponentially.
My friend and I visited the Snæfellsnes peninsula on a long day trip and saw only one tour bus in one of the spots we stopped at- it was kind of amazing to have the other spots almost all to ourselves, for both the peace and great photos of places.
Visiting Iceland in winter will not cost you a fortune.
It's well-known that a trip to Iceland is not exactly cheap and this is not a trip you plan if your prime concern while traveling is a strict budget. For the summer months, guesthouses, hotels and hostels can get booked up months in advance and the prices everywhere are crazy expensive. But that is not the case in winter- I found a great guesthouse (private room with kitchenette and shared bathroom) for as low as 50 Euros a night (as of February 2016), right in the center of Reykjavík on a lovely street by the Hallgrímskirkja Church and close to nice restaurants, cafés, supermarkets, stores and the main shopping street. I also found and wrote up this list of places to eat at on a budget in Reykjavik.
I didn't rent a car so I just walk everywhere around the city center and it's an easy walk to all the attractions, sights, museums, Harpa Concert Hall and the Old Harbour. The prices for guesthouses and hostels in other towns such as those around the Golden Circle and the South Coast are also far more affordable in winter. So if you're conscious about how much you'll spend in Iceland, come visit in winter.
And Hot Springs and Thermal Pools Are More Fun in Winter
Hot springs and thermal pools in Iceland are all-weather bliss and a rightly popular social activity, but soaking yourself in their warm waters in (below freezing) Iceland winter temperatures is unbelievably rejuvenating. I literally do not have the words to describe the experience, it is just something you have got to do yourself.
It doesn't even matter if you can't or don't want to go to the Blue Lagoon (it is pricey and crowded), there are other pools and springs, and plenty of free and natural ones that only those in the know go to, so you can just find one of these as you're driving across the country and relax for a few hours. Here's a useful website to locate hot springs in Iceland, with a practical map.
Admittedly, it takes all of your courage to step out in the freezing cold in your swimwear, more like you have to make a run for the pool as soon as you step out of the changing room, like your butt is on fire or something.
But once you're encircled in the warm water (45 degrees celsius or higher), you begin to look around at the gorgeous landscape, dreamy steam rising from the water, and if you're lucky the sunset or the Northern Lights, and you begin to realize what a gift this is of nature to the Icelanders who endure its every wrath; volcanoes and earthquakes, and what not. It's like nature saying, "Here take these amazing hot springs as a gift and enjoy them."
There's no such thing as bad weather, only bad clothing.
This is an oft-repeated statement about the unpredictable winter weather in Iceland. If you're visiting Iceland in winter, pack right and do not skimp on a solid winter coat, plenty of warm layers, gloves, socks, hat and other gear depending on the type of activities you're planning on doing.
If you're too cold all the time, you won't enjoy anything- and you most definitely won't want to hike on a glacier, go into a lava tube or walk up to a slippery ledge behind a waterfall, and these are the things you kind of need to do to fully appreciate being in Iceland.
While you can always buy gloves, a hat, buff, socks and other smaller items in Iceland (and the traditional sweater Lopapeysur that doesn't come cheap but is super warm), buying a main winter coat here is definitely way more expensive than buying it elsewhere- so it's a good idea to bring warm Merino base layers, socks, gloves, buff and a good winter coat (such as my North Face Suzanne TriClimate jacket).
You're also going to find yourself constantly slipping on the ice everywhere and after a while, it stops being fun and is just plain embarrassing- so I'd definitely recommend buying a pair of spikes that you can attach to your winter boots (which should be at least ankle-high and waterproof) so that you can go wherever, climb up to a lighthouse or waterfall or wherever with no risk of slipping. Trust me, slipping on ice with your camera in one hand and tripod in the other makes you feel ridiculous, at least until you see that you're not the only one.
Here is a full packing list post for winter in Iceland if you're looking for ideas to help you pack.
Driving around in winter is not a piece of cake.
After a week in Iceland, I've realized I made the right decision not to drive around on my own, especially since I have zero experience of driving in snowy, icy, windy and wet conditions. While I'm fortunate to have my friend take me pretty much everywhere, if this were not the case, I'd just take public buses and base myself in certain towns, and join day-trips (again considerably cheaper in winter) to explore the places around. Not all rental cars are suitable for many of the secondary roads that branch off from the Ring Road and definitely not when they are blanketed in a thick layer of snow.
Cars can and do easily slip on the ice and it takes a skilled driver to not panic and know what to do in that situation. It's common to have low or almost no visibilty due to the misty layer of skafrenningur, or snow blowing onto the road with strong winds, and as fascinating it is to watch and imagine what it would be to drive through a cloud, it's also dangerous, especially for someone who is not used to driving in such conditions.
During our trips around Iceland, we saw a number of rental cars up in places where they definitely should not have been. If you do decide to rent a car in Iceland and drive around in winter, follow the weather forecasts and warning signs- don't be that person who needs to be rescued because of an uninformed and foolish decision.
You'll need sound travel insurance for your trip to Iceland because you will be doing tons of adventure activities- don't leave home without it.

You get a real sense of perspective about your place in the world.
While this is not exclusive to visiting Iceland, or just in winter, I have to mention this because of how I felt when I looked across at the waves in Reynisfjara that were unbound in both their ferocity and beauty crashing against massive rocks (that are actually trolls) only to slip away into the ocean to leave behind a shiny black beach, when I stood behind the curtain of the powerful Seljalandsfoss waterfall, when I felt the mighty wind at Dyrhólaey pushing me every way it fancied, and when I saw my first rainbow at Skógafoss.
And finally, when I saw the Northern Lights dance all around the night sky above me, I was reminded that I'm only a tiny little insignificant dot on the face of the earth and incredibly fortunate to witness the unfettered forces of nature.
Also when you really experience for yourself how the weather really can change every few minutes (from being caressed by the wind to being slapped in the face by a snowstorm), you can't help but be filled with a different kind of respect for natural phenomena.
Iceland in winter might be freezing but Icelanders are warm and super-friendly.
If the growing population of tourists has begun to annoy the locals, they do a great job of not making it obvious, because in my (limited) experience so far, I've found Icelanders to be warm, friendly and open people. They speak excellent English and it's easy to get by if you don't speak any Icelandic.
What also makes Icelanders one of the coolest people in the world (no pun intended), in my opinion, is that the local culture has its fundamental values right, you know the stuff that most people believe in or agree with- such as gender and race equality, respect for nature, general kindness and compassion, creating a life rather than a living (a lot of young people believe this), and pursuing varied interests rather than living in a box.
Politicians are also poets, academicians are also musicians, finance execs are also mountaineers and former journalists are now tour guides.
Why? Because so many of them truly believe that they should do what makes them happy- whether this means switching careers, becoming entrepreneurs or working harder during certain months of the year only to take time off to travel during others.
So have I convinced you to visit Iceland in winter yet? Let me know your thoughts in the comments below. My local friend tells me that Christmas is a magical time to be in Iceland, and based on what I've heard, I have added that to my bucket list.
Search for cheap flights to Iceland. Don't forget travel insurance.
This post contains affiliate links. If you make a purchase using these, I might get a small commission with no extra cost to you, which goes towards running this site.