"If you don't like the weather, wait five minutes," this common Icelandic phrase is more than just a cliché that makes an appearance on fridge magnets in souvenir stores all over Iceland. And then there are terms such as 'window weather'- the kind that looks great from a window but is downright ridiculous when you step out the door. This is definitely something to think about when planning what to pack for Iceland.
On my first trip to Iceland in February-March, I found that the weather and visibility anywhere in Iceland can change drastically within a few minutes. This being my first time in snow and ice and real winter, I spent a lot of time researching my Iceland packing list.
Apart from the obvious question of what to pack for Iceland and what to wear in Iceland in winter, I had specific questions like:
Do people dress up to go to dinner in Iceland?
What do people wear to bars and pubs in Iceland?
What is the winter fashion in Iceland?
What kind of boots to wear in Iceland in winter?
Do you need waterproof pants for Iceland in February/March?
What could I miss in my Iceland packing list (it's not like I could buy it there for cheap)?
What is the most complete Iceland clothing checklist?
Do my Iceland outfits need to be elegant or fashionable or sporty, or unimaginably, all three?
Which is the best Iceland winter coat on a budget?
You can't blame me- I'd never seen snow like I did in Iceland in February, and I was anxious about what to pack for Iceland. Plus I knew I'd be spending time in the capital Reykjavik and wanted to look at least acceptably fashionable while going to dinner or pubs. But I also didn't want my Iceland packing list to be excessive, in the sense that I needed to be able to easily carry everything I needed up a flight of stairs (or several) and didn't want to pay excess baggage fees.



I'm happy to report I enjoyed every minute of my trip and was comfortably warm at all times, even while hiking in a snow-covered national park in North Iceland or on a glacier on the South Coast.
I went back to Iceland that summer (because I couldn't stay away when I saw a cheap flight from Stockholm), and except for a sweater that I bought in Reykjavik, I was well-equipped for summer in Iceland. So I've added a section about what to pack for Iceland in summer as well.
What is Iceland like in Winter?
A common misconception is that Iceland is unbearably cold in winter. Due to the North Atlantic Drift of the Gulf Stream, winter in Iceland in February and March is relatively mild, especially in the south and west, compared to the extreme temperatures in parts of Finland and Sweden. Still, winter temperatures are around or below freezing, and if you take into account the wind chill, it feels like much below freezing point.
So why would anyone want to visit in winter?
I couldn't be happier that I chose to visit Iceland in winter, especially now that tourism is booming in the country and everything, from accommodation to tours, is expensive in summer. Plus I got to see the Northern Lights (only in winter) which was a huge bonus. In Iceland in February, I still had plenty of daylight to explore outdoors (8-9 hours) and many parts of the country felt remote with hardly any other tourists.
Prices were affordable, important, as I was on a strict budget. After seeing the Icelandic snow-covered landscape of mountains and frozen waterfalls under the beautiful wintertime Arctic light, there's nothing I would change about my experience- it was more perfect that I could have imagined.
Of course, this wouldn't have been the case had if my Iceland packing list wasn't well-researched and on point, especially as a winter newbie (yes there's such a thing if you grew up somewhere it doesn't snow, or rain much, or get cold ever). If you're not warm and toasty, there's no way you can enjoy hiking on a glacier, exploring a lava-tube or an ice cave, or wandering the snowy streets of Reykjavik in winter. And with shopping in Iceland being as expensive as it is, there is no way I could have bought any big items locally such as a winter coat or boots. The price tags on the clothing stores in Iceland are ridiculous.
Here's what I packed for a two-week long trip to Iceland in winter and all of my Iceland outfits.
What to Wear in Iceland in Winter: Iceland Packing List
Iceland Clothing and Footwear
Outerwear
1 North Face Suzanne Tri-Climate Winter Coat This solid waterproof winter coat is totally worth the price! I was super warm even at the lowest temperature that I experienced during my visit (-15 degrees Celsius) and in the dead of the night hunting for the Northern Lights. The best part is that it is completely versatile- there are layers built in that can be zipped on and off to the coat depending on the temperatures.
With a few additional layers underneath, this coat would work amazingly even in much lower temperatures. If you zip off the inner warm layer or the outer shell, you could use it in slightly warmer places and adapt for wind conditions. Plus the design is great- simple, classic and with a nice nipped fit at the waist that flatters the body. What I love most about it is that it works well for both wet outdoor activities as well as walking around in trendy downtown Reykjavik

. I don't know if there's a better winter coat for Iceland, but this one's served me well on other trips since.
2 Dressy Sweaters (sequined and all-to wear to nice restaurants or pubs in Reykjavik)
Pants to wear in Iceland:
1 Columbia Waterproof Pant (these are the ones I took but this cheaper alternative from Columbia would have worked just fine.) You wouldn't consider this in your summertime Iceland clothing list but in winter or if visiting Iceland in February/March, you need them to tread behind waterfalls because you will get drenched from the spray or if you plan to go skiing.
1 Columbia Anytime Outdoor Pant (Warm, water-resistant) I absolutely love how warm and comfy these pants are and how well they fit. They're perfect for outdoorsy activities and look great if you have them on in the city under a nice sweater and winter coat.
1 Salomon Hiking Pant (Warm)
1 Saucony Tights (very warm and comfy, and great price)
1 Pair of Jeggings and 2 Pairs of Trendy Leggings (to wear in the city)
Base Layers, Underwear and Accessories:
3 Base Layer Bottoms/ Long Johns (2 Columbia Mid-Weight Tights and 1 Icebreaker Merino)
3 Base Layer Tops (1-Merino Wool, 2 from Marks & Spencer)
Underwear and Lingerie
1 Bikini (you want to carry this so you can experience the magic of a hot spring or a thermal spa such as the Blue Lagoon. Even in winter. Especially in winter.)
2 PJs and a couple Tank Tops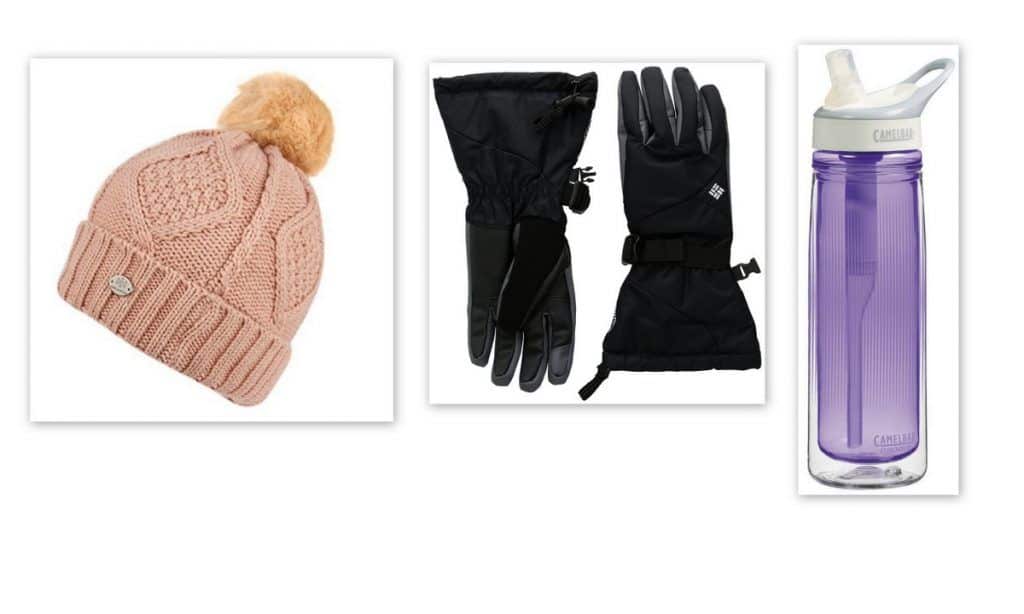 2 Knit Caps (get something cute for the photos that also fits well so the wind doesn't take it away)
2 Warm Woollen Buffs/Scarves (when the wind threatens to slap your face, you will be so thankful for one of these)
2 Pairs of Warm, Windproof Gloves for Iceland (1 from Columbia which were useful in the snow and 1 thick woolen)
Make-Up, Sunscreen, and Lip Balm (Your lips will get chapped a lot because of the dry wind, so this is a must)
Sunglasses (In winter, the sunlight reflects on the snow and you'll need sunglasses when you're outdoors)
CamelBak Water Bottle (The water in Iceland is fresh and pure and you can fill up your bottle as you go. There is absolutely no need to buy bottled water in Iceland, please don't be that tourist.)
Shirts/Tops to wear in Iceland:
4 Long-sleeved Active Wear Tops (for layering on outdoor activities)
2 Nice Tops and 1 Turtleneck (to wear to dinner or somewhere nice in Reykjavik)
Footwear for Iceland:
5 Pairs of Warm Icebreaker Socks. Generally, base layers and socks of Merino wool are highly recommended for two reasons. One, they're super warm and comfy, and two, they're moisture wicking so you don't sweat. You can wear them repeatedly under your Iceland outfits and they will remain odor-free. Though they might be slightly more expensive than other base layers, they're totally worth it.
1 Columbia Winter Hiking Boots I wore these ankle-high boots while hiking and also to pubs and restaurants in Reykjavik. They didn't cost a fortune and I think they could be the best hiking boots for Iceland that can also be worn in the city. They're waterproof, warm, super comfortable, and work well in snow and rain. I hate paying extra luggage fees to airlines and there was no way I'd carry more than one pair of boots- I couldn't have made a better choice because of their versatility.
Since you're visiting in winter, consider getting an affordable pair of Yaktrax for your hiking boots. These prevent you from slipping on the snow and ice, and offer a good grip while walking or hiking. They prevent you from making a complete ass of yourself. Like I did. Just saying.
Flip flops: To wear around the hotel/hostel and thermal pools.
What To Pack for Iceland in Summer: Iceland Packing List
When I arrived in Iceland that summer unexpectedly, thanks to a cheap flight from Stockholm, I wasn't sure if I was adequately equipped for the weather. And well, with just a spring jacket in temperatures that were between 11 degrees celsius to 17-18 degrees, I wasn't.
While I knew nothing about how to dress in summer in Iceland, I obviously realized that my summer dresses and the denim shorts that I lived in in Sweden weren't going to stand a chance in Iceland. So on my first day I bought a sweater from the Icelandic clothing brand Geysir on sale and thanked the heavens for Icelandic wool. Other than that I was good to go. Bear in mind that I was there for two weeks in summer with a packing list that looked like this:
1 Columbia Anytime Outdoor Pant (Warm, water-resistant)
1 Salomon Hiking Pant (Warm)
1 Saucony Tights (warm and comfy, and great price)
1 Pair of Jeggings and 1 Pair of jeans (to wear in the city)
3 Long-sleeved and 1-2 short-sleeved Active Wear Tops/t-shirts (layer as needed for outdoor activities)
2 Nice Tops (to wear to dinner or somewhere nice in Reykjavik)
A warm puffer jacket like this one from Colombia (your leather jacket won't help)
1 really warm sweater
Warm, waterproof boots: Even if you're visiting in summer and don't need winter boots, I'd still suggest you to bring hiking boots because you will be spending a lot of time exploring the landscapes, crossing streams, going into lava caves and on glacier hikes. It's best to be prepared with good, sturdy shoes.
Flip flops: To wear around the hotel/hostel and thermal pools.
Underwear and Lingerie
1 Bikini
2 PJs and a couple Tank Tops
1 Knit Caps (I needed this even in summer)
Make-Up, Sunscreen, and Lip Balm (Your lips will get chapped a lot because of the dry wind, so this is a must)
Sunglasses
CamelBak Water Bottle so you can fill water from streams and taps instead of buying expensive bottles of water.
Eye mask for sleeping. You're likely to need this in summer if your accommodation doesn't have thick blackout curtains or only has blinds- don't underestimate the effect of the midnight sun on your sleeping patterns.
More Tips on What To Pack for Iceland
I like the base layers, gloves, boots, and socks offered by Columbia. I find that Columbia is relatively affordable versus other brands and it has the Omni Heat technology that works very well in extremely cold conditions. If visiting in winter, good quality thermal underwear is probably the first thing you should think of when planning what to wear in Iceland.
Don't count on buying warm clothes in Iceland because shopping for Iceland clothing in Reykjavik is very expensive. Though, you can buy hats (to make your Iceland outfits look cuter), scarves, socks, or warm mittens made of Icelandic wool. You might also want to splurge on a traditional Icelandic sweater called Lopapeysur but don't expect anything under $200-250. If you have your heart set on one, check the Red Cross second-hand stores in Downtown Reykjavik. If you want a sweater made of Icelandic wool, check out the Iceland clothing brand Geysir- I bought a tan colored sweater for 8000kr.
If you can help it, get everything you need. The prices at Iceland clothing brands are exorbitant, don't even buy gloves here unless the ones you bought aren't warm enough.
Finally, when thinking of what to pack for Iceland in February/March, remember that layering is important while dressing in the Icelandic winter, or actually, even in summer, depending on when you're from. Also, note that people in Reykjavik are smartly dressed. In restaurants and pubs, though the vibe may be laid back and casual, you don't exactly want to look like you just showed up from a day-long hike. So pack at least a few neutral colors, basics, and pieces that are multifunctional. If it were summer, I'd probably pack one nice dress or a skirt that I could wear under a sweater and over leggings for a slightly more glamorous look.
What Not To Wear in Iceland
You don't want to pack the kind of clothes you'll never use in Iceland, not even 'just in case'. If you're visiting in winter and have limited baggage allowance or are traveling carry-on only like most people, here's what not to wear in Iceland in winter. Leave these things behind because you really won't need them:
Sundresses, maxi dresses, shorts and skirts. I know this seems obvious but I've actually seen a tourist show up for a glacier hike in a shimmering maxi skirt and heels. It wasn't pretty.
Heels are not appropriate footwear for Iceland in winter and you really won't be using them. You'll barely be able to walk straight without slipping, even in your hiking boots for Iceland, so really, I can't think of a single situation in which you'd miss your heels.
Jeans. If you're visiting in winter, you can do without your jeans- they're neither warm enough, nor quick drying. Instead, bring warm hiking pants, leggings and generally warm bottoms that can dry quickly should they get wet.
Summer hats. It's always windy in Iceland. A hat that doesn't fit well and isn't warm and snug doesn't stand a chance against Icelandic weather. Also, I imagine you'll look pretty ridiculous to the locals.
What to Pack for Iceland- Camera Gear and Electronics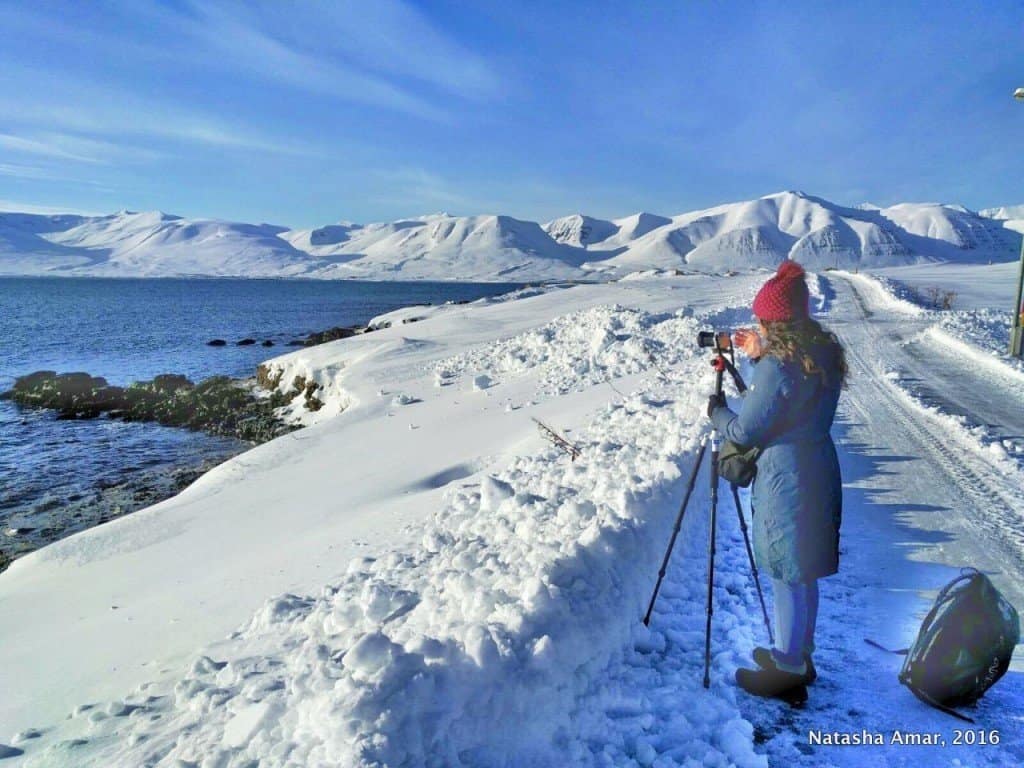 I carry most of my gear in my Carry On- the Under Armour Storm Undeniable II Backpack except for my tripod that goes into my checked-in bag.
If you're into photography, or traveling during the Northern Lights season, then a tripod is a must to photograph them and to get those amazing long exposure shots of silky smooth waterfalls and dramatic stormy skies. I bought the Mefoto Roadtrip Tripod in January for my Sony Alpha a6000 and couldn't be happier; it's lightweight, packs up nice and compact, and is way cheaper than other travel tripods with the same level of functionality.
Lightweight, compact, beautiful, and super functional; for me this is the ideal camera for travel photographers. I would never carry anything heavier than this on my travels. To get the best photos of Iceland's amazing landscapes, those long-exposure silky-smooth waterfall photos and most of all the Northern Lights, I ordered this affordable wide angle lens -the Sigma 19mm f/2.8 DN Lens for Sony NEX E-mount . I also got a ten stop ND Filter at a good price to experiment with long exposure photography and was happy with the results.
I knew I'd be doing long exposure photography and photographing the Northern Lights, so I got myself this cool wireless remote shutter by Foto&Tech, which is also great by the way, for using a tripod to take nice photos of yourself when traveling solo.
Extra Batteries
Filming and photographing in extremely cold temperatures, such as those when you're trying to photograph the Northern Lights in Iceland in February, can drain out your batteries very quickly. Imagine waiting for a few hours to see the Aurora, setting up your tripod, braving the cold, and having your battery die on you. That would be an epic face-palm moment and something I wanted to avoid, so I bought extra batteries for my Sony Alpha a6000.
You'll likely be taking a whole lot of photos in Iceland, whether it's with your phone or camera. Bring an external power bank so that you're always good to go.
I bought my first GoPro- the HERO4 Silver specifically for my trip to Iceland in February as a birthday present to myself because I knew I'd be doing adventurous things like hiking on a glacier, walking behind waterfalls, and exploring lava tubes. I've since upgraded to the GoPro HERO 7 Black– that has 4k video capabilities and tons of other cool features. Plus, the wide-angle feature makes it easy to film the beautiful panoramic landscapes, and you can take it into a hot spring, into waterfalls, or shoot a drive-lapse even in snowy, dusty conditions. To me, it was a no-brainer. I was on a budget, so I ordered this set of mounts and accessories

from Amazon at a great price and used the different mounts while filming.

Macbook Air 13"
If you're into serious vlogging, you might want to check out this review of this great camera for vlogging by my friends at Nomad is Beautiful.
Here's a video that I made from the trip, shot both on the GoPro and my Sony a6000.
That was my Iceland packing list for Iceland in winter and summer.
Find Hotels in Iceland
If you've been to Iceland or somewhere with similar temperatures in winter, what would you add to this list?
If you like this post, please share it to Pinterest:
Some links in this post are affiliate links. That means if you purchase any items or your Iceland outfits using these links, I get a tiny commission at no extra cost to you, so please consider doing that if you're already looking to buy one of these items.
More Iceland Resources