Don't forget to watch the video at the end of this post!
With some places, you just know you've got to go back. Once (or twice) might not be enough because you simply cannot bear to rush through them with some sort of checklist of 'spots to hit'. While many people go to Iceland with the intention of seeing everything they can because they're almost certain that they're never going back, it's the exact opposite for me.
On my first trip in February this year, I fell in love with Iceland in winter– frozen waterfalls, white snow-covered landscapes, and the magical green Aurora Borealis dancing across the night sky. I had a strong feeling I was going to be back, though I didn't know it was going to be as soon as this summer.
After my second trip in August, I just know I'll be going back a third time (and probably more). Though I'm not sure if I believe in this kind of stuff, there's an indescribable energy I feel when I'm in Iceland that is like a shot of caffeine to my creativity and happiness. And as long as it's just a flight (or two or three) away, if I can afford it there's no reason not to go when there is still so much I'd like to explore in the country.
During my summer trip, I discovered something that I couldn't have possibly done the first time—just how spectacular the landscape is when all the browns and greens and yellows have finally shrugged off the blanket of snow and ice, and how a pink sunset sky can turn from lilac to a fiery orange-red in a few minutes. Perhaps the highlight of the trip was a visit to Landmannalaugar from Reykjavik, a volcanic landscape in the Icelandic highlands that is often described as otherworldly.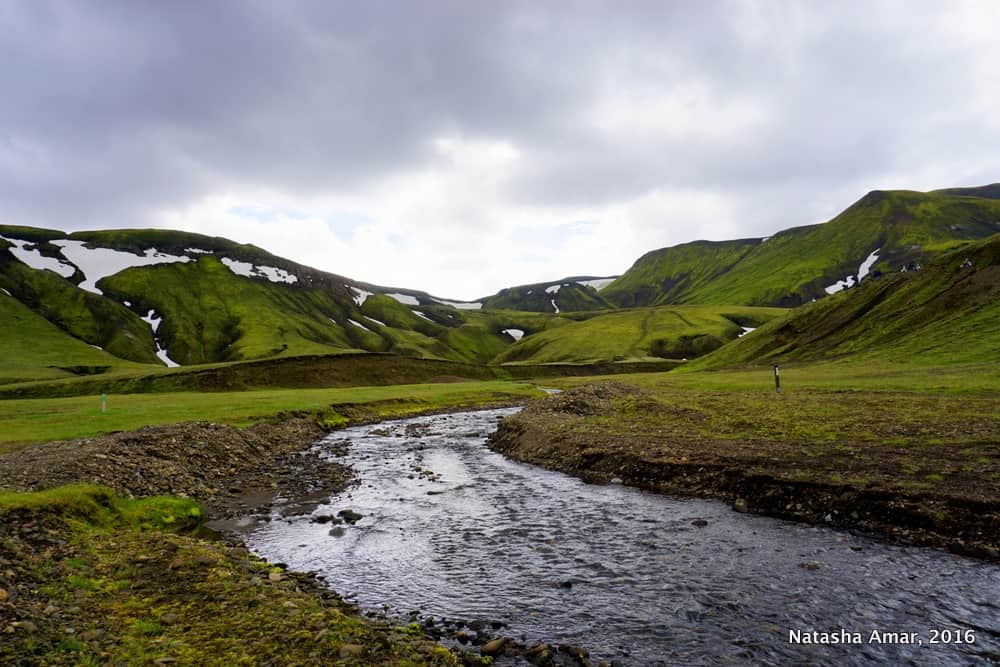 The terrain in the Highlands can be rough and a little tricky, so you need a 4WD to drive to Landmannalaugar on your own. You'll be crossing rivers, so you definitely need to know what you're doing when it comes to off-roading. Luckily for me, I had the chance to visit Landmannalaugar and the Hekla volcano on a day trip from Reykjavik with Mountain Taxi in one of their amazing Super Jeeps. The knowledgeable guide, Beggi, brought along his fantastic Icelandic sense of humor and stories from years of traveling around Iceland, to keep the 10-hour trip fun and interesting.
The trip was tailored as well as it could be to offer the most value—think turquoise waterfalls and crater lakes, volcanic mountains in colors so myriad you'd think they were painted, a natural hot spring in the middle of it all, and geothermal landscapes that would make you wonder if you'd fallen from the planet into another realm.
While it was great to experience all of this in one day, it only made me realize that I need to go back to do one of the multi-day hikes in the area and have enough time to enjoy the hot springs without a set schedule.
Here's what my day-trip to Landmannalaugar and Hekla by Super Jeep looked like with Mountain Taxi.
Hjalparfoss
A lesser-known waterfall on the South Coast, Hjalparfoss was our first stop and it was amazing that our group of six was the only one there. Iceland sees a huge number of tourists in summer and the waterfalls (and other spots) around the Golden Circle and the Ring Road can be very crowded, so it was a pleasant surprise that this wasn't the case during our trip to the Highlands.
The name Hjalparfoss comes from two words Hjalp (help) and foss (waterfall). In the old days, travelers passing through the difficult terrain of the highlands would find relief in arriving here to a place where they could graze their horses after a tiresome journey.
Hekla Lava Fields
Hekla, a 4892 ft. high volcano on the south coast, part of a 40km. long volcanic ridge and with a 5.5km long fissure called Heklugjá is considered to be Iceland's most dangerous and active volcano. In the Middle Ages, the volcano was referred to as the Gateway to Hell- a place where damned souls traveled through on their way to eternal condemnation.
Hekla has erupted 23 times over the last 1000 years and there have been five major eruptions over the last 7000 years, traces of which can be found in the soil today not just in Iceland, but also elsewhere in Scandinavia and Europe. Since 1970, Hekla has erupted in 10-year intervals and the last eruption was in 2000, which means that it's kind of overdue by 16 years. While Hekla's activity is being monitored, there's only going to be a half hour's notice before it erupts, which means the tourists who're out hiking in the area or flying above it on helicopter tours better have unusually good luck because lava flows, ash fall, and gas emissions are not your everyday adventure.
That being said, the rugged landscape of lava fields and craters has a certain sublime quality that can make you forget all of this and just cherish the opportunity to see it for real.
Landmannalaugar
In a country where every road leads you to an incredible waterfall, a jaw-dropping vista, or the kind of landscape that makes you want to pinch yourself just to prove that it isn't some dream that you'll wake up from, if a certain place stands out as the epitome of spectacular, then you know it's something special.
Let's just say this: the Highlands aren't easy to get to; in winter, they're inaccessible. But once you've seen Landmannalaugar, you being to understand that the time and effort it takes to get there are completely worth it. The mountains around the area look like they're painted in green, brown and red- from the sulfur and other minerals in the soil and white from the snow at the top.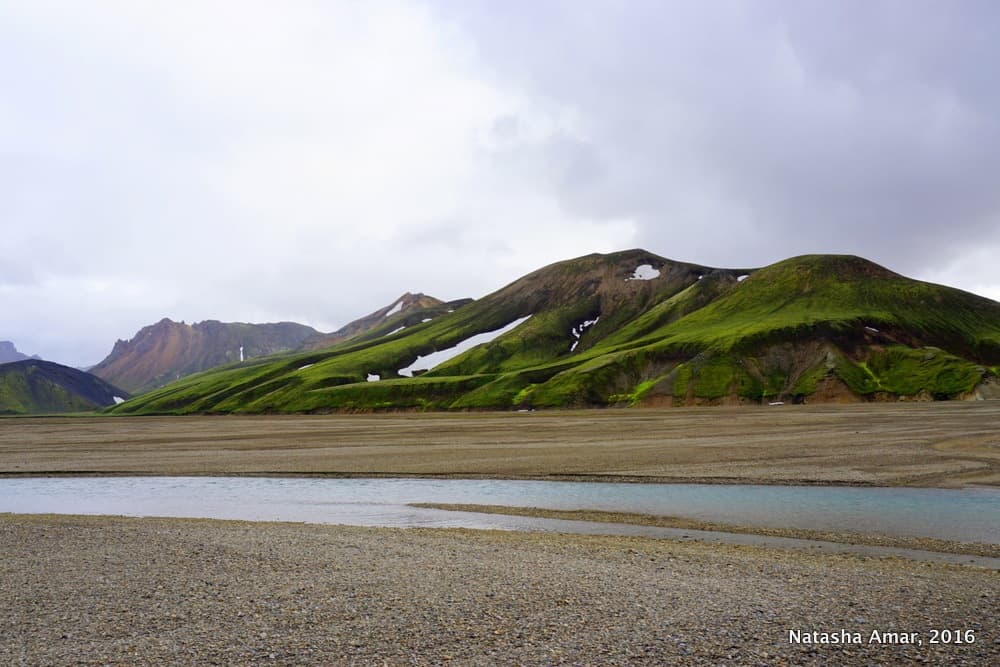 Landmannalaugar is popular with hikers because there are a few excellent hikes in the area such as the 53km. Laugavegur (Landmannalaugar to Þórsmörk) and the more challenging 25km trail that goes further from Þórsmörk to Skógar called Fimmvörðuháls. There is a campsite here and more along the way as well as mountain huts that you need to book in advance. If you're visiting Landmannalaugar, don't forget to bring your swimsuit so you can soak in the hot spring here- the setting is absolutely breathtaking.
Frostastaðavatn
Surrounded by charcoal black lava fields and rhyolite mountains, at 573m above sea level, this lake is beautiful with its blue green trout-rich waters.
Ljótipollur
Usually, I'm a big fan of the Icelandic sense of humor, but I'm not even sure if this gorgeous crater lake was named Ljótipollur which translates into Ugly Pool as a joke or to fool tourists who ventured here in search of a hideous looking pond. In any case, with its bright red walls and sometimes turquoise, sometimes midnight blue water, this lake is anything but ugly.
Sigöldufoss
Our last stop for the day was at Sigöldufoss, a 10m high waterfall in the River Tungnaá, close to a hydroelectric power plant. The bright color of the waterfall is a stunning contrast against the volcanic landscape.
Watch a short video of the trip:
If you're familiar with the blog or follow me on Instagram or Facebook, then you know that I'm not a fan of big bus tours where you're in a (big) bus with twenty others, going from stop to stop listening to someone ramble on over the microphone. In places where it's possible and practical, I rough it out solo, taking public transportation and hiking if I need to.
But in some places, it simply makes sense to go with a tour and a guide who knows what he's doing, and small-sized tours can be a great experience. I can highly recommend Mountain Taxi because it was the exact opposite of a big bus tour- a cool super jeep suited to the terrain, a great guide who made it a fantastic day, a comfortable group-size where you could get to know people, and friendly and informal vibe, and of course the incredible landscape of the Highlands.
My trip to Landmannalaugar was provided by Mountain Taxi and arranged by Northbound, a one-stop-shop to find a tour in Iceland that suits your budget and travel style. As always, all opinions in this post are honest and independent.
More Iceland Resources
This post contains affiliate links. If you make a purchase using these, I might get a small commission with no extra cost to you, which goes towards running this site.