Dubai has earned quite the reputation as a playground for the rich and famous, thanks to Instagram celebrities out and about on supercars and superyachts, Youtubers posting helicopter ride videos, and more luxury hotels than even I, who reviews and writes about them for a living, can keep up with.
But when I'm asked if the city I call home is all this and nothing else, I shake my head furiously and say, "Of course not". After all, I personally own neither a supercar, nor a yacht.
If you're traveling to Dubai on a budget, and wondering if there are any cheap or free things to do in Dubai in 2023 and beyond, then worry not- I've got your back with this detailed guide to the best places to visit in Dubai for free.
It's true that much of the city's offerings are designed to be exclusive but this is as much a city of real, regular people as any other. You know, people who live in apartments and take the metro to work, like to go to cool cafes and watch movies and do the same kind of routine stuff that people do in other cities?
Unfortunately, the western media has decided to go with a certain, often exaggerated, image of the city and ignore exploring its other faces.
That's why I tell most new friends I make on the road that if they're ever in Dubai, they should let me know- so I can tell them where to find the real, raw (okay, maybe not as gritty as other cities) parts of the city and so that they don't go away with the same image that's been drilled into their minds by popular media.
You might also be interested in my posts about what to wear in Dubai, best romantic hotels in Dubai, and the most interesting Dubai day trips.
Right then, let's get to it. Here's my ever-expanding ultimate list of cheap and free things to do in Dubai and the best places to visit in Dubai for free, in no particular order.
By the way, you can also join our Dubai Travel Planning Group on Facebook where you'll find plenty of free resources, practical information and insider tips to help you plan your trip to Dubai. Click on the image below to join.
I've also added a map of the best places to visit in Dubai on a budget that you can save and share to help plan your trip. You might also be interested in my posts on where to stay in Dubai for every budget and how to go from Dubai Airport to the city center.
Map of the Best Places to Visit in Dubai on a Budget
Click on the top left to expand the index and see a list of places mentioned in the map. Below the map in the article you'll find what to do in each of these places.
Best Places to Visit in Dubai for Free & Cheap and Free Things to do in Dubai
Spot Flamingoes and Go Bird watching at Ras Al Khor Wildlife Sanctuary
The Ras Al Khor Wildlife Sanctuary, a haven for birdwatchers, is something of a secret in Dubai, unknown even to many long-time residents and one of the most fun free family activities in Dubai. If you're visiting Dubai with kids when the weather in Dubai is good, they will love this experience.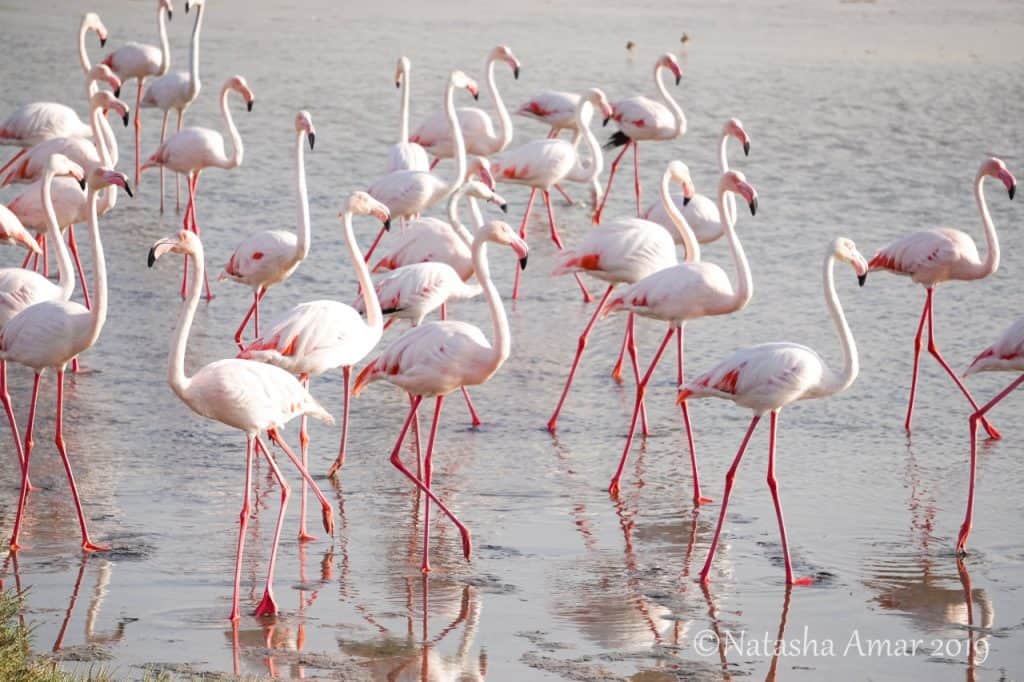 The wetland reserve is home to migratory birds such as the grey heron, cormorant, osprey, and black-winged stilts, among others. There are three hides here, of which at the more popular Flamingo Hide, you can see lots of pink flamingoes.
The hides are free to enter and open from 9.00am to 4.00pm except on Fridays. Go early in the morning or late afternoon to avoid tour groups.
Tip: If you're getting here by taxi, you will probably need to use Google Maps- just search for Ras Al Khor Flamingo Hide Viewing Area (or click here) .
Wondering where to stay in Dubai? Here's my guide to hotels and apartments in Dubai for every budget.
Watch the Dubai Fountain Dance By The Burj Khalifa
There's two reasons to head to the lake just outside the Dubai Mall and the Burj Khalifa. One, to stare up in amazement at the architectural marvel that is the world's tallest skyscraper and two, to see the Dubai Fountain, formerly the world's biggest dancing fountain (before the Palm Fountain came along) sway to the tunes of international artists.
The Dubai Fountain, in my opinion, is simply the best of all free things to do in Dubai Mall.
The water reaches heights of 500 feet and the performance, enhanced by lights takes place inside the 30-acre Burj Khalifa Lake. If you don't mind the 60 Dirhams charge, then you can actually cruise the lake in a boat and watch the show onboard.
Personally, I find the free option of watching from the promenade or the bridge that connects to the Souk Al Bahar just as great.
For a particularly romantic spot, head to one of the steps of Souk Al Bahar (after you turn right coming over the bridge from the Dubai Mall. Show times are from 6.00pm to 11.00pm daily, every 30 minutes.
Location on Google Maps: The Dubai Fountain
See The World's Biggest Fountain
Since we're on the subject of fountains- and you'll see that Dubai loves fountains- they're outside hotels and in financial districts and malls and outside the Dubai Opera and on roundabouts and intersections, and well, possibly everywhere they can be. But while you're in Dubai, don't miss the world's biggest fountain (but of course) Palm Fountain on Palm Jumeirah, the palm-shaped archipelago home to beautiful beaches, luxury hotels, and malls.
Located at The Pointe, the multi-colored Palm Fountain is spread over 14,000 sq ft of seawater and performs choreographed dancing fountain shows every evening, shooting water up to 105m in the air. The three-minute shows, free to watch, take place every 30 minutes, each time to a different song, from 6pm to 10.30pm on weekdays and until midnight on weekends.
Location on Google Maps: The Palm Fountain
Have an Epic Beach Day at Kite Beach
Kite Beach is definitely my most favorite free-to-enter spot in Dubai and it's where you'll find me most weekends during the cooler months. Kite Beach is a public beach, Dubai's largest, on the Jumeirah coastline.
While the beach is open round the year, it's liveliest between October and March (which is the best time to visit Dubai) when the weather cools down considerably.
This is where the city's cool kids, hipsters, yogis, and good ol' regular folks come to hang. Plus it's an excellent things to do if you're visiting as a family, among other cool things to do in Dubai with kids.
There are beach loungers (available to rent) but you can also just bring your towels, umbrellas, tents, or beach chairs and enjoy the sun, sand and water. If you like the idea of some beach time, then this is also one of the most fun and cheap or free family activities in Dubai.
If you walk along the water in the direction of the Burj Al Arab (the massive sail-shaped hotel you see), you come upon the quieter Sunset Beach, which as the name suggests, is one of Dubai's best sunset spots.
On Kite Beach, there's plenty of food trucks and cafés (reasonably priced), but if you're not in the mood to spend, bring a picnic.
This beach also offers activities like trampoline, volleyball, free yoga and fitness events, and the occasional live entertainment. Bring a Frisbee, volleyball, and a picnic and make this one of your favorite things to do in Dubai with kids.
At one end of the beach, you'll see kitesurfers practicing and you can also rent kayaks or book watersports such as Jet Ski.
Location on Google Maps: Kite Beach
Have a Picnic or Barbeque at Dubai Creek Park
When you're craving a bit of outdoor time and green spaces in Dubai (and that will inevitably happen if you stay long enough), head to one of the city's oldest parks- Dubai Creek Park, also known as Creekside Park. Now, entry is not free, but at only 5 dirhams, visiting this park is one of the cheapest things to do in Dubai.
This beautiful park by the Dubai Creek is massive, with separate areas for barbeque and picnics, and can also be explored by bikes for hire. There are some great photo spots as you walk along the bank overlooking the water.
If you're on a budget, head to a neighborhood Carrefour or Spinneys, pick up a few sandwiches and juices and head here for a picnic during the cooler months that are the best season to visit Dubai.
Inside the park, there's a childrens' play area, theater, mini-golf and go-kart track. It's also home to the Dubai Dolphinarium and Children's City, an indoor children's educational entertainment centre.
This family-friendly park, isn't necessarily a tourist attraction, but is great if you're traveling to Dubai with kids.
Location on Google Maps: Dubai Creek Park
Enjoy The Views & Visit a Local Market at the Jumeirah Fishing Harbour
One of the unusual things to do in Dubai, and a real insider secret not even known to many residents- seriously I am somewhat kicking myself for sharing this here because I've never seen tourists or tourist groups here- is to visit the Jumeirah Fishing Harbour.
So why am I telling you this? Do I want this ridiculously beautiful Dubai spot to become a playground for tourists?
Of course not.
But when tourists come to Dubai, and tell me that my hometown is nothing but a glorified theme park for adults, one that has no soul, yadda yadda yadda, I get really mad. Just because they don't know where locals go to eat, drink, shop, does not mean that these places don't exist.
At the Jumeirah Fishing Harbour, you'll find a stretch of gorgeous coastline home to a harbour where one section is full of yachts, and the other is full of fishing boats. Also here are fishermen's accommodation quarters.
Wandering around the area, depending on the time of day, you'll see them bringing back their boats laden with fresh catch, working with ropes, cleaning shells, and going about their daily business.
There is a small neighborhood fish market where you can buy seafood cheaper than you'll find in hypermarkets and large supermarket chains around Dubai. The fishermen love a bit of banter and they'll proudly show you their fish in the hopes that you'll buy some.
The harbour is quite long and has three sections with benches to sit at along the way and a supermarket. In one of these, Fishing Harbour 1, is a mall with some great reasonably priced seafood restaurants where you can dine al fresco (in good weather) with harbour views.
Tip: If you're visiting at a time of year when it's agreeable to be outdoors, combine a visit to Kite Beach with a visit to the Jumeirah Fishing Harbour. You can actually spend a day, first on Kite Beach, and then a 20-minute walk to the Jumeirah Fishing Harbour to hang out here.
Location on Google Maps: Jumeirah Fishing Harbour 1
For more FREE resources and tips to help you plan your Dubai trip, join my Dubai Travel Planning Group on Facebook where you'll find updated and new info about attractions and things to do.
Walk Along the Dubai Canal Boardwalk
Even as someone who has spent the better part of her life in Dubai and should be used to the city's dynamism, I still continued to be amazed by how much Dubai has changed from its days when I was growing up here.
One of the places where this really hits home is the Dubai Water Canal that completely changed what the cityscape looked like.
In good weather (October to March/April), the Dubai Water Canal Boardwalk, a Dubai must-see spot, is a fantastic place for a stroll and to take in the skyline views.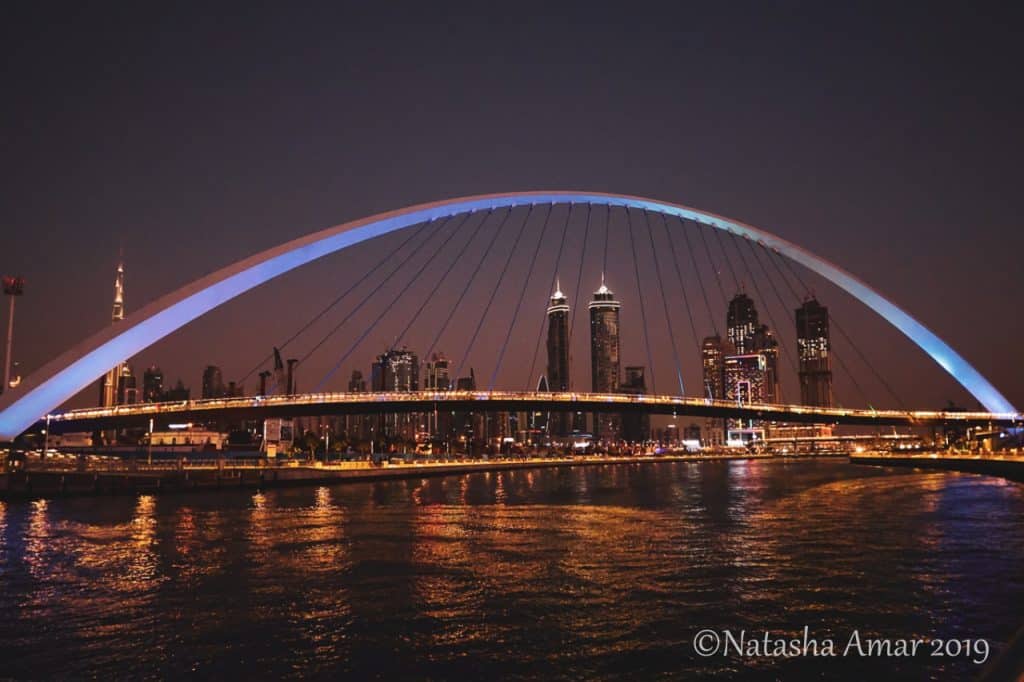 On the 3.2km long boardwalk that connects Sheikh Zayed Road to Jumeirah, you'll see people running, families strolling and of course, Dubai's skyscraper and skyline-loving photographers.
The boardwalk offers access to three bridges over the canal, including the Tolerance Bridge that is also a great spot to appreciate the beautiful views over the water.
Here you'll also see a colorful waterfall curtain that opens up to let dhow boats (that you can go on a cruise on all the way to Dubai Marina- chargeable) through. There's no entrance fee to the boardwalk.
Location on Google Maps: Dubai Water Canal parking
Photograph Street Art & Enjoy Beach Time at JBR
The JBR beachfront promenade is a lively and fun place to spend an afternoon or evening for free or on the cheap. There are plenty of restaurants and cafes here and an open-air shopping mall called The Beach JBR with boutiques, shops, and a cinema. Across the street are cool murals that are very instagrammable.
You can visit here for free and spend some time on the beach, followed by a stroll spotting the cool street art that is inspired by everything that makes Dubai unique.
Take an Abra Ride across the Creek
As a kid, one of my most favorite things to do in Dubai used to be to hop onboard an abra or a traditional wooden dhow boat that plied the waters between old Dubai (or Bur Dubai) and the souks of Deira. At a cost of just 1 dirham even today, an abra ride is still one of the best cheap and fun things to do in Dubai, especially if you're on a budget.
The best part is that this isn't just some touristy activity.
Many locals who need to get across the creek, whether it's early in the morning to get to work, or late evening to get to the souks in Deira or back home, still take the abra for two reasons- one it's cheap, and two, it helps them skip the rush-hour traffic.
Plus, who can deny the romance and joy of being on a boat, even if for a few minutes? This is a chance to slow down and see one tiny but precious aspect of Dubai that remains unchanged.
Time your visit to reach here just before sunset, so that you can enjoy the sunset and the view of hundreds of migratory seagulls from the boat.
You can go across the creek in either direction from the old Dubai souks to Deira and disembark and explore the area, or just stay on the boat to do a return trip.
Afterwards, walk along the water in old Dubai, or explore the old souks on both sides of the creek.
Location on Google Maps: Bur Dubai Creek
Get Lost in the Old Souks of Bur Dubai and Deira
Depending on where you're coming from, your interest in Dubai's famous shopping malls might wane after a while. Anyway, if you've seen the Dubai Mall, there really isn't anything you'll miss by skipping the other malls.
Instead, head to one of the city's old (but now restored) souks or covered markets that are one of its most worthy points of interest in Dubai. The souks are also excellent places to go souvenir shopping in Dubai.
The old souks in Bur Dubai (the old souk and textile souk along the creek) and Deira (spice and gold souks) are full of character and offer plenty of photo opportunities.
If you're in the mood to buy, prices here are very reasonable and you absolutely should bargain (start at half the quoted price and go from there). The sellers are very friendly, come from South Asia and the Middle East, and speak good English.
Here, you'll find frankincense, oud (traditional perfume), dried-fruits, nuts and dates, as well as souvenirs plus local traditional dress, scarves and shawls and jewelry. You can also buy beautiful fabrics and sarees (think pretty lace and silk) in the textile souk and a variety of spices in the Spice souk.
Even if you don't intend to buy gold jewelry, head to the Gold Souk to see extravagant window displays of wedding jewelry and exquisite pieces fit for royalty.
You can begin your walking tour of the souks in Bur Dubai, around the textile souk and old souk. Stop by the Iranian Mosque here- the ornate exterior is nothing short of spectacular. Then, take an abra across to visit the gold souk and spice souk in Deira.
Location on Google Maps: Bur Dubai Old Textile Souk, Iranian Mosque, Deira Gold Souk and Deira Spice Souk
Wander around Meena Bazar
When you look up online lists of Dubai tourist attractions, Meena Bazar hardly, if ever, makes it to the list, but that is a shame. It's no secret that Dubai is home to a large and vibrant community of Indians. Y
ou can think of Meena Bazaar as Dubai's very own 'Little India'- home to many Indians, Indian restaurants and shops selling traditional Indian clothing, beautiful embroidered fabrics, shoes, costume jewelry, and gold and diamond jewelry.
While this is one of the oldest parts of the city, surprisingly with how Dubai has changed, it has now become one of the off-the-beaten-path places to go in Dubai.
Walking in the streets of Meena Bazaar feels different from the rest of the city and people here are especially friendly. Shopping here means you'll be showered with attention and treated like a VIP.
Don't shy away from haggling like an Indian- most sellers will offer substantial discounts if you pretend to walk away.
There are also many tailoring shops here, for both men and women, where you can get traditional clothing stitched as well as custom-made suits, tuxedos and evening gowns, all at great prices. When you get tired of shopping or window-shopping, you can stop by at one of the restaurants for chaat- Indian street food, falafel or shawarama.
Location on Google Maps: Meena Bazaar
Visit The Oldest Building in Dubai at The Dubai Museum
(Update: As of April 2022, the Dubai Museum is closed for renovation until further notice)
In a city where everything is new and shiny, and getting newer and shinier, the old and rare is worth visiting, no? But its age isn't the only reason why you should head to old Dubai and visit the Al Fahidi Fort, that was built in 1787 and is the oldest built structure in Dubai.
This defensive fort, that has been the Sheikh's residence as well as a prison during its lifetime, houses the Dubai Museum (that is one of the oldest Dubai tourist spots) since 1971 and is interesting to anyone curious about Dubai's growth through the years.
Visitors can get familiar with what life looked like in the emirate in different environments- the desert, oasis, mountains, and along the coast. The exhibits include pottery, weapons, books and documents, drawings, clothing, jewelry, and coins, as well as models of homes, schools, markets, and farms.
It's a fascinating and intriguing look into the Dubai of pearl divers and fishermen, blacksmiths and tailors, and shipbuilders and merchants, where the few decades before our times feel like centuries.
At an admission fee of just 3 dirhams (only 1 dirham for children under 6), the entrance is as good as free.
Location on Google Maps: Dubai Museum
Wander in the Al Fahidi Historical Neighborhood
An easy walk from the Dubai Museum and the Al Fahidi metro station, don't miss a wander around the old restored houses in Al Fahidi. These houses once belonged to wealthy pearl merchants. Today they house cute cafés and restaurants, studios and museums, some free to enter. The free to enter Coffee Museum here is a great place to learn about the heritage of coffee-making in the region and enjoy a cup of coffee. For a local breakfast or a cup of tea, head to Arabian Tea House or the XVA Cafe.
Location on Google Maps: Al Fahidi Historical Neighborhood
Get Lost in the Lanes of Al Seef
I'll admit, like much of Dubai, the heritage-inspired neighborhood of Al Seef, just by the creek, is newly built. But that doesn't take away from the fact that it blends right in with the neighboring Al Fahidi Historical District and is a pleasant addition to the city's outdoor spots.
One half of the area that is one of the best places to visit in Dubai, has architecture that is traditional, mud-colored and complete with arches and romantic wind towers that look even more beautiful in the soft glow of fairy lights and nighttime lighting. Fishing nets placed along the waterfront promenade are a nod to Dubai's fishing heritage.
Here you'll find cafés, restaurants, ice cream shops, and stores selling Dubai souvenirs such as oud, frankincense, and kaftans, jewelry, perfumes and more.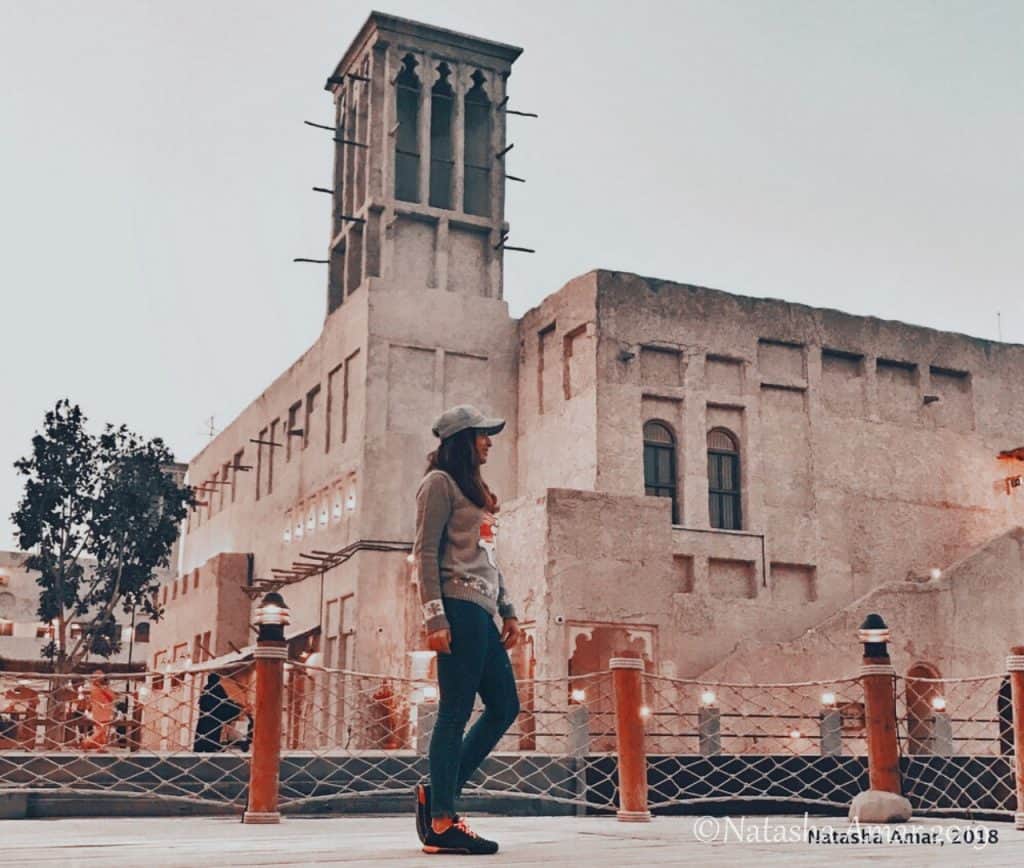 Walk further along the creek and the architecture becomes decidedly sleek and modern, sort of as an ode to Dubai's architectural evolution through the decades. Here, you'll find more restaurants and cafés as well as shisha cafés.
During the cooler months between November and April, Al Seef plays hosts to several outdoor events, festivals and live entertainment.
If you're a photographer, I highly recommend visiting- it's one of my favorite photo spots in Dubai. If you don't mind spending the 80 dirham entrance, check out the Museum of Illusions here.
Location on Google Maps: Al Seef
Wander around City Walk
Another one of Dubai's popular hip, urban districts, City Walk is best explored during the cooler months or in the evenings. The architecture here is interesting- a mix of contemporary sensibilities and sleek design, made only better by featuring street art by notable artists who were invited from all over the world.
Expect boutiques selling one-of-a-kind merchandise in fashion, art and design and niche chocolatiers, as well as cafés and restaurants with al fresco seating that looks out on the lively pedestrian areas of the precinct.
If you're on a budget, you can walk around and enjoy the free live entertainment that can be often found here. If you're in the mood to dine, you can choose from restaurants serving a variety of cuisines from Indian and Turkish to international.
If you're visiting with a group or family with kids and teens, it's worth checking out Hub Zero for a few hours of games and activities (for adults and kids).
City Walk is also home to the Green Planet, an indoor rainforest home to over 3000 plants, flowers and different species of birds and animals- perfect for wandering around in (for an entrance fee of 95 dirhams) when it's too hot outside.
Location on Google Maps: City Walk, Hub Zero and The Green Planet
See The World at Global Village
Global Village is a family-friendly festival park that is one of those rare Dubai attractions that still exists from the time I was a little girl growing up in Dubai.
The festival park that goes on from November to April each year has only grown in scale and in terms of attractions and things to do, and I still go every year. If you visit during this time, then this should be high up on your list of cheap, fun and family-friendly things to do in Dubai.
Inside the massive space, you'll find pavilions set up by over 70 countries and in some cases- continents (such as India, Egypt, Russia, Morocco, Far East, Turkey, Africa, and USA). Each of these pavilions feature stalls selling unique merchandise, from clothes, jewelry and shoes to household items, furniture, décor, and also food products and cosmetics.
Entrance to Global Village costs only 15 dirhams.
If you don't intend to shop, you can watch free live shows such as traditional dances, theater and drama, aerialists and circus performers at various performance areas within the park. You can get a schedule of events from information when you enter or check it out online before you go.
If you want to shop, and you should because you can find both unique products at good prices here, then check out the following pavilions: Far East (for shopping clothing, shoes, household items on a budget), India (for tea, traditional clothing and Pashmina shawls), Africa (for fantastic deals on home décor, furniture, art, and carved wood items), Iran (for spices and nuts) and Russia.
The food is a real highlight at Global Village. Here you'll find food from all over the world- Indian street food, Turkish pide, Bosnian kebabs, Dynamite shrimps, crispy churros, Persian grilled meats, Thai curry, Japanese street food, and what have you.
You can either sit down at one of many restaurants or head to what I like to call the food lane- that is full of food stalls where you can try a little bit of everything but eat while you stand or walk around.
In the current season (2018-19), you'll also find the Middle East's first floating market right in front of the Far East Pavilion with food stalls on boats selling Asian dishes.
While you're there, you should also check out Carnaval, a fun fair that features rides and games for all ages plus families. You have to pay additionally for the rides and games but it's worth checking out if you have an entire day to spend at Global Village. As one of Dubai's best family activities, you can actually make a day out of a visit to Global Village.
Tip: If you're visiting Global Village by public transportation, taking a taxi might cost you a fair bit. Instead take a public bus to get here.
Bus No. 102 from Rashidiya Metro Station
Bus No. 103 from the Union Metro station
Bus No. 104 from Al Ghubaiba Station
Bus No. 106 from Mall of the Emirates Station
Location on Google Maps: Global Village
Free Theater, Stand-up Comedy & Live Entertainment
If you're on a budget and looking for some live entertainment in Dubai that doesn't burn a hole in your pocket, then it's worth checking out one of many free community events at venues such as Courtyard Playhouse, a performing arts venue that hosts stand-up comedy, improve, theater and movie screenings that are free to attend.
Now while there's no entrance or ticket fee, they do appreciate a small contribution at the end of the show as a token of appreciation. These events are organized and performed by volunteers who are members of the local community and have regular day jobs. While you're there, grab a bite to eat and coffee at the very cool Cassette.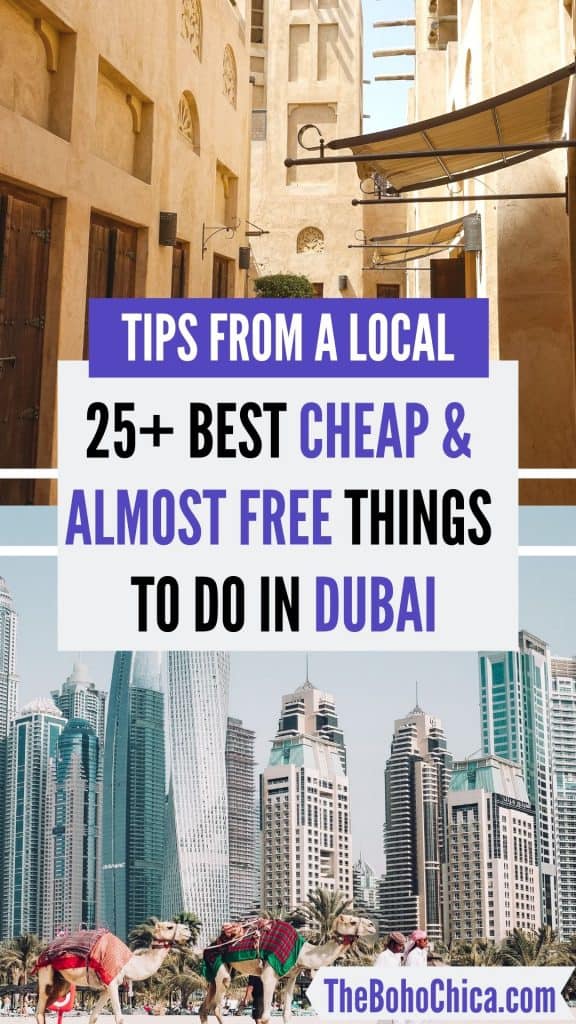 If you want an evening of laughs to add to your list of fun things to do in Dubai, check out similar free to attend events by Dubomedy, the city's first school of comedy, that organizes comedy nights at various hotels around Dubai.
While you don't have to buy tickets to some of their events, any food/drinks you consumer during the show in the venue are of course to be paid for. Both Dubomedy and Courtyard Playhouse also host workshops for adults and kids as well as corporate events.
Location on Google Maps: Courtyard Playhouse
Browse Organic Produce & Crafts at Ripe Market
After years of consuming imported produce, over the last few years there has been a notable shift of preference within Dubai's community towards sustainable, local and organic produce as well as homegrown concepts.
You can browse local produce, organic fruits and vegetables as well as arts, crafts and handmade jewelry by local artists and artisans at Ripe Market.
During the cooler months, Ripe Market is hosted at the Dubai Police Academy. During summer, you'll find it indoors at the Times Square Center.
In addition to shopping for fresh produce and crafts, there's live entertainment as well as food trucks and stalls by homegrown concepts. You'll find everything from delicious khameer and shawarma sandwiches to burgers and tacos here. This lively family-friendly event is a hit with local residents and a great way to see what it's like to live in Dubai.
Tip: The location of Ripe Market has changed a few times over the recent years, it's best to check the website before you go.
Location on Google Maps: Ripe Market
Appreciate Art at Free Events in Dubai
If you're interested in exploring Dubai's art scene, head to the art district of Alserkal Avenue that's home to a number of art galleries. You can walk-in and view their exhibitions showcasing the work of local and international artists for free.
There are also design studios and a few co-working spaces here. The area also hosts art festivals and events and exhibitions through the year.
Alserkal Avenue has developed into a hotspot for artists, designers, photographers and other creators over the year and has led the way in developing the city's art scene.
It's also worth checking out if your visit coincides with the Quoz Arts Fest, a two day event with workshops, performance art, art walks, screenings, theater, talks and discussions, and exhibitions that charges a minimal, affordable entry fee of AED 25 for a day pass.
If you're interested in all things art, design and music, it's also worth checking out Dubai Design District and the art galleries in DIFC for any free-to-attend events, workshops and exhibitions.
If you visit in March, do not miss the art festivities around Dubai Art Season and in particular the Sikka Art Fair that transforms the Al Fahidi Historical district into a hub of art, design and music lovers.
The traditional houses here turn into artist studios, exhibition venues and theaters with movie and documentary screenings. The courtyards play host to live music, theater, dance and performing arts venues.
I've been going every year for the last few years and I'm simply blown away by the creativity that is found here. Entrance is free.
Many art galleries around the city also open their door to the public for free exhibitions around this time.
Location on Google Maps: Alserkal Avenue, Dubai Design District, Dubai International Financial Center DIFC and Al Fahidi
Learn about the History of the UAE at the Etihad Museum
The new Etihad Museum in Jumeirah is built at the site where the constitution of the UAE was signed in 1971 and is an excellent place to learn about the history and development of the UAE through interactive exhibits, audio and visual presentations. Entrance is 25 dirhams.
Location on Google Maps: Etihad Museum
Watch the IMAGINE light and water show at Dubai Festival City
While you may or may not want to go shopping in Dubai Festival City Mall, the IMAGINE light and water projection show that features 30 fountains and fire, and is the world's largest water screen projection and largest permanent projection mapping in the world is a totally good reason to visit. The shows play every day, are free to attend and can be viewed from the waterfront promenade.
Location on Google Maps: Dubai Festival City Mall
Visit a Mosque with the Sheikh Mohammed Center for Cultural Understanding
If you're interested in learning about local culture and the religion, then visiting the Grand Jumeirah Mosque with the SMCCU is highly recommended. For just 25 dirhams (children under 12 can come for free), you get a guided tour of the mosque, plus the chance to ask all the questions you may have about the religion and culture in a safe, friendly space.
You're treated to dates, tea, coffee and traditional pastries.
If you're visiting Dubai during Ramadan, you might want to read my guide to what to expect during Ramadan.
Tip: The tours are run everyday at 10am from Saturday to Thursday. You don't need to book in advance but you should reach there by 9.45am so you have enough time to register.
Location on Google Maps: Grand Jumeirah Mosque
Enjoy the Serenity at Al Qudra Lakes
Just a 30-40 minute drive from Dubai, the Al Qudra Lakes are a series of manmade lakes in the Al Marmoom Conservation Reserve that offer a quick escape from city life, and the kind of attraction you don't expect to find in Dubai.
These lakes are home to a variety of wildlife including over 170 bird species including flamingoes, swans, and geese, and animals such as oryx and desert foxes. At present, there is no entrance fee, and hence this is one of the best free things to do in Dubai, especially if you like nature and wildlife.
Locals in the know head to Al Qudra Lakes on weekends during the cooler months and spend their time walking around the lakes, watching the birdlife, and cycling on the Al Qudra Cycling Track.
The intertwined heart-shaped Love Lakes are a protected nature reserve where cars aren't allowed but you can head to the viewing platforms to admire the view. There are also other lakes in the area.
There are of course, no entrance fees to the lakes but facilities are basic. There are barbeque stands that you can use. You're not allowed to barbeque on the sand or stay overnight at the moment. There are no toilets at the site.
The Last Exit Al Qudra food truck park is the closest place with toilets, but this might change in the future.
Tips: Google Maps might not get you to the exact spot- so follow the signs from the Last Exit food truck park. If you're lost, stop and ask someone for directions.
Outdoor Adventures in Hatta
If you're visiting Dubai and have a friend in Dubai whose car you can borrow or with whom you can get a ride, then you should totally do the 90-minute drive from Dubai to Hatta in the Hajar mountains for a bit of outdoor adventure.
Hatta is one of the best places to visit in Dubai for free.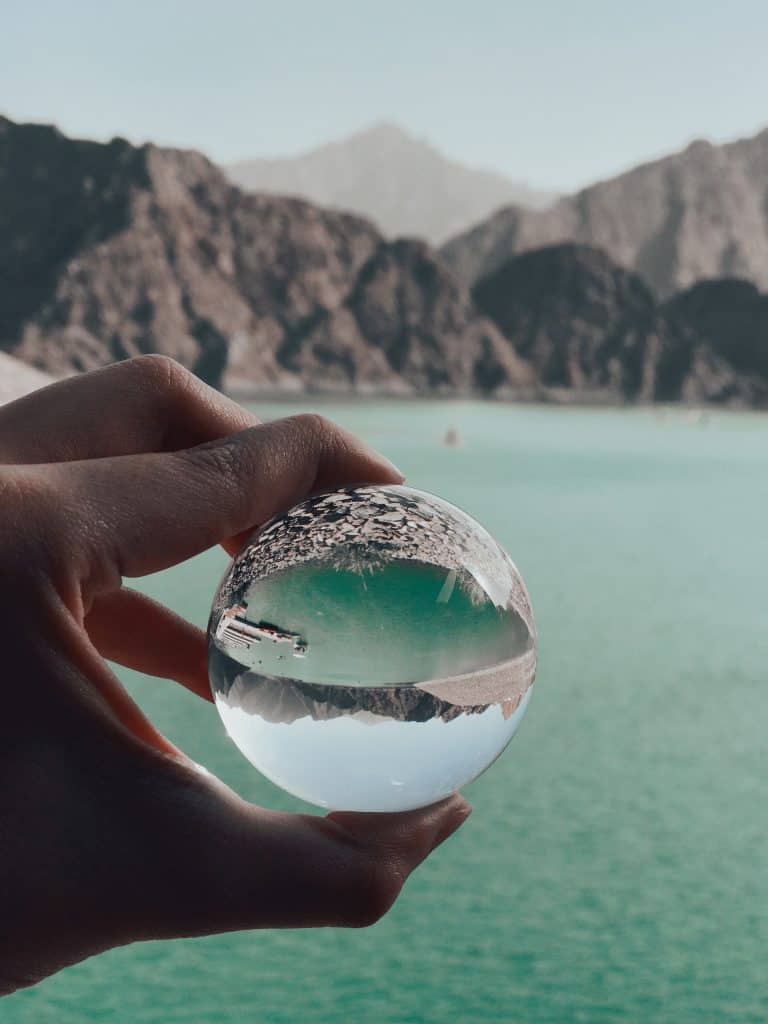 If mountain biking sounds exciting, bring your bike and ride the marked bike trails through hills and dry wadis, maps and information available at Hatta Mountain Bike Trail Center.
Alternatively, you can visit the beautiful Hatta Dam with turquoise waters that offer opportunities for kayaking with Hatta Kayak. If you'd rather hike, then set off on the trails behind the dam. The Hatta Wadi Hub also offers guided hikes in the area.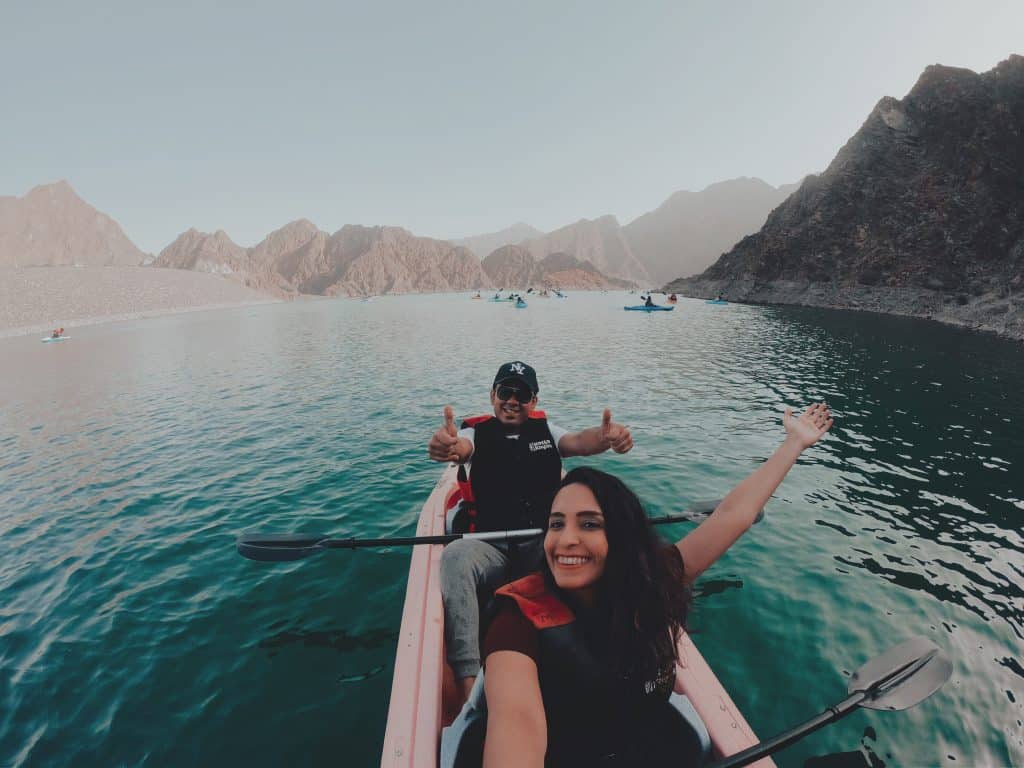 In Hatta, you can also visit the Hatta Heritage Village– a museum that showcases what life was like in the old days in various villages around the UAE. Walk around the reconstructed houses, a fort and watchtowers, and a mosque and see exhibits and artefacts that highlight Emirati heritage.
Location on Google Maps: Hatta Kayak, Hatta Heritage Village and Hatta Wadi Hub
Get a Perfect Photo of the Skyscrapers in Dubai Marina
The Dubai Marina promenade is an excellent place to stroll around as you admire the many skyscrapers that rise above on both sides of the marina, join residents as they run or cycle along the water, or sit down for a cup of coffee or a meal.
This is also a great place to get that perfect picture of the skyscrapers and there's one spot that, in my opinion, gets you the best image.
Since, unlike a lot of photographers who geo-tag their photo locations as 'somewhere in the world' or just 'Dubai', I believe in sharing and really do want you to get a great photo of the skyscrapers on your vacation, I'm going to go ahead and tell you where to go.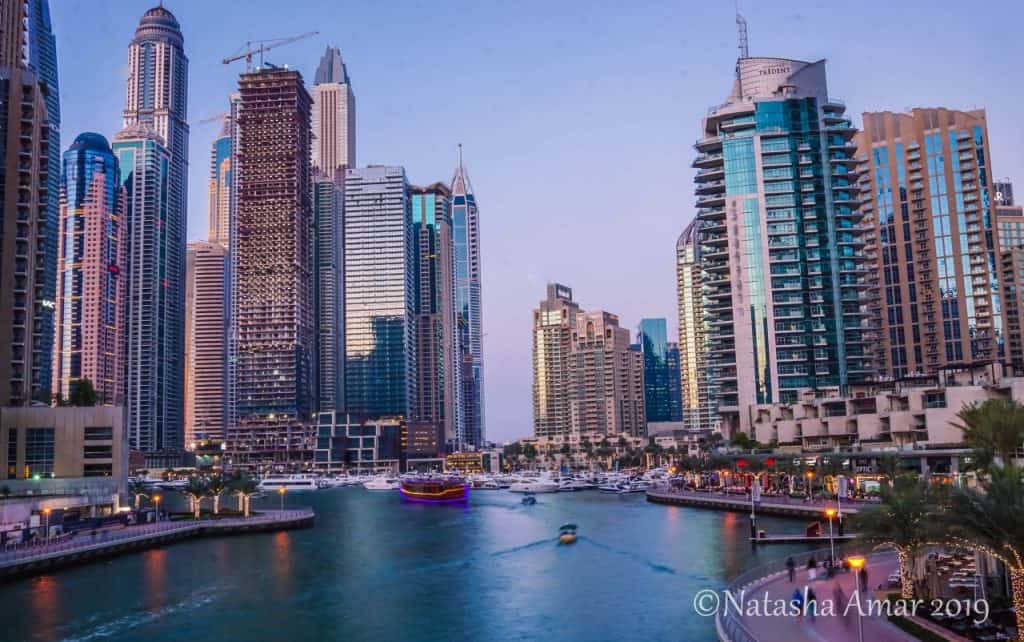 I actually spent a fair bit of time scouting out photo locations in the area for a photography assignment and came to the conclusion that the bridge at Al Emreef St (connecting Marina Hotel Apartments and Dusit Residence Dubai Marina) gets you the best photos, if you're just walking around as a tourist and don't have access to hotel rooftops or one of the skyscrapers.
Location on Google Maps: Al Emreef Street, Dubai Marina
Good Life on a Budget: Pool Days and Pool Passes in Dubai
Pool passes and pool days in Dubai are perfect examples of how us Dubai residents like to live the good life on a budget- we are not all millionaires, you know. Many five-star hotels in Dubai offer day-long pool passes to non-resident guests for a price that sometimes also includes vouchers you can use at the pool bar and restaurant. If you're ballin' on a budget, the key is to look for weekday deals or special ladies' days (if you're a woman) when pool passes tend to be cheapest.
For example, the adults-only WetDeck at the W Dubai on Palm Jumeirah offers sun-loungers for a mere AED 100 on weekdays which includes AED 100 credit that you can redeem towards food and beverages. At that price, you can access their private beach, WETDeck with its pool bar, water loungers, and one of several pools at the hotel. If that doesn't sound like a steal, I don't know what is?!
Another spot with excellent value for money is the gorgeous and upscale WHITE Beach at Atlantis The Palm- a weekday (Sunday, Monday, Wednesday) pool day here costs AED 150 and is fully redeemable on food and beverages, while Tuesdays is Ladies' Day and costs the same, redeemable, along with free-flowing wines and cocktails for ladies!
If you want to hang with the cool kids, head to FIVE Beach- pool passes here cost AED 100 for ladies on weekdays and are fully redeemable, while they're AED 150 for for gents on weekdays, of which AED 100 is redeemable. You get access to their private beach, sun loungers, glass-walled swimming pool, and jacuzzi!
The Ritz Carlton is a family-friendly option that offers pool days for AED 200 on weekdays, of which AED 150 is redeemable.
Rent a Bike & Go Cycling at Mushrif Park
In 2020, Dubai became a city that loves to bike and now you'll see cycling tracks around the city with bike rental shops next to each one. The best part is that it's free to use the tracks and bike rentals are available for as low as AED 30 an hour with further discounted rates for a couple of hours.
In my opinion, the most beautiful and relaxed cycling track is the 10km loop at Mushrif Park. The track takes you on gentle slopes and turns that wind through forested areas, some lush, green residential areas and around the perimeter of Mushrif Park. There's a smaller 4km loop inside the park as well. This track is suitable for beginners as well as advanced cyclists. Rent a bike from the bike shop Al Motamaiez, close to it, or another one around Dubai before you go.
Location on Google Maps: Mushrif Park and Al Motamaiez Bicycles Rental
See a World of Flowers at Dubai Miracle Garden
Dubai Miracle Garden might be one of the most instagrammable spots in Dubai and at an entrance fee of 50 dirhams, I can't really decide if it's cheap, but for what it's worth, it doesn't qualify as expensive either (not if you're just paying for one), so I'll include it in this list and let you decide.
If you're visiting between November and May, then head to the Dubai Miracle Garden to see over 150 million flowers and flower-sculpted arches, palaces, structures, and arrangements that can only be described as fantastical.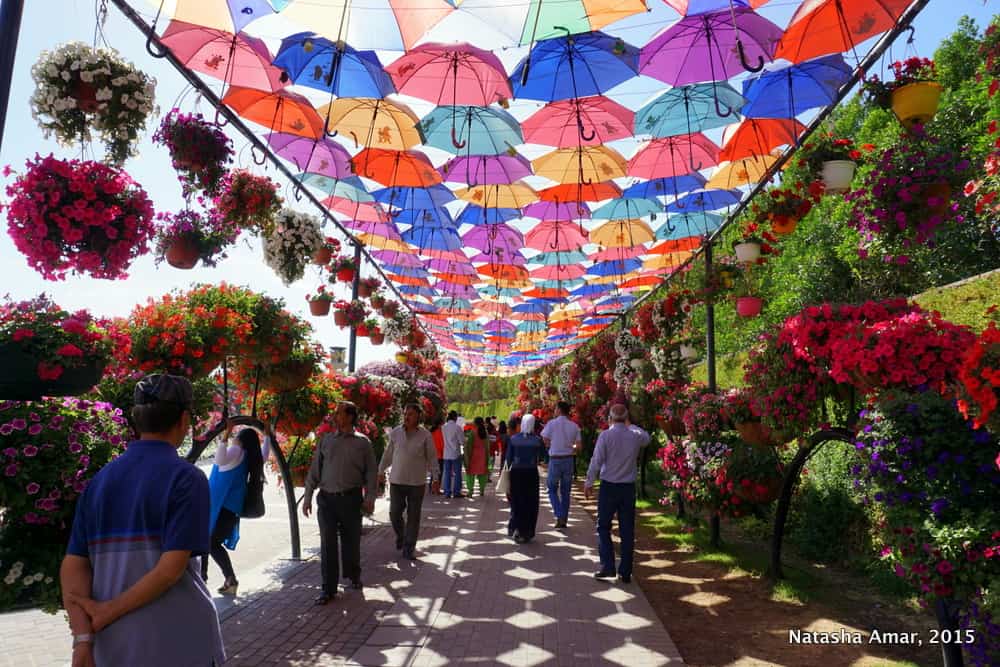 There is a floral clock, sculptures such as an Emirates A380 aircraft and the Burj Khalifa, made entirely out of flowers, giant swans that line walkways, gazebos, mansions, and castles, and a larger than life teddy bear.
Kids and adults will love the Disney Avenue and the incredible 18m high Mickey Mouse that is the world's largest topiary structure. Then of course, there are the insta-famous passages with heart and butterfly-shaped arches and another with colorful umbrellas.
If you like butterflies, you can also check out the neighboring Dubai Butterfly Garden that's home to over 15,000 butterflies. There's a separate entrance ticket that costs 55 dirhams at the time of writing. But, in my opinion the Dubai Miracle Garden offers more value for money.
Tip: There really is a lot to see, so plan a visit taking between 2-3 hours at the minimum. Bring a bottle of water and wear comfortable walking shoes. There are plenty of restaurants and food stalls here, but you can also bring your own food.
Location on Google Maps: Dubai Miracle Garden
Eat on the Cheap in Dubai
So you're visiting on a budget but still want to eat out? Don't worry, Dubai has plenty of options to eat on the cheap, whether it's Indian, Lebanese, Persian or Japanese food. But to be fair, that requires a whole other article- so, what I'll do here is to point you in the general direction of neighborhoods where you're likely to find more options on a budget.
Head to Bur Dubai, Karama, Deira or Satwa- essentially neighborhoods in old Dubai if you want more bang for your buck when it comes to eating on the cheap. Also remember if you want to try Middle Eastern cuisine, then you're in for a treat because Lebanese food tends to be kind to your wallet.
Some recommendations for Middle Eastern food are Al Ustad Special Kebab (legendary Persian kebabs), Aroos Damascus, Al Mallah, Beirut restaurant & grill, Lebanese Village, Zaatar w Zeit, Kris Kros, Sikka Café, and Al Damyati & Iskandaron.
For South Asian cuisine, check out Ravi, Kamat, Delhi Darbar, Jaffer Bhai's, Sind Punjab, Aryaas Veg, Haji Ali Juice Center, Bombay Chowpatty, Rajdhani, Swades, Kulcha King, The Meating Room, Puranmal, Bikanervala, Saravanaa Bhavan, Yalla Momos, Elco Restaurant, and Chicken Tikka Inn.
For Asian cuisine, check out Chin Chin, Eric's, Chowking, Hot Palayok, and Betawi Café.
Google Maps Locations linked above.
Visit Madinat Jumeirah and the Christmas Market
Madinat Jumeirah and its old-world souk is a fantastic place to spend a few hours and take photos. The architecture of the sand-colored buildings that house the souk and hotels here is traditional with wind towers rising up above palm trees along a canal. Wooden abra boats carry people around the romantic waterways for a fee.
This is a great place to visit in the evenings around sunset so you can stay after dark and see how it all looks when lit up. In the souk and along the promenade are many restaurants, bars and cafes, and this really is a great place to enjoy Dubai's nightlife as well. By the way, if you have a reservation at one of the restaurants around the canal, your boat ride is free.
I know you don't think of Christmas markets when you think of Dubai, and that's fair. Our Christmas markets have nothing on European Christmas markets but hey, it's what we have for now, and we make the best of it.
The Madinat Jumeirah Christmas Market that is held for a week in December is the best Christmas market in my opinion. Entrance is free and the market is spread over a large area in Madinat Jumeirah.
There are stalls selling all things Christmas (such as decorations, ornaments, candy, cookies, cakes, and gifts), food stalls selling everything from pizza and chicken wings to doner and hotdogs, and you can also buy mulled wine as well as other drinks.
There are rides and play areas for children, complete with fake snow and the chance to build a snowman or play in the snow. The atmosphere is very lively; dancing Santas take passengers around the brightly lit canals on wooden boats, and fairy lights shine above you as you enjoy the live music and carols.
Considering that this is free to enter, you really should check it out if you're visiting Dubai in December.
Location on Google Maps: Madinat Jumeirah
Free Nightlife for Ladies
Dubai really is a great city for the nightlife, if you enjoy that sort of thing on your travels. If you're looking for places to visit in Dubai at night, there are many many bars and pubs, for every budget and style, and there are new ones opening every day (literally, no exaggeration).
And if you're a woman who likes to go out in Dubai, you're in for a treat because there's a Ladies Night happening somewhere every day of the week.
Many bars and pubs offer ladies between three to five complimentary drinks, or free drinks all night, as well as offers on food on their Ladies Nights.
Yes, that means if you're on a girls' trip, then it can cost you nothing to party it up in Dubai. While most of the Ladies Nights are on Tuesdays and Wednesdays, there are some on other days of the week.
I'll recommend a few especially great Ladies Nights, but check online as well because there are new ones being announced all the time. It's also best to call these bars and confirm before you go, in case of updated events and schedules.
Play Mini-Golf at the Dubai Creek Golf and Yacht Club
A game of mini-golf at the Dubai Creek Golf and Yacht Club costs just AED50 per person at the time of writing. It's a fantastic way to spend an afternoon at what is a beautiful driving range in one of Dubai's most popular golf clubs located by the creek.
Location on Google Maps: Dubai Creek Golf and Yacht Club
Stroll Around Bluewaters Island
Take a stroll along the waterfront on Bluewaters Island and admire Ain Dubai or Dubai Eye, the world's tallest ferris wheel at 210m, which is the crown-jewel of the lifestyle destination. If you get hungry, get a snack at one of the stalls on the waterfront promenade or sit down at one of the restaurants. From there on it's an easy walk to the outdoor retail area where you'll find boutiques, specialty stores, dessert parlors and cool cafes. You can even walk here from Jumeirah Beach Residence by taking the pedestrian bridge.
Location on Google Maps: Bluewaters Island
Visit the Mohammed Bin Rashid Library
The new Mohammed Bin Rashid Library is more than a library, it's Dubai's largest cultural center that fosters education, creativity, and innovation. The architecture of the seven-floored building is remarkable with it being built to resemble a rehl, the traditional wooden book rest used to hold the Quran. There are fantastic views over the Dubai Creek to enjoy while browsing through a vast collection of books in every field and genre.
There are ten main library collections as well as a host of community events. Entry is free and you're allowed to sit in one of the various spaces and read to your heart's content, but be sure to reserve your visiting slot online in advance. It's closed on Sundays.
Take a Day Trip To Wadi Shees
If you've got a rental car in Dubai or can find someone to take you, I highly recommend a visit to Wadi Shees, just a 90-minute drive to the east coast of the UAE. This is an easy day trip from Dubai that should not be missed if you love nature. There's an easy nature trail here that takes you through date plantations and a village, as well as Al Rafisah Dam where you can go kayaking and enjoy a picnic. Read my post about Wadi Shees to plan your trip, and other day trips from Dubai.
Where To Stay in Dubai on a Budget
Dubai can be very expensive during the peak season with hotel prices increasing drastically. For cheap hotels in Dubai, look at options in the older areas of the city such as Bur Dubai, Mankhool, Satwa, Oud Metha or Deira. In new Dubai, there are some budget-friendly hotels in Al Barsha and on Sheikh Zayed Road as well as in Dubai Marina and JLT.
Hostels and guest houses are rare (there's just one hostel I know of and it really just is the bare minimum). Recently, there have been quite a few nice budget hotels that have opened up in the city, and I'll keep adding to this list as I find and hear of new ones.
Read my guide to Dubai hotels and apartments for every budget to decide where to stay in Dubai.
Hilton Garden Inn Al Mina Dubai
Chelsea Gardens Hotel Apartments
Ramada Plaza Jumeirah Beach Hotel
Don't feel overwhelmed while planning your Dubai trip. Join my Dubai Travel Planning Group on Facebook for FREE resources, tips, and updated and new info about attractions and things to do.
What To Pack
Read my complete guide on how to dress in Dubai to know exactly what to wear in different situations and settings in Dubai. You might also be interested in my post about the weather and the best time to visit Dubai to plan your trip.
For the cities: The cities of Dubai and Abu Dhabi have huge expat populations and are essentially very cosmopolitan. It's common for women and men to be dressed as they would be in the Western world. The residents are very fashionable and very rarely do you see people dressed sloppily.
Women wear dresses, jeans, skirts and even shorts and tank tops. That being said, it's best to steer clear of clothing that's too revealing and dressing appropriately (depending on where you are) so as not to attract unwanted attention or hurt the feelings of locals (who're conservatively dressed in keeping with their culture).
So while it's common to see women wearing super short dresses in nightclubs, that isn't the best way to show up at the mall or on the metro. If you're not sure about how much is too much, keep your knees and arms covered and you should be okay.
While visiting a mosque, men and women must cover their arms and knees.
Nicer nightclubs and restaurants require men and women to be dressed impeccably in formals or smart-casuals. Some may not let you enter in T-shirts, sneakers or casual clothing.
Carry a pair each of walking shoes or sandals and something formal/stylish for fancier places.
For the outdoors:
In summer, light, breezy and breathable fabrics are recommended to keep you cool. In winter, a light to medium jacket should suffice.
Swimwear is allowed at the beaches only. Don't expect to cross the street in beachwear or ride the metro to the beach wearing skimpy clothing.
Best Time to Visit Dubai
The city really comes alive between the cooler months of October and April- the best time to visit Dubai. There are tons of outdoor festivals and events, many free to attend. You can actually take advantage of our amazing outdoor spaces such as La Mer, Al Seef, and Kite Beach.
For a full breakdown of weather in Dubai and what to expect, read my guide to the best time to visit Dubai.
Tours in Dubai
Languages Spoken
Arabic and English
In certain areas, you'll also hear a lot of Hindi, Malayalam, Farsi and Urdu, among other languages, because people from the Indian subcontinent and other countries in the Middle East were among the first to have moved to the country for a living.
But almost everyone speaks English, signs and instructions are mostly mentioned in English and you should be okay even if you do not speak a word of Arabic.
The Arabic greeting As-salamu 'alaykum is answered with W'alaykum as-salam. An informal Hello is Marhaba and thank you is Shukran.
Need to Know
Regardless of how modern the cities are, this is still the Middle East- it's important to understand that the culture is different from the west.
So public displays of affection, wandering the streets inebriated, and giving bear hugs to people you're meeting for the second time are big no-nos.
Alcohol is served only at licensed establishments which are usually restaurants, bars, pubs, lounges or nightclubs attached to or inside a hotel.
If you're visiting during the Holy Month of Ramadan, you should be aware of the right etiquette. You can check my guide to Ramadan in the UAE.
Join my Dubai Travel Planning Group on Facebook where you'll find plenty of free resources, practical information and insider tips about cool restaurants, cafes, instagrammable spots, attractions and things to do in and around Dubai.
Looking to book a hotel in Dubai? Check out these great options:
Heading to Abu Dhabi? You might want to check out my post on what to do in Al Ain and the UAE's only wildlife safari on an island.
Have you been to Dubai or do you live here? What would you add to this list?