Don't miss the video of Meteora at the end of this post!
Five hours away from Athens is a landscape that seems right out of another planet. Here karsts rise out of a dense forest, their jagged peaks reaching out to the heavens. As the fog slowly moves to reveal red-roofed monasteries on cliff tops, you cannot help but wonder if there was a mythical giant that placed them there by hand like a couple of Lego blocks. At least, that was my first thought when I saw a monastery in Meteora, a UNESCO World Heritage Site on the mainland in Greece, a country whose appeal is often overshadowed by its glamorous islands.
I almost didn't make it to Meteora, having missed my train from Athens by exactly one minute, so much that I'd seen the train leave right before my eyes. Luckily, a few minutes later, a bus was leaving for Kalambaka, the town at the base of the Meteora rocks which was to be my home for my two-day trip to the region.
About Meteora
Meteora means 'suspended in the air' and it's easy to see where this weather sculpted region shaped by millions of years of complex geological processes such as erosion, flash floods, and sedimentation, gets its name. The fog that envelops the base of the rocks, once home to 24 Greek Orthodox monasteries of which only six remain, makes it seem like the structures are floating in air.
The first hermits to arrive in Meteora around the 9th-10th centuries came in search of a sanctuary that would allow them to disconnect from the rest of the world and focus on achieving oneness with God. The isolated cliff tops, some over 600m high, were ideal. They scaled up the rock faces using ropes and took up residence in humble crevices and hollows, isolated even from each other and congregating only once a week for prayers. The only means of access was by ropes and later by wooden ladders. The first organized monasteries were set up in the 14th-century.
Building the monasteries was no mean feat; it took 20-30 years to pile up the materials on the rocks and another 30 for the monks to build the monasteries themselves. Often a monk who had devoted his entire life to building a monastery would not see it completed in his lifetime.
Visiting from Athens? Here's my guide to the best things to do in Athens.
Exploring Meteora
I explored the monasteries with Visit Meteora over a period of two days and got the chance to see the area on a Sunset Tour and a Half-Day Tour. This was a great experience for two reasons- one, my visit wasn't rushed and I was able to take the time to truly appreciate the beautiful frescoes inside the chapels. I often found myself completely entranced by the deep reds, gold and black paintings and I have to admit I've never seen anything like it ever. The other good thing was that I got to see the area at different times, and the views in the early morning fog, violet sunset, or bright afternoon sunshine, though all incredible, are vastly different. I also found some time to hike in the area on my own from an easy trail that led up to the rocks from my lovely guesthouse.
If you plan on visiting the area, I suggest taking at least two days to tour Meteora, so as not to be totally exhausted or have a rushed visit. It's ideal to join the tours organized by Visit Meteora- the information and stories of local legends are what make the visit a special experience.
The Holy Monastery of Great Meteoron
On my second day, I returned with Vaggelis, my guide, to visit the 14th century Holy Monastery of Great Meteoron, the oldest and most important of the monasteries in Meteora, built on the biggest rock in the area. After a few minutes up the long staircase, my lungs threatened to burst out of my chest. It was hard to imagine that staircases were built to reach the monasteries only in 1921. Before that, the monks would rock climb to the top using ropes and ladders. I distracted myself with the sweeping views of the forest below the gigantic rocks and pushed on.
Inside, crowds weaved in and out of the museum, refectory, carpenter's shop and central courtyard. On display in the halls were Greek Byzantine art, religious icons, manuscripts and other artifacts. The chapels housed within their walls elaborate frescoes unlike I'd ever seen. I headed to the terrace and the view from the highest monastery in Meteora did not disappoint. The charcoal rocks, red-roofed monasteries and emerald forest played a spectacular game of hide-and-seek with the fog that hung low threatening to wash over the view.
Local Legends
Very often, it's the local legends and stories that breathe life into places that have a long history and luckily for us, Vaggelis had many a good story to share. Pointing to a line of scarves hanging on a high crevice, he narrated the story of the Muslim woman who offered her veil in prayer to St. George in the hope that he would save her sick, dying husband. Her prayers were answered, and villagers, even today, in the belief that they are under the protection of St. George, climb up to the rock to offer scarves and have their wishes (often to find a beloved) fulfilled.
The crevice looked anything but safe and I asked Vaggelis if any serious fatalities had occurred. "At least, I haven't heard of any incidents," he replied and I found myself admitting that in a landscape like this, it would hardly be surprising if some mystical forces were at play.
Watch the Video
Want local tips and personalized advice for your trip to Greece? Connect with Luca from Go Ask A Local! He's a local guide based and travel agent based on the island of Sifnos who specializes in island hopping and offers trip planning consultations on Zoom.
Other Monasteries and Places to Visit
Doupiani Hermitage
The Holy Monastery of Varlaam
The Holy Monastery of Rousanou
The Holy Monastery of St Nicholas
The Holy Monastery of St Stephanos
The Monastery of the Holy Trinity
Byzantine Church
Photos from Meteora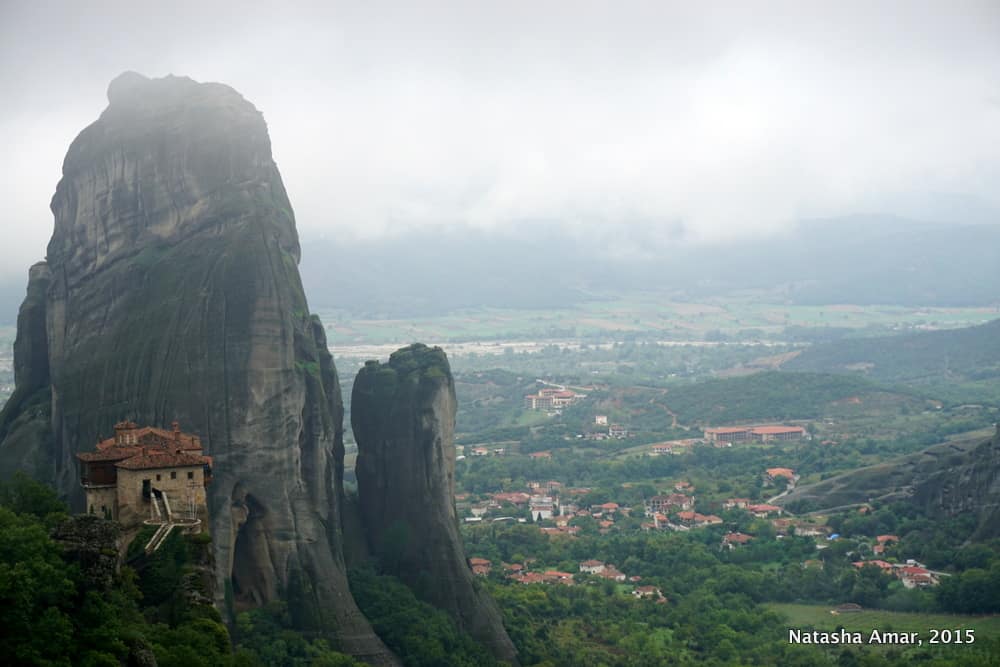 The endurance of the surviving six monasteries, of which two were re-established by nuns after they were abandoned, has paid off. Today, these monasteries are completely self-sufficient, bringing in enough money from tourist entrance fees, donations and sales of souvenirs and other goods like honey. They're able to extend financial assistance to the needy and provide scholarships.
Visiting the monasteries of Meteora feels like stepping back in time by at least a few centuries. The frescoed walls of their chapels portray stories of the pain and suffering of the early Christians, and the dramatic landscape of karsts disappearing into the fog manages to retain the solitude that is deemed essential to spiritual awareness. Whether you're interested in the cultural and spiritual aspect of the monasteries or the sublime beauty of the landscape, Meteora will both surprise and humble you beyond your expectations.
Want local tips and personalized advice for your trip to Greece? Connect with Luca from Go Ask A Local! He's a local guide based and travel agent based on the island of Sifnos who specializes in island hopping and offers trip planning consultations on Zoom.
Tips for Visiting:
Give yourself at least two days in the area. On my first day, the fog was quite heavy, and though it really added to the experience, visiting the monasteries on the second day with better views was something I would not have liked to miss.
Wear comfortable walking shoes, carry a warm jacket as it can get quite chilly (and you'll want to have your arms covered when visiting the monasteries) and a bottle of water. Join a group tour with Visit Meteora so you can get acquainted with the area, and can come back later to explore any sights you may find interesting.
Where to Stay:
The town of Kalambaka is a good place to base yourself for easy access to Meteora (all the tours start here). You can also walk to the Byzantine Church and hike to Meteora independently by an easy walking trail from town. Stay at Alsos House, a family-run budget guesthouse at the base of the rocks, a ten-minute walk to the town center and five minutes to the start of the hiking trail. They offer a variety of rooms- from budget single rooms to nicer family rooms that are spacious and can comfortably fit a family of four. They also provide breakfast, something that may be hard to find elsewhere in the town.
Where to Eat:
For a delicious traditional meal at an unbeatable price and the friendliest service in town, visit Paramithi Taverna. The owner is very warm and makes great recommendations. Don't forget to try Revani, a traditional dessert that will leave you begging for more.
For a mid-day snack or breakfast on-the-go, try the traditional pies at the big bakery in the town center. I ate as many as seven during my two days- that speaks to you not only about my gluttony but also about how amazing they were.
Disclaimer: My visit to Meteora was kindly arranged by Visit Meteora. As always, this post is an honest and independent reflection of my actual experiences.
If you're visiting Athens, you might find my 3-day Athens itinerary useful.
If you like this post, please share it to Pinterest!
Some links in this post are affiliate links. If you book tours or accommodation using them, I get a small commission, at no extra cost to you, that goes towards running this site. That said, I never recommend accommodation or tours that I haven't booked or wouldn't book myself, and spend a considerable amount of time finding the best deals and value-for-money tours and accommodation rates.