That history is the biggest draw of Athens is no secret. The ancient capital where democracy was born has been continuously inhabited for no less than seven millennia.
This historic Greek capital was once home to the world's greatest civilization that gave us theater, philosophy, cartography, the alphabet, and the Olympics, among other things.
So how does one feel when walking through the old neighborhoods of an entire city that has such greatness in its very DNA? Humbled, amazed, and on a hot summer afternoon, sweaty enough to want to seek respite in a corner café and sip on a chilled Espresso Freddo (a delightful Greek invention).
A leisurely wander into less touristy parts of Athens offers an interesting juxtaposition to this historical character of the city center. In our times, Athens is a city that would very much like to be defined by its creative communities, resilience, and entrepreneurial spirit rather than its economic crisis.

Wondering what to see in Athens? Where to begin your 3-day Athens itinerary? The city's markets are busy and bustling, some neighborhoods are quirky, its squares are crowded, and modern life plays out in the backdrop of magnificent reminders of the past.
If you've got just three days in Athens, rest assured, there won't be a dull moment. Put on your best walking shoes and follow this Athens itinerary to see a bit of the old and new over three days in Athens.
MAP OF MY 3-DAY ATHENS ITINERARY (SAVE & SHARE)
Use the map below with all the places in my 3-day Athens itinerary to plan your visit- you can also save it for reference.
Click on the little index icon on the top left to see a list of places and details. You can save this map to your Google maps app and you can also share it with someone if you're planning a trip together.
3 Days in Athens: What To Do in Athens & Places To Visit
With three days in Athens, you can visit quite a few of the city's impressive historical monuments, archaeological sites, museums, bustling markets, lovely parks, and neighborhoods, as well as an island.
Day 1
JOURNEY INTO THE PAST AT THE ACROPOLIS OF ATHENS
Begin your first day at the Acropolis, the most visited monument in Athens and one of the most ancient sites of human civilization in the entire world.
It is described by UNESCO as the symbol of world heritage and looks upon the city from its high location on the Acropolis rock. It is the top thing to do in Athens and the first thing you should do during your 3 days in Athens. In fact, this combo ticket that gives you access to the Acropolis and other archaeological sites is a smart choice for your first day in Athens.
These ancient ruins, testimony to the greatness of ancient Greece, are one of the best places to visit in Athens.
So, expect crowds- a LOT of crowds, and what's the best way to beat them?
Rise early. Get to the Acropolis of Athens as early as you can. Gates open at 8 am.
The complex was built 2,500 years ago as a symbol of the socio-economic, cultural, and political prowess of Athens. It is here that democracy was born.
Parthenon
The most important and impressive monument here is the Parthenon, originally dedicated to the goddess Athena Parthenos.
This is the most photographed monument in the Acropolis and any photos you might have seen of it are likely to be of the Parthenon.
Look carefully and you'll realize that the Parthenon is the inspiration behind prestigious buildings around the world including the White House.
Theater of Dionysus
Built in the 4th century B.C., the open-air Theater of Dionysus which could accommodate an audience of 17000, is the very birthplace of theater. Considering how ancient it is, take a minute to sit on the steps here, as you pass it on your way up to the Acropolis.
Odeon of Herodes Atticus
As you make your way up from the base of the Acropolis, you'll be awe-struck by views over the Odeon of Herodes Atticus, a marble and stone amphitheater from Roman times that has been operating for over 2000 years.
This open-air theater was built between 160AD and 174AD by Herodes Atticus in memory of his wife.
It has undergone several restorations over its lifetime and has hosted concerts by legends such as Pavarotti and Sinatra.
If you visit Athens around the annual Athens & Epidaurus Festival (June to September), it's worth trying to get tickets to concerts, opera, and theater performances during the festival- that should be a must on your Athens itinerary. Imagine what it would be like to watch a concert in an open-air theater where the ancient Greeks once sat.
As you walk around the complex looking at what's left and restored of the other monuments, the Propylaia entrance, Erechtheum and Porch of the Caryatids, Temple of Athena Nike, and Theater of Dionysus you can't help but be struck by the realization.
The citadel has seen it all; glory, gladiatorial fights, wartime plundering, earthquakes, vandalism, and several conversions, with the current structures being used as a Roman cathedral, Frankish palace, Turkish harem, Ottoman mosque, and everything in between, to have survived into our times, a feat that seems nothing short of miraculous.
It is well worth your while to get a guided tour with skip-the-line tickets to the Acropolis.
Acropolis Museum
If there is just one museum you visit on your Athens itinerary, let it be this one.
In the vicinity of the Acropolis, the Acropolis Museum (Dionysiou Areopagitou 15, Makrygianni) houses multimedia exhibits and archaeological treasures; statues, figurines, pottery, tableware, toys, and everyday objects, all offering a fascinating insight into the original features of the complex and ancient Athenian life.
You can also get a guided tour to the Acropolis and Acropolis Museum.
But if you've got more time and are an archaeology buff, it's a good option to visit the National Archaeological Museum. Though it might take a couple of hours, it's worth visiting for artifacts from prehistoric times to late antiquity, sourced from ancient Greek historical sites all over Greece.

LUNCH AT STROFI
If you have just 3 days in Athens, why not make every meal count? Something of an institution, Strofi (Rovertou Galli 25, Makrygianni) opened its doors in 1975 and offers a fantastic introduction to delicious Greek cuisine.
Dignitaries and celebrities, and the likes of Elizabeth Taylor have dined at Strofi.
My top tip for you here?
Have a Greek-style lunch and choose a selection of mezethes (appetizers) to share like smoked eggplant salad, grilled halloumi, baked zucchini, spinach pie, and ouzo-flavored shrimp saganaki.
Still hungry? For mains, choose from one of many meat and fish dishes, grilled, stewed, or cooked in a clay pot.
VIEWS OVER ATHENS AT FILOPAPPOU HILL
It's time to burn those calories with a hike to Filopappou Hill, southwest of the Acropolis. You'll be rewarded with panoramic views over Athens and the Aegean Sea.
On your way up, make a quick stop at the 16th-century Church of Agios Dimitrios Loumbardiaris and Socrates Prison. The Monument of Filopappos graces the summit. Spend a few minutes taking photos of the Acropolis from this vantage point or just appreciating the view.
Visiting Greece on a budget? Here's the most comprehensive guide you'll find to backpacking in Greece.
WANDER AROUND ANAFIOTIKA
In the quiet, residential neighborhood of Anafiotika, at the base of the Acropolis, cats follow you around narrow alleys dressed with fuchsia bougainvillea as you pass by whitewashed stone houses and bright blue doors.
The village-like neighborhood was built by stonemasons who arrived in the 1800s from the island of Anafi in the architectural style they knew best, and the kind you'll find on islands like Santorini and Mykonos, and one that stands out today from the rest of Athens.
A leisurely wander here is one of the best and slightly unusual things to do in Athens.
Keep in mind that this area is mostly residential, so be respectful of the privacy of locals and restrain from invasive photography. To get here from Plaka, you'll have to climb lots of stairs. Geros Tou Moria Tavern is a nice little restaurant here, and there are other cafés around here.
GO SHOPPING AT ERMOU STREET
Go shopping at Ermou Street, a place you'll invariably find yourself in while walking around Athens.
Here you'll find brands like Nike, Zara, and H&M as well as local brands and designers selling everything from apparel and accessories to bags, jewelry, and footwear.
If you've got more time or find some extra shopping time during your 3 days in Athens, check out the streets around Ermou as well.
TUCK INTO SEAFOOD AT VAROULKO SEASIDE
For a special dinner, make your way to Piraeus to dine at the city's award-winning maritime-themed seafood restaurant Varoulko Seaside (Akti Koumoundourou 52, Pireaus) with beautiful harbor views.
This is the first restaurant in Athens to have been awarded a Michelin Star and well-traveled Chef Lefteris Lazarou has cooked for international dignitaries and appeared as a judge on MasterChef.
The restaurant is pricey but you can expect an innovative take on classic Mediterranean flavors and tuck into grilled cuttlefish with feta cheese mousse, squid with pesto, octopus carpaccio, and sesame crusted tuna fillet.

Day 2
For your second day itinerary, put on your best walking shoes and prepare to get a crash course in Greek mythology, see some street art in the modern city, eat at some of the best restaurants, and visit more tourist attractions.
WANDER THROUGH THE CENTRAL MARKET
For a slice of local life, head to the colorful, crowded, and lively Varvakeios Agora (Athinas 42), the central market in Athens where you'll find everything from fresh fruits and vegetables to silvery eel, pink salmon, and fresh clams.
In the meat section, butchers in bloodied aprons call out to you to look at cuts of lamb, pork, and other meat.
There are several shops selling cheese, nuts, dried fruits, spices, tea, and olive varieties, which you're welcome to sample and that make excellent gifts to take back home.
While this isn't a typical touristy activity, it's something I recommend when it comes to what to do in Athens precisely for that reason. In fact, I always visit the central market of every city I'm in and always enjoy the experience.
VISIT THE TEMPLE OF OLYMPIAN ZEUS & HADRIAN'S ARCH
An ancient temple in the heart of a modern metropolis, the Temple of Olympian Zeus, also called the Olympeion, was built over 700 years between 520BC and 132 AD and completed by the Roman emperor Hadrian.
Right in the middle of the city, visiting this temple should definitely be on your list of what to do in Athens.
The temple was dedicated to Zeus, the father of the Olympian gods.
Only 15 of its original 104 Corinthian columns remain and you'll have to use your imagination to visualize the massive gold and ivory statues of Zeus and Hadrian that once stood here.
Another strange but interesting fact about the columns of the Temple of Zeus is that they served as the base for a Byzantine watchtower that was abandoned much later.
In the 1800s, this watchtower was inhabited by Stylite monks who, in search of solitude, made their home on top of tall columns or pillars. Archaeologists are believed to have removed any traces of this from the ruins in 1870.
The neighboring Hadrian's Arch or Arch of Hadrian is a ceremonial marble arch with Corinthian columns, erected in 132 AD to honor the arrival of Hadrian.
It served as an arch that connected ancient Athens to the Roman suburb of Hadrianopolis. The two facades bear the inscriptions above the main arch- on the Acropolis side, "This is Athens, the ancient city of Theseus," and, on the other side, "This is the city of Hadrian, and not of Theseus."
SEE THE ANCIENT AGORA AND ROMAN AGORA
The Ancient Agora of Athens was once the commercial, political, and social heart of ancient Athens- agora means marketplace.
This is where people came together to socialize, buy and sell and engage in daily life outside their homes.
Here, you'll find an archaeological site with ruins, as well as the 1956 reconstruction of the 2nd-century B.C. Stoa of Attalos, a colonnaded building with a covered walkway lined with statues and artifacts, that serves as the museum for the Ancient Agora.
Just across a hilltop location is the ancient Temple of Hephaestus.
Built in 415B.C., the temple which originated as a pagan shrine and later became a Christian church, is one of the most important monuments in the area, considering how old it is.
Another not-to-be-missed archaeological site here is the Roman Agora where an inscription on the Gate of Athena Archegetis states that it was built by Julius Caesar and Augustus in the 1st century BC.
A 3-minute walk away is Hadrian's Library, once the largest library in Athens.
Built by Roman emperor Hadrian to be an archive of major literary works, it was also a place for the exchange of philosophical ideas through lectures.
Other sights around this area include the Byzantine Church of the Holy Apostles and the Turkish mosque of Fethiye Djami.
WANDER AROUND THE OLDEST NEIGHBORHOOD OF ATHENS
Imagine yourself in the footsteps of the ancient Greeks as you take a walking tour of Plaka, the oldest neighborhood in Athens, to see monuments around the Ancient Agora, the central marketplace for the ancient Greeks, and the Roman Agora.
Afterwards, get lost in the cobbled streets admiring the neoclassical architecture, browsing souvenirs in shops selling everything from beautiful gold jewelry to olives and tea, and relaxing in cute open-air cafés.
If you aren't too tired, walk to the Panathenaic Stadium to see the only stadium in the world built of marble. It's where the first modern Olympic games were held in 1896.
TAVERNA LUNCH AT PSARAS TAVERNA
For a typical Greek tavern meal, head to Psaras Tavern (Erechtheos 16, Athens), one of the oldest tavernas in Athens, housed in two mansions on a quiet pedestrian street, a few minutes walk away from bustling Plaka.
While the interior with wooden floors and a fireplace is quite charming, the rooftop terrace is a beautiful spot to enjoy an al fresco lunch.
If you're a food lover, this taverna should definitely be on your list of places to visit during your 3 days in Athens.
For a perfect summertime meal, get a selection of mezze such as tzatziki, fried feta, saganaki cheese, Cretan salad, dolmades, eggplant rolls with goat cheese and tomato sauce, and zucchini croquettes.
For mains, try the shrimps saganaki or mousaka.
GO SHOPPING IN MONASTIRAKI
Spend an hour or two browsing through eclectic finds at Monastiraki Market (Adrianou, Monastiraki)- everything from antique jewelry, vintage clocks, gramophones, bouzoukis (musical instruments) and touristy t-shirts to leather bags and sandals, olive oil soap, and pretty sundresses.
Bargaining is the norm here and there's a flea market vibe here on Sundays.
Afterwards, grab a bite from street vendors and soak in the vibe of modern Athens around Monastiraki Square.
SYNTAGMA SQUARE AND NATIONAL GARDEN
Syntagma Square is the beating heart of modern-day Athens. At its center is a grand neoclassical building that was once a royal residence and today houses the Hellenic Parliament (Greek Parliament).
Every hour on the hour, you can see the Changing of the Guard ceremony in front of the Tomb of the Unknown Soldier, an experience that's likely to be on every list of what to see in Athens.
Just like the Ancient Agora, this square, with its fountain and statues, is the epicenter of modern Athenian social and political life.
The square is where modern-day public protests, rallies, and political demonstrations take place in Athens. It's where you go to people-watch or where you fix a meeting point with your Athenian friend.
There are also other impressive neoclassical buildings in the area.
This is the center of Athens, so it's the perfect place for a bit of a wander.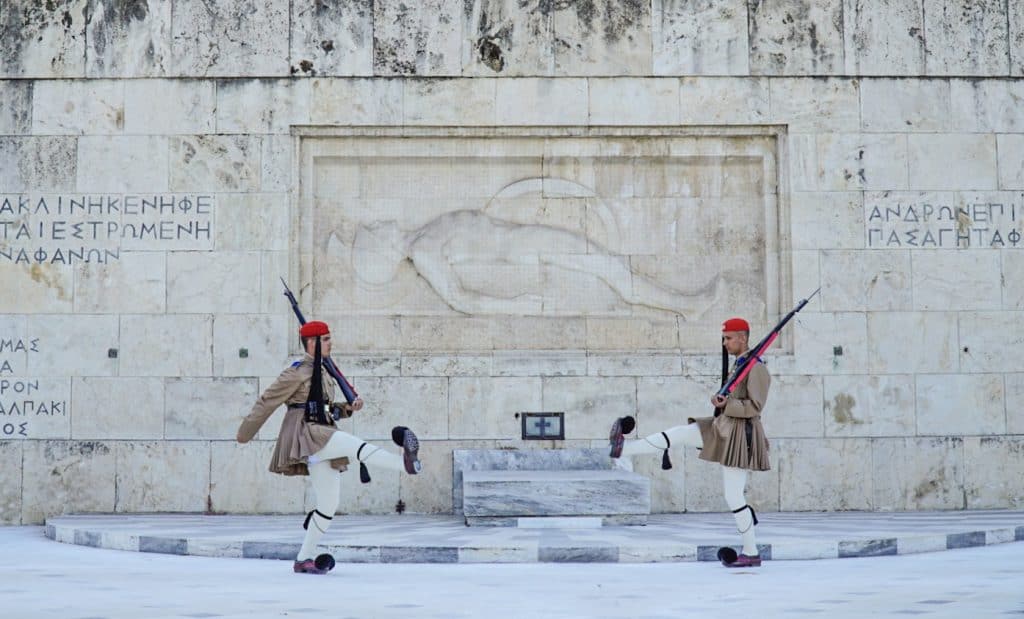 To the right of the Parliament building, the National Garden is a leafy and quiet escape from the business of the square.
There are ponds, shaded benches, plant nurseries, Corinthian columns, and a museum, perfect to slow down for a bit on your busy Athens itinerary.
SUBLIME SUNSET AT LYCABETTUS HILL
If a beautiful sunset is on your list of what to see in Athens, then take the funicular through a cliff tunnel to Lycabettus Hill, a great place to enjoy breathtaking views of Athens and the Aegean Sea from 277m above sea level.
Time your visit so that you're at the summit of Mount Lycabettus to watch the sky turn rose gold around sunset and the Acropolis (and other monuments) light up like an ethereal crown over the city. There's an 18th-century chapel at the top, Agios Georgios.
A TASTE OF THE PELOPONNESE AT MANI MANI
The classic décor, impeccable service, and hearty fare from the Mani region in the Peloponnese are all great reasons to visit Mani Mani which serves up regional specialties in a contemporary setting.
Begin with taramosalata (cod fish egg puree with olive oil), kagianas (omelet with pork sausage and cheese), and refreshing Mani Mani salad.
Choose from mains like hilopites (Greek pasta), lamb with eggplant salad and lentils, and stuffed rooster, among other dishes.
Read more about all the delicious food in Athens.
WATCH THE VIDEO ON YOUTUBE
DAY 3
Most travelers want to visit at least a few Greek islands on their trip but might not have the time. For them, one of the best things to do on their third day is to visit Hydra, an island that's close to Athens and doesn't take too long to reach.
SPEND A PERFECT DAY ON HYDRA ISLAND
If you're short on time on your trip to Athens but still want a taste of Greek island life, do a day trip to Hydra island in the Saronic Gulf, just 1 hour 40 minutes away by ferry from Piraeus port in Athens.
The ferries that come from Athens to Hydra island are hydrofoils, so they're small, fast and transport only passengers.
A day trip to Hydra is the perfect way to relax on your 3-day Athens itinerary, as life feels much slower on this island that feels more remote than it actually is.
The best part about Hydra?
This lovely island with a gorgeous port has a true village-like feel as you move inward, thanks to it being completely car-free.
The main mode of transportation here is by mules or on foot, as well as water taxis which are boats that take you around the coast.
There are several quaint cafés, restaurants, and boutiques all around the port once you step off the ferry from Athens.
Colorful boats bob gently in the harbor and the town monastery's clock tower rises up above the scene.
The views here are just incredible and while you may be tempted to just spend your entire day here, it's a good idea to head into the island to explore- more so, because it has a completely different feel from the busy port area.
Pretty pink bougainvillea spills onto whitewashed lanes and alleys, bright blue doors and windows catch your eye, and friendly Hydriot women with curly gray hair and beautiful smiles wave back at you as you pass by outside their homes, whether on foot or on horseback.
Stone houses with white walls and orange roofs dot the green hillsides that rise up over the pretty blue Aegean.
Instead of going on a tired (and possibly overworked) mule from the port, go horse-riding with Harriet's Hydra Horses, an ethical operation run by Harriet Jarman.
She arrived in Hydra aged 10 on what was supposed to be a two-week vacation with her mum and has called the island home her entire life.
A leisurely horse ride on Harriet's horses (who are well looked after and do limited trips per day), takes you high up to village monasteries and fantastic views over the island.
Take a water taxi from the harbor to sandy Plakes beach and arrive at the Four Seasons Luxury Suites Hotel and Restaurant for a lovely beachfront lunch of fresh seafood.
Creamy taramosalata (fish roe dip), feta, salad, tzatziki, fried calamari, red mullet, grilled octopus, and delicious mussels, along with a glass or two of local wine.
Afterwards, head to the pebble beach, cherish how the foamy waves feel on your feet, and take a dip into the clear, calm waters of the Aegean.
If you have more time to spend on the islands around here, here's a detailed itinerary for the Saronic Gulf.
MORE DAYS IN ATHENS
Got more time in Athens? If you're spending more than 3 days in Athens, I highly recommend going on an Athens Food Tour and spending a day or two in Meteora.
GO ON AN ATHENS FOOD TOUR
I've done food tours in several cities around the world including Athens.
This is what I love about them: you get to visit places that you otherwise would not think of visiting because they're so non-touristy.
You eat with a local expert and learn about the stories of food, dishes and restaurants.
You learn what and what not to order, you get tips on other places to eat at for the rest of your stay, and most of all, when you eat with a local expert, the conversation flows from food to politics, society and more.
On this Athens food tour, you'll visit a local market, try local desserts, visit the oldest café in Athens, go to a neighborhood bakery, and have a delicious and authentic meal.
All while seeing a bit more of the city with a local. Highly recommended for food-related things to do in Athens.
SEE THE MYSTICAL MONASTERIES IN METEORA
If you're spending more days in Athens, like 5 days to a week, then I highly recommend visiting Meteora, just a 5-6 hour journey from Athens by bus or train.
At this UNESCO World Heritage Site, ancient monasteries with red roofs stand perched on jagged cliff edges and hiking trails bring you to jaw-dropping views.
You can take a day trip to Meteora from Athens visiting by train.
You could also base yourself for a night in the town of Kalambaka, and spend an entire day visiting these ancient and beautiful monasteries and enjoying breathtaking sunset views. Or take this sunset tour to Meteora.
Meteora still remains a lesser-visited part of Greece and that, among other things, makes it very special. Read my post about Meteora here.
HOW TO GET TO ATHENS
Oman Air and other international airlines operate flights to Athens with increased frequencies in the summer.
HOW TO GET AROUND ATHENS
When sightseeing in Athens, it's easy to walk around the main sights. The walk is quite lovely through the city's historic neighborhoods and cobbled narrow streets.
For public transportation, take the metro. While visiting the main attractions, you're never too far from a metro station.
Plus it's quick, affordable and you'll skip traffic. The metro runs from 5 am till midnight, with some lines operating until later on weekends.
There are also buses and trolleybuses connecting various parts of the city.
There is one ticket that works on all public transportation (except to and from the airport). A single one costs 1.40EUR and is valid for 90 minutes, a day pass costs 4.50EUR and allows for unlimited travel over 24 hours, and a 5-day ticket costs 9EUR.
If you're spending just 3 days in Athens, then the 3-day Tourist Ticket costs 22EUR and is good value for money. Not only is it valid for unlimited travel on public transportation over 3 days but also includes a round trip from Athens International Airport.
To get from Athens airport to Athens city center, use the Airport Express buses that operate 24-hours. These buses connect Athens International Airport with Syntagma Square, Piraeus port and the Intercity Bus Terminal. If you'd rather arrange airport transfer by car, then Welcome Pickups are a trusted service that I use when I want to make arriving into a new city easier after long flights.
A ferry gets you from Piraeus in Athens to Hydra Island, book your tickets here.
ATHENS SIM CARD
SIM Cards are available at the Vodafone kiosk in the Arrivals area of Athens International Airport.
There are different price options depending on whether you want just data or both data and calls, and how long you're staying.
Traveling around Greece? Read my post about how to spend 2 days in Mykonos here.
WHERE TO STAY IN ATHENS
Athens offers accommodation options ranging from trendy hostels and cool boutique hotels to luxury hotels. Look for options here.
Hotel Grand Bretagne is the most luxurious hotel in Athens housed in a historic property from the 1800s. The hotel has had a past that is anything but ordinary.
Over its lifetime it has been the headquarters of the Third Reich during the Nazi occupation, a place for diplomatic negotiations, and has hosted other important political events over the years.
With its rich heritage, stately interiors, and impeccable service the hotel has hosted royalty, dignitaries, and celebrities such as the likes of Elizabeth Tayor, Sophia Loren, Sean Connery, Bruce Springsteen, and Jay-Z.
The Roof Garden Restaurant offers amazing rooftop views of the Acropolis and Syntagma Square. Book your stay here.
WHEN IS THE BEST TIME TO VISIT ATHENS?
The best time to visit Athens is the spring months of March to May and the fall months of September to November. During this time, the sites and attractions are not as crowded as in the summer months and hotel prices are more affordable.
It can also get really hot in summer. It's no fun getting to the top of Acropolis Hill or spending full days outside when you're soaked in sweat and feeling dizzy from the heat.
HOW MUCH TIME DO YOU NEED IN ATHENS?
While 3 days is a good enough time to see Athens, I'd always recommend anyone visiting to do so with an itinerary. Whether you like historical sites, archaeological ruins, or are more interested in modern Athens, or the food scene make a list. You know, so you're not running from museum to museum, like a headless chicken.
Is 2 days in Athens enough?
Two days can be a decent amount of time to see historical sites, archaeological ruins, musuems, and try a little bit of the local food, if you're willing to have active days and a packed itinerary.
Additional Reading
I visited Athens and Hydra as a guest of Oman Air. All opinions, as always, are honest and independent.
This post contains affiliate links. For any bookings made through this post, I may earn a small commission at no extra cost to you.
Have you been to Athens or are you planning a trip? How long will you be staying? If you've been, what was your favorite thing to do in Athens?