By Guest Contributor Campbell
Largest of the Greek Cyclades, the most popular group of islands in Greece, yet one of the most underrated islands in the South Aegean Sea, Naxos is a must-visit destination if getting some quality beach time is a must while on vacation. Spanning just over 400 sq. km, Naxos is the perfect, peaceful seaside escape to get away from city life – and it also has some of the best beaches in the Cyclades- complete with golden sandy beaches, some sheltered in hidden coves and crystal-clear turquoise waters.
The geography of the island makes Naxos ideal for pretty much any traveler, regardless of their taste in adventure. The tallest point of this ancient, volcanic island makes it a hiker's paradise.
Want some adventure? The incredible choice of water sports available around the island will satisfy any adrenaline junkie.
Like a slower pace to relax at? The perimeter of Naxos is made up almost entirely of pristine, golden beaches, so you're sure to find your own slice of paradise.
While there are plenty of organized beaches in Naxos (with umbrellas, sunbeds, changing facilities and tavernas and bars), there are also many unorganized ones, which means that they have no facilities, but that also means they're likely to be way less crowded.
Whatever way you look at it, Naxos it the ideal destination for your next trip to beautiful Greece. Discover the best beaches in Naxos with this list.
What to Do on Naxos
So, what is there to do in paradise, you know apart from becoming mesmerised by the gorgeous blue waters and hopping between the best Naxos beaches? Well, you'll certainly not find yourself short of things to do around the island of Naxos.
Catch a bus into the Port of Naxos and browse the cute shops filling the winding cobbled streets. Swim with the fish with a spot of scuba diving in the clear, warm waters. Or simply unwind on any of the 30+ beaches that Naxos has to offer!
How can you possibly decide on what beach to go to?! Well, here is our list of the very best beaches in Naxos to get you started.
The Best Naxos Beaches
Map of the Best Beaches in Naxos
Agios Georgios
Being closest to Naxos Town, Agios Georgios is definitely the most popular choice for tourists when it comes to beaches in Naxos. Having said that, there is still plenty of room for everyone to enjoy the sandy beach, with loads of bars, tavernas and cafe to relax at with a cold beer.
This beach is organized with sunbeds and umbrellas that you can rent from the tavernas. The shallow water here makes it great for families with young children. You'll also find plenty of watersports here such as windsurfing, jet ski, canoes, and banana boat.
Wander from here to the town centre and discover the cute shops scattered around its winding streets.
Explore the ancient Apollo Temple and be enchanted by the incredible story behind it. In 530BC, the rulers decided they wanted to build the most magnificent building in all of Greece. Upon the commencement of its construction, war broke out between Naxos and its neighbouring island, Samos. Work immediately stopped, and what was intended to be a temple over 30m tall sits today as a simple doorway, the Naxos Portora.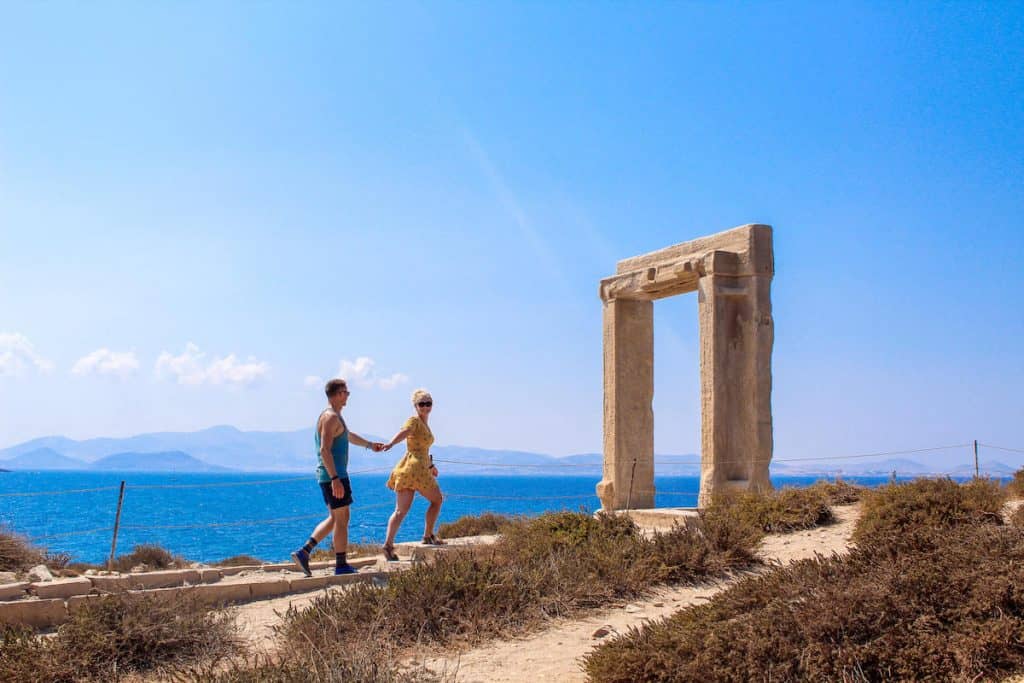 How to get to Agios Georgios: You can walk here from Naxos Town in about 20 minutes.
Laguna Beach
A popular beach for beginner windsurfers, this sheltered lagoon 3km south of Naxos Town provides the perfect protection from the open sea. It is also relatively flat due to the land barrier, so it is quite common to see stand-up paddle boarders out on the waters. The drive past here is stunning, with a dried-up lagoon on the left and the blue waters on the right. Pull over and explore the area before moving on!
How to get to Laguna Beach: Drive here or take the bus from Naxos Town to Agios Prokopios and then walk about 30 minutes to get here.
Agios Prokopios
Located 5.3km from Naxos Town, Agios Prokopios is a very popular beach in Naxos, even for Greek vacationers, because it's exceptionally beautiful. Think a postcard-worthy sunbleached stretch of soft, golden sand hugged by turquoise waves from the Aegean. Plus this long beach is organized with sunbeds and umbrellas as well as watersports, so there's plenty of room even when it's crowded.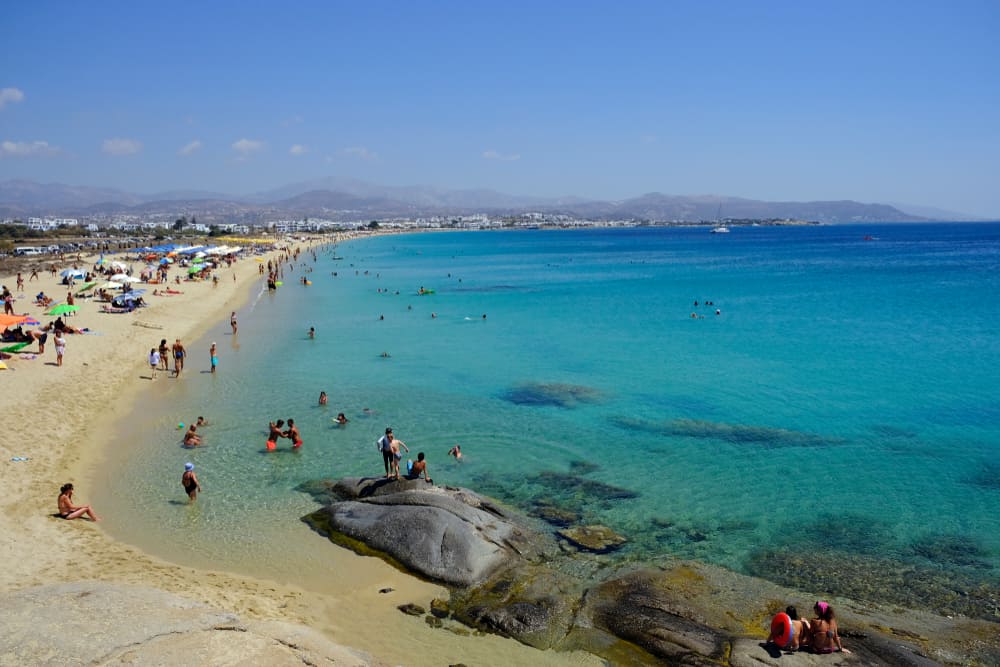 Surrounded by bars, shops and taverns, there is so much to do on this stretch of golden sand. You will find everything you need here, from delicious local cuisines to fresh cocktails and chilled beers!
How to get to Agios Prokopios: You can get here easily by bus from Naxos Town in 40 minutes.
You can go island hopping in Greece; ferries operate between various Greek islands. Schedules are seasonal, so it's best to check online and book in advance (at least a month during peak season).
Agia Anna
Possibly our favourite beach, Agia Anna sits just a short 15-minute walk from Maragas Beach and a 1km walk from Agios Prokopios beach. This dockside stretch of golden sand was our favourite spot for relaxing in the warm, clear and shallow waters.
There are sun-loungers on the northern end of the beach, as well as bars and restaurants, however the southern end is unorganized and is perfect for a dip in quieter surroundings.
Agia Anna isn't nearly as crowded as other more popular beaches, so it's a favourite of nudists. The clear, shallow waters also make this beach great for snorkelling and families with young kids.
Take a wander up the hill and discover the cute church at the top, with spectacular views over the water to Paros.
How to get to Agia Anna: You can take the bus from Naxos Town to get to Agia Anna in about 30 minutes.
Maragas Beach
Right on the doorstep of the Maragas Beach Campsite, 7km south of Naxos Town, you'll find sun loungers, bar service, incredible views of the Aegean and the relaxing sound of crashing waves on the soft sandy beach. There is a lifeguard on duty here and a supermarket just seconds away, so bring the family and enjoy the water. Head here around sunset for an extra special end to your perfect day in paradise!
How to get to Maragas Beach: You can get to Maragas Beach by bus from Naxos Town in about 30 minutes.
Plaka Beach
What used to be just another nudist beach, is now one of the most popular beaches in Naxos. This has forced the local nudists off to one end during the high season. No worries however, as Plaka Beach stretches on for a massive 4km of soft and fine sand and pretty blue water, meaning everyone can find their own spot to relax.
This beach is family-friendly, has a laidback vibe and is organized- so you'll find sunbeds and umbrellas, and restaurants and cafes in case you get hungry.
If you head to the western end of the beach you will find Plaka Watersports, where you can get your adrenaline fix with some windsurfing or a ride on a banana boat.
How to get to Plaka Beach: You can get here by bus from Naxos Town in about 40 minutes.
Traveling around the Greek islands? Here's how to spend 2 days in Mykonos
Mikri Vigla
Situated further south, about 11km from Naxos Town, Mikri Vigla is much more isolated from the other beaches. The northern end of this quiet beach called Parthena is an adrenaline-seeker's or an action photographer's paradise- as it is one of the most popular beaches in Naxos for kitesurfing and windsurfing, as well as other watersports.
The other end, called Limanaki, with shallow waters and white sandy beaches is sheltered, so it isn't as windy and is perfect for families or couples to relax in. The beach is organized and you'll find restaurants serving food and drinks.
How to get to Mikri Vigla: You can get to Mikri Vigla from Naxos Town by bus in 45 minutes.
Orkos Beach
Adjacent to the hugely popular Plaka Beach, the family-friendly Orkos Beach is one of Naxos' hidden gems. Consisting of multiple coves, separated by rocky outcrops, Orkos offers a much more secluded and smaller beach with incredible natural beauty.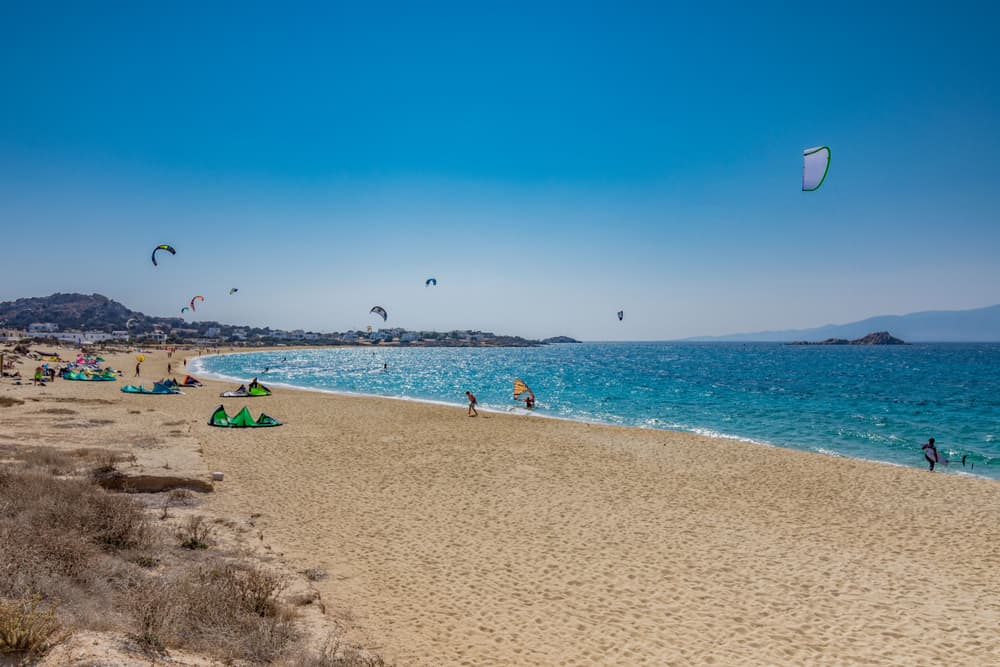 Orkos Beach is unorganized- so you won't find sunbeds and restaurants here. There are no lifeguards on duty here, however if you want to swim safely, Plaka Beach is just a short walk away.
How to get to Orkos Beach: You can easily walk here from Plaka Beach or take the bus to Mikri Vigla from Naxos Town and then walk for a few minutes to get here.
Sahara Beach
Next to the action-packed Mikri Vigla beach, Sahara beach is more suited to sun lounging. This is thanks to the jagged cliffs protecting it from the wind, so come here and relax on the golden sand. It is rated as one of the top beaches for snorkelling and is quite child-friendly, as it remains shallow for about 40m.
How to get to Sahara Beach: The nearest bus connection is Mikri Vigla beach.
Kastraki Beach
One of the most secluded beaches on the island, 16km south of Naxos Town, Kastraki Beach, with its turquoise waters and sand dunes, is home to only a couple of taverns and hotels. This means during the off-season you are pretty much likely to have it almost all to yourself, as there are little to no other visitors.
This beach is mostly unorganized but there are just a few sunbeds and umbrellas, so it's best to bring your own towel to lie on or your own chairs.
How to get to Kastraki Beach: You can take the bus from Naxos Town to get to Kastraki in about 30 minutes.
Aliko Beach
Situated 17km south of Naxos Town, Aliko Beach is one of the quieter beaches in Naxos, thanks to it being unorganized (no sunbeds, umbrellas, and restaurants etc). With soft sand and clear water, and with stretches of the beach sheltered in rocky coves, Aliko is perfect for snorkelling. The privacy of coves also makes this beach popular with nudists.
Given its isolation, this beach has a much more unspoilt feel to it with sand dunes and cedar trees, so if you're into that sort of vibe, we highly recommend visiting. Remember to bring water and snacks; the nearest restaurant is 1 km away.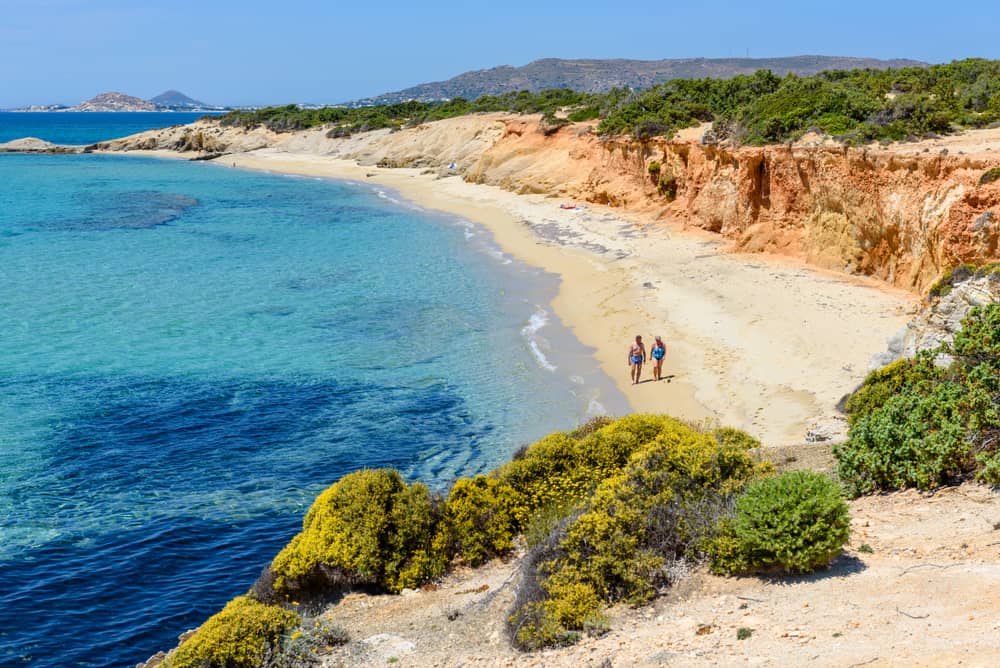 There's a cedar forest in the area if you feel like stretching your legs. The best part however, sits at the top of the hill, in the form of an abandoned hotel complex. Investigate the half-built ruins decked up with graffiti.
How to get to Aliko Beach: You can get here by bus from Naxos Town in about 55 minutes but there's only bus a day at the time of writing.
Pirgaki Beach
Situated on the southwest corner of the island, lesser-known windy Pirgaki Beach is a hit with windsurfers. This beach is not an organised beach, so there are no sun loungers to rent, however, there are a few resorts, restaurants, and bars just a short walk away. As it's a bit further away, it's not as crowded as other more popular beaches.
How to get to Pirgaki Beach: You can get here by bus from Naxos Town in about 40 minutes but buses are not as frequent.
Overall, Naxos is one of our favourite beach spots in Europe. It offers thrilling water sports, stunning beach views, delicious food and unbelievable sunsets, without the crowds of more popular Greek islands. We highly recommend choosing Naxos for your next Greek beach holidaye, and make sure you send us some beachside photos when you do!
How to Get to Naxos Island
Getting to Naxos could not be simpler, with ferries running daily from the port of Piraeus, situated just 30 minutes from Athens. Ferries run to and from the island of Naxos twice a day, offering one-way tickets from just €20. Unwind and enjoy a Greek lunch on this five-hour crossing, as you drink along the incredible island views.
Book your ferry here or search below:

How to Get Around Naxos
While having your own rental car gives you plenty of flexibility to get around Naxos, you can also get around by public bus that connects Naxos Town (Chora) with the villages and the best Naxos Beaches.
Where to Stay on Naxos
The next important question is of course, where to stay on Naxos? There are plenty of options to stay at in Naxos, with plenty of beach resorts, beach hotels and beachfront apartments, whatever your budget. Consider one of the below recommendations or book your stay here.
Budget Stays on Naxos
During our visit to Naxos, we stayed at the incredibly underrated Maragas Beach Campsite. For a very reasonable price, you can rest your head just 200m from the crystal waters of the Aegean Sea.
Not a fan of camping? Not a problem, as Maragas Camping & Studios offers both Glamping options and even Private Villas to rent. With a supermarket selling ice-cold beers on its doorstep and a discount at the local restaurant, Maragas Camping & Studios is the perfect spot to stay.
Other budget stays on Naxos are Hotel Semeli Naxos Island, Camara Hotel and Ioanna Apartments Naxos Island.
Mid-Range Stays on Naxos
Luxury Stays on Naxos
Before You Go
Looking to book your next trip? Check out the following services I use:
Additional Reading:
Author Bio: We are Gemma and Campbell, a Scottish couple travelling the world as cheaply as possible. After living in a tent for 4 months during the summer of 2018, we realised how possible it is to explore pretty much anywhere on earth on a budget. We love sharing this passion for budget adventure travel with the world, and hope to inspire everyone to ditch the traditional, expensive, four-walls and a roof holiday, and instead do something you will remember; Minimise the cost to maximise the experience! Come and follow our budget adventure!
This post contains affiliate links. If you make a purchase using these, I might get a small commission with no extra cost to you, which goes towards running this site.