What really makes a travel experience, whether it's a hotel stay, a tour or an adventure of another kind truly memorable? If I were to answer this question, I'd say without a doubt, it's almost always the people.
While I was well aware that the beautiful (and very commercial) island of Mykonos is no stranger to ultimate luxury, with suites that come with private pools, Jacuzzis and other indulgences, I did not imagine that one hotel would stand out so much for its people. After all, luxury hotels can often be very comfortable but a little impersonal.
Just ten minutes away from the Old Town in Mykonos, the very elegant Bill & Coo Suites and Lounge manages to stand out in a crowd of luxury hotels, not only for its dreamy sunset views, but also for its warm and friendly service that makes you feel as though you're a regular and Bill & Coo is home.
Read my post on the very best things to do in Mykonos.
Location
Looking over Megali Ammos bay and just a pleasant ten-minute walk to Mykonos Town, Bill & Coo Suites and Lounge is a good choice if you want easy access to the old town where you'll want to spend at least a few evenings if you're visiting Mykonos for a couple of days. You can also walk to Megali Ammos beach, but it might be hard to leave the picture-perfect pool that overlooks the bay. The hotel also provides transfers to Mykonos Port and Town.
Welcome
The welcome was both warm and quick. We were seated at the beautiful poolside lounge and served refreshments, and were checked-in in about five minutes.
Suite
White themes are characteristic of luxury hotels in the Cyclades and Bill & Coo Suites & Lounge is no exception. However unlike the traditional décor of other hotels, Bill & Coo has a refreshingly modern feel that combines understated luxury with smart and elegant features and amenities. Our suite was bright and spacious, with a living area, a king-sized bed and a separate bathroom and shower area, which due to its size, was super comfortable for two people to use at a time. I loved the layout of the suite- it was both simple and worked very well to lend an open and airy feel to the space. The area outside the suite looked over Megali Ammos bay and was perfect to lounge around in.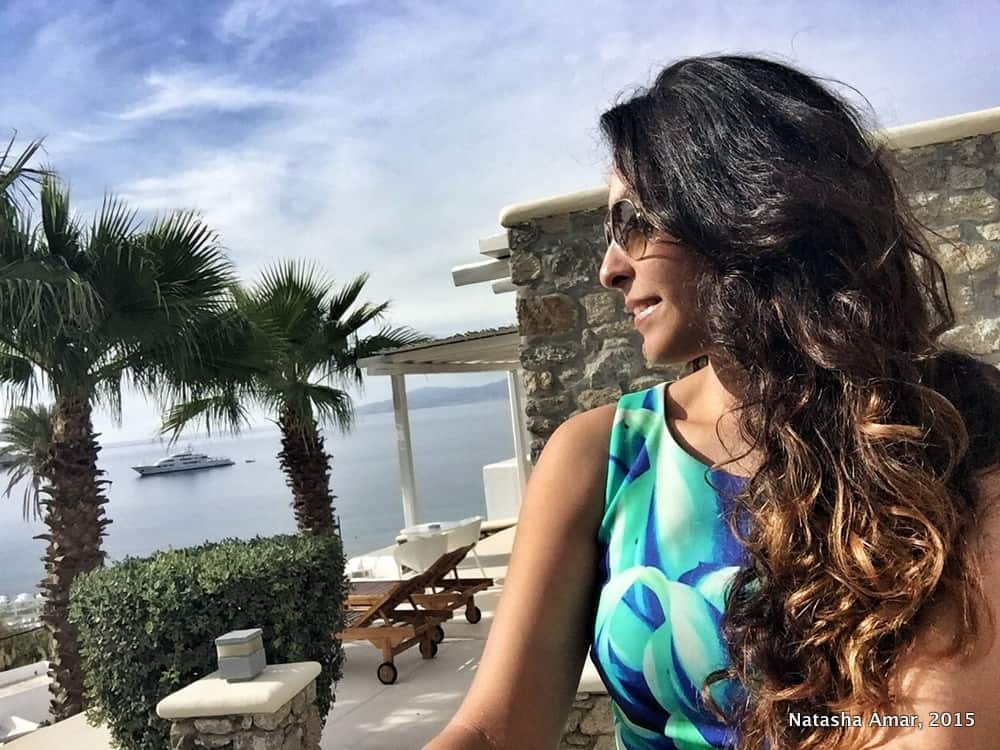 Swimming Pool and Lounge
The poolside lounge at Bill & Coo Suites is where the real magic happens and it's hard for me to believe that there's a more romantic place on Mykonos to watch sunsets from. The sleek infinity pool looks over Megali Ammos bay and just gets better as the sun moves across the sky through the day. As shades of orange, pink, and purple slowly spread across the sky, mirrored in the ripples of the pool, we witnessed our most magical Greek sunset over glasses of wine.
By night, the pool lights up with thousands of twinkling starlights, and it's almost like being in a fairytale. It took a long time for us to tear ourselves away from this setting and head into town for more drinks and dinner.
Dining
The gourmet restaurant at Bill & Coo boasts an unbeatable setting by the pool and culinary perfection by award-winning chef Athinagoras Kostakos, and hosts a number of gastronomic events through the year.
Breakfast
Our breakfast here was a la carte from an extensive menu of Mediterranean goodness that had us utterly spoilt for choice. Our breakfast of scrambled eggs, grilled feta and cherry tomatoes, spinach pie, yogurt and honey was our absolute favorite breakfast in Mykonos. I prefer a simple breakfast where everything is delicious over a buffet where you may have a wider choice but not everything tastes great.
Service
Without a doubt, if I ever find myself planning a trip to Mykonos again, Bill & Coo Suites is the first place I'll check for availability. And this isn't because the suites are comfortable or the pool is insanely gorgeous. It's because the service is incredible. Whether it was staff at the reception, lounge or housekeeping, everyone was very courteous, warm and just very pleasant to be around. The emphasis on making guests feel at home and truly comfortable is unmistakable throughout the property and this made a huge difference to our stay. Here are some of the things that stood out for us:
Every suite at Bill & Coo Suites & Lounge comes with a mobile phone that can be used to call the hotel from anywhere in Mykonos. The hotel tries to provide as much assistance as possible in case of guest requests. To me, this is going over and above the realm of regular services and is a great indicator of just how service-oriented Bill & Coo really is.
The demeanor of staff is impeccable and very warm. At the restaurant, we were given excellent recommendations and were served breakfast with so much love, it was almost like being a guest in someone's home.
At the end of our stay, we were dropped off at the port by a member of staff who walked another five minutes to wheel our bags all the way to the terminal! This was in spite of us reassuring him we could manage by ourselves. We have never experienced service like this in Greece and thought it was very nice of him.
Other Facilities
A gym and massage room is available for workouts and a range of massage therapies.
Who's It For?
Bill & Coo Suites and Lounge is both romantic and quiet, making it the perfect choice for couples and mature guests and groups. It's for people who appreciate minimalist elegance over over-the-top luxury, and would like to base themselves close to Mykonos Town but far enough to enjoy the tranquility of the island. Bill & Coo Suites and Lounge is a member of the Small Luxury Hotels group.
How to Get To Mykonos
You can take a ferry to get to Mykonos; ferries operate between various Greek islands and also connect Mykonos to Athens and Santorini. Schedules are seasonal, so it's best to check online and book in advance (at least a month during peak season).
Watch the Video
Watch the video from our stay at Bill & Coo Suites and Lounge to see just how magical the pool setting is and how perfect the sunsets are in Mykonos.
Disclosure: We stayed as guests of Bill & Coo Suites and Lounge. All opinions are honest and independent.
You can connect with Bill & Coo Suites and Lounge via their website, Facebook, Twitter and Instagram. Visiting other islands in the Cyclades. Read about Andros (for history and culture) to plan your trip.
Check out my post on the best things to do in Athens.
This post contains affiliate links. If you make a purchase using these, I might get a small commission with no extra cost to you, which goes towards running this site.