By guest contributor Jessica Lippe
Thessaloniki, the second-largest city in Greece, is a beautiful town near the Aegean Sea with historic towers, ornate orthodox churches, interesting art, ancient ruins… but I was surprised to find no beaches! Despite being situated on the Aegean Sea, this Greek Macedonian city only features boardwalks on its waterfront. If you find yourself in Thessaloniki but craving a day at the beach, never fear. There are many fantastic beaches near Thessaloniki, located in nearby towns and gorgeous seaside villages, just a short drive away.
The beaches closest to Thessaloniki are located in the resort towns of the Thermaikos Gulf. You can get to these either by bus from Thessaloniki or by boat. They're organized beaches where you'll find sunbeds, changing facilities and umbrellas, as well as tavernas and beach bars. Peraia, Neoi Epivates, Agia Triada and Epanomi are some beaches here. On the other side, the villages of the Strymonikos Bay along the Strymonian Gulf also offer beautiful beaches such as Vrasna, Stavros and Asprovalta.
Further away, lie the beaches of Halkidiki on a three-pronged peninsula, that have always been a favorite for Thessalonians, even though they take slightly longer to get to.
This Macedonian region of Greece has plenty of beaches proud of their Blue Flag Award. The Blue Flag Award is given to the best of the best beaches in the European Union. Beaches with this honor usually say so on a sign near the beach's public entrance. That's just another reason to enjoy Thessaloniki's water and enjoy some quality beach time when in Thessaloniki. Climb the White Tower to get a view of the sea, join one of the half-hour boat rides, and then head out of the city limits to one of these beaches near Thessaloniki.
Map of Best Beaches Near Thessaloniki
Best Beaches Near Thessaloniki
Kalamaria
This borough holds one of the closest beaches to downtown Thessaloniki. Although driving may be faster, you could even take an hour-long walk to Kalamaria from your Thessaloniki accommodation. If you're traveling between the airport and Thessaloniki, you can even stop in Kalamaria along the way.
Deauville Coast is a cozy beach with a playground, picnic tables, and a small sandy area with swimming opportunities. From there, you can continue walking south along the shore, passing seafood and other beach-inspired restaurants and shops, until your reach the Thessaloniki Nautical Club.
Besides boating, fishing is another popular activity around here. You can't go much further south on foot due to the naval base, but if you circumvent that, you can find more marinas and historic landmarks, and beaches. For more beachside parks and public spaces, check out the Nea Krini district of Kalamaria.
Peraia
From the Thessaloniki airport, head southwest to get to the small town of Peraia (about 17km away from Thessaloniki). Here the entire coastline is made up of sandy, albeit often narrow, shoreline. Peraia has prioritized creating pristine walking paths along the Thermaic Gulf. While arriving by boat is an option (from the pier in Thessaloniki), you can also get to Peraia by bus from Thessaloniki.
Outside of restaurants and other tourist attractions, there are often lounges, tables, and shaded areas on the beach. If you'd rather not dine with them, of course you can always bring your own folding chair or beach blanket to sit on underneath the olive trees that line the border between the pedestrian path and the sand, or make use of the public benches that overlook the blue water.
The nightlife here in Peraia is quite lively, and so this town is very popular in summer. The beach here is one of the more popular beaches near Thessaloniki.
Neoi Epivates
Peraia's coastal walk seamlessly flows across the border into Neoi Epivates. The best place in Neoi Epivates for beach activities is the downtown beach with the surrounding seaside restaurants, marina, and El Bandana Beach Volley Club.
The public square across the street offers nearby shops, cafes, and accommodations. If you're into people-watching, this larger beach is where to go. Like its neighbors Peraia and Agia Triada, there are plenty of taverns and restaurants where you can get a table and umbrella on the beach for the price of food.
No plans after Thessaloniki? Why not visit the beautiful clifftop monasteries of Meteora?
Agia Triada
Head to Agia Triada, 20km away from Thessaloniki, for more beach time along the Thermaic Gulf. You can get here by bus from Thessaloniki- buses leave every half hour.
There is a small Memorial Park and playground that overlooks the sea at Agia Triada. One of the best seaside sites in Agia Triada is Chapel of Holy Trinity, a cute little Greek Orthodox church that features in many Agia Triada photos. Other than the aforementioned locations, the beach is mostly taken over by a variety of beach bars and restaurants. Enjoy the beautiful waters here and grab a spot on one of the sunbeds on the beach.
Epanomi
Just a short drive south of Peraia, Neoi Epivates, and Agia Triada is the town of Epanomi, some 25km south of Thessaloniki. Despite being a popular vacation destination for Greeks, most of the city is located inland and its vineyards are a main attraction. However, there are also several beaches just a short drive away.
Paralia Epanomis is the coastal area that has several beaches, restaurants, and a marina. This is also a good place to find a place to spend the night for a quick getaway from Thessaloniki. That way, you could explore Paralia's beaches on foot.
If you only have time to visit one beach here, Epanomi Beach Park is a good spot for the whole family. It features a playground, a lawn, and of course, plenty of sand. For a unique coastal experience, visit the southwest tip just past Tsairi Park. The Saint Nicholas Holy Chapel overlooks two other scenic sites. The Epanomi Shipwreck and a lighthouse dot what would otherwise be a completely natural large beach.
Also visiting Athens? Check out my perfect 3-day itinerary for Athens.
Vrasna
If you can drive an hour out of your way in Thessaloniki, check out the beaches out west along the Strymonian Gulf. The Vrasna community is actually made up of three towns: Vrasna, Nea Vrasna, and Paralia Vrasna. For the beaches and tourist areas, head to Nea Vrasna and Paralia Vrasna.
The resort town of Nea Vrasna is home to a Blue Flag-awarded sand and pebble beach, with facilities like sunbeds and umbrellas and that you can get to by bus. There are also restaurants and bars here.
Vrasna Beach and Iliovasilema Beach are very good choices for beaches near Thessaloniki- select beaches further from the downtown area to enjoy secluded relaxation or closer to the center if you want some interaction with people and services. However, with a long stretch of sand that seamlessly overlaps into Asprovalta to the north and Stavros to the south, you can make a beach day in any spot of sand on the Vrasna waterside.
As this is a completely different gulf than the Thermaic Gulf that Thessaloniki is situated on, it's more efficient to drive here than trying to arrive by boat. Being a bit further away than above listed beaches, it may be best to make an overnight or weekend trip out of Vrasna and the surrounding towns. Hotels, pensions, and campsites are all options here.
If you've been visiting a lot of these listed beaches in the Thessaloniki area and are looking for a change of scenery, visit the Vrasna tower, a historic Byzantine tower.
For a different kind of water-related activity stop at Lake Volvi, the second-largest lake in Greece. It's conveniently located alongside the road on your way to Nea Vrasna and is great for birdwatching, nature walking, and learning about the local history. Or check out the neighboring Lake Koroneia, although this lake is currently more of a marsh.
Asprovalta
If you find yourself north of Vrasna in the resort town of Asprovalta, about 80km away from Thessaloniki, you simply cannot miss spending time at Regel Beach. This well-kept park area offers the biggest sand beach in town along with surrounding walking paths, greenery, playgrounds, art, restaurants, fountains, apartments, and even an outdoor theater where seats overlook the water.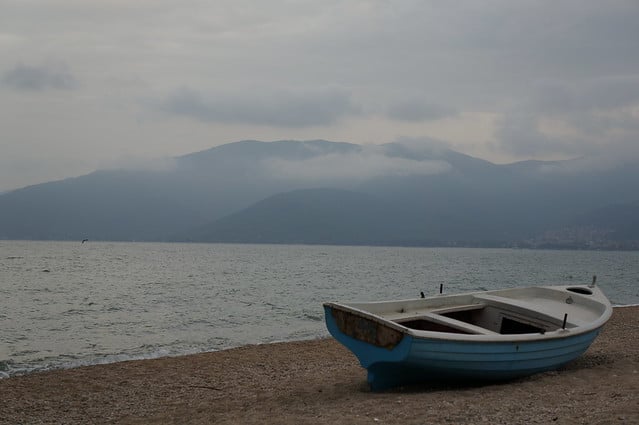 There are beachside cafes and a number of other recreational opportunities such as sand volleyball, swimming, and boating. This is also a good spot for nightlife in the summer.
While in Asprovalta, also check out the nearby Roman ruins of Pennana. But Asprovalta is definitely most famous for its 11 kilometers of coastline. The stretch of beach between the Vrasna community and Asprovalta is sometimes referred to as "Long Beach". However, unlike the Vrasnas' sand and pebble combination, Asprovalta offers more comfortable golden sand to lay your beach blanket on.
Stavros
Just south of Nea Vrasna lies Stavros (65km away from Thessaloniki), the largest town in the Volvi Municipality and in the Halkidiki area. Philoxenia Beach is one of the most popular beaches around here. Jasmine Beach is another good spot to sunbathe, which is also where the city's port is located.
Between these two beaches lies Luna Park, a large green area with benches and sports activities. The rest of the Stavros coastline is dotted with beach bars and seafood restaurants overlooking the beautiful sea. Continue west for more beaches that head into the town of Milies.
If you're staying overnight, compare prices with the abundance of accommodations in Stavros and Milies. If you like to hike (especially if you want to stand on a mountaintop and see the sea), the surrounding mountains are ideal places to do so.
Visiting the islands in Greece? These are the Best Things to do in Mykonos in 2 Days.
Thessaloniki
Despite not having a traditional beach with sandy shores and a swimming area, we couldn't forget to come back to the most popular city in the Thermaic Gulf and the second most in the entire nation of Greece. If you're okay with sitting on a sidewalk or a patch of grass instead of sand or pebbles, you can still enjoy a day on the Thessaloniki shore. It has some flavor of a beach town, such as palm trees, fishermen, and seaside art. (The Umbrellas Zongopoulus and the Monument of Alexander the Great are among the best.)
Enjoy the seaside promenade and Aristotle's Square. Being a popular spot for cruise ships, university exchange students, and other passionate travelers, getting to and around Thessaloniki is simple. There's a train station on one end of town and an airport just outside the other side of town, with bus service in between.
Your choices for accommodations vary from basic hostels to upscale hotels. Signs are posted all over town pointing towards the sites, along with how many calories you'll burn walking the distance there! Beyond the sea, you can explore museums, churches, and even step foot on Turkish soil.
Beaches Near Thessaloniki: Halkidiki Beaches
Halkidiki beaches get very busy in summer as they're very popular with Greek vacationers looking for beaches near Thessaloniki. But there are enough to choose from, whether you like more lively beaches or slightly more remote ones- from large sun-bleached stretches of sand to beaches tucked away into coves and pebble beaches, you'll find a beach here that's just right for you. You can get here either driving from Thessaloniki or take the public bus.
Kassandra
In Kassandra, the first of the three legs of the Halkidiki peninsula, you'll find beautiful beaches with clear waters, forests and villages, but it's also quite touristy with clubs, resorts, and hotels. Among the beaches to visit here is the organized, Blue Flag awarded Nea Kallikratia beach with golden sand, beach bars and tavernas, as well as water sports. You can also learn to scuba dive in Kassandra.
Head to Lios beach in Afytos– it's part sandy, part rocky, but there's a beach bar here plus sunbeds and umbrellas. If you prefer a completely sandy beach, head to Varkes Beach that is gorgeous with shallow, calm waters , clean waters, sunbeds, and many boats. Understandably, as a sandy beach in that area, it gets pretty crowded in summer.
If you don't mind rocky and pebbly beaches, head to the Blue Flag awarded Kallithea beach– you'll find beach bars, sunbeds and umbrellas, as well as watersports here. Or relax under the shade of pines and lie on the sand at the Golden Beach in Pefkohori.
Poligiros is the capital of Halkidiki. There are various sights and attractions here worth exploring such as an archaeological museum and the old town.
Sithonia
If you prefer quieter beaches, then head further on to Sithonia. You'll find plenty of beaches here such as the pretty, sandy Kalamitsi Beach in a gorgeous bay with calm, clear waters, restaurants, tavernas and beach bars, and watersports like paddling, canoeing and scuba diving. Check out this half-day sailing trip in Sithonia.
Going Island Hopping in Greece?
You can go island hopping in Greece; Ferries operate between various Greek islands. Schedules are seasonal, so it's best to check online and book in advance (at least a month during peak season).
Author bio: Jessica Lippe is a writer and traveler with her home base in Southern Oregon. Follow her adventures on Facebook and Instagram, or on her blog at JessicaLippe.com.
This post contains affiliate links. If you make a purchase using these, I might get a small commission with no extra cost to you, which goes towards running this site.