Walking in the old quarter of Sultanahmet feels distinctly different from being in the contemporary Istanbul of tea houses and bars sprawling onto lanes, ultra-fashionable locals rushing through Istiklal Caddesi and loud pop music blaring from multi-storied nightclubs onto the main street in Beyoglu. Sultanahmet is far away from all the noise and commotion, its quiet streets still stretching away their laziness, even as Beyoglu has already begun its day and is bustling with business.
One of the things that strike you about Istanbul and really gives it much of its character is the sheer magnitude of history that's around you. Sailing on the Bosporus between Asia and Europe gives you a fantastic view of the city's skyline, the highlights of which are the Aya Sofya and the Blue Mosque among other iconic structures that have stood proudly through the ages. When you realize how old the city is and its religious and cultural significance, you can't help but be awestruck. Now, I'm no history buff and I have very little interest in museums but to regard the Hagia Sophia as just an ordinary museum would be crossing the line between ignorance and abomination.
The Hagia Sophia or Aya Sofya, literally meaning 'Church of the Divine Wisdom', built in the 6th century by the Byzantine ruler Justinian was the most important church in Christianity until Constantinople fell under Ottoman rule. In 1453, its walls full of Christian symbolism were whitewashed and it was converted to a mosque by Mehmet the Conqueror. In 1935, it was declared a museum by Ataturk and has since been enthralling visitors with its sheer grandeur, magnificent dome, centuries old frescoes and intriguing religious symbolism.
Looking for accommodation in Istanbul? Here are some Istanbul hotels.
Stepping into the Hagia Sophia, I felt an undeniable sense of how minuscule I and everyone else was, standing there in that colossal building, taking in the centuries of history all around; on the walls, columns and looking up at the dome.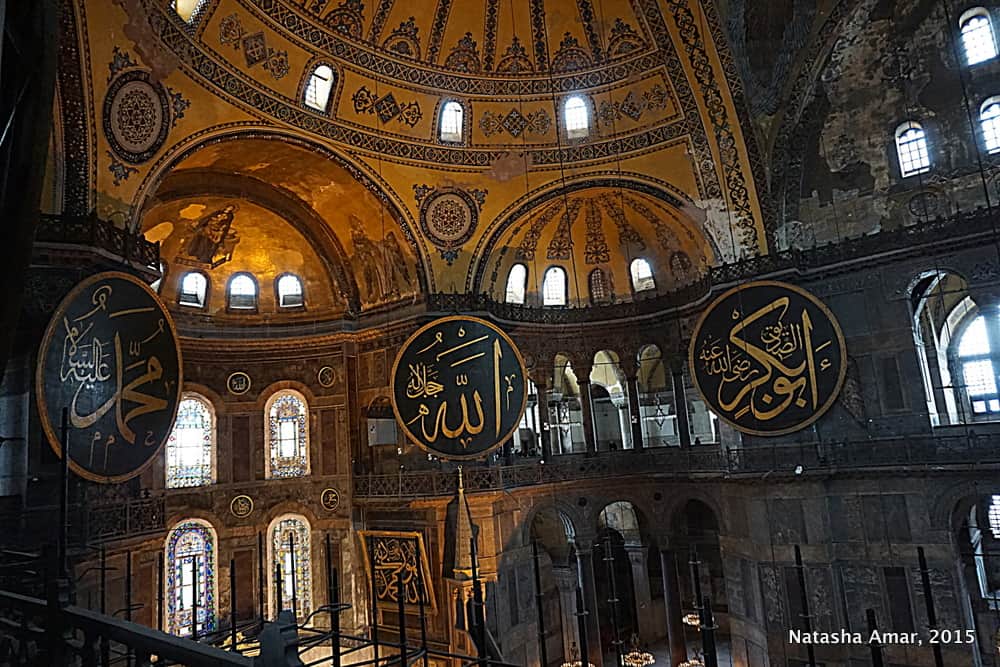 The Aya Sofya will sweep you off your feet, whether you're a history lover or not. Take your time and arrive early in the day so you don't have to rush and can truly appreciate the architecture, frescoes, mosaics and other details. It's really amazing to see how Christian symbolism co-exists in this space with Ottoman influences and design elements. There are not many buildings in the world where you get to see this and in this regard, among others, the Aya Sofya is truly spectacular.
Tip: Don't forget to visit the Sultan Tombs in the same complex.
This post contains affiliate links. If you make a purchase using these, I might get a small commission with no extra cost to you, which goes towards running this site.