I'm a firm believer in the idea that 'home' can be anywhere- in the midst of nature in a tent in the woods, in a shack on the beach or on a thin mattress in a simple village home. To me, 'home' is a feeling and not a physical place. It's knowing that you can finally relax and slow down and that the stuff you normally worry about will be looked after. It's also about knowing that you feel safe, comfortable and happy around the people that share that space with you.
I wasn't expecting to feel anything like that in the tiny town of Selcuk in Turkey. We were only going there because we needed a base to explore the historical ruins of Ephesus and the cotton candy-like landscape of Pamukkale. I much prefer quiet towns over well-developed tourist centers because it's in those places that my curiosity about the local way of life is satisfied. Of course, its location close to Ephesus means that tourism is still big in Selcuk but not as big as it is in neighboring Kusadasi, which attracts tourists with its sprawling hotels and lively nightlife. In the off-season of December, we found Selcuk to be pleasantly quiet, missing the usual bustle typical of tourist towns.
We arrived well after dinnertime by the airport shuttle that dropped us in the center of town. As promised by Ali, the manager of Cella Boutique Hotel and Spa, we were picked up promptly and taken to the hotel. Though it wasn't in the center of town, we'd chosen Cella after reading rave reviews on TripAdvisor and figured that after the last few hectic days of hiking in Cappadocia, we could do with a relaxed stay in Selcuk. As we got out of the car, I was pleasantly surprised to find myself entering what seemed like a cozy, inviting home complete with a fireplace and Christmas tree.
Greetings were exchanged and Ali invited us to enjoy some tea and cookies after our long journey while he sorted out our reservation. Now let me tell you something that strikes you about Ali when you meet him for the first time, he has this incredible demeanor and warm smile that puts you at ease at once. He's the ideal person you want to meet after a long tiring day of traveling, someone who reassures you that everything will be taken care of and all you need to do is relax.
As we sunk into the super comfortable couch, I realized I was already beginning to feel 'at home', something I hadn't felt during our entire trip so far. As we finished our tea, Ali offered to take us to our room, he had given us a free upgrade to a nicer one and we couldn't be more thankful. Not to exaggerate but at that point, we had no idea how amazing our stay was going to get.
From being dropped to and picked up from a restaurant late at night so we wouldn't have to go to sleep hungry, from the ruins of Ephesus quite a few kilometers away or the town center when we wanted to explore, each day being served a delicious spread of breakfast with a warm smile and good conversation and a comforting cup of tea and homemade cookies as we returned every evening- it was in the gestures, little and grand that I found the feeling of 'home'.
As much as we looked forward to exploring the town and its sights, we found ourselves keener to linger in the hotel long after breakfast and return earlier in the evenings than we usually would. It feels strange to even refer to it as a hotel because it felt so uncharacteristically homely. What struck us and what we felt was so commendable was that every member of the Cella family was kind, friendly and warm and went out of their way to do something nice for us. It's very rare to come across genuine people like that at a hotel, where staff is usually preoccupied with going about their daily business.
After all, there really is no need for hotel staff to go beyond what is promised in the 'Services and Amenities' section because the guest already agrees to pay for that. In most cases, that is enough to make one's stay 'good' and earn the coveted good review on TripAdvisor. But what makes the experience exemplary is the heart warming feeling of knowing that you're being taken care of by people who show you the meaning of kindness and true hospitality, something you won't find everywhere and that has nothing to do with how highly rated or how old the accommodation is.

I know this post sounds like a spruced up review but before you assume that my stay was in any way sponsored, please know that it was not. Don't mistake this for a review, this is a story about people and how as travelers, we are often lucky enough to have our journeys criss-cross with some wonderful individuals.
In fact, neither Ali nor the other staff knew that I was a blogger or writer. Even when we inquired about exchanging money and Ali not only took us to the town center but also walked into the bank to negotiate a good rate for us, he was just being himself- nicer than words can express. He didn't know then that every kind act was making us go, "Wow, I can't believe they would go through all that trouble for us", or that this post was going to be written.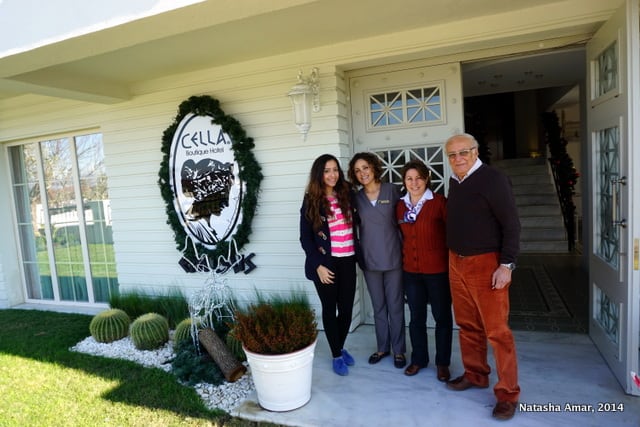 When it was almost time to leave, we wished we could have stayed longer. Of course, the tasteful décor of Cella Boutique Hotel and the super comfortable rooms made it harder to leave, this being the best and prettiest hotel we had stayed at in Turkey. Who knew this would be in a town as obscure as Selcuk? It's a great feeling to see that some hotels are eager to create a home for their guests, something that is no mean feat. This post is my way of saying 'Thank you' to the lovely people at Cella for an unforgettable experience in hospitality. Some places just deserve to be written about and shared with the world and Cella is one of them.
If you find yourself in Selcuk or looking for a place to base yourself to explore Ephesus and Pamukkale, then Cella Boutique Hotel and Spa isn't just a good choice, it's by far the best one! Don't take my word for it, head onto TripAdvisor and check out the amazing and well-deserved comments by former guests.
We stayed at Cella Boutique Hotel and Spa in December 2014.
This post contains affiliate links. If you make a purchase using these, I might get a small commission with no extra cost to you, which goes towards running this site.

Have you ever stayed at a hotel, hostel or B&B that left a lasting impression on you? Please share your story in the comments below, I'd love to hear it 🙂