It was pitch dark and the town of Goreme was blanketed in a layer of fog. Tired from our journey, we stood for a few minutes outside our hotel where the bus had dropped us off late in the evening. After our first few days in Istanbul, we were finally in Cappadocia, the land of fairytale chimneys and rock-cut churches, and I couldn't wait to see what all the fuss was about. But, I would have to wait until the next morning because this was all I could see at night.
Even though I was cold, hungry and tired, I was still excited for what was to come next. I'll be honest; the thought of sleeping in a cave hotel in Cappadocia was one of the reasons, among many, why I had decided to spend my birthday there. Cappadocia in Turkey's central Anatolian region, truly is right out of a fairytale with a spectacular landscape of caves, fairy chimneys, pinnacles and unique soft rock formations as a result of volcanic activity and erosion. We'd chosen to base ourselves in the town of Goreme because accommodation here fit perfectly into our budget as compared to nearby Uchisar and we would be close to our areas of interest such as the Goreme Open Air Museum and hiking trails like the Love Valley.
The Kelebek Special Cave Hotel has great reviews on TripAdvisor and so we'd booked with them. As we looked around this unconventional hotel, we couldn't help but be awe-struck at the architecture. We walked into our cave room, expecting to find a slightly damp, musty or dark room and were pleasantly surprised to see a beautiful and airy luxury cave, with a sitting area and a fully equipped bathroom.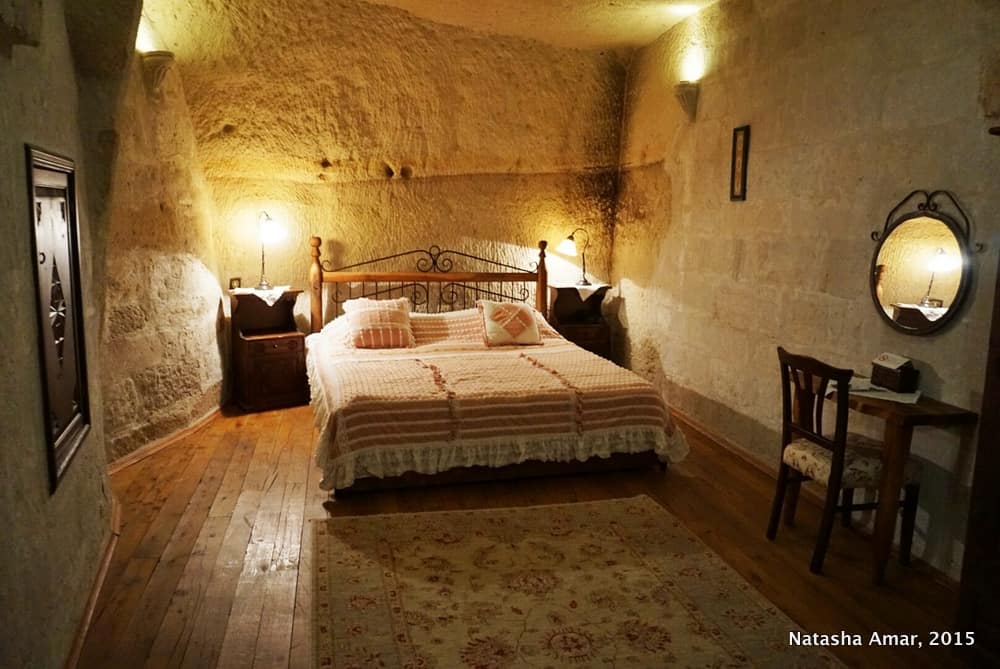 The next morning, I walked out of our room and almost could not believe the otherworldly landscape. It was pretty incredible to think that just a day before, we had been cruising the Bosporus between Asia and Europe in Istanbul.
Breakfast at the Kelebek Special Hotel was a lovely affair with a wide spread of bread, cheese, cold cuts, salads, pastries, pancakes, eggs, fresh fruits, dried fruits and nuts, cereal and hot and cold beverages. Every morning, I was comforted by their amazing hot chocolate with a gorgeous view!
Ali, our host, was extremely warm and friendly and helped us plan our daily activities, advising us about interesting trails in the area such as Love Valley and Zemi Valley. He was very honest about the things we could do on our own and we found that his recommendations were great. He also booked the hot air balloon ride for us several times but, in the end, the weather did not cooperate and we left Cappadocia without having experienced that. The staff is wonderful and it's nice to see that they help you book activities depending on your budget, interests and time and do not pressure you to go with a particular operator. On Ali's recommendation, we booked a day trip with Turkish Heritage Travels to hike the Rose and Red Valleys, and visit the town of Avanos and the underground city of Kaymakli and found the tour was high quality and very enjoyable.
On our last day, we tried the couples' hammam or Turkish bath, a super rejuvenating and relaxing traditional bath in the hotel's luxurious spa. To be honest, I don't think I'd ever felt so clean in my entire life!
The hotel is located on top of a hill, and the walk to the center of town takes about ten minutes. Seten Anatolian Cuisine Restaurant is right next door and I recommend everyone visiting Cappadocia to dine here at least once, simply because it was one of my favorite restaurants from the ones we'd been to in our entire trip. After having dined here on our first night, we fell so much in love with the food and the setting that we dined here almost every night.
Cappadocia is a special place and I recommend anyone visiting it to spend a few nights in a cave hotel because it really adds to the whole experience. Goreme has a number of cave hotels to choose from depending on your budget and we found that the Kelebek Special Cave was good value for money.
This post contains affiliate links. If you make a purchase using these, I might get a small commission with no extra cost to you, which goes towards running this site.