How often does it happen that a place takes away your breath as soon as you lay eyes on its landscape? Very often, if that place is Cappadocia. In Turkey's central Anatolian region, the raw beauty of Cappadocia is a result of erosion sculpting soft volcanic rock to form unique features such as waves, clefts and pinnacles.
Throughout history, these rock formations and caves have housed homes, churches and monasteries and were also used for refuge from foreign invaders. Cappadocia is home to well planned underground cities that extend several floors below the surface and are connected to each other through tunnels.
You'll hear words like 'fairytale' and 'fantastical' when Cappadocia is described and I can vouch that it's no exaggeration. It's impossible not to remind yourself that you're still on earth and not in the pages of a fairytale, when you half expect elves to walk out of the cave house across the street!
My birthday in Cappadocia was one of the most memorable birthdays ever and I'm sure it's going to be hard to beat. Though the landscape is what strikes you most, there are so many amazing things about Cappadocia; the delicious Anatolian cuisine, the super friendly people and some of the most beautiful hiking trails I've ever seen.
Whether you're just visiting Istanbul or going on a road trip in Turkey, I highly recommend taking the time to visit Cappadocia because this is one of those places on earth that really is unlike anywhere else. If you're curious about what makes it so special, then here are my reasons why you really need to visit Cappadocia.
To Sleep In A Cave Hotel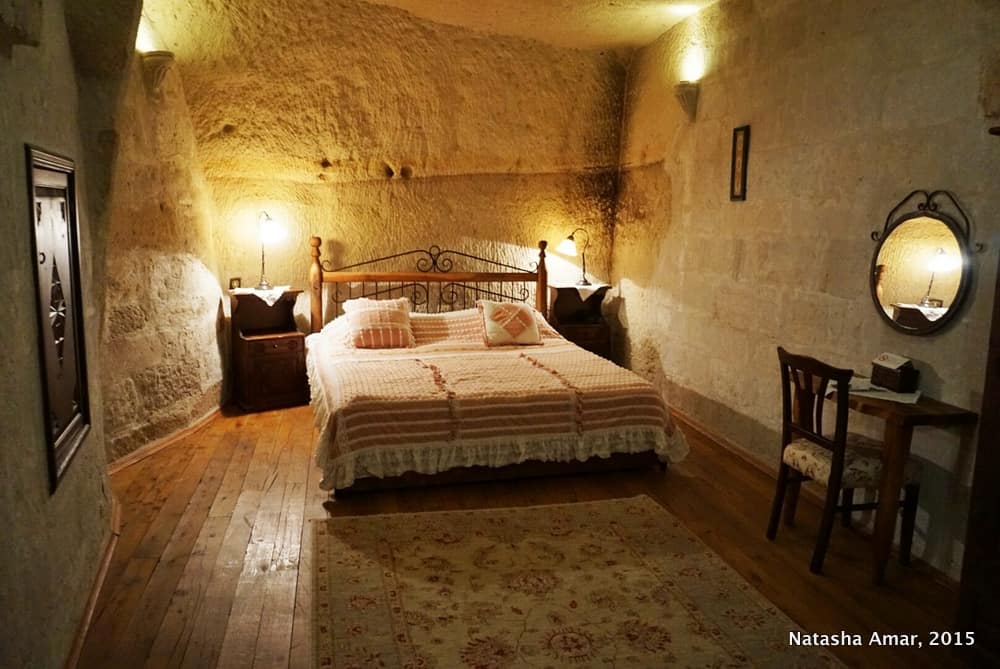 One of the big reasons why I wanted to spend my birthday here was so I could wake up that morning in a cave room! Staying in a cave hotel is the norm in towns like Goreme and Uchisar where most travelers base themselves. Goreme is a quiet little town with plenty of budget cave hotels and exactly what I was looking for. The Kelebek Special Cave Hotel, where we stayed was a truly amazing experience with excellent service and luxurious rooms that looked like they were right out of The Flintstones. Walking out of our cave to a view like this was priceless!
Because Museums Don't Usually Look Like This
If you've noticed, I'm not really big on museums but when they look like this, how can anyone be indifferent? The Goreme Open Air Museum is home to really spectacular cave churches adorned with Byzantine frescoes and Christian religious symbols. You can walk to the museum from Goreme town and spend a good few hours exploring the cave churches. These churches date from 1000AD and served as a place for medieval orthodox Christian monks to seek refuge and pray. Some frescoes have suffered the effects of weather and earthquakes but they're still in pretty good condition, considering how old they are.



To Get Underground
Underground cities might sound like the stuff of legends. But here in Cappadocia, they are very real and they will blow your mind. There are many underground cities in the region but the ones that most travelers get to see are Kaymakli and Derinkuyu, both of which are connected to each other by a tunnel. We visited the one in Kaymakli and was shocked to learn that it extends eight levels below the ground.
Carved from volcanic stone, Kaymakli is a complete city with living quarters, bedrooms, kitchens, storage, churches, wine cellars and even a burial area for several families. Of course, no one lives here now but they were used by people to hide from plundering armies for a few months at a time. The maze like interior and the need to crouch through low roofed tunnels meant that heavily armored soldiers would not dare to enter the city and have to find ways to force the inhabitants out.
To Hike and Get Some Perspective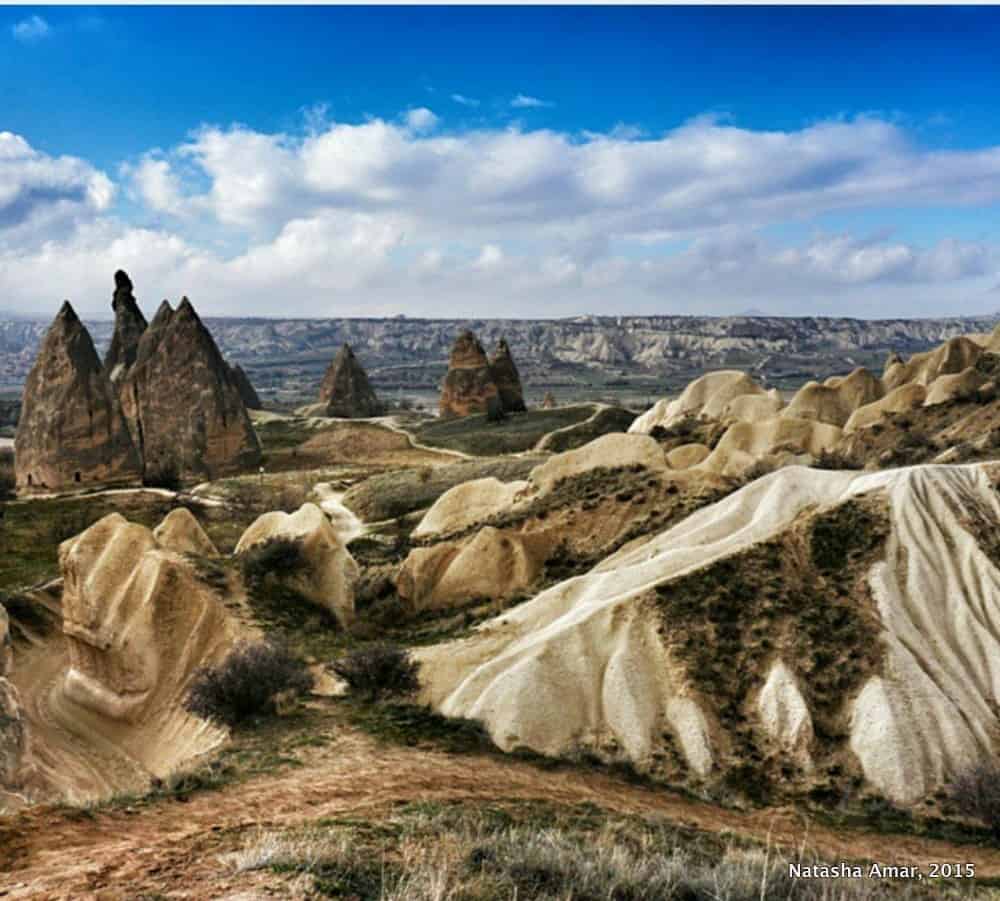 It's hard not to appreciate the magnificence of nature and get some perspective on your place in the universe when you're hiking in the beautiful valleys of Cappadocia. Home to some fantastic trails such as the Rose and Red Valleys, named due to the color of the rocks, Honey Valley, Ihlara Valley, Pigeon Valley, Sword Valley, Zemi Valley and Love Valley. Each of these have unique geological features and are worth experiencing. If you like to hike, you should plan on spending at least a week or more in Cappadocia so that you have enough time to explore these trails.
The photo below is from the Love Valley, nicknamed due to the rocks, which look like either phalluses, or giant mushrooms, depending on your perspective. They were formed as a result of volcanic eruptions and subsequent erosion that was stronger on the soft rock below leaving behind much of the harder rock at the top. Of course, the result makes a lot of first timers point and giggle!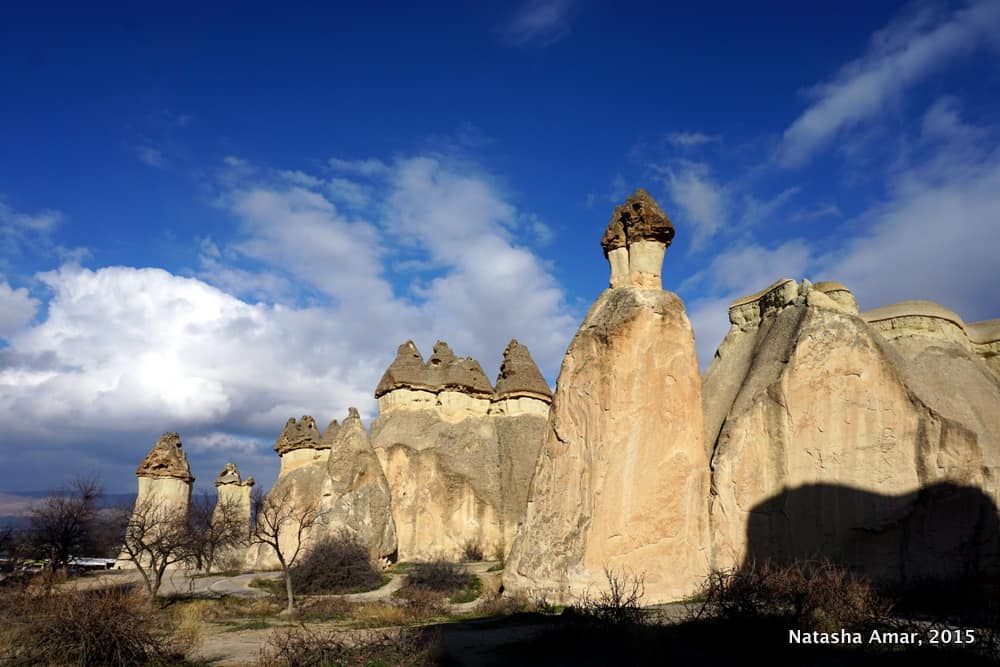 To Eat Food Like You've Never Tasted Before
Now, Turkish food is unbelievably delectable, but Anatolian cuisine in particular? It's something else. While I enjoyed the food in Istanbul, it was in Cappadocia that I fell head over heels in love with the cuisine.
From the cold dip Hydari, Yogurt Corbasi (soup) to Dolma (stuffed eggplant or peppers), Manti (Turkish pasta), stuffed squash flowers, a clay pot preparation and Borek (stuffed baked pastries), there was so much to look forward to during mealtimes that I pretty much waited for the next one. My favorite places to eat in Goreme were the Seten restaurant, right next to the Kelebek Cave Hotel, and Nazar Borek in the center of town, that serves up the best Borek and biggest smiles ever.
To Meet Some of The Friendliest People Ever
The people in Cappadocia were extremely warm, helpful and friendly. We found this to be true of everyone we met; from the hosts at out hotel, to the staff and owners at restaurants, and even the people we stopped on the street to ask for directions. They made time for genuine conversations and were really interested in helping us out. The warmth and hospitality we saw in Cappadocia was something we really loved.
To Explore Ghost Towns
If you think you're not keen on history and exploring ruins, be forewarned that Cappadocia is going to change that. The ghost town of Cavusin (about 2 miles from Goreme), now abandoned, is one of the oldest Christian settlements in the region. You can climb up several levels to explore the rock cut homes and churches. I found it fascinating to imagine that an entire village once lived in these rock structures.
To Photograph Pretty Doors
Need I say more?
I took these photos in Avanos. I saw so many pretty doors in the area that I would gladly wander in the lanes admiring them for hours if that were possible.
To Drink Wine in A Former Stable
You can actually do that in Goreme! As you descend the steps to enter the Red Red Wine House, you can't help but admire how atmospheric this bar is with much of the original design as a stable still intact. The lighting works really well to play up the original features. Cappadocia is famous for its wines and there's no better place to enjoy a few glasses than the Red Red Wine House. The owner is a friendly gentleman who served us some fresh fruit complimentary and insisted we enjoy it with our wine.
To Ride in A Hot Air Balloon
Admittedly for most people, a hot air balloon ride over Cappadocia's gorgeous landscape is one of the top things to do. If you're traveling during or around winter, you'll have to be patient and hope for the best because schedules are highly dependent on the weather. But with a view like this, I'm pretty sure it must be worth it.
Unfortunately for us, we faced windy weather conditions during our days in the region and our ride got cancelled every time. I remember being very disappointed on our last day as we drove to the airport leaving without experiencing it. But you can read about what it's like to be in a hot air balloon over Cappadocia.
Have you been to Cappadocia? Would you want to travel to a place like this? I'd love to hear your thoughts in the comments below.