You can't help but be awe-struck by Istanbul's beautiful coastline and the deep blue of the Sea of Marmara. The Bosphorus Strait divides Istanbul into an Asian and a European side making it one of the few cities in the world that lie on two continents. Understandably then, cruising the Bosphorus is an activity that's highly recommended for first-time visitors.
Having only a few days in Istanbul and being a complete last minute planner, I knew we weren't interested in a typical day-long touristy experience where you have on board entertainment and meals provided on the tour. These full day tours can be arranged by hotels and there are many tour companies that provide them.
Get your Turkish visa online here.
Instead, preferring a local experience that didn't take an entire day we decided to go with the Turyol ferry that departs frequently from Eminonu. At 12TL each, the one and a half hour round trip departing Eminonu every hour from 10.00am to 7.00pm, gave us more flexibility than the four hours' tour recommended by our hotel that would have set us back by 35 Euros each. Our hotel desk had no idea about Turyol when I enquired with them and warned that going on a local ferry meant that there wouldn't be much English spoken. I don't mind this usually (being fantastic at dumb-charades style conversation) and we decided to go anyway.
We showed up at Eminonu twenty minutes before the next departure and were happy to see that they had audio guides in English for purchase (10TL each). A few locals and other tourists were on the ferry. It wasn't too crowded allowing everyone on board to be seated so they could enjoy the lovely view and take photographs without falling over each other.
The trip we went on was Eminönü – Üsküdar / BOĞAZTURU / Üsküdar – Eminönü. The ferry took us around important sights, sailing along the Asian and European coasts on the Bosphorus but we didn't get off until we returned to Eminonu. The audio guide was easy to use and provided all the information we needed to identify structures of historic or cultural significance such as the Galata Tower, Dolmabahce Palace and Mosque and Beylerbayi Sarayi.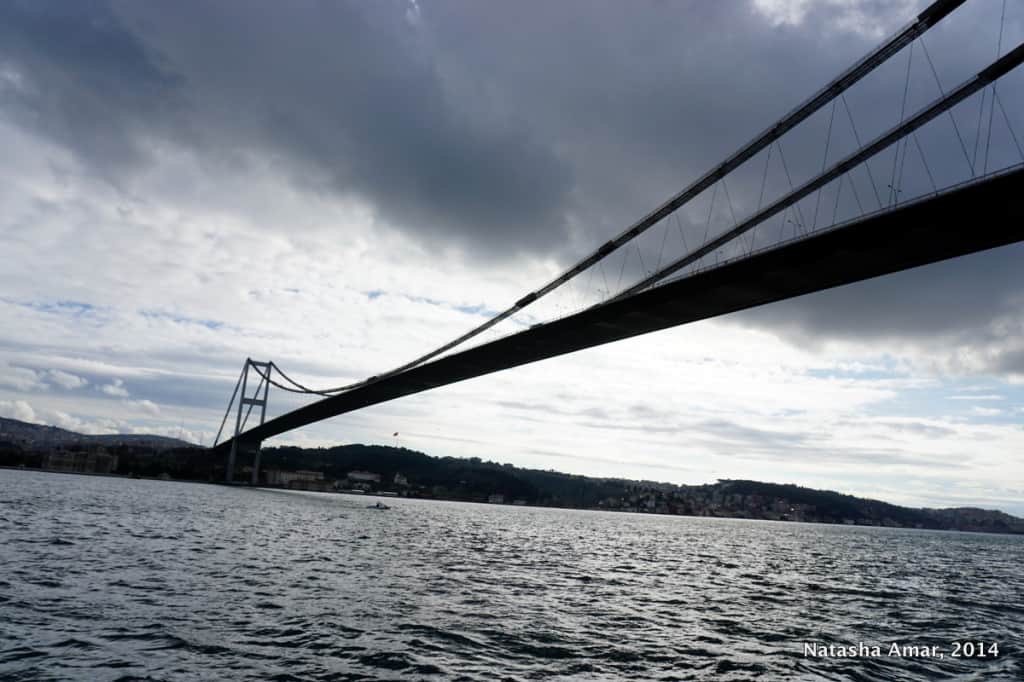 The views were nothing short of spectacular and I couldn't be happier that we experienced the cruise even though we were pressed for time. Istanbul has an incredibly dramatic skyline and witnessing it from the Bosphorus allows for a very different perspective from the one you get when you're walking around in the city. If you're interested in a short no-frills Bosphorus ride, I highly recommend the Turyol ferry. It has a fleet of modern and comfortable ferries and is an ideal choice for those who are visiting Istanbul for a short trip or a few days.
After the tour, we walked to one of the decked up hard-to-miss Balik Ekmek (fish in bread) boats on Eminonu harbor. The stalls spill out on the harbor and are almost an extension of the boats on which the fish is caught and grilled. There's low seating on barrels and just one thing on the menu- a delicious sandwich of grilled fish, lettuce, and onions. I'm not sure how I feel about the traditional drink called Salgam that's served with it. A blend of water, pickled carrots, turnips and boiled bulgur, it was a tad too strong for my taste buds.
Tips:
All information about prices and schedules is available on the Turyol website. It's recommended to check this in advance as timetables are affected by weather conditions.
Carry a warm jacket and/or scarf as it can get quite chilly.
Tea and other soft beverages can be bought onboard.
This post contains affiliate links. If you make a purchase using these, I might get a small commission with no extra cost to you, which goes towards running this site.