A 2-hour 15-minute drive from Abu Dhabi city took us to Qasr Al Sarab Desert Resort by Anantara, which stands like a magnificent palace fortress among giant orange gold dunes in the Liwa Oasis at the edge of the Rub'Al Khali desert.
When we first set eyes upon this ultra-luxurious five-star desert resort at the fringes of the world's largest uninterrupted sand desert, also known as the Empty Quarter, in what felt like a world away from the UAE's cities of Dubai and Abu Dhabi, we couldn't help remarking how this magical setting was both stunning and secluded from city life – something that only heightened our excitement about finally experiencing a stay here, after a lifetime of living in Dubai.
At this one-of-a-kind desert resort with 207 deluxe rooms, suites, and pool villas in Abu Dhabi, old world grandeur, a stunning design aesthetic with a strong sense of place, modern luxuries, impeccable service, a beautiful swimming pool, delicious culinary offerings at six restaurants, a world-class spa, and thoughtfully curated desert experiences work together to create an experience that I guarantee will be one of the biggest highlights of any holiday to the UAE.
It might be tempting to label this place as "middle of nowhere" but remember, this desert – the great Rub' al Khali – might be far from the cities but its glorious dunes command acknowledgement of their identity and significance.
Standing on the edge of the world's largest sand desert, shaped like a fertile crescent, the nearby oases of Liwa have a long history of Bedouin traditions and culture and have been home to ancient civilizations, nomadic herders, and eventually agricultural settlements. Their history is much older than the city of Abu Dhabi itself, and if you're curious then the forts and villages of Liwa, a 30 or 40-minute drive away tell some of these stories, while the long drive to Tel Moreeb dune – among the largest in this desert is worth it for the views.
To discredit or not acknowledge that by resorting a cliche (to travel writing) choice of words amounts to erasure of cultures, histories, and identities – something I caution my readers against.
---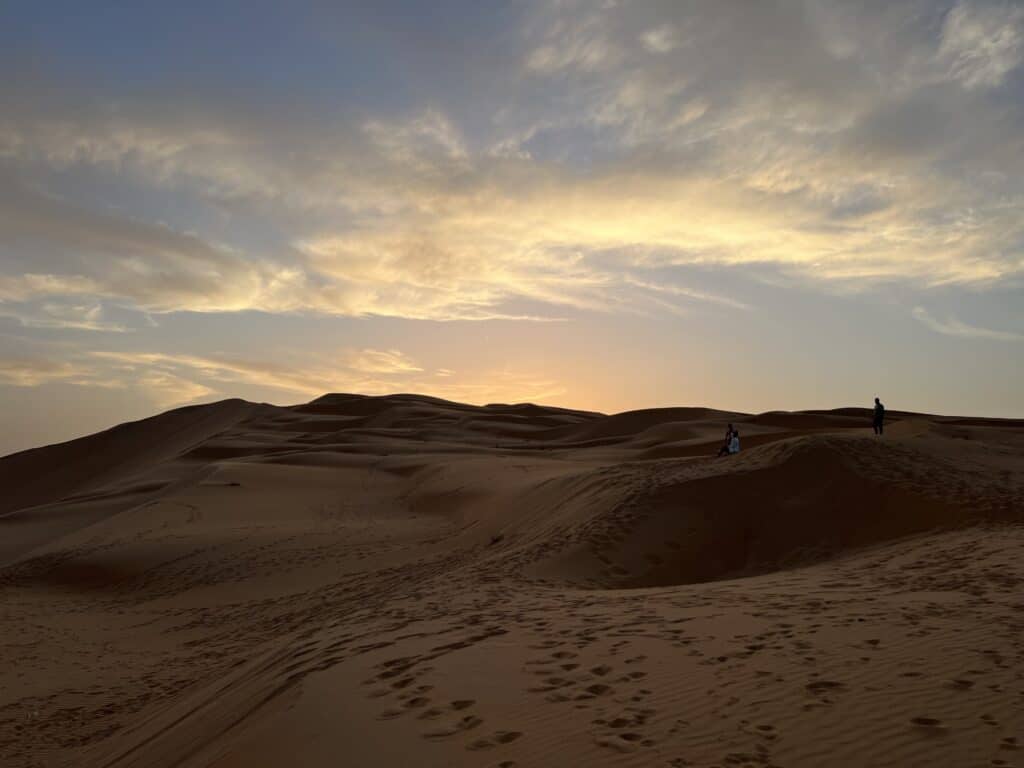 How to Get to Qasr Al Sarab Desert Resort by Anantara Abu Dhabi
If you're visiting from Abu Dhabi city, you'll be driving for nearly 2 hours and 30 minutes to cover the approximately 200km distance between the city and the Anantara Qasr Al Sarab Desert Resort. It's a 2 hour 20 minute drive from Abu Dhabi airport.
It's best to rent a car so you can enjoy the drive through the desert and explore the oasis villages and the beautiful dunes around the resort. You do not need an SUV or 4WD, a sedan works just fine. I find that RentalCars offers the best rates on car rentals in the UAE, including in Abu Dhabi and Dubai. /
Most of the drive will be on the straight E65 road that leads into the desert, with massive dunes on both sides that go from sun-bleached to deep red the further you go into the desert towards the Liwa Oasis.
You're likely to see camels on the dunes and pass a few oases. This road is in excellent condition and is always maintained. You don't need to be experienced in desert driving or have any extra skills.
Sandstorms do happen occasionally, and if you're driving during one, visibility might be low. The only thing you need to do in that case is drive slowly and keep your eyes on the road.
From Dubai, it's a 3 hour and 15-minute drive to the Anantara Qasr Al Sarab Desert Resort Abu Dhabi. We drove towards Abu Dhabi, and then instead of going into the city centre or Downtown Abu Dhabi, we took the E65 through the awe-inspiring desert landscape.
The resort can arrange car transfers from Dubai, Abu Dhabi and all over the UAE, but it will be much cheaper to rent a car, which also gives you the added benefit of being able to explore the area around the resort and head to an oasis village to see some forts and do a bit of souvenir shopping.
RentalCars offers the most competitive rates for car rentals in the UAE, and renting a car for 2 days (or more) will work out much cheaper than taking a taxi or paying the resort for a transfer.
The Setting: A Palatial Fortress in the Desert
After a long, mostly beautiful drive past desert dunes, with the occasional camel sighting, we arrived at the Qasr Al Sarab Desert Resort by Anantara, its commanding sand-coloured fortress-style architecture of low-rises reminiscent of traditional houses revealed behind a set of turreted gates. After we'd be graciously welcomed by security, palm trees and bubbling fountains greeted us as we pulled closer to the entrance.
All around, as far as the eyes could see were golden dunes, and with them, the invitation to really focus on the spectacular setting and let go of whatever it is that you'd otherwise worry about. The only bursts of green were the lush palm trees lining courtyards, pathways, and a beautiful pool, and plants and fuschia bougainvillea spilling over walls around the resort grounds. You'll spot traditional falaj irrigation channels around the resort, something you can still see in the oases of Liwa and Al Ain in Abu Dhabi.
But bear in mind that being deep into the desert here doesn't mean being isolated digitally; there's fast and free Wi-Fi to stay connected, and it works perfectly throughout the resort whether in the villas, at restaurants, spa or elsewhere around the property.
Checking In At Qasr Al Sarab Desert Resort by Anantara: The Welcome
Inside, we found ourselves in a lobby with beige cream sofas and chairs, carved dark wood furniture, marble floors, high ceilings adorned with chandeliers that look like traditional lamps, patterned mashrabiya details, calming pools of water, soft flowing drapes on arched windows and beyond them, up-close views of the dunes.
A member of staff walked up to us warmly as soon as we walked in, as if we'd shown up to a royal's grand desert residence. While we settled down on the couch, a tray with cold towels (much needed in the April heat), dates (so delicious), and a chilled mildly sweet juice (so refreshing) was placed in front of us. It was a warm welcome that understood perfectly what we needed most upon arrival.
We handed him our IDs and our check-in was promptly done while we were still seated, even before we could finish our welcome drinks. The welcome was quick and efficient – exactly what you want when you've driven a long way like we had, coming from Dubai.
Then we were taken to a resort buggy, which wound its way past palm trees and plants, under arched gates with latticed traditional lanterns, and flowery courtyards with fountains to bring us to our One-Bedroom Anantara Pool Villa.
Rooms & Suites: Luxury with a Sense of Place
We spent two nights in a One-Bedroom Anantara Pool Villa. Spread over 2,098 sqft, our gorgeous sand-colored villa offered a strong sense of place through its design and decor. A palette of soft creams and beige accentuated by brass and gold, richly patterned carpets, carved dark wood furniture, and wood beams on high ceilings reminiscent of traditional houses.
Antique lamps and illuminated alcoves showcasing traditional pottery and dallah (coffee pots), among other memorabilia, and modern comforts such as flat-screen TVs, Nespresso machines, and pillow menus conveyed a definite sense of "Yes, it's all so luxurious but here we are to spend the night in the desert – not just any desert, but one of the greatest deserts in the world."
There resort's Deluxe Rooms range from 484 to 538 sq ft. Some are Deluxe Garden rooms, Deluxe Balcony Rooms have balconies overlooking the desert, and Deluxe Terrace Rooms are corner rooms on upper floors with large terraces.
The suites have up to 2 bedrooms and range from 1,141 sq ft to 1,915 sq ft. Both deluxe rooms and suites have also been designed in the gorgeous heritage style with patterned rugs, traditional lamps, wood furniture, and carved doors.
The lavish pool villas range from one to four-bedroom villas, the smallest being 2,098 sqft and the largest being 9,178 sqft.
Browse the categories of rooms and suites.
Living Area
Our One-Bedroom Anantara Pool Villa came with a dining room, a large living room with a comfortable sectional sofa, perfect to plop down on and read the beautiful coffee table book about the desert ecosystem, a flat-screen TV (with DVD player, Apple TV, and Chromecast), and a work desk.
On arrival at the villa, we were welcomed with a platter of pistachio-stuffed dates and melt-in-your-mouth chocolate truffles. There was also a minibar with a Nespresso machine that we made good use of for our morning espressos on both days.
The living space led into the bedroom with classic carved wood furniture and pretty green carpets.
Bedroom
The king bed, dressed up in pure white linens, was large and comfortable, with a bedroom bench at its foot. A pillow menu offered options for every preference, ensuring a good night's sleep.
A large full-length mirror with a carved wood stool, right next to the balcony door lit up by ample natural light, was ideal for getting ready.
There was also a larger work desk here in case you wanted to sit up straight and write or check emails – though I'll admit that I am not the type of person to hole up and work when there's a gorgeous private pool with views of the desert on my patio!
A second TV in the bedroom meant that you could watch TV while curled up in bed. I also loved that there were two big wardrobes which meant that I could easily unpack my shoes and hang all my clothes, and neatly put away my suitcase. I absolutely hate having suitcases in the way and prefer unpacking and hanging my clothes in the wardrobe, especially if I'm staying somewhere for more than a night.
Bathroom
The bathroom – now let me tell you, I've hardly ever seen such a visually pleasing bathroom as the one in our One-Bedroom Anantara Pool Villa. As we entered through the beautifully carved wood doors, the centrepiece was clearly the spacious bathtub (they mean it when they say oversized), set under an arched window (with blinds) flooding the space with natural light. There's a separate walk-in rain shower of course, and a toilet with bidet.
We loved that there were twin vanities with large mirrors, a makeup mirror, and plenty of space to keep our own toiletries, and makeup, alongside the high-quality bath amenities provided by the resort. These vanities were set across from each other which meant that we each had our own space – which I strongly believe is the secret to a happy marriage.
Terrace and Private Plunge Pool
My favourite part of the villa though was the large private terrace with plunge pool and sundeck. Sunbeds to soak in the sun, a shaded lounge area for when you wanted to be outside (but in the shade), a shaded outdoor dining table on the sundeck, where we enjoyed a lovely in-villa breakfast on our last morning. We admired views of the evening sky turning pink over rose-red dunes from the private pool and had to admit: this was luxury like nowhere else!
Check availability at Anantara Qasr Al Sarab Desert Resort
Butler Service
We were assigned a butler who took care of our restaurant reservations and booked our activities, as well as made sure the resort buggy was always on time to pick us up when we needed to get around. It was as simple as sending him a Whatsapp, whether that was for a buggy ride, to organize camel treks or a stargazing session, ask about the dining options, inquire about drop-off to Abu Dhabi International Airport, or request an in-room breakfast.
In general, room service was prompt and courteous.
The Restaurants at Qasr Al Sarab Desert Resort by Anantara
While there are six restaurants at Anantara Qasr Al Sarab Desert Resort and a handful of dining experiences such as private dining in the desert, desert barbeque, and an interactive chef experience, we mainly experienced three restaurants. All the restaurants except Al Falaj are located in the main building of the resort.
Breakfast at Al Waha
Breakfast was served daily at rooftop restaurant Al Waha as a lavish breakfast buffet with international dishes, salads, fresh fruits, a selection of bread (including local bread), cold cuts, cheeses, cereal, and hot dishes. It was a truly diverse range of dishes, catering to a diverse clientele, with everything from Levantine falafel and shakshuka and Chinese dim sums and noodles to Indian breakfast favourites like uttapam and sambhar. Luckily for us, we love all of these cuisines, so we had to make some tough choices!
There were plenty of options for vegans and vegetarians, and I don't mean just salad. From vegan rice pudding and vegan muffins to vegan pancakes and vegan cheese, as a vegan, you'd get to enjoy a satisfying breakfast at Al Waha.
Besides the breakfast buffet, you can also order additional dishes to be served to your table, which is great, because it avoids wastage, and the food is served hot to your table. We ordered eggs – a deliciously fluffy omelette, and pancakes, both were served to our table. The absolute must-have dish that I highly highly recommend is the Liwa French Toast. I can't even begin to tell you how their garnishes of crushed pistachios, date jam, mint, and cream elevate what is otherwise a predictable dish. We couldn't stop but go oooh and ahh with every bite, and if we weren't so stuffed we'd easily order another one.
Breakfast comes with a variety of fresh juices, smoothies, and coffees, both hot and cold, that you can order at your table.
Lunch at Ghadeer
Not far from the resort pool at Anantara Qasr Al Sarab Desert Resort, Ghadeer serves a variety of international dishes and is open for both lunch and dinner. Inside the restaurant feels very Mediterranean, with white, blue, wood, and rattan furniture. Tables set on its outdoor terrace offer up-close views of the desert dunes or of the resort's main swimming pool, and are perfect for lunch or a sunset dinner when the weather is nice.
The menu at Ghadeer features a wide variety of salads, appetizers and sharing-style mezze, burgers, pasta and rice dishes, pizzas, and mains such as seabass machboos, an Emirati rice dish with seabass.
The Caprese Salad was excellent and a cooling choice for a hot summer's day lunch. Ankit loved the Vegan Burger he ordered on our first day as well as the Spaghetti Aglio olio. My Tagliatelle gamberi (with prawn) was simply delicious and it took all of my willpower not to order the same the next day, when I opted for the Open Chicken Gyro which was also great. The pizzas also looked like a popular choice, judging by how many of them were being taken to the tables around us, especially those with families and kids. The Liwa date cake and Dark Chocolate Semifreddo were the types of desserts that you absolutely can never feel guilty about. They also had a lovely selection of alcohol-free coolers such as the Liwa cooler and Bedouin iced tea, both of which I loved.
Service was prompt and friendly, and we had lunch here both days. Ghadeer is rightly popular with day-trippers visiting the area, especially on the weekends, so I recommend making a reservation here, whether you're a guest staying at the resort or are only visiting to experience some desert activities at Anantara Qasr Al Sarab Desert Resort.
Dinner at Suhail
For dinner on both nights, we enjoyed the delicious food and amazing service at fine-dining steakhouse Suhail. With arched mirrors, intricate chandeliers, flowing drapes, and semi-private dining areas, every detail at this steakhouse screams elegance. If you're dining here around sunset, especially between the months of October and March, then enjoy a cocktail or two at the rooftop terrace that offers incredible views of the surrounding desert and the entire resort before heading inside for dinner.
Check availability at Anantara Qasr Al Sarab Desert Resort
Being a steakhouse, Suhail is known for its premium steaks, but like us, if you don't eat red meat, there are still many excellent options on the menu. Among the starters, we loved the Josper roasted beetroot carpaccio and the oh-so-soft Burrata Pugliese with aged Balsamic and heirloom tomatoes. We also enjoyed an avocado mousse that seems to be seasonally available. For mains, we recommend everything we tried, such as the roasted Atlantic salmon filet, pan-seared seabass, and seasonal dishes like the roasted baby chicken and pumpkin risotto.
The restaurant also has its own wine cellar and an award-winning wine list of international wines. The resident sommelier will happily make wine-pairing recommendations if you ask.
Suhail is open for dinner only and is very popular among guests staying at Anantara Qasr Al Sarab Desert Resort so be sure to make reservations.
Al Liwan
All-day lobby lounge Al Liwan serves sandwiches and burgers, mezze, appetizers, pasta, and a surprising variety of iced and hot teas and coffees (like date and cardamom cold coffee, and rose and pistachio latte), mocktails, Emirati beverages like saffron juice, wines, and alcoholic drinks. The pastries and desserts like carrot cake and vegan chia pudding are a highlight of dining here.
Naseem Pool Bar
Located by the beautiful family-friendly pool, Naseem is a breezy pool bar serving fresh salads, pasta, burgers, sandwiches, pizzas, wines, sangria, cocktails, fresh juices, homemade sodas, kombucha, and mocktails.
Al Falaj at Royal Pavilion
During the cooler months, you can also dine al fresco in the desert, seated on cushioned chairs, your feet resting on jewel-toned patterned carpets at Al Falaj at Royal Pavilion, located a few minutes drive from the resort. The food here is worthy of a feast and comprises Bedouin dishes such as slow-cooked lamb ouzi, grilled tiger prawns, slow-roasted shawarma, and traditionally spiced hamour filet.
Besides these restaurants, the resort can also arrange private dinners in the desert complete with candlelight, customized menu, and butler, as well as private desert barbeque on request, at least 24 hours in advance.
Anantara Spa at Qasr Al Sarab Desert Resort
We arrived at the sanctuary-like Anantara Spa at Qasr Al Sarab, complete with bubbling fountains, tranquil pools, and leafy courtyards a few minutes prior to our couples massage. Our massage therapists (both female) came to introduce themselves and we were each asked to choose our preferred oils for the massage.
Then we were led to the ensuite massage suite that came with a shower, changing area with wardrobe, and toilet, with plush robes, disposable underwear, and slippers provided. The remote setting was surreal – the balcony doors looked out upon the vast rippled expanse of desert. To be able to experience a massage here already felt like such a privilege.
We experienced the 90-minute Desert Fusion massage, a signature spa treatment at Anantara Spa. Our massage started with a gentle foot ritual with salts and rose petals, after which we were shown to our massage beds. The therapist used hot stones and a heated desert sand poultice during the treatment, and I could feel all of my muscle stiffness and tension dissipate, while her excellent oil massage instantly put me in a state of relaxation.
Ankit dozed off and began to softly snore as I myself was easing into slumber. Before I knew it, she asked me, "Are you alright?" to which I barely mumbled in response when what I really wanted to say was, "This is the best I've been in a long time."
Then, we sprawled out in the relaxation lounge, feasting our eyes on the desert, now turning pink as the sun began to hang close to the horizon. We sipped on tea and nibbled on sticky sweet dates, allowing ourselves the ultimate luxury of time.
True to the Anantara brand that is known for its superior spa treatments and offerings, the menu at Anantara Spa at Qasr Al Sarab Desert Resort impresses with a wide range of firming, detoxifying, and exfoliating body treatments and facials, a variety of Thai massages, Ayurvedic treatments such as Shirodhara and kundalini massage, and signature treatments. Examples of these are the Arabian Desert Rose and Qasr Al Sarab Royal Hammam which offer a strong sense of place through ingredients and techniques that nod to the rich wellness heritage of the Middle East.
Traditional Moroccan and Turkish Hammam rituals are a good choice for those looking to experience thorough exfoliation and relaxation in a single session, while a kids' massage and kids' facial are available if you want to take the kids along. Four of the five massage suites at Anantara Spa are couples' suites, and hammam rituals take place in the traditional Moroccan Hammam.
Check availability at Anantara Qasr Al Sarab Desert Resort
Leisure Facilities at Qasr Al Sarab Desert Resort by Anantara
Swimming Pools
The resort's main family-friendly swimming pool has a gorgeous setting with an Arabian Oryx sculpture and turquoise waters that offer views of the surrounding desert dunes. It's great for families and has a kids' area with a splash pad, soft floors, and kids' sunbeds. Located here, Naseem Pool Bar serves meals, cocktails, homemade sodas, slushies, and fresh juices. Admittedly, we only passed this pool while strolling around or to the Ghadeer restaurant, choosing to spend our pool time in our private temperature-controlled pool instead.
The new adults-only infinity pool also offers breathtaking views of the desert, and both its private cabanas and sunbeds are ideal spots to park yourself in to enjoy refreshing swims while enjoying the serenity of the desert.
Sports Courts and Games
Couples, families, and groups can enjoy a game or two in the resort's padel court (costs extra), work on their game in one of three shaded tennis courts, or let loose with a game of sand volleyball on a desert volleyball field, all on a complimentary basis.
There's also a giant games area with chess and Jenga.
Gym
Whether you prefer cardio machines, or strength training, the resort's fully-equipped 24-hour fitness center is unforgettable thanks to expansive desert views. There's also a yoga and aerobics studio.
For The Kids
A Kids' club and Teens' club with interactive activities and experiences ensure that your children won't be bored while you enjoy spa dates or quiet time at the pool. Look out for scheduled activities like dance classes, kid's yoga, kid's cooking classes, treasure hunts, and desert excursions.
Library
For a quiet evening, choose from the large selection of books in the library, many relevant to the region, both fiction and non-fiction, and settle down on a comfy couch.
Boutique
If you're hoping to pick up a handcrafted souvenir, then you'll find yourself reaching for your purse often when you visit the resort's boutique. From embroidered beaded bags and kimonos to perfume and clothing by niche local brands, the resort's in-house boutique showcases an excellent curation of products, also with a sense of place, that you can buy.
Desert Activities and Experiences
Qasr Al Sarab Desert Resort by Anantara organizes many desert safaris, activities and experiences in the area, and in fact, has exclusive access to some protected areas. Whether you're staying there or visiting for the day, you can choose from a variety of activities suitable for families, kids, groups, couples, and solo travelers, such as desert drives, camel rides, fat bike rides, horse rides, animal experiences, Saluki shows, falcon shows, and night desert activities.
We booked a desert photoshoot – Ankit and I had never had a proper photoshoot where the photographer was someone other than me, and I wasn't using a tripod and directing the whole thing, not even during our wedding (where we had a forgettable sorry excuse for a wedding photographer). So we took the opportunity and ended up with a beautiful collection of photos after an hour-long photography session that took us to the best spots on the dunes around the resort. We like to think it was another way to enjoy the grandeur of this remote location.
Check availability at Anantara Qasr Al Sarab Desert Resort
That evening, we also experienced a stargazing session in the desert, just a few minutes' drive from the resort. Over an evening that can only be described as magical, our Nigerian guide Wilson Ukara, a skilled and enthusiastic astronomer, taught us about stars and planets and the moon and the earth, through passionate conversations and glimpses through a telescope. It was engaging and interesting, and we almost did not want the session to end – we could have sat there all night, in the beautiful desert majlis, gazing at the night sky in the quietness of the desert.
The resort also organizes dune bashing – but I do not encourage it due to its adverse impact on what is a fragile desert environment; a soft drive that is a much more gentle affair is a far more enjoyable way to experience the dunes in my opinion.
Who It's For
Anantara Qasr Al Sarab Desert Resort is a desert sanctuary that is great for couples, families, and solo travellers who love nature and beautiful landscapes. Between the swimming pools, spa, sports, and desert activities and experiences, and the stunning setting of the restaurants, there are plenty of ways to enjoy the desert landscape, whatever your preferred pace.
Couples will find Qasr Al Sarab Desert Resort by Anantara to be especially romantic – the pool villa is worth the splurge, as is a couples' spa, and the elegant rooms and villas are perfect for evenings of staying in and enjoying uninterrupted desert views. A night desert activity like stargazing or simply watching the sunset on the dunes is the kind of experience you won't forget anytime soon. Oh and Emirati pancakes taste even better when they're shared on your private pool terrace!
With many ways for kids to keep busy with kids' pools and kids and teens clubs, sports, and desert activities, it's also a solid choice for a family.
Best Time to Visit Anantara Qasr Al Sarab Desert Resort Abu Dhabi
The best time to visit Anantara Qasr Al Sarab Desert Resort Abu Dhabi is between October and May, with November to March being especially pleasant. During this time of the year, the temperatures in the desert and oases are mild enough so you can spend time outdoors – which is something you definitely want to do – whether it's swimming in the resort's main outdoor pool, watching the sunset in the dunes, going crazy with a sandboard, or simply enjoying a nice dinner among the dunes or on the terrace of one of the restaurants. These months are also favourable for desert activities like stargazing, desert drives, nature walks, and camel rides.
Insider tip: If you want to save a little, then book a stay at Anantara Qasr Al Sarab Desert Resort during the week. Since this resort is super popular with UAE residents looking for a weekend getaway, from October to March, you can expect rates to be cheaper during the weekdays.
Is the Anantara Qasr Al Sarab Worth It?
A hard-to-beat location, outstanding service, luxurious rooms and villas, a world-class spa, and excellent restaurants, as well as extraordinary desert experiences and activities, justify the price tag at Qasr Al Sarab Desert Resort by Anantara. This is a unique resort that is truly unlike any other desert resort in the UAE, also because you're literally at the edge of the Empty Quarter- the world's largest continuous sand desert.
The nightly price for double rooms at this award-winning resort ranges from 1,200 to 2,700 AED, suites from 1,900 to 6,000 AED and for villas ranges from 2,800 to 40,000 AED depending on the time of year and number of bedrooms for the suites and pool villas. The summer months from April to October are low-season, but quite a few guests stay even then.
Frequently Asked Questions
Is Qasr Al Sarab all-inclusive?
While Qasr Al Sarab Desert Resort by Anantara is not an all-inclusive, they do have rates that include breakfast, and half-board special rates that include breakfast and either lunch or dinner.
How many rooms are there in Qasr Al Sarab?
There are 207 rooms, suites, and villas at Qasr Al Sarab by Anantara. These include 70 Deluxe Garden Rooms, 42 Deluxe Balcony Rooms, 28 Deluxe Terrace Rooms, 14 Anantara Suites, 29 One Bedroom Anantara Pool Villas, 10 Two Bedroom Anantara Pool Villas, 2 Three Bedroom Anantara Pool Villas, 1 Sahra Villa, 1 Al Sarab Villa, and 10 Royal Pavilion Villas. Browse rooms and suites.
Who built Qasr Al Sarab?
Abu Dhabi's Tourism Development & Investment Company developed Qasr Al Sarab as a world-class tourist destination adjoining a 9000-sq km protected wildlife reserve in the desert.
Which airport is closest to Anantara Qasr al Sarab?
Abu Dhabi International Airport is closest to Anantara Qasr al Sarab Desert Resort.
When was Qasr Al Sarab built?
Qasr Al Sarab opened its doors in late 2009 and took three years to be built.
What is the meaning of Qasr Al Sarab?
The name Qasr Al Sarab means 'The Mirage Palace'.
How long to stay at Qasr Al Sarab?
Considering how long it takes to drive to Qasr Al Sarab by Anantara, I recommend staying at least two nights at the resort and up to four nights if you plan on exploring the forts, the villages in the Liwa oases, such as Mezairaa, and driving to Tel Moreeb, among the largest dunes in this area.
This post contains affiliate links. If you make a purchase using these, I might get a small commission with no extra cost to you, which goes towards running this site.