Looking for the best hotels in Dubai for couples? Here are my picks for the best romantic hotels in Dubai.
I've got you covered — I live in Dubai and as a lifelong local, I know the city's neighborhoods like the back of my hand, so I'm keen to share what I believe are the absolute best places to stay in Dubai for couples. I'm also a travel writer who covers luxury hotels in the city for renowned magazines, so I've had the chance to tour and review some of the most romantic hotels in Dubai for couples.
Dubai pulls out all the stops when it comes to romantic luxury stays in jaw-dropping locations. So, you (and your significant other) can totally expect to be swept off your feet if you're planning a romantic holiday or honeymoon trip to Dubai. By the way, my guide to how to dress in Dubai will help you plan what to pack for your Dubai holiday.
There is a seriously wide range of activities for couples, from romantic private stargazing and 3-course dinner desert safaris and sunrise hot air balloon rides to picnics on the beach and dinner cruises with live music.
Most people traveling to Dubai find it hard to believe that this city of skyscrapers and fascinating contemporary architecture was once a small fishing village along the Persian Gulf. Or that most of what you see today did not exist when I was growing up in Dubai in the 90s.
But it's not all serious business — if you know where to look and are into city breaks, then Dubai can be a truly romantic holiday destination! If you are not short on time, then you can also take day trips from Dubai for nature and adventure experiences.
The best places to stay in Dubai for couples offer access to a bit of everything — white sand beaches, legendary sea and skyline views, bucket-list-worthy dining and nightlife, seriously next-level spas, and high-quality service that makes you feel like royalty.
This post contains affiliate links. If you make a purchase using these, I might get a small commission with no extra cost to you, which goes towards running this site.
Best Hotels in Dubai for Couples: Quick Guide
Dubai serves up an ever-growing collection of five-star hotels offering exceptional service, top-notch amenities, world-class spas, fitness centers, and breathtaking views of the city's skyline or the Arabian Sea. But there's a LOT of choices, so I don't blame you if you're feeling super confused. Luckily for you, here are my top picks for the very best Dubai hotels for couples.
From opulent palace hotels that offer unparalleled luxury to trendy beachfront resorts with suites featuring private pools and private beach access, there is no shortage of options for couples seeking the ultimate romantic getaway. Throw in amenities like private butler service and you're guaranteed to be impressed.
Insider Tip: Always ask about romantic packages when staying at a hotel in Dubai as a couple. From private beach dinners to spa packages, hotels in Dubai usually have some nice perks for couples.
Best Places To Stay in Dubai for Couples
Dubai might be a big, busy city but I promise there are several neighborhoods in Dubai that offer a perfect balance of privacy, luxury, and convenience, making them ideal for couples to stay in.
Palm Jumeirah and Dubai Marina are perfect for couples who would enjoy a short walk to the beach or romantic strolls to Bluewaters Island while still being close to every convenience.
Jumeirah is the best place in Dubai for couples who want to be in a beach neighborhood that's also quiet and residential, but still close enough to dining and nightlife options.
Downtown Dubai offers easy access to some of the city's top attractions, nightlife, and shopping in the heart of the city.
If you're looking for a more traditional experience, the city's old neighborhoods provide affordable accommodations that offer a glimpse into life in old Dubai.
Here you'll also find Dubai's rich cultural heritage in the souks of Bur Dubai and Deira and the heritage neighborhood of Al Fahidi. This walking tour is a fantastic way to explore Al Fahidi and the souks and museums in the area.
Regardless of your preference, these Dubai neighborhoods offer something for everyone and are just a short drive away from the city's top tourist destinations.
Wherever you choose to stay in Dubai, you'll find these posts on getting from Dubai International Airport to the city and understanding the various neighborhoods in Dubai useful.
By the way, feel free to join my Dubai Travel Planning Group on Facebook where you'll find plenty of free resources, practical information, and insider tips about Dubai's best cafes and must-visit restaurants, what to wear in Dubai, photo-worthy spots, and more.
Best Places To Stay in Dubai for Couples: Palm Jumeirah
One of Dubai's most astounding modern-day creations, Palm Jumeirah is a man-made island in Dubai that is shaped like a palm tree. Understandably, it's a very popular tourist destination.
In my opinion, Palm Jumeirah is the absolute best place to stay in Dubai for couples because it's an island getaway within the city where you'll find luxurious beach hotels, fine-dining restaurants, and interesting nightlife.
If you want to see what the island looks like from above, I suggest checking out The View at the Palm for panoramic views over the island.
From strolling along the beach at sunset and kayaking around Palm Jumeirah to enjoying a candlelit dinner, couples will find plenty of ways to spend quality time together on Palm Jumeirah.
If you plan to stay in Palm Jumeirah, look for a hotel that has a private beach.
Tourist attractions and sites on the island include Nakheel Mall, with high-end shops and restaurants, the Atlantis hotels, the Aquaventure water park, and many beach clubs.
The Pointe is a waterfront destination on Palm Jumeirah with a variety of restaurants, shops, and cinemas. Finally, the Palm Fountain is the largest dancing fountain in the world, offering a spectacular water and light show.
Best Hotels in Dubai for Couples: Palm Jumeirah
Best Places To Stay in Dubai for Couples: Jumeirah
Most of Jumeirah is residential with low-rise villas, gated communities, beautiful mosques, fishing harbors, a cycling track along the coast, and trendy cafes. It's super romantic and charming in an old-meets-new way and that might be the reason why Jumeirah is one of my favorite places in Dubai.
Known for its proximity to the city's stunning beaches, dotted with luxurious hotels, and great restaurants and bars, Jumeirah offers a perfect getaway for couples looking for a romantic escape in a quiet part of Dubai.
The area is home to some of the world's most luxurious hotels, including the Burj Al Arab, Dubai's famous 7-star hotel, which is known for its iconic sail-like structure. Check rates and availability.
Even if you're not staying at the Burj Al Arab, you can visit the hotel on this Inside Burj Al Arab Tour to see their super expensive Royal Suite and learn how the other half live in Dubai!
Jumeirah also offers several thrilling activities if you're feeling active, including water sports like kayaking, scuba-diving (yes really), and kitesurfing. The beachfront dining and lively nightlife make it a good fit for couples who want to combine relaxation with adventure.
Jumeirah is also a pretty big area, so here's a breakdown of the neighborhoods within Jumeirah so you can make an informed choice about where to book your hotel in Dubai.
Jumeirah 1
Jumeirah 1 is a coastal district known for its quiet and peaceful neighborhoods and lovely cafes with courtyard gardens such as Seva Table.
It is the best area to stay if you want to walk to the beach (there are many), go for morning runs along beachfront promenades like La Mer, or the Jumeirah Fishing Harbour 1 (a must-visit in my opinion), or spend a morning chilling in a park (hey, some couples like us are happy to do that).
If the weather is nice, you can also explore Jumeirah 1 by Careem bike, with many bikes available and stops at most beaches and outside hotels.
Moreover, there are many small neighborhood shopping malls and attractions here such as Jumeirah Beach, Etihad Museum, and Jumeirah Mosque. It's also a 10 or 15-minute drive to other parts of Dubai.
Al Wasl
Al Wasl was once a quiet neighborhood that has now turned into a hotspot for some of Dubai's coolest restaurants and cafes, many award-winning and homegrown, such as Orfali Bros Bistro (book a table here before you get on your flight to Dubai, I'm serious), and others like Milk and Brunch and Cake.
One of the most popular attractions here is City Walk, a cluster of restaurants, cafes, and boutiques as well as a VR games arcade and cinema.
Landscaped boulevards and murals by local artists attract Dubai's foodies, fashionistas, and families to Al Wasl, especially on the weekends, in spots like Wasl 51 and Box Park.
Al Safa
Al Safa is a central Dubai neighborhood known for Safa Park, a lush neighborhood park full of picnicking families and groups practicing yoga or football on the weekends.
The Dubai Water Canal runs through Al Safa and connects to Business Bay. Hop on a bike and ride along the canal to explore, or book this cruise on the canal that includes tickets to the spectacular La Perle Dragone live show. The bridges over the canal provide a grand view of Dubai's impressive skyline.
Jumeirah Beach
For couples who love the beach, a stay in the vicinity of Jumeirah Beach in Jumeirah 3 is a good choice. The district boasts several popular beaches, including Sunset Beach, Kite Beach, and Al Sufouh Beach (also known as Secret Beach).
Each of these beaches offers a unique experience with Kite Beach having more facilities such as showers, toilets, food trucks, and restaurants, as well as an outdoor gym, beach club, and trampoline for kids. This is the place to be on the weekends between September and April.
Jumeirah Fishing Harbour 2 is another must-visit spot, perfect for watching traditional wooden boats and enjoying fresh seafood in restaurants.
Whether you want to relax on the sandy beaches lost in a book or indulge in water sports like kayaking, jet-ski, or kitesurfing, the beaches of Jumeirah have something for everyone.
Madinat Jumeirah
Built in the style of traditional sand-colored architecture and wind towers, Madinat Jumeirah is a complex consisting of a shopping mall called Souk Madinat Jumeirah, as well as restaurants, cafes, and bars designed around romantic canals plied by abra boats.
Visitors can also explore the immersive Theater of Digital Art, which showcases digital art exhibitions. Also around the canals are some very luxurious resorts that offer loads of old-world charm and serious palace-from-Arabian-fairytale-vibes.
Best Hotels in Dubai for Couples: Jumeirah
Best Places To Stay in Dubai for Couples: Dubai Marina and JBR
Dubai Marina is an expat-heavy residential area located in the heart of Dubai. These days it's pretty busy here, full of tourists and expats.
The big draw here is the canal that runs through the area and connects to the Arabian Sea, the Marina Walk, a waterfront promenade that is full of restaurants and cafes, and links to Dubai Marina Mall.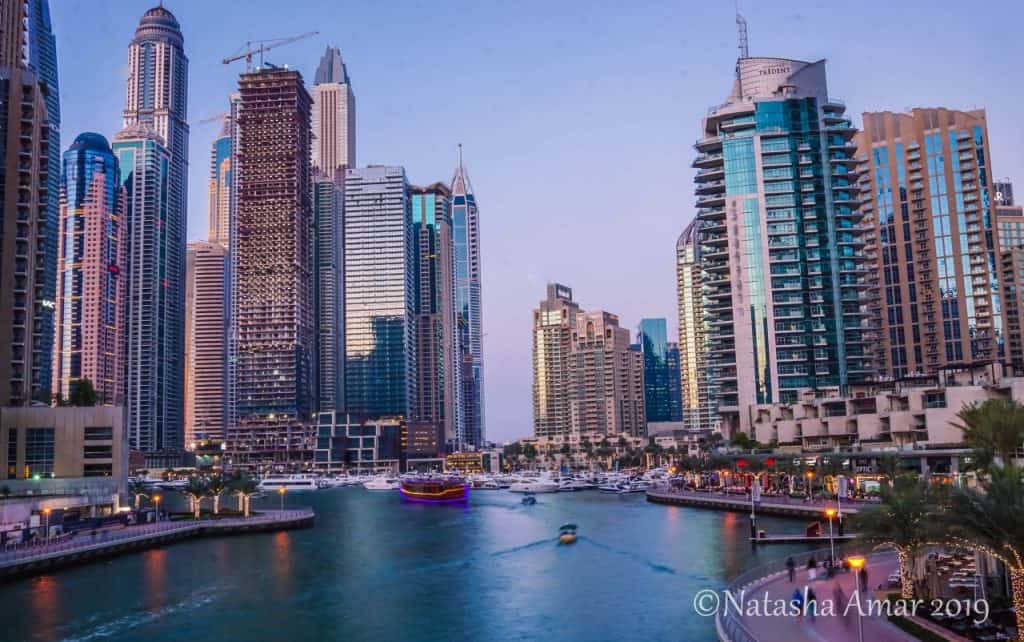 Dubai Marina is popular among couples thanks to its proximity to the beach in JBR, and the many dining options in the area. Couples can enjoy long walks along the water or relax on the sandy beaches in Marina and JBR, taking in the stunning views of the city skyline.
Within walking distance from Dubai Marina is Jumeirah Beach Residence, commonly known as JBR. Here you'll find a lively beachfront destination called The Beach with an outdoor cinema, multiplex, water sports, shops, events, and cafes and restaurants.
Ain Dubai, the world's largest Ferris wheel, is located on Bluewaters Island, just a short distance from Dubai Marina and JBR. A wooden walkway connects JBR beach and Bluewaters Island, and it's an easy 10-minute stroll to get between the two.
In fact, you'll also have nice views of Ain Dubai from JBR Beach. You can book a private boat tour from Dubai Marina to go further and enjoy views of Palm Jumeirah and Bluewaters Island.
Best Hotels in Dubai for Couples: JBR and Dubai Marina
Best Places To Stay in Dubai for Couples: Downtown Dubai
Sprawling out around the Burj Khalifa (the world's tallest building) and the Dubai Mall, Downtown Dubai is a lively district that's very much in the heart of all the action.
At your doorstep are high-end shopping, fine dining and casual eats, and exciting nightlife (from the Dubai Opera to Burlesque-style shows).
In Downtown Dubai, the streets make for romantic city strolls – the entire neighborhood is illuminated by fairy lights, as though it were Christmas all year round.
It's an excellent choice for couples also due to its convenient location, proximity to Sheikh Zayed Road, and on account of having easy access to public transportation on the Dubai Metro.
Some of the top attractions in Downtown Dubai include the Dubai Mall, Burj Khalifa, and the Dubai Fountain, a stunning water and light show set to music.
Couples can also explore the charming Souk Al Bahar, a modern mall built like a traditional Arabic-style marketplace. (Bonus tip: Go eat at TimeOut Dubai here, it's awesome!)
Best Hotels in Dubai for Couples: Downtown Dubai
Best Places To Stay in Dubai for Couples: Al Fahidi, Mankhool and Deira
Now not all couples are after palace-like hotels, beach resorts, or canal views. Romance means different things to different people. If you're the sort that bonds over cultural experiences and markets, then consider staying in Al Fahidi, Mankhool or along Deira Creek.
Al Fahidi Historical Neighborhood (also known as Bastakiya) presents plenty of old-world charm. Located along the Dubai Creek where wooden abra boats take you to the souks (markets) of Deira, this cluster of mud-colored houses with wind towers is a quick history lesson in the story of Dubai.
Here you'll find wind-tower houses, art galleries, and museums like the Coffee Museum. A short walk away is the Bur Dubai Textile Souk, through which you'll wind your way before emerging onto Dubai Creek.
This walking tour of old Dubai is a great way to explore the area and get some context about the soul of Dubai from a local.
You can also experience a traditional-style Emirati lunch in this area.
It's perfect for couples interested in Dubai's fishing and pearling past, who want to visit its heritage sites and explore the city's traditional architecture and souks.
Al Fahidi is home to some quaint heritage hotels with courtyard cafes (such as the famous Arabian Tea House) that are worth visiting.
The nearby Al Seef district blends traditional and contemporary architecture, while Meena Bazar is a slice of India in Dubai. Within walking distance is the residential neighborhood of Mankhool (where I currently live). Here you'll find affordable hotels and hotel apartments.
Just across the creek lie the Deira souks, including the Spice Souk, Gold Souk, and Perfume Souk, providing the perfect opportunities to go shop for souvenirs in Dubai.
Best Hotels in Dubai for Couples: Al Fahidi, Mankhool, and Deira
Places to Visit in Dubai for Couples
Some must-visit places to visit in Dubai for couples include:
It's a good idea to book this tour of Dubai with a professional photographer so you can get those romantic couples' photos in Dubai
Best Places to Stay in Dubai for Couples: Frequently Asked Questions
Is Dubai a Good Place for Couples?
Dubai is a fantastic place for couples on a romantic vacation. Whether you're celebrating a special occasion like a birthday or anniversary, or planning a honeymoon trip, Dubai offers plenty of opportunities for romance: think luxurious hotels in fairytale-like settings, world-class spas that offer couples' treatments, helicopter sightseeing flights (epic proposal, anyone?) award-winning fine-dining restaurants, and secluded desert retreats with private pools.
From a VIP sunset bubbly experience at the Burj Khalifa and taking a boat ride on the lake around the romantic Dubai Fountain to chilling in stunning beach clubs in Palm Jumeirah and couples' photoshoots in the desert or locations like Dubai Miracle Garden, there are so many places in Dubai to create memories that will last a lifetime.
This makes Dubai the perfect destination for couples looking to combine romance with adventure and excitement and discover the natural and manmade beauty of the Arabian Gulf.
Is it OK for unmarried couples to stay in Dubai hotels?
Yes, it is okay for unmarried couples to stay in Dubai hotels without any legal issues.
Previously the law stated that cohabitation without marriage was illegal, but that law was amended in 2020.
It is no longer illegal for partners to live together, whether in an apartment or hotel room, as long as they are both adults doing it without any coercion while being of sound mind. Here is an explanation of the law and amendments.
Is Dubai strict on unmarried couples?
Dubai is not strict on unmarried couples. While it's best to keep public displays of affection to a minimum (which means holding hands is okay, hugs are okay, just don't be full-on making out in public), you can stay with your girlfriend or partner in a hotel room without any issues.
Which are the Best Beach Hotels in Dubai for Couples?
The One&Only The Palm, Bulgari Resort Dubai, and Atlantis The Royal are my top picks for the best beach resorts in Dubai for couples.
Which are the Most Romantic Hotels in Dubai?
W Dubai The Palm, Raffles The Palm, Atlantis The Royal, and the One&Only The Palm are the most romantic hotels in Dubai in my opinion.
Which is the Best Area to Stay in Dubai for Nightlife?
Currently, the best areas to stay in Dubai for nightlife are DIFC and Palm Jumeirah.
DIFC (short for Dubai International Financial Center) is home to award-winning bars and lounges such as Galaxy Bar (among the World's 50 Best Bars) and Japanese restaurant and lounge Zuma which is on many people's Dubai bucket list.
Palm Jumeirah is home to some cool beach clubs such as White Beach (at the Atlantis) and rooftop bars and lounges like SoBe at the W Dubai The Palm and SushiSamba on the 51st floor of St. Regis.
I'll be honest there's loads of great nightlife in Dubai, so there's more than one great area to stay in Dubai for nightlife.
While you'll also find many bars and lounges in Dubai Marina, JBR, and Downtown Dubai, both DIFC and Palm Jumeirah score highly for having a large number of bars, lounges, and nightclubs that are classy and stylish (versus trashy), which is what I imagine you'd want on a honeymoon.
Both DIFC and Palm Jumeirah also have a good variety when it comes to nightlife. So whether you prefer a romantic-vibes rooftop bar or a fun beach club with a live DJ, whether you feel like dressing up or want to have a drink in casual clothing, whether you want a sports bar, or dinner show with samba dancers, you're sure to find a nightlife option that suits your preference.
Which is the Best Place to Stay in Dubai for Couples?
Palm Jumeirah is the best place to stay in Dubai for couples who love the beach. Atlantis The Royal is the absolute best hotel for couples to stay on Palm Jumeirah (if it suits your budget).
JBR is the best place to stay in Dubai for couples who want to be close to a beach but also want access to nightlife and a range of dining within walking distance. Check rates and availability for Dubai hotels.
What is the best area in Dubai to stay in?
Downtown Dubai, DIFC, and Palm Jumeirah are some of the best areas to stay in Dubai for tourists visiting Dubai on a holiday.
Each of these areas has different aspects that might appeal to tourists.
For example, Downtown Dubai is great for those who plan to shop at the Dubai Mall and want to be close to the city's tourist attractions like the Burj Khalifa while having access to the Dubai Metro.
DIFC is perfect for those who'd like to be close to award-winning restaurants and nightlife, while also being within walking distance of the Dubai Metro, so they can get around the city easily.
Palm Jumeirah is great for tourists who want to be close to beaches and great nightlife and enjoy the feeling of being on an island while still being in the city.
How many days in Dubai is enough?
Dubai is no fun when you're visiting on a rushed itinerary. You need at least five days to a week in Dubai to see highlights such as the Burj Khalifa, Palm Jumeirah, Dubai Creek, and the souks of Deira, go on a desert safari, visit cultural sites like mosques and museums, and enjoy the fantastic dining and nightlife scene in the city.
Where is the best place to stay in Dubai for the first time?
Downtown Dubai, Dubai Marina, JBR, and Palm Jumeirah are all great places to stay in Dubai for the first time.
You can choose among these locations depending on your preference to be close to the beach, shopping malls, nightlife, and public transportation. You'll find this guide on where to stay in Dubai useful to make a decision.
Which month is best to visit Dubai?
December to March are great months to visit Dubai.
If you're after festive holiday vibes, Christmas and NYE celebrations, cool weather, and beach days, December is the best month to visit Dubai.
If you're after more relaxed city vibes, and bright sunny days that still let you have fantastic beach days, then January is the best month to visit Dubai.
If you're interested in food and music festivals, outdoor concerts, and markets, then February is the best month to visit Dubai. In February you can attend Al Quoz Arts Fest, Dubai Food Festival, and Taste of Dubai.
If you're into art and art festivals, then visit Dubai in early March to attend Art Dubai and Sikka Art Festival. You can read more about the best time to visit Dubai here.
Where do the celebrities stay in Dubai?
Dubai's glamorous luxury hotels attract celebrities from around the world and most celebrities seem to have a preference for beachfront hotels with private beaches.
In 2023, celebrities such as Beyonce, Jay-Z, Rebel Wilson, Ashley Park, and Kendall Jenner stayed at Atlantis The Royal for the hotel's grand opening. Check rates and availability.
Roger Federer, Tiger Woods, Gigi and Bella Hadid, David Guetta, Justin Bieber, and Selena Gomez have all stayed at the incomparable Burj Al Arab. Bollywood stars such as Abhishek and Aishwarya Bachchan and Sonam Kapoor Ahuja have also stayed at the Burj Al Arab. Check rates and availability.
The Atlantis The Palm has hosted Michael Jordan, the Kardashians, Naomi Campbell, Rita Ora, Steve Aoki, and Robert De Niro, among other personalities. Check rates for the Atlantis The Palm.
In 2017, Bella Hadid stayed at The Bulgari Resort Dubai, when she attended the grand opening of the resort. Check rates and availability.
The likes of Tom Cruise and John Travolta have stayed at the palatial Jumeirah Zabeel Saray.
What is the most luxurious area in Dubai?
Palm Jumeirah is the most luxurious area in Dubai for tourists to stay in.
It's home to luxury hotels such as Atlantis The Royal, Waldorf Astoria Palm Jumeirah, St. Regis The Palm Tower, Raffles The Palm, and the One & Only The Palm.
There are glamorous beach clubs, white sand beaches, world-class restaurants and bars, and attractions such as Aura Sky Pool and View at The Palm. It's perfect for couples visiting Dubai on a romantic vacation or honeymoon.
Which are the Best Dubai Hotels for Adults?
W Dubai The Palm, Five Palm Jumeirah, and Atlantis The Royal are the best Dubai hotels for adults.