Dubai is the kind of city where you can never run out of cool things to do, whether you're visiting Dubai for a week or planning a three-week itinerary. It's home to amazing attractions such as the Burj Khalifa, Ain Dubai, Dubai Frame and soon, the Museum of the Future, world-class shopping and entertainment, such as La Perle Dragone, luxury hotels, top-notch spas, and some of the finest restaurants and bars in the world.
Everything about Dubai, from the infrastructure and cityscape to its culture and tourism experiences is dynamic; it is always evolving. So understandably, as a tourist visiting Dubai for the first time, or even the fourth, you might find yourself overwhelmed by the many choices when trying to narrow down the best Dubai tours for your itinerary or find the best excursion deals (there are so many if you know where to look).
I mean, how much should you spend visiting the Burj Khalifa, which are the most romantic hotels in Dubai, what are the best cafes in Dubai, what are the truly unique souvenirs to buy in Dubai, and how can you know you won't end up with sub-par food on your Dubai desert safari?
Luckily, you've got me, a Dubai local who's only happy to filter out the noise and steer you away from the cringeworthy and overpriced tours so you can get the best bang for your buck on the very best Dubai excursions and guided tours, and experience interesting and unique activities that are actually worth it- all so you can ultimately fall in love with the city.
You might also be interested in my guides to things to do in Dubai on a budget, how to dress right in Dubai and where to stay in Dubai.
Best Dubai Excursions
Dubai City Tours
If you have limited time in Dubai and want to make sure you see all the bucket-list worthy spots in that period of time, especially if it's a stopover, or a short time like four days or a week, then it makes sense to book local tours in Dubai that will take care of the organization, tickets, and logistics, while quickly transporting you to all the must-see spots, which can often be located at opposite ends of the city.
I've handpicked the best Dubai city tours that involve sightseeing in the heritage districts or visiting modern-day attractions such as shopping malls, marinas, and skyscrapers, or a bit of both.
On the Dubai: Souks, Sheiks and Spices Private History Tour you'll wander through the souks of old Dubai, marvel at grand window displays in gold shops, decked with exquisite gold, diamond, and silver jewelry, breathe in the aroma of spices and frankincense, and browse luxurious pashmina shawls, all while admiring the old architecture.
Around you, heritage homes rise up over the creek, complete with barjeel wind towers that kept these old merchant's homes cool even on the warmest of summer days. Here you'll sample traditional coffee at the Coffee Museum. While learning about the area's, and really Dubai's history, you'll step on an abra, a traditional wooden boat to cross the creek to Deira. Growing up in Dubai, going on an abra ride was one of my favorite things to do in the city around sunset.
See also: How to go from Dubai Airport to City Center
This Dubai Hop-On Hop-Off Tour offers plenty of flexibility to explore the city at your own pace while listening to an onboard audio guide available in 12 languages- it's perfect if you don't want the constant company of a guide but still want some context on the sights and history of Dubai. This is a budget-friendly way of getting around the sights such as the Burj Khalifa, Burj Al Arab, Atlantis Hotel, Al Fahidi Heritage District, museums and souks of old Dubai, Dubai Mall and Dubai Marina.
If you'd take taxis to get around these spots, you'd easily spend many times over of what you'd spend on this air-conditioned tour- plus you have the freedom to spend as long as you like in the attractions that you find most interesting. There are 1, 2, and 3 day options, and the Deluxe ticket comes with a complimentary Dhow cruise tour and a booklet with generous discounts on dining, retail, and entertainment.
This Old and Modern Dubai City Tour is the perfect day sightseeing tour to visit the souks and heritage houses of old Dubai, the beautiful Blue Mosque, and new attractions such as the famous Atlantis hotel, Souk Madinat Jumeirah and the palm-shaped Palm Jumeirah archipelago- all in a single day.
Want to see Dubai from the air? This Helicopter Tour is an epic way to witness the architectural achievements of the city from a point of view that few others get to see. You'll fly over the Palm Jumeirah archipelago, get up closer to the Burj Khalifa and Burj Al Arab and see what the Dubai Canal looks like from the sky.
Burj Khalifa Tours
Absolutely do not miss a visit to the Burj Khalifa when in Dubai. Not only because it's the world's tallest skyscraper, but also because it offers a fascinating view of Dubai- the beautiful blue of the Arabian Sea against the sandy coastline, the golden desert, and the city of skyscrapers and indeed now islands, that has sprung up in the middle of this unique landscape.
Seeing Dubai from so high up offers insight into how this city has evolved since the early 2000s. Luckily, whatever your preference and budget, there are many different ways to visit the Burj Khalifa and experience its epic views.
The most budget-friendly option is the Burj Khalifa Tickets Level 124 and 125 with which you can enjoy panoramic views over the city, both from the indoor deck as well as the outdoor terrace. It's best to time your visit around sunset, so you can enjoy both day and night time views, and also see what the dancing Dubai fountain looks like from up. Afterwards, enjoy a romantic boat ride on the Dubai Fountains lake, though I do recommend doing that when the weather is pleasant and it's not humid.
Don't forget to use the viewing telescopes to get a closer look at Dubai's famous landmarks such as the Burj Al Arab and Jumeirah Beach.
Feeling fancy or celebrating a special occasion? Book the Burj Khalifa Bubbly Sunset Experience to nibble on canapes, sip on bubbly, and enjoy live music at the Burj Khalifa Lounge, spread over levels 152, 153, and 154 of the world's tallest skyscraper. There's also a High Tea option at the lounge.
For a more affordable, but still fancy tour of the Burj Khalifa, add a three-course lunch or dinner after your visit, to be enjoyed at the 5th floor of the Burj Khalifa, at the Burj Lounge, with incredible views of the Dubai Fountain.
Dubai Marina Tours
Ever since it was developed in 2003, Dubai Marina (also known as Marsa Dubai) continues to be one of the most popular places to visit in Dubai. The area is home to a shopping mall, promenade, a yacht marina, luxury hotels, and residential high-rises and towering skyscrapers that offer incredible views over the canal.
Those winter photos you've seen of Dubai where clouds appear to be floating outside apartment balconies? It's highly likely that they're from Dubai Marina.
Other than walking along the promenade with families, cyclists, and runners for company, going on a yacht or boat tour of Dubai Marina is a fantastic way to appreciate the view of the canal meandering between skyscrapers, and getting further out on the water towards Palm Jumeirah.
Yacht tours are surprisingly not as expensive as they can be in some other cities, so if you're a family or group, this is a great activity to enjoy the sunny weather, insta-worthy views, and warm waters- especially during winter (our winter temperatures hover around a pleasant mid-20 degrees celsius).
This 90-minute Speedboat Tour is a quick and thrilling way to see Dubai Marina, Palm Jumeirah, Ain Dubai, and the Atlantis Hotel on a RIB (Rigid Inflatable Boat), at an affordable rate.
If you're after a more comfortable ride, like say, a luxury yacht, then book this shared Yacht Tour that also includes a guide, and breakfast with fresh juices or a lunch or dinner BBQ. Note that you'll be sharing the yacht with other guests- that's what makes it so affordable.
But, if you're a group, then it's a no-brainer to book this Luxury Yacht Tour of Dubai Marina where you have a leisurely two or three hours to enjoy a picnic, tan on the deck, or jump into the water for a swim, while still seeing the same sights as above, from the water.
In the mood for dinner at the marina? Take this Dinner Cruise in Dubai Marina where you'll feast on a buffet dinner and enjoy live music while cruising the Arabian Sea and enjoying skyscraper and canal views.
Excursions to the Dubai Desert
If you're visiting Dubai for the first time, or if you'll be here between October and March, I encourage you to head out into the Dubai desert to see golden sand dunes and the starriest night skies you'll ever see in Dubai. Whether that's in a Range Rover, on a camel ride, or in a dune buggy, there are plenty of options, whatever your budget and preference.
Dubai Desert Safari Tours
If there's one piece of advice I give to anyone looking to go on a desert safari in Dubai it's this: For a desert safari, don't go for the cheapest option, because you really do get what you pay for. Instead choose at least a mid-range safari where the safari vehicles are in a good condition and are comfortable, drivers and guides are knowledgeable, activities don't feel cheap and tacky, fellow guests are well-behaved, and the food doesn't get you sick (true story).
When it comes to quality and luxury, there's no other desert safari that equals the Platinum Desert Safari, a 7-hour excursion into the Dubai Desert Conservation Reserve in a Range Rover, with chances of spotting the native Arabian Oryx.
You'll be taken into a royal desert retreat with a lake that is a bird sanctuary, where you'll enjoy sunset canapes and date juice over a falconry demonstration. Then make your way on camelback to your dinner venue for a fancy meal, shisha, and live entertainment under the stars. This one's pricey but worth it for how much better the experience, guides, facilities, and food are over other cheaper options.
For a more budget-friendly option, consider this Desert Safari with Camel Rides where you'll arrive in a Land Cruiser at the Al Khayma Desert Camp, hidden away in the Lehbab Desert. Chase thrills on a dune-bashing drive, ride a quad-bike, and do a bit of sandboarding. Later, enjoy a buffet dinner, henna, falconry, and live entertainment- all over a day-long excursion from Dubai.
Overnight Desert Safari
Fancy spending a night in the desert admiring thousands of stars in the night sky? It's worth booking an Overnight Dubai Desert Safari where you'll sleep in a royal desert retreat. Your adventure begins in a vintage Land Rover from the 1950s, after which you'll experience a falconry demonstration and a Bedouin meal. This is a comfortable glamping experience where you'll sleep on a bed in a traditional stone dwelling, and enjoy a gourmet breakfast (complete with caviar) at sunrise.
Balloon Ride Excursions
Getting on a hot air balloon to experience jaw-dropping views of Dubai's glorious desert with camels and Arabian oryx wandering the golden dunes, lush palm oases, and date farms is a really unique but amazing activity to do in Dubai. On this Sunrise Balloon ride, you'll witness sunrise over the desert, enjoy a lavish Middle Eastern breakfast on the dunes, and get a photograph taken with a Peregrine falcon perched on your arm.
Boat Tours in Dubai
Dubai is an excellent city to discover from the water; it's impressive skyscrapers, beautiful white sand beaches, plush hotels, and one-of-a-kind archipelagos are even more remarkable when viewed from the Arabian Sea, venturing into the city's many marinas and canals.
If you want to helm your own little boat (like a total badass), then book this 90-minute Self-Drive Boat Tour around Jumeirah, the Burj Al Arab, Palm Jumeirah and Atlantis the Palm hotel. While you'll captain your own boat and reach speeds of 60km/h, there's nothing to worry about because there will be a guide to offer context for the sights and to take control when you want to relax.
For a different kind of boat tour, go parasailing in Dubai to enjoy aerial views of Palm Jumeirah, Atlantis, Dubai Marina and Jumeirah Beach Residence.
Excursions from Dubai
Once you've seen the main sights and attractions in Dubai, you might be wondering, "Is this all? Where can I go outside of Dubai?" Well, that's an excellent question to ask- one I wish more tourists would ask, because taking a day trip from Dubai is a very rewarding experience.
I highly recommend taking day trips from the city to other towns like Khorfakkan and Al Ain located in other emirates such as Sharjah, Ras Al Khaimah, Abu Dhabi, and Fujairah to see a completely different side of the UAE.
The United Arab Emirates is made up of seven different emirates (think of them like states), and every emirate has a unique character and focus- such as culture, adventure, or outdoors. Not only can it feel like visiting completely different places but it can also often feel like different periods in the UAE's recent history. For example, fresh fruit markets and tiny roadside stalls in the town of Masafi remind me of the Dubai of my childhood, in the early 90s.
There are plenty of one-day excursions from Dubai whether you're visiting solo, with family and kids, with your significant other, or a group of friends.
Go Snorkeling or Scuba Diving in Fujairah
On this snorkeling trip to Fujairah, an emirate known for its spectacular coastline and natural beaches, you'll get up close and personal with the rich marine life in the waters of the Gulf of Oman and enjoy a barbeque afterwards.
Up for a bigger underwater adventure? Take this introductory course and go scuba-diving in a breathtaking location in Dibba, Fujairah to see colorful corals and fish, and enjoy a BBQ lunch afterwards.
Consider both of these activities if you're visiting Dubai from October to March, when it isn't too hot or humid to spend the day in the sun.
It takes approximately 1 hour 25 minutes to travel the 130km distance from Dubai to Dibba Fujairah.
Go Dune Bashing and Swim in Natural Pools at Wadi Showka
A true local secret in the UAE, Wadi Showka in Ras Al Khaimah is nothing like what most tourists visualize when they think of nature spots in the UAE. On this Desert Drive & Wadi Showka day trip, you'll go on an intrepid mountain safari in the Hajar Mountains in the emirate of Ras Al Khaimah. You'll see ancient rock formations, try a bit of sandboarding, enjoy stomach-lurching thrills while dune-bashing, and finally, cool off by taking a dip in the natural pools at Wadi Showka.
It takes approximately 1 hour to travel the 84km distance from Dubai to Wadi Showka.
City Sights, Forts and Fishing Communities in Ras Al Khaimah
To see a completely different side of the UAE, take a day trip to explore the emirate of Ras Al Khaimah. After visiting the main sights in the city- such as the National Museum of Ras Al Khaimah and the Old Souk (market), you'll explore the former fishing community of Al Hamra, the manmade Al Marjan Island, and the historic 16th-century Al Dhayah Fort that played a significant role in the UAE's history. This trip is an excellent way to see all the main sights and attractions in Ras Al Khaimah over a single day.
History buffs should not miss the mid-18th century National Museum of Ras Al Khaimah which served as the former residence of the ruling Al Qawasim family. There's also the ghost town of Jazirat Al Hamra, one of the country's oldest historical sites, a traditional fishing town that was abandoned by its residents around 40 years ago. Noteworthy is the coral stone architecture and the features of the township such as a fortress, school, market, houses, wind towers, mosques and courtyards.
Ras Al Khaimah is often called the 'Adventure Capital of the UAE' thanks to Jebel Jais, the UAE's highest peak which stands at 1,934m above sea level in the Hajar Mountains. Go here for the views, or to zipline on the world's longest zipline! This day trip from Dubai also includes a visit to Jebel Jais.
It takes approximately 1 hour 15 minutes to travel the 100km distance from Dubai to Ras Al Khaimah.
See Museums, Heritage Neighborhoods & Old Souks in Sharjah
The emirate of Sharjah has a character that is notably different from what I like to think of as the 'busy-ness' of Dubai. Sharjah is decidedly more traditional and the highlights here are cultural sights and attractions- think markets and mosques with beautiful Islamic architecture, sand-colored heritage buildings in the heritage district of Heart of Sharjah, that offer glimpses of life in the old days, and many many museums. If you have the time to stay a night, here's my review of the Chedi Al Bait, Sharjah, a beautiful heritage property in the historic Heart of Sharjah district.
Take this half-day tour to Sharjah from Dubai to visit sights such as King Faisal Mosque, the Sharjah Fort, the former residence of the ruling family, that was built in 1820, the Heritage Museum, and labyrinth souks where you can browse traditional clothing, gold, frankincense and more while sipping on a cup of warm karak tea.
If you've rented a car, then it's easy to visit Sharjah independently from Dubai (be prepared for some traffic though). My guide to Sharjah has tons of ideas to plan the perfect day trip to Sharjah.
The Sharjah Museum of Islamic Civilization, housed in a palatial building that was once Souk Al Majarrah, offers the chance to see thousands of rare Islamic artifacts, while the Sharjah Art Museum exhibits the work of many well-known Middle Eastern artists. For a fun look at over a 100 vintage cars including a 1915 Dodge, visit the Sharjah Classic Cars Museum.
Don't miss the blue tile-adorned Central Souk, complete with two domed buildings with fountains at the entrances and connected with an embellished bridge, that's worth a visit just for the architecture. Inside, you'll find gold jewelry, Iranian carpets, antiques and pashminas from Pakistan.
Around sunset, make your way to Al Noor Island, a green, car-free island in the heart of the city, easily reachable by a walkable bridge, just outside the beautiful Ottoman-inspired Al Noor Mosque.
Alternatively, you can also do this Hop-on Hop-off tour of Sharjah that gives you a bit more freedom to explore many additional sights at your own pace, especially if you have not rented a car.
It takes approximately 20 to 30 minutes to travel the 20km distance from Dubai to Sharjah city, when traffic is not at its peak. During rush hours, it can take as long as 40 minutes to an hour.
See Historical Sights, Wildlife and Snorkel on the East Coast
To those willing to venture out of the hotels and shopping malls of Dubai, the UAE is full of surprises. Take for example, this day tour of the East Coast of the UAE where you'll see various indigenous species at the Arabian Wildlife Park, archaeological sites and historical mosques (the oldest in the UAE), a typical Friday village market, a Heritage Village. Finally, you'll enjoy an afternoon of snorkeling on Snoopy Island, followed by a refreshing lunch on the water.
Visit the Garden City of Al Ain
If you find yourself missing lush, green landscapes, then rent a car (or take an expensive taxi) and make your way to the Garden City of Al Ain, the birthplace of His Highness Sheikh Zayed Bin Sultan Al Nahyan, the UAE's founding father, in the emirate of Abu Dhabi.
On a day trip to Al Ain expect to see spectacular historic castles and forts like Al Jahili Fort, which house museums (such as the Al Ain National Museum and Al Ain Palace Museum) and open-air concert venues, date plantations and traditional souks.
Camels enjoy a special place in Emirati heritage, which isn't surprising considering these beasts made survival easier for the Bedouin tribes of the desert by helping them to cross the harsh region with their essential supplies while providing them with milk and meat. An hour's drive from Dubai, the Al Ain Camel Market is the UAE's largest livestock market. It's a great place to watch market dynamics at play with persuasive negotiations between eager sellers and rich buyers, some of whom don't even step out of their SUVs, choosing instead to cruise between pens to assess the animals.
Tourists are welcome to take a look at the different camels but expect to have to tip for a photograph. The newborns, some bred for meat and others for racing, make great crowd-pleasers.
Spend some time strolling under the shade of date palms at the Al Ain Oasis — the first UNESCO World Heritage Site in the UAE, where you can walk past falaj irrigation channels- an agricultural system that has fed oases in this region for thousands of years. Not far away is Jebel Hafeet, at 1,240 meters above sea level, the UAE's second-highest peak is reached by a scenic mountain road that offers jaw-dropping views of the area, especially at sunset.
Make a quick stop at Green Mubazzarah at the base of the mountain, to dip your toes in the hot water springs that are believed to be therapeutic.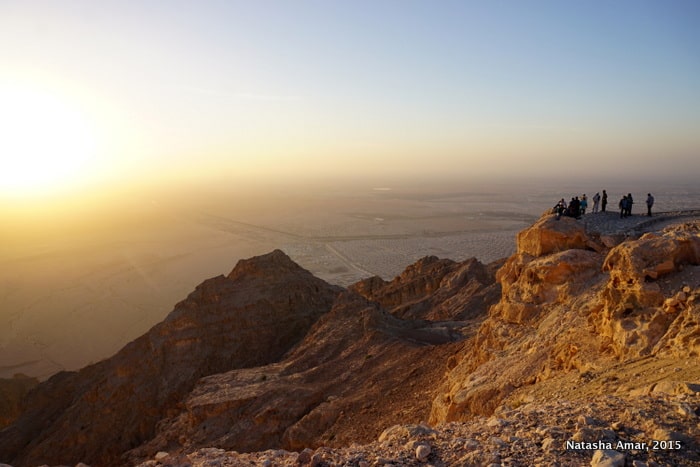 It takes approximately 1 hour 40 minutes to travel the 152km distance from Dubai to Al Ain.
See Mountains, Trails and Honey Bees in Hatta
If you're renting a car on your Dubai trip, and visiting between October and March, then take a day trip to the mountain town of Hatta (or better spend a night here if you have enough days in the UAE).
On your Hatta excursion from Dubai, begin your day of adventure at Hatta Wadi Hub, which offers access and information to several hiking and mountain biking trails that crisscross the Hajar mountains here. All of the trails are marked, maps are available to download, and there are many trails of varying difficulty level to choose from. Access to the trails is completely free, and there's a cafe and a few food trucks at Hatta Wadi Hub. Other activities that can be booked here include horse riding, axe-throwing, archery, zorbing, and paragliding.
For a true highlight of your Hatta day trip, head to Hatta Kayak to rent a kayak, water bike, or pedal boat and enjoy the calm turquoise waters of Hatta Dam surrounded by rugged sandstone peaks. This activity is a personal favorite and I go as often as I can when the weather is nice.
If you've got your own wheels, it's easy to visit the other main sights in Hatta, which include the Hatta Fort, Hatta Heritage Village (where you'll walk through a reconstructed village with homes, a market and more), and Hatta Honey Bee Farm, before you make your way back to Dubai.
If you'd rather go on an organized day trip to Hatta, then consider this Hatta Safari and Bee Garden Visit, which picks you up from Dubai (or another emirate) and not only takes you to Hatta, but also to other nearby heritage and archaeological sites of interest, offering you a picnic breakfast in the mountains.
It takes approximately 90 minutes to travel the 126km distance from Dubai to Hatta.
Explore a Nature Trail and Go Kayaking in Wadi Shees
A 90-minute drive from Dubai and a 45-minute drive from Sharjah, Wadi Shees is an agricultural village with lush farmland. Here you can enjoy a beautiful and easy trail through farms where you'll walk past a residential village with old houses, natural pools, and terraced farms under the canopy of date palms, or have a picnic at a park with a waterfall and barbeque areas. This area has its own micro-climate, so it's always considerably cooler than the cities.
Not far away is Al Rafisah Dam, where you can rent kayaks to spend some time on the beautiful waters surrounded by the Hajar Mountains and watch ducks and other birds. There are several picnic areas to enjoy views over the water and a terrace restaurant serving local dishes.
It's best to rent a car to do this day trip and here are the best things to do in Wadi Shees.
It takes approximately 1 hour 10 minutes to travel the 107km distance from Dubai to Wadi Shees.
Drive to the Liwa Oasis in Abu Dhabi
Four hours from Dubai, Liwa Oasis provides a once-in-a-lifetime opportunity to experience the majestic Rub Al Khali desert, also known as the Empty Quarter. Visit the Emirates National Auto Museum on your way there. The museum houses an impressive collection of vehicles including a 16-foot tall Dodge with an apartment in it, owned by His Highness Sheikh Hamad bin Hamdan al Nahyan, or the "Rainbow Sheikh."
The drive to Liwa Oasis is particularly scenic. Enjoy the shifting colors of the dunes; the 328-foot-high Moreb Dune is among the largest in the world. The area is also a conservation reserve for the protected Arabian Gazelle, which roams wild in this area. As you take in the sheer beauty of the desert, you'll pass by oases, local villages, camel farms and date plantations, so feel free to stop occasionally and appreciate the simple lifestyle outside of the city.
Hiking, Watersports & Markets in Khor Fakkan
Just a 90-minute drive from Dubai, the port town of Khor Fakkan, nestled between the Hajar Mountains and the east coast of the UAE, makes for a delightful day trip from Dubai. Hike the easy Al Rabi Mountain Trail, eat fresh fish at the Khorfakkan Fish Market, spend a lazy morning at Khorfakkan Beach (or go parasailing), and go diving and snorkeling around Shark Island. Further along the coast in Fujairah, Al Bidya Mosque is the UAE's oldest mosque open to both worshippers and visitors.
Read my post about the best things to do in Khor Fakkan.
See Hidden Bays and Fishing Villages in a Traditional Dhow boat in Musandam
Most visitors to Dubai (and the UAE) who visit Musandam come away pleasantly surprised and somewhat awe-struck at just how unexpectedly beautiful the landscapes are in this region. After all, the Gulf of Oman offers a completely different view of the UAE (and Oman), and if you're coming between October and April, then a day trip to Musandam is a must.
On this day trip to Dibba and Musandam cruise, you'll enjoy local hospitality, coffee, snacks and lunch, along with views of the coastline and sea, onboard an Omani dhow, a traditional boat that's still used around the Gulf. The Musandam Peninsula is full of awe-inspiring views that remind some visitors of fjords, because of the vista of jagged peaks rising up all around. You'll see the Dibba fishing harbour and then make your way towards the spectacular bays and beaches (such as Zighy Bay) of Musandam. The day is all about sunbathing, relaxing, and swimming and snorkeling in the clear waters. If you're lucky, you might even spot some dolphins!
Excursions from Dubai to Abu Dhabi
If you've got a day or two to spare on your trip to Dubai, definitely take the time to head to Abu Dhabi, the capital, and perhaps also the cultural capital of the UAE. While Dubai is still largely about retail and shopping, dining and nightlife, and luxury, Abu Dhabi is all about culture, heritage, and art. It's where the traditional goes hand-in-hand with the modern.
Abu Dhabi is home to many world-class museums (the most famous one being the Louvre Abu Dhabi), galleries, and cultural centers, forts and palaces, islands and beaches, and nature spots such as the Al Jubail Mangrove Park. While you can certainly do an excursion to Abu Dhabi independently by renting a car, there are plenty of reasonably-priced organized tours that will arrange transportation and logistics, and offer the insight of guides.
It takes approximately 90 minutes to travel the 140km distance from Dubai to Abu Dhabi.
Sheikh Zayed Grand Mosque
The Sheikh Zayed Grand Mosque is one of the most impressive mosques in the world that marries Islamic architecture with modern design techniques. Noteworthy features include the mosque's 82 domes, the world's largest Persian carpet hand-woven by over a thousand weavers, large crystal chandeliers and glass panels adorned with thousands of Swarovski crystals, and exquisite mosaics and tile work. The mosque is open to tourists and non-Muslims at certain times (but closed to tourists until 4pm Fridays), but be sure to dress modestly. Women will need to wear an abaya over their outfit- it's available to borrow from the mosque entrance.
On this day trip to Abu Dhabi, you'll visit the Sheikh Zayed Grand Mosque and the Louvre Abu Dhabi, which means there's no rush and you can take your time to appreciate each of these (trust me, you'll want to).
Louvre Abu Dhabi
Afterwards, at the Louvre Abu Dhabi on Saadiyat Island, admire the intriguing architecture, and the play of light and shadows, reminiscent of walking under a canopy of palm leaves, in the beautiful outdoor space. The museum houses classic and modern art exhibits as well as works of cultural and historical significance by artists from around the region and world. There's also a Children's Museum, temporary exhibitions, workshops and sessions, a gift store, restaurant, and cafe with lovely views.
Considering this day trip to Abu Dhabi includes museum tickets as well as transportation from Dubai, the price is reasonable.
Qasr Al Watan
Qasr Al Watan is the UAE's Presidential Palace, with its exquisite architecture, art, and exhibits. You'll walk through the Great Hall admiring the intricate details on stately arches and domes, step into the Presidential Banquet that has welcomed diplomats from around the world with unmatched Emirati hospitality, cuisine, and customs, and get a deeper insight into the UAE's history and culture.
On this excursion from Dubai to Abu Dhabi after visiting the Sheikh Zayed Grand Mosque, you'll witness the grandeur of Qasr Al Watan, then, you'll visit the remarkable skyscrapers in Etihad Towers and enjoy views of the Abu Dhabi skyline from the Observation Deck on the 74th floor.
If you'd like a bit more freedom to explore the main sights and attractions in Abu Dhabi at your own pace, then make your way to Abu Dhabi from Dubai by public bus as early in the morning as you can, then use this Hop-on Hop-off ticket to travel between the sights such as the Grand Mosque, Louvre Abu Dhabi, Qasr Al Watan, Ferrari World, Yas Island, Heritage Village, Yas Marina FI circuit, Presidential Palace, and more. An audio-guide is included.
Frequently Asked Questions
What are the best day trips in Dubai?
The best day trips from Dubai that are right for you depend on your preferences and whether you're traveling as a family, a couple, solo, or as a group. Do you like nature and the outdoors, are you after a bit of adventure, or would you like to see city life but outside of Dubai?
If you're interested in hiking, kayaking, and mountain biking, as well as forts, then take a day trip to Hatta. If you love underwater adventures, such as snorkeling and diving, then take a day trip to Fujairah or Musandam.
What day trips in Dubai are taking additional safety precautions?
The UAE is very strict about safety precautions during the pandemic, and random checks are routinely conducted to ensure that tour operators are adhering to safety, distancing, and hygiene rules. Be rest assured, that guides and staff will be wearing masks, social distancing, and all contact surfaces, such as in kayaks and boats, are being regularly sanitized.
What day trips in Dubai are good for avoiding crowds?
If you want to avoid crowds, which is understandable during the pandemic, then choose a day trip from Dubai that involves spending time in nature and the outdoors, doing activities such as hiking, biking, kayaking, or visiting natural pools, such as in places like Wadi Shees, Hatta, or Wadi Shawka.
What should I wear on my Dubai day trip?
That depends on if you're going on a city tour or to enjoy the great outdoors on a desert safari, hike or kayaking trip. Generally, dress a bit more modestly in the other emirates as well as towns like Hatta, than you would in Dubai. My guide to what to wear in Dubai should give you a basic idea of what to wear for different activities.
Do I need a guide for my Dubai day trip?
That really depends on where you plan to go. If you're a visitor and you'd rather visit trails, natural pools, and other outdoor sights with a guide, (because tourists are known to sometimes be ill-prepared for the weather and technical parts of some of the trails in the Wadis), then it is a good decision to go with a guide. Not only do they arrange your transportation, they'll also take you to the best, most photogenic spots, and viewpoints that you might otherwise miss.
As far as city tours go, such as to Sharjah and Abu Dhabi, again it's really a question of preference. Going with a guide is convenient and you have the benefit of their expertise and knowledge. But if you're the type of person who does not want to hang out with a guide all day, or wants to explore at your own pace, then you can visit independently and make use of the information booklets, boards, and audio guides available at museums.
Should I rent a car for a day trip from Dubai?
No, if you're going on an organized day trip, whether a private tour or a group excursion. Yes, you'll need to rent a car if you plan to venture outside of Dubai on your own.
This post contains affiliate links. If you make a purchase using one of these links, I get a small commission, (which goes towards running this blog), at no extra cost to you. If you're looking to book a tour in Dubai, please consider using one of the links on this page.