After years of traveling, you'd expect me to be one heck of an organized traveler- you'd assume I'd always plan trips at least months in advance, always have my visas organized, and be a pro at packing quickly. And, I'm not in the least bit embarrassed to say that you'd be wrong on all three counts. And that's why I need to be aware of countries to visit from Dubai that are easy to get to.
I'm very much a last-minute or at the most a two-weeks-before planner, and so I often choose to go where I can get visas quickly and easily (on arrival and/or as a UAE resident), or to places for which I already have a multiple entry Schengen visa. And I need at least four hours to pack for any kind of trip because packing light means having to strategize- and that takes time.
So, I get it- I really do, when you say you love to travel, but sometimes just can't be bothered to plan everything months in advance, sort out itineraries and visas and hotels and everything else, especially if it's not just you, but a spouse, group or family that's also counting on you.
I am a professional travel blogger and I still hate the amount of time it takes to organize trips.
No one needs that kind of stress to go on a holiday. And as an Indian passport holder, I know that waiting in anticipation to get your visa in time, is not a pleasant experience at all.
So, if you're based in Dubai (or the rest of the UAE or elsewhere in the GCC), and the only reason you've been putting off a trip is a lack of time and advance planning, I've got you covered with this list of countries to visit from Dubai that are great for your next holiday, and that you can get to easily with direct flights and a smooth and easy visa process (especially if you're a UAE resident, or have a multiple-entry Schengen, UK or US visa) even on a last-minute plan.
By the way, if you're looking for insider tips about cool restaurants, best cafes in Dubai, romantic hotels in Dubai, attractions and things to do in and around Dubai, and cool day trips from Dubai, join my Dubai Travel Planning Group on Facebook.
Need ideas for the upcoming holiday or long weekend in Dubai or the UAE?
Incredible Countries to Visit from Dubai for Your Next Holiday
1. Azerbaijan
Still a largely off-the-beaten-path destination in the Caucasus (especially when you consider all the attention that Georgia gets), Azerbaijan is a country by the Caspian Sea that lies on the ancient Silk Road in Central Asia, a place that since it's ancient origins has welcomed travelers and cultures from around the world. And it's one of the lesser-known but still amazing countries to visit from Dubai.
Some of the best places to visit on a short trip include Baku, the fire temple-museum of Ateshgah and the rock carvings at the UNESCO Site of Qobustan National Park, Tufandagh Mountain Resort (for snow, views and skiing) and Qabala (to see beautiful nature), and the crafts village of Lahic.
The capital Baku is a modern city also home to an old town, known as Icherisheher that is a UNESCO World Heritage Site with sights such as The Maiden Tower, Palace of the Shirvanshahs, mosques, and caravanserais- guesthouses for merchants who arrived by sea.
In contrast to this, you'll find Gothic, Renaissance and Art Noveau architecture (from the oil boom period) and modern buildings with fluid lines such as The Flame Towers and the Heydar Aliyev Cultural Center designed by architect Zaha Haddid.
In Baku, you'll find great local and international restaurants and cafés, lively squares and promenades, theaters, galleries and museums, bars and nightlife, and shopping in boutiques, markets and malls. Azerbaijani cuisine is delicious and rich, and one of the highlights of any trip to Azerbaijan is tasting the fresh seasonal fruits and vegetables. Azerbaijan also has a rich heritage of arts and crafts, and Azerbaijani carpets are so rich, unique and intricate, you'll never have seen anything like them.
If you have more time, Azerbaijan has some truly awe-inspiring landscapes that you can see in places such as Qabala, Yengija forest and Nohur Lake, as well as spa hotels for a relaxing getaway surrounded by nature.
Why Go: For cosmopolitan Baku, ski and snow resort in Tufandagh, quaint villages, great hospitality, delicious food, and nature.
When to Go: Azerbaijan is a year-round destination. The best times to go are during spring, summer and fall, so between February/March and October. Winter has its own appeal- you can go skiing in the mountains (such as in Tufandagh) or experience traditional sporting events in Sheki.
How to Get There: If arriving by air, you'll fly into the capital Baku. There are direct flights from Dubai, Abu Dhabi, Sharjah, Jeddah, Kuwait, New York, London, Milan, Paris, Prague, Tbilisi, Russia, Turkey, and other Post-Soviet countries in Europe.
If you're going from Dubai, Flydubai flies directly to Baku, as does Azerbaijan Airlines, at the time of writing. Use my favorite flight search site Skyscanner to look for flights to Baku.
There are also rail connections with Tbilisi and Russia and bus connections with Georgia, Turkey and Russia.
Visa for Azerbaijan: E-visas are now available for Azerbaijan. You can check your eligibility and apply here or here.
If you're a UAE resident, have at least six months left on your UAE resident visa and your passport, and have return tickets booked, then you can get visa on arrival in Azerbaijan (at the time of writing). It's always best to check current visa rules before you travel.
Where to Stay in Baku: Dinamo Hotel Baku is a luxurious sports-themed hotel with a fantastic restaurant and bar, great breakfast, and stylish rooms in a historic building close to sights of interest and attractions.
To stay in the heart of nature at a spa resort, consider the Qafqaz Thermal Spa and Resort.
You can also search for other options here:


2. Georgia
If you live in Dubai, then you probably know someone- a friend or relative or colleague who has been to Georgia. Georgia sees a lot of tourists from the Middle East and is one of the most popular countries to visit from Dubai, especially during the Eid holidays. All of this attention is rightly deserved.
Georgia's capital Tbilisi is both charming and eclectic. There's an old town with hilltop churches, a fortress, winding lanes and backstreets with run-down buildings and old architecture with beautiful colorful balconies. Soviet-style compounds give way to houses and art cafés, women bake bread in basement bakeries, and artists sell their wares in parks.
Flea markets, garden, busy squares, sulphur baths, fascinating architecture, theater, and opera and ballet- these are just some of the things you can experience in Tbilisi. Here's my ultimate guide to Tbilisi that you'll find useful if you plan to spend a short break or a few days in the city.
Watch My Video of Tbilisi
Georgian cuisine is delicious, hearty and affordable- think Georgian pizza or khachapuri- freshly baked bread topped with cheese, eggs and other toppings, flavorsome khinkali- soup dumplings, succulent kebabs, and lobio, a comforting stew of kidney beans, onions, and herbs.
Further away, are the remarkable mountain landscapes of Svaneti (great for hiking), and Kazbegi and Gudauri (where you can go paragliding and skiing), and mystical cave cities (Vardzia) that still house monks, churches and monasteries. If you like beaches, it's worth exploring Batumi, and finally, let's not forget the wine region of Kakheti. Georgia claims to be the birthplace of wine, and well, the wine really is something special. You can do a winery tour in Kakheti where you can go wine tasting.
It's worth mentioning that Georgians are very warm and friendly, and as an Indian, I had a great experience while traveling around Georgia.

Why Go: To relax and explore Tbilisi, go wine tasting in Kakheti, see nature and mountains in Kazbegi, beaches in Batumi, hiking in Svaneti and see many historical sights and monasteries.
When to Go: Spring, summer, fall and winter. Late spring (mid-April and May) and early summer are best to go hiking. Summer (July and August) can be very hot and humid, but it's still a good time to go to the coastal region of Batumi, or hiking in regions that otherwise are inaccessible due to snow in winter.
September-October or fall is a good time to see the changing colors or the wine harvest season. Visit in winter if you want to go skiing in Gudauri, or don't mind the cold and want to experience Christmas traditions. Given how close Tbilisi is to Dubai, you can easily visit on a long weekend with little planning.
How to Get There: The easiest way to get to Georgia is to fly to Tbilisi. There are direct flights from Dubai, Sharjah, Abu Dhabi, Istanbul, Moscow, Baku, Munich, Vienna , Amsterdam, Paris, London, Frankfurt, Tel-Aviv, Athens, Kiev, Astana, and other Post-Soviet countries.
Look for flights to Georgia from Dubai.
You can also travel to Tbilisi via bus or road from Baku and Yerevan.
Visa for Georgia: Georgia now issues e-visa making it easy for tourists to come to Georgia. Check eligibility and apply here or here. If you aren't sure, check the visa regime with your country here.
If you're a UAE resident, then you're eligible to get a visa on arrival if you have at least six months left on your resident visa and passport and have return tickets booked. But like I always say, these things can change quickly, so best to check visa rules just before you go.
In 2016-17, there were reports of Indians being denied entry into the country even when they had e-visas/visas. I cannot comment on this because with me visiting as an Indian passport holder with a UAE resident visa and Schengen multiple-entry visa, it was a smooth process.
Where to Stay in Tbilisi: From hostels for budget travelers and very affordable apartments to family-run and boutique hotels and fancy luxury hotels, Tbilisi offers plenty of choices for accommodation.
From my experience, I can recommend Falcon Apartments Rustaveli, one of many places I stayed at during my month long visit. You can also look for more options below or read in detail about my advice on where to stay in my Tbilisi guide.
3. Armenia
You can probably tell that I love the Caucasus, and Armenia is the third country from the region that I highly recommend for an easy last-minute and oh-so-cheap holiday from Dubai. Armenia is home to dramatic mountain landscapes that seem like they were painted, fantastic hiking trails, medieval monasteries, and the capital Yerevan- an intriguing modern city with plenty of art, culture, museums and sights to keep you busy on a short break.
Considering how close it is to Dubai, I'm surprised that it's not more popular as one of the top places to visit from Dubai.
For nightlife in Yerevan, expect wine bars, jazz bars, underground bars, and rooftop bars, and a mix of laidback casual bars, places with live music and dancing, as well as nicer, sophisticated bars in fancy hotels.
While in Yerevan, you absolutely should take one evening to watch opera or ballet at the Armenian National Academic Theatre of Opera and Ballet. We watched a grand ballet from front row seats at tickets that cost only $10 each!
Yerevan also has good shopping if you're into brands and such, also local designer boutiques, and you can get a nice chunk of your money back at the airport as shopping above a certain amount is tax-free.
Apart from exploring Yerevan, and really taking it all in slowly while you enjoy the amazing restaurants and local food as well as wine bars (the local wines are great), you can also take day trips to Lake Sevan, Geghard Monastery, Debed Canyon. If you love nature and hiking, don't think twice before keeping a day or two to visit and explore Dilijan National Park.
The best part? Yerevan isn't nearly as crowded as Tbilisi, and it feels more modern and European than Tbilisi as well- if you're after that sort of vibe.
Why Go: To enjoy city life, art and culture, good food and wine, nightlife, and shopping in Yerevan, to take day trips to see nature and monasteries, and to go hiking in Dilijan National Park.
When to Go: Late spring is pleasant and in late April-May, temperatures are between 15 and 20 degrees Celsius with sunny days. Nights can occasionally be chilly (10 to 12 degrees Celsius) with some rainy evenings.
In summer, between June and August you can expect daytime temperatures between 30 and 35 degrees Celsius, which is still pleasant, if you're coming from Dubai. Fall, in September and October is also a good time to visit for mild weather and too see beautiful autumn foliage. Winters in Yerevan can be cold and snowy, but you can still visit if you're after that kind of weather and a bit of skiing.
How to Get There: You'll likely fly into Zvartnots International Airport in Yerevan if you're coming by air. There are direct flight connections from Dubai, Sharjah, Athens, Beirut, Berlin, Istanbul, Moscow, Paris, Tbilisi, Vienna and Warsaw, among others. Flydubai offers cheap flights to Yerevan. You can also look for other options here.
There are also bus connections with Tbilisi, Georgia, as well as train connections with Tbilisi and Batumi in Georgia.
Visa for Armenia: Many nationalities are exempt from visa to enter Armenia. Check the visa rules for your nationality here. If you need to get a visa, check if you're eligible for an e-visa or check rules and apply here.
If you're a UAE resident, and have a return ticket, and six months left on your UAE residency and passport, then you're eligible to get a visa on arrival in Yerevan. As always, these things can and do change quickly, so check visa requirements just before your trip. But the ease of getting a visa on arrival for UAE residents, without question, was one of the main reasons Ankit and I booked a last-minute trip to Yerevan (we booked just four days before our date of departure).
Where to Stay in Yerevan: In Yerevan, you'll find hostels, apartments, budget hotels and luxury hotel chains. Look for accommodation options here:
4. Turkey
In my opinion, Istanbul is one of the greatest cities in the world-its perfection evident the very moment you lay eyes upon it for the first time with the silhouettes of the Hagia Sophia and the Blue Mosque standing proud by the Bosphorus straddling two continents. Being in Turkey cannot be compared to being elsewhere in Asia, the Middle East or anywhere else for that matter. Without a doubt, Turkey is one of the best places to visit from Dubai on holiday.
Turkey's landscapes are unbelievable and a photographer's dream- you only need to lay eyes on Cappadocia or Pamukkale to know this is true. And history is everywhere; in the old town of Istanbul, the underground cave cities in Cappadocia and the ruins of Ephesus. Turkish food is incredible so be prepared for the extra pounds, as food is a real highlight.

Thanks to Instagram popularity, a hot air balloon over the fairytale landscape of Cappadocia is now on many bucketlists. No matter how much you get to see of the country, you will want to return to Turkey- we have been wanting to go back since we first visited in 2014.
Istanbul is the kind of city where you're surrounded by historical and cultural treasures, where friendly sellers will offer you a cup of tea when you walk through old market lanes on a warm evening, where you can joins the local to eat simple fish sandwiches seaside, drink beer in bars that spill out on the streets, and dance the night away at one of the city's fancy nightclubs- all in one day.
There's also good shopping in Istanbul- clear from the fact that most locals look like they've stepped out of the pages of a Zara lookbook, with many Turkish designers selling clothing and shoes in stylish boutiques quietly tucked away in backstreets.

Why Go: For the timeless appeal of Istanbul, to see historic sights and monuments, to see the magical landscapes of Cappadocia and Pamukkale, to see ancient cave cities, and to feast on Turkish cuisine.
When to Go: Spring (March to June) and Autumn (September-October) are the busiest seasons for Turkey because of great weather and long days with little or no rain. Summer (June to September) can be quite hot, but that means you'll also find less crowds and more reasonable prices.
I visited in winter (December) and while winter (November to February) can be chilly and a bit rainy, that's the time I fell in love with Turkey. Also, winter sees much fewer crowds and easy availability for hotels, plus lesser crowds in places such as Cappadocia as well.
How to Get There: Turkey offers flight connections to Dubai, Sharjah, and Abu Dhabi, as well as the US, UK, Thailand, Japan, and European cities such as Paris, Amsterdam, Dusseldorf, Milan, Vienna, and others through its airports in Ankara, Antalya, Izmir and Istanbul, with Istanbul offering the best connectivity.
Turkey also has rail connections with London and some other European cities such as Budapest and Sofia. There are also ferries from Greece and Cyprus.
Visa for Turkey:
Check your visa eligibility and rules for travel to Turkey. If you're eligible for one, you can apply for an e-visa here.
If you're going to Turkey from Dubai, you'll need to apply through VFS, read the visa application requirements and process here.
Where to Stay in Istanbul: In Istanbul, you'll find hostels, apartments, boutique and family-run hotels as well as major international hotel chains.
Look for accommodation in Istanbul:
5. Sri Lanka
Pristine palm-fringed beaches, whale-watching in the Indian Ocean, fortified cities with colonial architecture, cave temples and lush forests, hiking trails, an ancient Ayurveda heritage, wellness resorts, vibrant festivals, and spotting leopards in the wild on safari, these are just some of the diverse experiences you can have in Sri Lanka. This amazing island nation is one of the coolest places to visit from Dubai especially if you're looking for a cheap holiday.
While the nature is definitely a highlight, one of the things that stands out about the country when you visit is the hospitality and friendliness of Sri Lankans, whether it's is the cities or in the beach towns. The unique cuisine is another highlight. Expect seasonal dishes with fresh fruits and vegetables, delicious seafood preparations and plenty of flavors and spices, as well as street food.
Watch my Video of Safari in Sri Lanka

Why Go: To go whale-watching, see wildlife on safari, go birdwatching, visit cave temples, experience festivals, go hiking in national parks, and wander through the charming city of Galle.
When to Go: November to March-April is the best time to visit Sri Lanka, specially if you want to avoid the sweltering summer temperatures, humidity and the rains.
How to Get There: The best way to get to Sri Lanka is to fly to the capital Colombo. There are direct flight connections from Dubai, Abu Dhabi, Muscat, Jeddah, many Indian cities, Maldives, London, Melbourne, Seychelles, Tokyo, Singapore, Beijing, Shanghai, Jakarta and other cities in the Middle East and Asia.
Look for other flight options.
Visa for Sri Lanka: Many nationalities are eligible for the Sri Lanka e-visa. If you're eligible, you can apply for it online to get an authorization letter before you arrive.
Where to Stay in Sri Lanka: Around Sri Lanka, you'll find several incredible and unique properties- from luxurious safari villas and beachfront resorts, to luxury treehouses, Ayurveda wellness resorts and family-run boutique hotels and guesthouses.
If you like beaches, consider Cinnamon Hikka Tranz or Cinnamon Bey Beruwala. If you're looking for a health focused retreat, consider the Siddhalepa Ayurveda Resort. One of the highlights of my last trip was to stay in a safari villa at Cinnamon Wild Yala.
You can also search for other options below:

6. Oman
If you live in Dubai or elsewhere in the UAE, and still haven't taken the time to explore Oman, then you need to change that right away. Right next door to the UAE, but vastly different in terms of both landscapes and culture, Oman offers a taste of slow living in the Middle East. Understandably, it is one of the best countries to visit from Dubai, and many tourists visiting the UAE also combine it with a trip to Oman.
While the capital Muscat is a modern city, it's not the kind that needs escaping from- it's neither overly commercial, nor touristy. Sights in Muscat include the Muttrah Souk, a traditional restored market where you'll find souvenirs such as beautiful lamps, silver Omani daggers called khanjar, frankincense, oud perfume, traditional attire, and more, Al Alam Palace- the Sultan's palace, the Royal Opera House, and the Sultan Qaboos Grand Mosque. Other cities such as Nizwa are also great in that they feel very authentic.
If you like nature and activities, then you'll love exploring sights such as Wadi Bani Khalid and Wadi Shab, the lush green landscapes of Salalah, and go hiking through Omani villages, rugged wadis and along terraced farms in Jabal Akhdar (something you can do when you stay at the Alila Jabal Akhdar), that can be cooler than Muscat by at least 15 degrees Celsius around the year.
If you're visiting Oman with family, you might be interested in my review of the family-friendly Millennium Resort Mussanah.
Watch my Video of Hiking in Jebel Akhdar

Why Go: To go sightseeing in Muscat, hiking in Jabal Akhdar, to explore lush landscapes in Salalah, and to explore nature around the country.
When to Go: Oman is a year-round destination and if you're visiting from Dubai, then it might be a great idea to head to the mountains in Jabal Akhdar or to Salalah, both of which are likely to be much cooler than Dubai and Muscat.
How to Get There: The best and quickest way to get to Oman is to fly into Muscat or Salalah. Muscat offers connections to several international cities worldwide.
Look for flights to Muscat or Salalah from Dubai.
You can also get to Oman from Dubai by road, crossing the border in either Hatta, Buraimi or the Dibba transitional border, depending on where in Oman you're going.
Visa for Oman:
Oman offers e-visas for many nationalities. Check your eligibility and apply for an e-visa before you arrive in Oman. If you're a UAE or GCC resident, you still need to apply for an e-visa depending on the category.
At the time of writing, visas are also issued at the UAE-Oman border in Hatta, but if you're visiting during a long weekend or a public holiday, then you should know that you're likely to have to wait for several hours at the border to get your visa issued. On a recent long weekend, a four-hour journey turned into a seven-hour one, thanks to delays and long queues at the visa office at the border.
Where to Stay in Oman: There are some lovely hotels and resorts in Oman, from family-friendly beach resorts such as Millennium Resort Mussanah and the luxurious Six Senses Zighy Bay (perfect for active, beach-loving couples) to Alila Jabal Akhdar (a mountain resort great for those who love hiking or relaxing in nature).
Read my review of Millennium Resort Mussanah and my review of Alila Jabal Akhdar and book here, or look for other options:
7. Maldives
That the Maldives are astoundingly beautiful is no secret- I'm sure you've seen photos and drone videos of white sand beaches and overwater villas over turquoise waters. The Maldives are like paradise for beach lovers and those who love diving and snorkeling.
While there are plenty of luxury resorts in the Maldives, what you might not know is that there are also many guesthouses and boutique hotels that are perfect for independent travelers and those on a budget. So if you're looking for a cheap holiday from Dubai, it's very much do-able.
While many tourists choose not to, it's worth taking a bit of time to explore Male and get a sense of what life is really like for the locals- far removed from the world of luxury resorts on private islands.
Why Go: For paradise-like beaches, snorkeling, diving and water activities, for a romantic getaway, or to go diving.
When to Go: Visit the Maldives from November to March so that daytime temperatures are pleasant and there's no rainfall to dampen your holiday plans.
How to Get There: The best way to get to the Maldives is to fly into Male. There are direct flights from Dubai, Abu Dhabi, London, Bangkok, Beijing, Colombo, several Indian cities, Istanbul, Moscow, Muscat, and a few other cities in the Middle East.
Look for flights to the Maldives.
Visa for Maldives: It's so easy to travel to the Maldives because all nationalities get a free visa on arrival, provided you've got a return ticket booked, a machine-readable passport with at least six months validity, and sufficient funds to cover your stay. Check visa rules here.
Where to Stay in the Maldives:
Look for accommodation in the Maldives here:
8. India
India is both diverse and intense, especially if you aren't South Asian yourself, but as a destination, it's unlike anywhere else on the planet. India's diversity is not only in its many cultures, religions and languages, but also in its landscapes.
While you've probably heard of the forts and palaces of Rajasthan (Jaipur and Udaipur), and the grandeur of Taj Mahal, or the nightlife and beaches of Goa, you might not know that northern India is home to some breathtaking landscapes that hikers will appreciate, whether in Leh-Ladakh or in little hamlets in the Himalayas. Arunachal Pradesh is a great adventure destination with plenty of opportunities to go hiking, biking and rafting.
In southern India, Kerala is perfect for a bit of downtime in the heart of nature- think traditional houseboats on quiet backwaters that offer a taste of slow rural life in fishing villages. And Indian cities such as Mumbai, Kolkata, Banglaore, Amritsar and Delhi, among others, each have a different kind of vibe and plenty to offer in terms of dining, entertainment, nightlife and shopping.
My biggest piece of advice, if you're thinking of traveling to India on a short trip (even a week is short for India) is to pick one region and visit at the most two to three places during that time that are close to each other geographically.
Traveling in India is intense- everything from the language barrier to arranging your own transportation and getting to places can be challenging- you don't want to get burnt out on your holiday by trying to do too much in limited time.
On the plus side, India is close to Dubai, and it isn't expensive- so it's ideal if you're looking for a cheap holiday from Dubai.
Why Go: For bucketlist sights such as the Taj Mahal, for mountain towns and villages in the Himalayas, for bustling cities, for palaces and forts, for adventure off-the-beaten-path and to relax in southern India.
When to Go: Visit between October and March to avoid hot, humid weather and the monsoons.
How to Get There: You can fly into major Indian cities from around the world and there are direct flights from Dubai.
Visa for India: To arrange a visa for India, you'll have to plan well in advance, as it can take longer than expected. I'm Indian and don't need a visa but from what I hear from friends of other nationalities, Indian visas can be well, a time-consuming process.
Check eligibility and see if you can get an online visa for India. Also, I suggest making a few calls to the Indian consular services in your country of residence to check the best way to get a visa for India where you live.
Where to Stay in India:
9. Nepal
While the might Everest and epic Himalayan views are certainly Nepal's biggest draw, Nepal is a country that isn't just for trekkers and hardcore adventurers, but also for those interested in cultural experiences in medieval cities with rich heritage- such as Kathmandu, Patan, and Bhaktapur. With regular flights, it's one of the best countries to visit from Dubai.
Nepal is full of spiritual experiences- temples, monasteries and easy trails in the Kathmandu Valley that are nothing short of therapeutic. It was here that I fell in love with hiking and I didn't even make it to legendary trails such as the Everest Base Camp or the Annapurna Trail.
Elsewhere, Nepal offers plenty of opportunities to step outside your comfort zone, whether it's to go rafting in its wild rivers or bungee jump or paraglide. If you've always dreamt of going on safari, then visit Chitwan National Park.
The Nepalese are a warm, resilient people- eager to bounce back after the effects of the 2014-2015 earthquakes. Around the country, you'll find English is spoken quite a bit, and even where there isn't outside of the main tourist areas, you'll find the locals to be so helpful- they'll be willing to go out of their way to help.
Religion is important in everyday life- and even if like me, you aren't religious, you'll find yourself intrigued. Nepalese food is great too- comforting dal bhat and tasty momos (dumplings) and hearty soups- just the kind of thing you need after a long day of exploring.
Considering how budget-friendly Nepal is, it's one of the best places to visit from Dubai, on a cheap holiday.

Why Go: To relax or hike in the mountains, to have epic adventures- whether it's rafting, bungee jumping, trekking or paragliding, and to experience festivals and other cultural events.
When to Go: Autumn (September to November) and Spring (February to late April) are the best times to visit weather-wise. Best to avoid the pre-monsoons and monsoons and the chilly winter season, especially if you want to spend time exploring outdoors (and really you will because that's where the main draws are).
How to Get There: You'll have to fly into the country's only international airport close to Kathmandu. There are direct flights from Dubai, Sharjah, Delhi, Hong Kong, Bangkok, Mumbai and Bangalore.
Also search for other flight options here.
Visa for Nepal: Most nationalities can get a visa on arrival in Nepal once they arrive at the international airport. Check your eligibility and visa rules and if you need to, you can apply here.
Where to Stay in Nepal:
Where you'll stay will largely be dependent on the type of activities you're hoping to do. While you can stay in Kathmandu for city life, and to do daytrips to places such as Bhaktapur, Bodhanath and Patan, you can also choose to stay a few days each in other places such as Pokhara where you'll be closer to hiking trails and nature spots.
Look for accommodation in Nepal here:
10. Jordan
I've said it many times before and I'll say it again- there is no other feeling in the world that compares to when you see the ancient Nabataean capital of Petra in Jordan for the first time. I don't know what time travel feels like, but it must not be very different from what it feels like walking through the Siq, a swirling 1km long canyon with smooth sandstone walls that leads to the rose-colored Treasury or Al Khazneh. That alone is reason enough for Jordan to be on this list of top countries to visit from Dubai.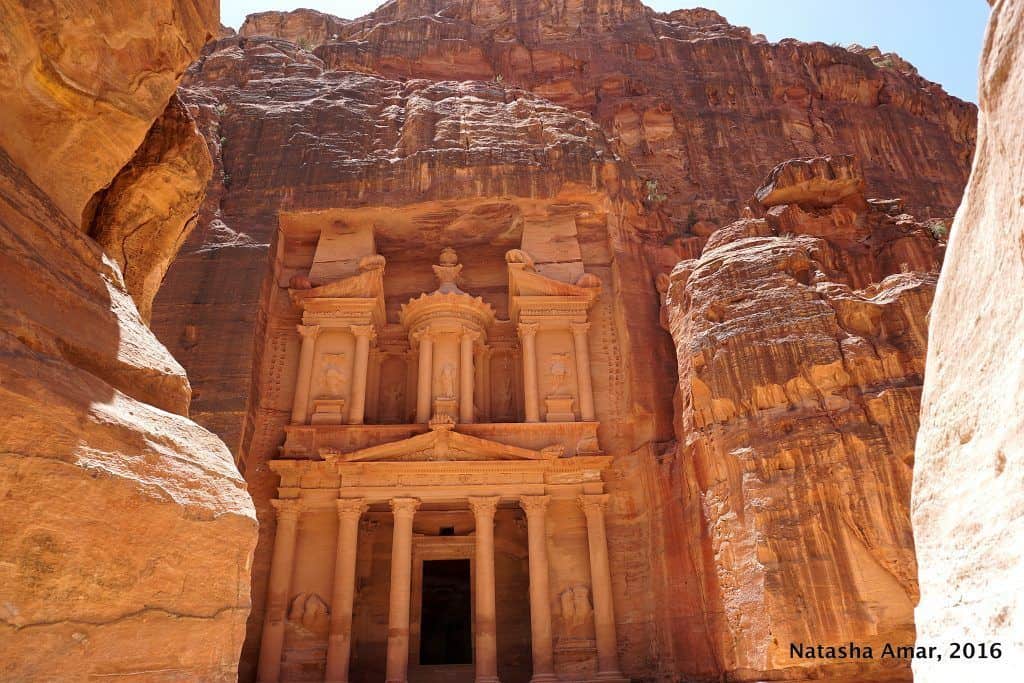 Whether you spend just a day seeing a bit of Petra, or spend two to three days hiking there, or decide to stay overnight and see it lit up after sunset, Petra is the kind of place that will leave you awestruck. Further away, the desert of Wadi Rum, where you can follow in the camel tracks of Lawrence of Arabia, feels like you've arrived on another planet where the landscape is just sand dunes shining under a glimmering moon.
If you love hiking, then the Jordan Trail is a relatively new 600km long trail that you can either hike entirely over 40 days or hike parts of to see the country's rich and diverse landscapes.
If you love the sea, then you'll love the coastal town of Aqaba where sunny days, diving, snorkeling, boat rides and fresh seafood await. Floating in the Dead Sea is, of course, another one of Jordan's bucket list experiences. The capital Amman is full of character with Roman ruins, low-rises, residential districts, markets, mosques, cafés, art galleries and bars, as well as plenty of restaurants serving international and local food.

Why Go: To explore Amman, to float in the Dead Sea, to see the UNESCO Heritage Site of Petra, to drive through Wadi Rum, and to go diving and enjoy the coastal life of Aqaba.
When to Go: To be able to explore outdoors, visit Jordan in either Autumn (September to November) or Spring (March to May). In Summer (June to August), the days are long and sunny but the temperatures can reach 40 degrees Celsius, which might be a tad too much if you're not used to it.
How to Get There: You'll fly either into Amman or Aqaba. There are direct flights to Amman from Dubai, Abu Dhabi, Sharjah, Kuwait, Istanbul, Amsterdam, Athens, Barcelona, Bangkok, Moscow, Paris, London, New York, Frankfurt, Rome, Vienna and other cities.
Check other flight options here:
Visa for Jordan: Several nationalities are eligible for a visa on arrival in Jordan. Check your eligibility and visa rules here and here.
At the time of writing, Indians are eligible for a visa on arrival in Jordan, but not Filipinos, provided they have a passport that's valid at least for six months.
Where to Stay in Jordan: I've stayed at the Kempinski Ishtar Dead Sea and the Kempinski Aqaba and can recommend both.
You can also look for other accommodation here:


11. Kyrgyzstan
Kyrgyzstan is a Central Asian gem that should be on your bucket list if you have a love of hiking in spectacular landscapes- think turquoise lakes, breathtaking mountains, views to make you forget the notion of time, and overnighting in yurts in the wilderness.
This is a destination for the intrepid traveler who cherishes the opportunity to experience local immersion, culture, and the many benefits of community-based tourism. Given how easy it is to get to from Dubai, it's one of the best countries to visit from Dubai for adventure and nature lovers.

Why Go: Nature, nature and nature.
When to Go: June to September- summer is ideal for hiking.
How to Get There: You can fly to the capital Bishkek via Dubai, Istanbul, Tashkent, Almaty and Moscow.
Visa for Kyrgyzstan: Many nationalities do not need a visa to enter Kyrgyzstan for 60 days, while others can get a visa on arrival. Yet others, including Indians, are eligible for e-visa. Check your visa eligibility and rules.
Where to Stay in Kyrgyzstan:
12. Seychelles
Like the Maldives, the Seychelles are the ideal destination for vacationers who like the idea of time in an island paradise with azure waters, gorgeous beaches and days filled with diving, snorkeling and downtime on the sand.
If you're looking to get away from it all, or go on honeymoon or babymoon, then you will love the Seychelles. There are various resorts that you can choose to stay in depending on your preferences and availability.
The best part? It's a visa-free country so if you find affordable flights and accommodation, then it's super easy to organize a last-minute trip. This is one of the big reasons why it's one of the best countries to visit from Dubai, especially for those of us who need to apply for a visa to go anywhere.
Why Go: To vacation in an island paradise and enjoy snorkeling, diving, watersports and hiking on forest trails.
When to Go: The Seychelles are a year-round destination and April to November is an ideal time to visit.
How to Get There: You'll fly into Mahe, the entry point to the other islands in the Seychelles. There are direct flights from Dubai, Abu Dhabi, London, Frankfurt, Istanbul, Paris and other cities.
Look for flights to the Seychelles.
Visa for Seychelles: Seychelles is a visa- free country and anyone can enter visa-free as long as they have a valid passport, onward tickets booked and sufficient funds to cover their stay.
Where to Stay in the Seychelles:
Look for accommodation in the Seychelles:
13. Taiwan
An under-the-radar island in East Asia, Taiwan offers a surprisingly diverse mix of experiences; beautiful national parks and mountainous scenic areas with hiking trails and few visitors, indigenous cultures rich in tradition, art and crafts, delicious cuisines from the mountains and coast, and cities that are effortlessly cool, fashionable, hipster, arty, and intriguing, all at once.
Read my week-long itinerary for Taiwan.
Then there's Taipei- a city that changed the way I thought of Asian capitals. None of the chaos, none of the crowds- calm, laidback, trendy, modern and orderly, Taipei is the kind of city you don't need to escape from. Plus there are tons of cool things to do in Taipei.
There's culture in the art galleries, delicious food in Taipei's night markets, districts and cultural parks, shopping from designer boutiques and international chains to pop-up stores, and a dining scene that includes Michelin-starred restaurants, street food, and hole-in-the-wall places serving traditional and local food. For nightlife, expect eclectic bars, trendy wine bars, slick rooftop bars, speakeasy bars and nightclubs for every taste.
Watch my Video of Taiwan
Further away, nature lovers will appreciate the quiet hiking trails and sublime mountaintop sunrises in the Alishan National Scenic Area, as well as the cherry blossoms that adorn the country's landscapes from January to April.
It's also worth timing your visit around the Taiwan Lantern Festival, held in a different city each year where thousands of lanterns, created by local and international artists, around traditional and modern themes, light up the sky, land and water and attract locals and tourists from around the world. In 2020, the Taiwan Lantern Festival will be held from 8th to 23rd February 2020 in Taichung.
And the people? Friendly, respectful, welcoming (also of diversity) and so polite they put the rest of the world to shame. In fact, Taiwan is a Muslim-friendly country with several Muslim-friendly hotels and restaurants serving halal food and the availability of prayer rooms and mats around the country. This is why it's on my list of the best countries to visit from Dubai- because Taiwan is making travel more accessible for Muslims.
Taiwan isn't expensive as a destination, so it definitely should be on your radar for a cheap holiday from Dubai.

Why Go: For culture, sightseeing, dining and nightlife in Taipei, for nature and hiking in Alishan and elsewhere, for the Taiwan Lantern Festival and more.
When to Go: The best times to visit are Spring (March to May), that is also a good time to see the cherry blossoms, and Autumn (October and November). Winter (December to February) is also a good time if you don't mind the chilly nighttime temperatures.
How to Get There: There are direct flights to Taipei from several Asian cities and others such as Dubai and Istanbul. Look for flight options from Dubai and elsewhere here:
Visa for Taiwan: Depending on your nationality, you may or may not need a visa to visit Taiwan. Some nationalities can get a visa on arrival, others need to get an e-visa and yet others need to apply in person in their own countries. Check your visa eligibility and rules here.
Where to Stay in Taipei:
Have you been to any of these destinations and are there any you'd like to visit on your next holiday?
Planning your trip to Dubai? Join my Dubai Travel Planning Group on Facebook for FREE resources, tips, and updated and new info about cool restaurants, cafes, instagrammable spots, attractions and things to do in and around Dubai.
This page contains affiliate links. For any bookings made through links on this page, I may earn a small commission at no extra cost to you.