Hidden away among the mighty jagged peaks of the Hajar Mountains in a region that belongs to the emirate of Sharjah, Wadi Shees is a lush, fertile little piece of paradise that makes for a great and easy day trip from Dubai (just a 90-minute drive) and Sharjah (45-minute drive). Wadi Shees (sometimes also spelled as Shis) is home to an agricultural village with farmland and settlements, a lovely nature trail with ponds and freshwater irrigation channels under the canopy of date palms, a beautiful park with a waterfall and picnic and barbeque spots, and a gorgeous dam with swans to go kayaking and boating in. For families and those who don't want something too strenuous, this is one of the most beautiful but also relaxed day trips from Dubai or Sharjah.
As evidenced by the discovery of pottery fragments and rock paintings, Wadi Shees has a long history and has been inhabited for a long time, thanks to the abundance of water and fertile soil that made it possible to cultivate different fruits and vegetables. In fact, the wadi has natural freshwater flowing round the year, which makes it significant for traditional farming in the area. The freshwater irrigation channels here, while some of the oldest in the UAE, were renovated in 2019.
The town of Khor Fakkan, with its pretty beach, lies just a few minutes' drive away. A day trip to Wadi Shees is an excellent way to make the most of the pleasant wintertime temperatures in the UAE between October and April, and requires little planning. Whether you live in the UAE or are visiting, I hope my guide to Wadi Shees helps you plan your day trip for a taste of the region's fantastic outdoors. While you're there you should also consider visiting Khor Fakkan, a 20-minute drive from Wadi Shees, here are the best things to do in Khor Fakkan.
You might also be interested in my posts about what to wear in Dubai, best romantic hotels in Dubai, and the most interesting Dubai day trips.
Join my Dubai Travel Planning Group on Facebook where you'll find plenty of free resources, practical information and insider tips about cool restaurants, the coolest cafes in Dubai, instagrammable spots, attractions and things to do in and around Dubai.
Wadi Shees Location Map
Things to Do in Wadi Shees
There are plenty of things to do in Wadi Shees over an entire day, and all of them involve enjoying the great outdoors- from nature walks and birdwatching to picnics and kayaking on the turquoise waters of the dam.
1. Explore the Wadi Shees Nature Trail
Begin your trip to Wadi Shees with a relaxed, leisurely walk on the 1.8km long Wadi Shees Nature Trail that consists of marked trail paths and a few flights of stone steps cut into the hilly terrain.
The trail begins at the old residential village, a cluster of old hilltop stone houses where farmers live, before winding through date plantations, and past some farms.
The first settlers in Wadi Shees, over a hundred years ago, were members of the Naqbi tribe, and their community still leads the development efforts in this area. The farms in Wadi Shees are privately owned by community members.
The green canopy of date palms offers plenty of shade and makes for an entirely wonderful walk, with terraced farms and a freshwater reservoir along the way.
Notice the narrow channels along the path- these are the Falaj freshwater irrigation channels, a 3000-year old irrigation system unique to the UAE and Oman. The channels in Wadi Shees are some of the oldest in the UAE that was last renovated and restored in 2019. These channels carry water from the freshwater mountain springs down to the fertile land in Wadi Shees. More recent development efforts have resulted in the addition of modern irrigation systems to optimize water usage for farming.
The cool micro-climate in Wadi Shees and year-round availability of freshwater offers excellent conditions for biodiversity. The open falaj channels, that are like riverbeds, are home to native species of fish, toads, and dragonflies. Native wildlife here includes the Arabian Spotted Eagle Owl, Caracal wild cat, and Blanford's fox. This area is also a must for birdwatchers with opportunities to spot plenty of diverse bird species.
You'll climb down stone stairs and eventually find yourself on the main road outside the trail. Walk back towards the right to where you've parked.
Don't miss the Alqawa Pond, just to the left of the entrance to the trail. You'll walk past some steps leading to a nice little picnic spot before you find yourself at the pond.
Tips for Wadi Shees Nature Trail
You will likely run into some local community members who live and work here- be respectful in your interactions.
Stay on the marked paths, and do not try to wander off into a farm or pick fruit or plants.
You're not allowed to swim or take a dip in the freshwater pond that you'll pass on the trail.
The trail is open from sunrise to sunset.
There are no toilet facilities here- the nearest toilets are at Shees Park.
Dress modestly to show respect for the community.
Don't play loud music on the trail.
As there are stone steps on the trail, it is not suitable for wheelchairs.
You'll need to keep your mask on around others.
It's not nearly as crowded as Shees Park, and much nicer in my opinion.
You don't need hiking shoes- trainers are good enough.
2. Enjoy a Picnic with Mountain Views at Wadi Shees Park
Shees Park is a newer addition to the area and is great for families with children and those looking for a picnic spot with barbecue facilities. The park is spread over 11,362-square meters and has an artificial 25-meter high waterfall.
In the park is a mountain walkway that leads to three terraces and a Viewing Deck with nice views of the park itself and of the surroundings. There's a pond, small artificial waterfall, fountain, and a play area for children. There are designated picnic and barbecue spots around the park. For those too lazy to pack a picnic, there's a nice little café where you'll find some great sandwiches.
There are toilet facilities here, but don't expect them to be super clean, especially on weekends when the crowds here can get a bit much.
Tips for Shees Park
Pets are not allowed in Shees Park.
You cannot camp overnight in Shees Park.
There are no entrance fees to Shees Park.
It can get super crowded on Fridays, so it's best to arrive early in the day, or maybe pick another day to visit if you plan on getting here much later.
If you have the time to stay a night, here's my review of the Chedi Al Bait, Sharjah, a beautiful heritage property in the historic Heart of Sharjah district.
3. Rent a Kayak at Al Rafisah Dam
Your next stop, and one you most definitely should not miss when in Wadi Shees, is Al Rafisah Dam, just a 17-minute drive from Shees Park. The beautiful turquoise waters of the dam's reservoir are nestled between the rugged sandstone peaks of the Hajar mountains. Boats and kayaks, available to rent, glide on the calm waters.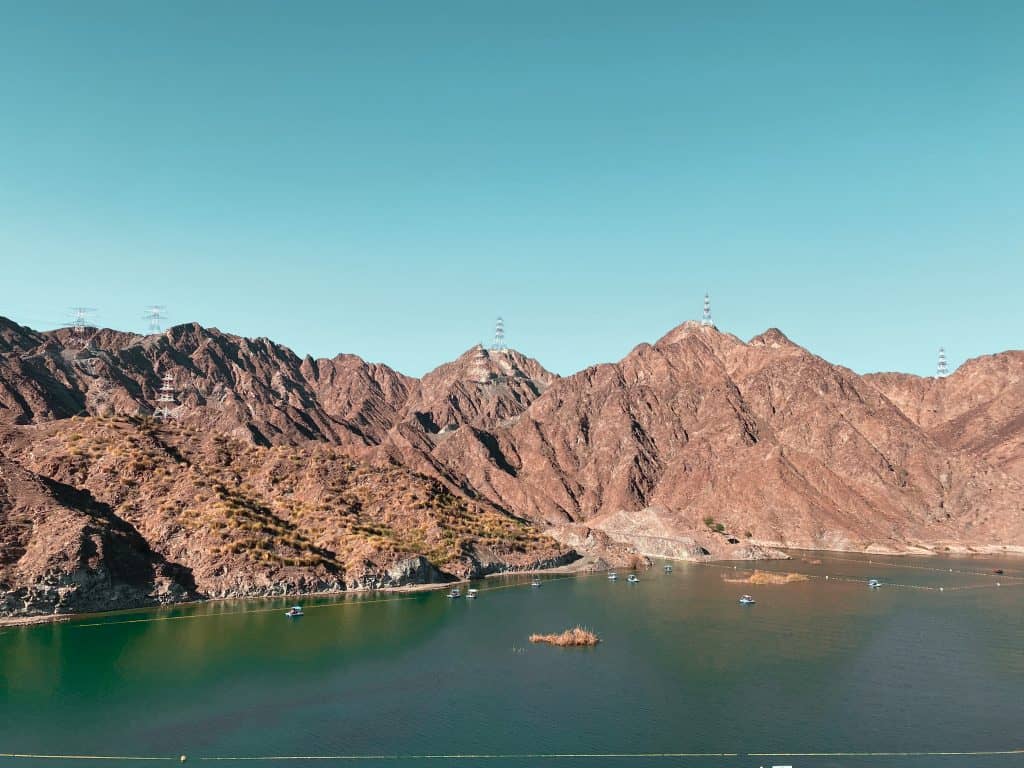 While the dam was originally built in the 1980s, there's a newer visitor center with a restaurant serving Emirati food (limited options), several shaded picnic spots with benches, a children's play area, some shops including a supermarket, mosque and prayer rooms, and toilet facilities. The kilometer-long palm-lined walkway is accessible and offers nice views over the water.
Paths from the visitor center lead to the nature reserve where you can walk along the water or choose a picnic spot to sit and watch the resident ducks. There are plenty of fish in the water here, and you'll see the ducks trying to fish for a snack. They might get lazy though, given how many people are seen feeding them pieces of bread and chips (!) to get them to come closer. To those people, I say: Chips aren't good for humans, I doubt they'll be any good for the ducks, let them eat the fish instead!
Al Rafisah Dam Kayak and Boating
Kayaks and pedal boats are available to rent but queues can get long on the weekends. It's best to arrive early if you plan on getting on the water in a kayak or boat.
Al Rafisah Dam Kayak Rental price: 30 AED for 30 minutes in a Double Kayak (2 adults or 2 adults and 1 child maximum)
Al Rafisah Dam Boat Rental price: 45 AED for 30 minutes in a Pedal Boat (2 adults and 2 children maximum)
Al Rafisah Dam Weather
Between October and April, it can get chilly early in the mornings and around sunset, so be sure to dress in layers. In the afternoon, the sun is overhead and it's bright and sunny, but not too hot for kayaking.
Wadi Shees Weather
It's good to know that Wadi Shees is one of the few places in the UAE that has its own micro-climate, thanks to it being surrounded by the Hajar Mountains, and will likely be cooler than the emirate or city you're visiting from.
No matter the season, the temperatures here only reach a maximum of 32.8°C and a minimum of 21.3°C. If you live in Dubai or elsewhere in the UAE, you know that means Wadi Shees can also be a lovely escape from the extreme heat in the cities during the summer months.
If you're visiting between October and April, you should know that it can get chilly and breezy in the early mornings and evenings, so dress accordingly.
By the way, you can also join my Dubai Travel Planning Group on Facebook for free resources, practical information and insider tips about cool restaurants, cafes, instagrammable spots, attractions and things to do in and around Dubai.
Wadi Shees Directions: How To Get to Wadi Shees
Whether you're visiting from Dubai (90-minute drive) or Sharjah (45-minute drive), the way to Wadi Shees is very straightforward. From Dubai, you should find yourself on the E611 road, and then turn right onto the S142 Khor Fakkan road, a relatively new road that connects Sharjah to Khor Fakkan, where you can enjoy dramatic views of the terrain all the way to the town of Khor Fakkan on the east coast.
A series of long tunnels cuts through the mountains and you'll get to Wadi Shees after the first one, the 1.3km long Al Raugh Tunnel. Just keep an eye out for the sign to the access road to Shees village, on the right, just after you exit the tunnel.
By the way, there are no petrol stations on this stretch of the S142, so be sure to fuel up and use toilets at petrol stations before you turn on to the S142.
Shees Park will be your first destination when you arrive, with a large parking lot just across from the park entrance. On weekends, when it might be busier, you can also park along the side of the road in the slightly bigger spaces, so you don't block oncoming traffic.
To get to Wadi Shees Nature Trail, drive past Shees Park, and follow the road downhill for another 6-10 minutes (depending on traffic), taking the left road downhill from the fork. You'll see signs like 'Tourist Site' and 'Wadi Shees Nature Trail' to your left, marking the beginning of the trail.
Parking at Wadi Shees Nature Trail is limited to the side of the road. Luckily, not too many cars make it here past Shees Park on the weekends. If you decide to park at Shees Park and walk, then it's an 18-minute walk to Wadi Shees Nature Trail.
Al Rafisah Dam Location
From the nature trail, it's a 20-minute drive to Al Rafisah Dam where you can go kayaking and boating. You'll basically get back onto the road with the tunnels, and go through Al Ghezeer Tunnel (860 meters) and Al Multaqa Tunnel (2700 meters) to reach Al Rafisah Dam. There's a huge parking area right by the steps to the visitor center here, as well across the street, easily reachable by the roundabout.
What To Bring to Wadi Shees
Bring food and plenty of snacks to last you the day. While the café Gerard in Shees Park has a decent selection of food, the restaurant at Al Rafisah Dam has limited options with just a few local dishes.
Bring water to last you through the day, though there is a Sharjah Co-op nearby should you run out.
Carry tissues, toilet paper, soap, and sanitizer.
How To Dress in Wadi Shees
Since this area is home to the local community, it's best to be respectful and dress modestly in clothing that is suitable for the outdoors, and activities like hiking and kayaking.
Avoid shorts, tank tops (both men and women), and short dresses and skirts.
Wear shoes suitable for the outdoors, such as sneakers or trainers.
Carry warm layers such as a sweater, jacket, or jumper.
Bring a hat in case it gets sunny and a scarf or buff to cover your ears in case it gets too chilly.
Wear sunscreen.
Related reading: Your Guide to Dressing Right in Dubai
Useful Tips for Visiting Wadi Shees
You do not need a 4×4 to visit Wadi Shees- the road is suitable for smaller cars as well.
Fuel up on petrol before getting on the S142- there are no petrol stations on this stretch.
Bring cash- restaurants, shops, and cafés here do not accept cards.
On the way to Wadi Shees and back, you'll see farmers from the Masafi area selling fresh produce, and fruits such as bananas, apples, and more, in vans parked on the side of the road. Watch out for them so you can pick up some fresh snacks. Bring cash to pay them.
If you have the time, visit the neighboring town of Khor Fakkan with its lovely beach.
Planning your trip to Dubai? Join my Dubai Travel Planning Group on Facebook for FREE resources, tips, and updated and new info about cool restaurants, cafes, instagrammable spots, attractions and things to do in and around Dubai.
Have you taken day trips from Dubai to other nature spots around the UAE? Let me know in the comments if there are any that you particularly enjoyed.