If you're visiting Dubai for the first time, you'll quickly notice that this is a city that loves to shop, obvious in just how many shopping malls and retail districts are spread across the length and breadth of the city. Spend some time here and you also notice just how many shopping festivals, events, and seasonal sales take place, making it all too easy for keen shoppers. As such, I don't blame you if you want to return home with a memorable keepsake and are looking for the best souvenirs from Dubai. The city has tons of interesting options and you certainly won't be disappointed.
From the souks of old Dubai that sell gold, spices, perfumes, silver rings, and traditional clothing to high-end designer boutiques and brands in malls such as the Dubai Mall, Dubai beckons you to loosen your purse strings at every turn, whatever your budget. But if you're overwhelmed with the choices for what to buy in Dubai, and don't want to waste your money on something that has zero cultural connection or relevance in Dubai, I've got you covered.
Contrary to what most tourists tend to do, you don't have to buy boring fridge magnets that were probably manufactured in China or a bunch of opulent stuff in souvenir shops that you won't use (which you can still of course buy as a collector's item if you want to), but really do you need a lamp that looks like it's out of Aladdin?
Those aside, there are plenty of interesting souvenirs that you can buy in Dubai and actually expect to use for years to come. Some of the items I've mentioned below are things that I (and other people who live in Dubai) actually use on a regular basis. They're also likely to be more appreciated if you plan on giving them out as gifts.
If you're on a budget and wondering where to buy cheap souvenirs in Dubai that won't break the bank, then head straight to the souks of Bur Dubai and Deira. They're the best places in Dubai to go souvenir shopping or to buy gifts because you'll find the greatest variety here and rates are considerably cheaper than at a shopping mall.
Global Village also has a nice variety of affordable Dubai souvenirs or just unique finds that will serve as a pleasant reminder of your Dubai holiday.
You might also be interested in my posts about what to wear in Dubai, the best romantic hotels in Dubai, and the best day trips from Dubai.
Here are the best souvenirs from Dubai to take home from your vacation, where to buy them, and how much you can expect to pay for each of them. I've also linked to their locations on Google Maps.
Wearable Souvenirs from Dubai
One way to ensure that you'll actually use your Dubai souvenir is to buy something that you can wear. The clothing, Pashmina shawls, jewelry, and embroidered shoes you'll find in Dubai are not only stylish, but also feature vibrant fabrics, traditional designs, embroidery, and motifs. Since you won't easily find them elsewhere in the world, you can be sure you're taking home a souvenir that is unique and reflects the culture of the region.
1. Pashmina Shawls
Pashmina shawls, also known as Cashmere shawls, are very high-quality wool shawls made from the wool of Himalayan mountain goats, and produced in Kashmir (hence the name Cashmere). Pure pashmina shawls with 100% pashmina are quite pricey, are handspun, and have a matte finish. These should cost you upwards of 150 USD.
But more affordable low-cost versions mixed with silk in varying percentages, some with a shiny finish, and most with gorgeous traditional motifs are also available for 70-80 USD and up. If you find something for a price as low as 20 USD or so, you can safely assume it's not pashmina, but viscose that looks like a pashmina.
Though expensive, a genuine pashmina is one of the best things to buy in Dubai for ladies or for men who like scarves.
Where to buy:
Insider tip: How can you tell if the cashmere pashmina shawl you're about to buy is pure, mixed or fake?
Shopkeepers might offer to prove the quality of their shawl by something called a ring test, where they pull it through a ring and make claims about how smoothly it goes through, proving the softness and authenticity of the shawl. Don't fall for it.
To ensure you're buying a pure Kashmiri pashmina shawl, ask to see the G.I (Geographical Indications) Mark, a mark that is readable under UV light and has a unique verifiable code.
This recognition is given only to authentic Kashmiri pashmina that a) is made of 100% Pashmina fiber with a fineness of under 16 microns and is obtained from the fleece of the Himalayan mountain goat, b) is handspun on a wheel, and c) made by artisans skilled in the craft.
Only when you're fully satisfied, should you pay the high price that a pure Cashmere or Kashmir pashmina deserves.
You might be eager to flaunt your bargaining skills, but consider the quality of the pashmina before offering a price that's too low; you still want to offer a price that is fair and respectful of the craft.
How much it costs: 10 to 50 USD (for copies and mixed), and 150 USD and up for pure and quality Cashmere Pashmina.
2. Kaftans
In the broadest sense of the term, a kaftan is a long maxi robe or shorter tunic that is worn in many parts of the Middle East and North Africa. One kind of kaftan is full-sleeved, maxi-length, and open to the floor, some of these have buttons or hooks so they can be buttoned up at the center. You'd normally wear something inside such a kaftan, like a maxi dress or a top and pants underneath the kaftan.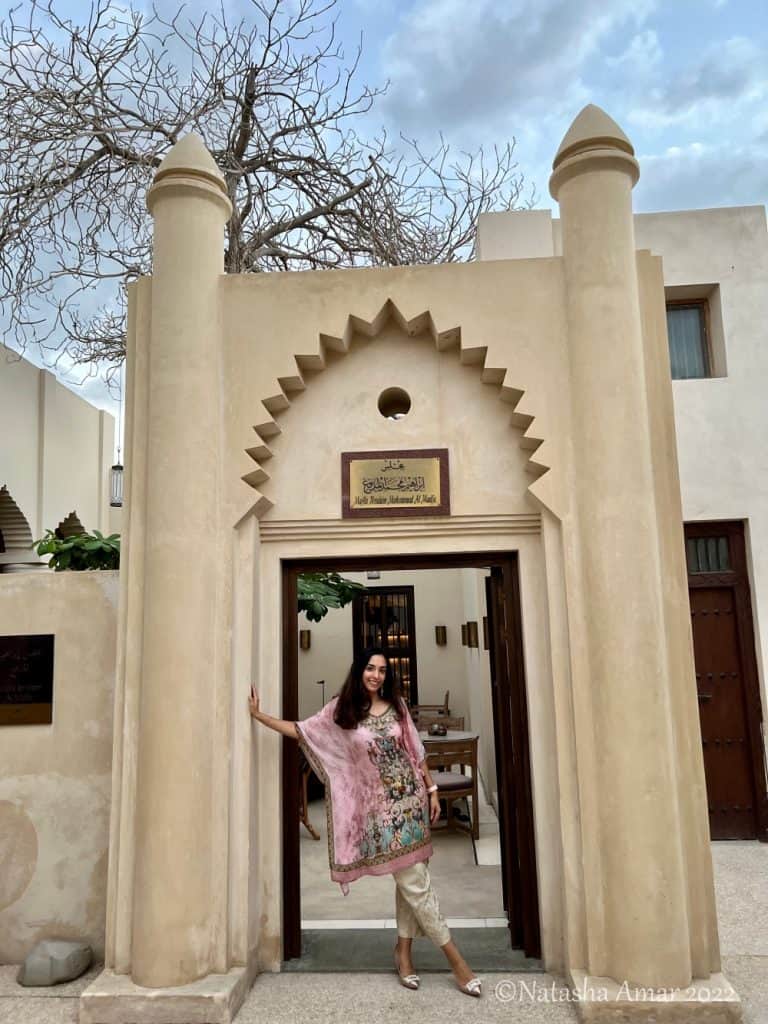 Kaftans may also be long or short-sleeved, tunic-like, with elaborately embroidered necklines and sleeves, and some might have a tie so you can choose to accentuate the waist. They're dressier and if they're short, you'd wear dressy traditional style pants (like salwars or pencil trousers) underneath.
Kaftans can also come in cool, vibrant, sometimes bohemian designs and prints, and you can wear these over swimwear at the beach or pool, or throw them on top of a casual tee or top, and shorts or jeans, for a bit of glamor.
Whatever kind you choose, kaftans are supposed to be flowy, comfortable, cool, and pretty all at once, making them a perfectly practical piece of clothing for the summer. If you're wondering what to wear in Dubai, you'll find my guide to dressing right as a tourist in Dubai useful.
Where to buy:
Insider tip: Depending on the fabric and embroidery, prices can vary widely. Machine-made polyester and viscose kaftans will cost much less than something in pure cotton or chiffon with handmade embroidery or designs. It's best to try a few before you buy.
How much it costs: Machine-made polyester kaftans are as low as 15 USD and quality kaftans with handcrafted embroidery or mirror work will cost 60-70 USD and up.
3. Custom-made Perfume
Sure, you could go to the Perfume Souk in Deira, where you'll find perfume stores selling popular perfume brands such as YSL, Chanel, Versace, and Gucci, among others, and pick up a few well-known perfumes at a great price. And while you should definitely do that, getting a customized perfume made to suit your own preferences is definitely a more fun thing to do. And a customized/personalized souvenir or gift is always more appreciated than a usual one, isn't it?
At Oo La Lab, you can sign up for a mixology session to try your hand at the art of perfume making. Not only will you learn how to mix different fragrances to create something that evokes a particular mood and emotion and is right for you, but you'll also learn the fundamentals of perfume making.
Alternatively, if you do find yourself at the Deira Perfume Souk, a visit to Yusuf Bhai, a family-run business owned by renowned Dubai perfumer Yusuf Madappani, to mix your own scents is in order. An Indian perfumer, Yusuf Bhai has spent the last few decades in the business in Dubai and enjoys a large and loyal customer base in the city including members of the ruling family.
You'll choose from various scents, deep dive into your own preferences, and mix them with oils and other ingredients on the basis of their expert advice to come away with a signature scent that reflects your (or your gift recipient's) personality and tastes. This goes much deeper than your standard woody, floral, and fruity scents to craft something that is truly unique.
Where to buy:
Insider tip: You can also buy other name-brand perfumes at the market in Deira, you'll find these at a better price here than in a shopping mall.
How much it costs: Varies
4. Custom-made Shoes
Again, you could buy any shoe from a well-known brand at one of Dubai's many shopping malls, but there's something special about getting a one-of-a-kind pair of shoes made just for you (or a loved one). At Italian Shoe Factory, in the art district of Alserkal Avenue, you can get a bespoke pair of shoes made. Here, you can customize the shape, style, material, design, and even the heel of your shoes to craft the perfect pair.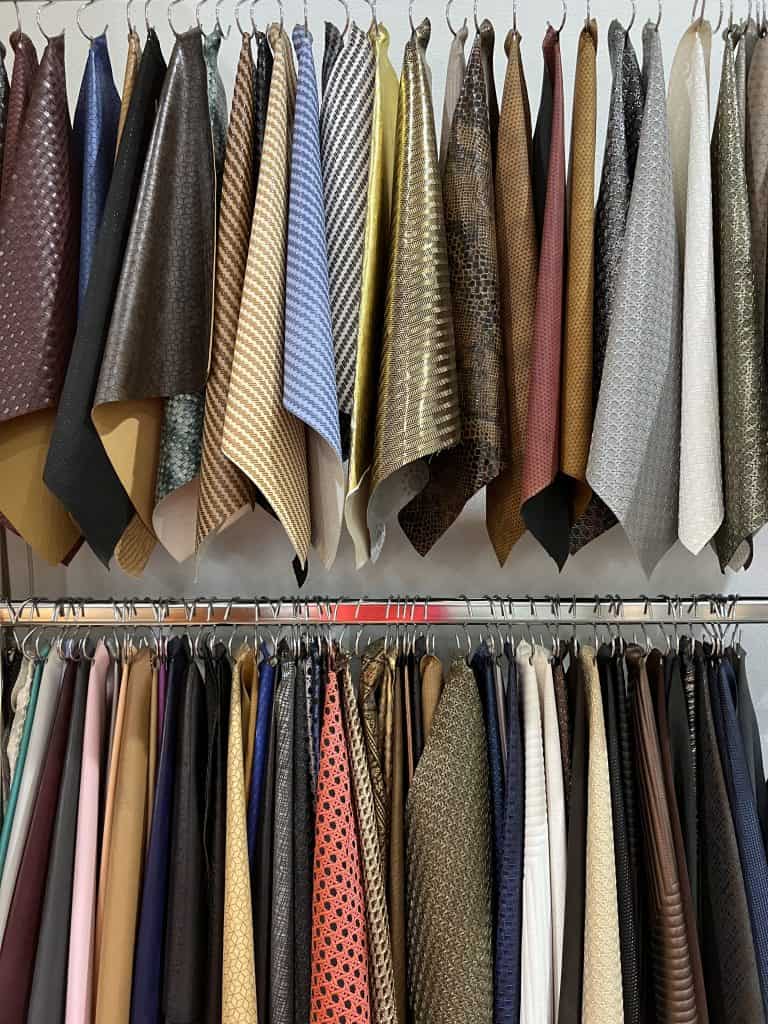 This isn't fast fashion, evident by the length of the entire process- from measurement and studying the anatomy of your foot to the final touches. They're very focused on sustainable manufacturing and ethical sourcing of materials, so be sure to get all your questions answered.
They make bespoke shoes for both men and women, and the prices reflect the quality and craftsmanship at work to produce these handmade shoes.
Where to buy: Italian Shoe Factory, Alserkal Avenue
Insider tip: You can watch their shoemaking process in action in their small-scale production facility in Alserkal Avenue.
How much it costs: Varies
Looking to book your hotel in Dubai? Here's my guide to where to stay in Dubai.
5. Calligraphy Name Necklace
Arabic calligraphy is among the most beautiful scripts in the world (if not the most), which is why it was also included by UNESCO on the list of Intangible Cultural Heritage of Humanity. In Dubai, you can get a gold or silver necklace made featuring your (or someone else's) name in Arabic calligraphy.
It's a gorgeous piece of jewelry that many women in Dubai own and routinely wear (including me and even those who don't necessarily speak or read any Arabic). It's a lovely stylish personalized gift, whether as a wearable souvenir of your Dubai trip or as a gift for someone.
Calligraphy name necklaces are most common but you can also get a bracelet made. Matte and glossy finishes are available and you can have a necklace made in either silver or gold. Jewelers in Dubai will take a day or two to get the necklace made once your order it, so be sure to do so well in advance of your departure date.
Arabic calligraphy name necklaces aren't something that is commonly found everywhere in the world, so it's certainly among the more unique gifts in Dubai.
Where to buy:
Insider tip: Ask about matte versus glossy finishes. Glossy in gold looks the best, in my opinion.
How much it costs: Depends on the gold/silver rate, and the style and length of the chain you choose.
6. Evil Eye Jewelry
While walking around a Dubai souk, you're sure to spot evil eye jewelry. In many cultures such as in the Arab world, evil eye jewelry, whether as a necklace, earrings, bracelet, ring, or anklet is believed to protect the wearer from negative energy. It reflects envy, hate, or curses, back at where it comes from. In the Middle East, evil eye jewelry might feature the hand of Hamsa which serves the same purpose.
Evil eye jewelry such as bracelets is available for both men and women. As such, it makes for a nice gift from Dubai for friends or someone you wish well, or a worthy souvenir from your trip to Dubai.
It is believed that evil eye jewelry is especially effective when it is given to a loved one as a gift, rather than when you buy it for yourself.
Where to buy: Souks and shopping malls
Insider tip: You can also get evil eye jewelry made in real gold or silver.
How much it costs: Varies depending on the quality and metal.
7. Oud
Oud is a fragrant oil, with a strong woody scent, that is used as a natural perfume in Emirati culture. It's distilled from the resin of the agarwood tree and blended with carrier oils to make a perfume that is wearable.
Oud is expensive—even more than gold—on account of it being a rare product. A large quantity of wood is used to make a small bottle of oud and the process takes a few centuries!
Perfume brands in the West are quite new to creating oud-like or oud-inspired scents, but oud has been used in Emirati culture for centuries.
Where to buy:
Insider tip: Not all oud is same or even similar. Try a few different ones to understand what you like before you buy.
How much it costs: Varies widely, depending on how premium the oud is.
Planning your Dubai itinerary? Here are some fantastic day trips and tours to take in Dubai.
8. Jalabiya and Kandura
A Jalabiya is a long, flowy ankle-length robe, often with embroidery and embellishments, that is worn as traditional dress by women in the UAE and in many parts of the Middle East and North Africa. The designs, pattern, and embroidery might vary depending on the country, but it's essentially a modest but stylish piece of clothing for women.
In the UAE, Arab women will wear a jalabiya underneath the black robe known as abaya. At home and during celebrations, women might choose not to wear the abaya, and opt for just the jalabiya.
These days many expat women wear the jalabiya when invited to local celebrations such as Eid, for iftar feasts during Ramadan, or UAE National Day, or to local weddings, as a sign of appreciation and respect. Many female travelers also like to do photoshoots in the desert wearing a jalabiya, and why not? It is a gorgeous piece of clothing.
You'll find stunning jalabiyas in various fabrics, colors, and embroideries while strolling around the souks and shopping malls. They'd be a nice souvenir or gift from Dubai for a woman who appreciates unique local outfits.
A Kandura is a long, loose, full-sleeved ankle-length robe that is worn by men in the Gulf region. It's also known as dishdasha or thobe. A white kandura is most commonly worn by Emirati and Arab men in the UAE. You'll also find shops selling kanduras in ivory, off-white, beige, gray, or navy blue, with darker colors sometimes being worn in winter.
Men might also wear an embroidered cap called ghafiya over which they wear a ghutra, a cotton headdress secured by a black cord called agal. In the UAE, the ghutra is white (this is the Emirati-style headdress). The ghutra does a great job of protecting the head from intense sun, wind and storms in the desert.
Some men might wear the Saudi-style shemagh, which is a checkered red and white headdress. Omanis wear a round patterned cap called kuma.
A kandura and/or ghutra or shemagh is a great souvenir or gift from Dubai for men.
Where to buy:
Souks in Bur Dubai and Deira
Insider tip: A jalabiya with handcrafted zari embroidery in gold or silver threads will cost much more than one with machine-stitched embroidery or crystals. Prices will also vary depending upon the fabric of the jalabiya and kandura.
In the souks, expect to haggle a bit to settle on a fair price.
How much it costs: 20 USD and up depending on fabric and embroidery (for jalabiyas)
Visiting Dubai during Ramadan? Here's everything you need to know about Ramadan in Dubai.
9. Gold Jewelry
Dubai has earned the nickname "City of Gold" for good reason. The gold jewelry you'll find in the shops in the city is some of the purest in the world. The Gold Souk, Dubai's very own gold, silver and diamond jewelry souk is the biggest in the region and has been an important market for the gold trade since the old days.
From multi-tiered necklaces fit for Arab and South Asian weddings to delicate rings and bracelets in modern designs fit for international tastes, there's nothing you can't find or have made to order here. 18 karat, 24 karat, silver, crystals, diamonds, and semi-precious stones, it's all available here.
If you're fond of gold jewelry, then a visit to the gold shops and Gold Souk is a must. While gold jewelry might be among the more expensive things to buy in Dubai, the quality and sheer variety of designs make it worthwhile.
Where to buy:
Insider tip: Tourists can claim 5% VAT refund on gold purchases, so don't forget to carry your passport when you go gold, silver or diamond shopping in Dubai.
You can't bargain when it comes to the gold rate, but you can bargain a little to have the making charges reduced.
How much it costs: Depends on weight, rate, design, and making charges.
10. Designer Jewelry
If you've got a taste for the finer things in life, then you might want to consider jewelry by local designers that's a bit more… exclusive, the kind that's not easily available at gold and other jewelry stores.
It's an exciting time for art and design in Dubai with young Arab designers taking risks and putting their own unique creative spin on jewelry design that while contemporary in sensibilities, has its feet firmly rooted in the Arab identity.
One such brand is Bil Arabi by designer Nadine Kanso. Her collections are joyful, elegant, and a beautiful reflection of Arab culture. My favorite is her calligraphy bracelets with the Arabic word 'Hob' which means love.
You'll also find jewelry by various local and regional designers at Sauce and Sauce Rocks, both boutiques by a UAE-based founder, with locations in various high-end hotels.
Where to buy:
Bil Arabi, Dubai Design District, and shop online.
Sauce, multiple locations including Four Seasons Jumeirah
Sauce Rocks, Galleria Mall, Al Wasl Road
Insider tip: It takes a few days to weeks to get custom designs made, so if you intend to do that, be sure to order well in advance. Otherwise, choose from their ready-to-wear collection.
How much it costs: Varies.
11. Embroidered Shoes
Known as mojari, khussa, or jutti, you'll spot these beautiful, embroidered or embellished shoes in the souks of Bur Dubai and Deira. Handcrafted in a style that's typical of some north Indian and Pakistani regions, these are usually made of leather, and are flat or low-heeled with closed vamps.
There are mojaris for both men and women. So if you're looking for a stylish wearable souvenir from Dubai, then consider buying a mojari or khussa.
The shoes feature rich colorful and patterned fabrics such as raw silk or velvet, with some styles being more dressy than others. When it comes to embroidery, the options are endless and include threads, sequins, pearls, shells, gems, brass bells, and beads.
These shoes go well with dresses, skirts, and might even add some flair to a casual pair of jeans and top. The mojaris you'll find in Dubai are usually imported from different regions of Pakistan.
Where to buy:
Souks in Bur Dubai and Deira
Insider tip: Try the shoe you intend to buy by walking around a little. Since these shoes are handmade, they're not all made equal in comfort. Comfort also depends on the anatomy of your foot.
While it's okay to haggle a bit for a fair price, remember that these shoes are handmade, so it takes a considerable amount of time and effort for a shoemaker to make a pair. That to me is certainly more valuable than a mass-produced pair in a big-name store at a shopping mall.
How much it costs: USD 15 and up, depending on style.
Worried about getting around in Dubai? Here's how to get from Dubai Airport to the City Center.
Food Souvenirs from Dubai
My favorite souvenirs to buy are the edible kind—there's something special about having the privilege to taste a specialty food in a land and culture where it has been produced and enjoyed for hundreds or thousands of years. Food gifts from Dubai are also guaranteed to be appreciated by everyone back home.
12. Stuffed Dates
Not surprisingly, dates, a type of fruit native to the UAE, are the first thing that comes to mind when I'm asked about what souvenirs to buy in Dubai. Dubai is famous for dates, so they are the first thing I think of gifting loved ones all over the world when I'm visiting them from Dubai.
If this is your first time in the Middle East, you might have never tasted a date or know much about them. These sweet, rich, dare-I-say luscious fruits grow as bunches on date palm trees that you'll find all over the UAE, whether that's in home gardens, mountain farms, or in the many green oases that can be found in the desert. They're a healthy fruit and the natural sugar in dates can give you a nice little boost right before or after a gym session.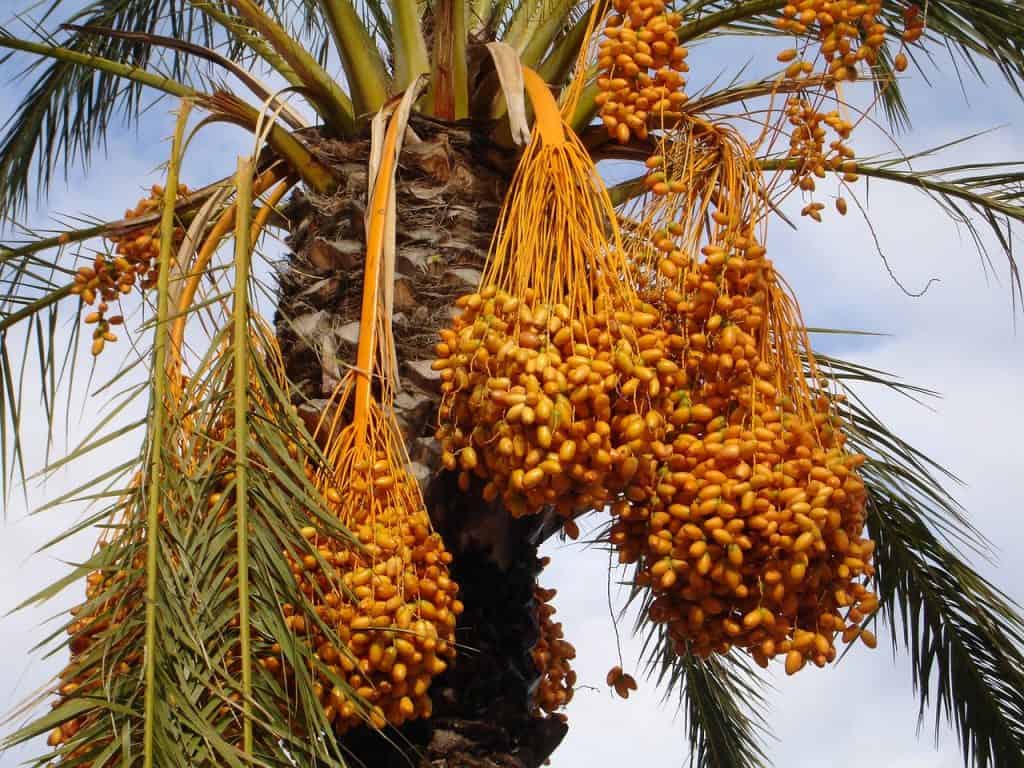 In Dubai, dates are available in many varieties that grow in the Gulf region, and each variety has a different texture, color, and taste. Some are sweeter, some are chewier, and some are nuttier than others. Medjool, khodri, khalas, ajwa, and sokari are just some varieties you'll find in the shops and markets. In Dubai, you'll find local dates from the UAE but also varieties from neighboring countries like Saudi Arabia and Oman.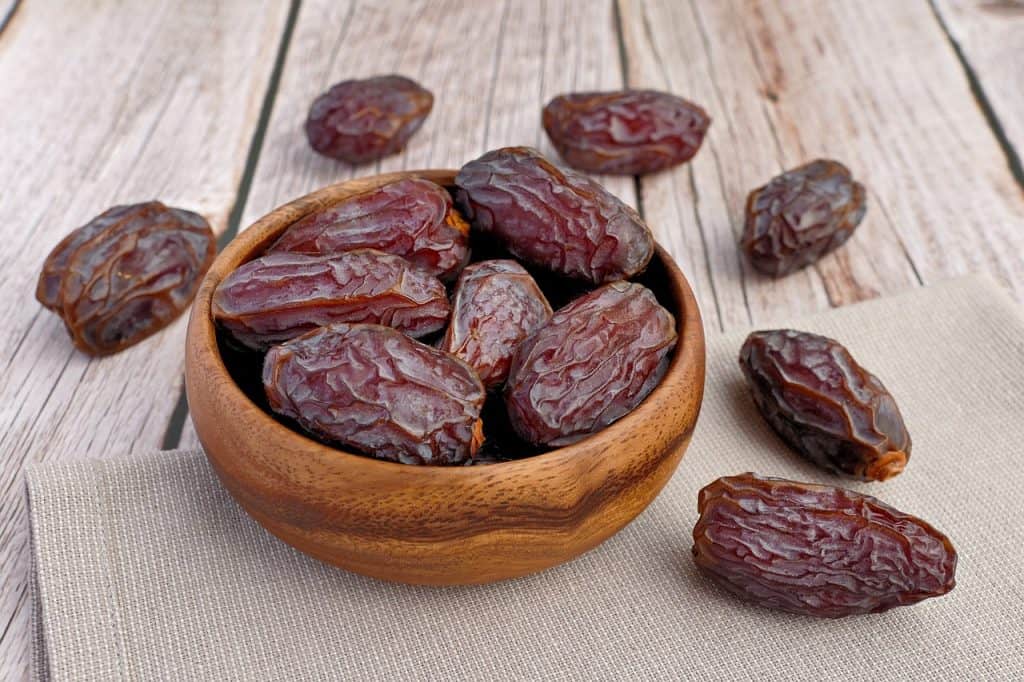 Not only will you find plain dates, you'll also find stuffed dates (my favorite kind) filled with candied orange peel, ginger, or strawberries, caramelized pecan, or pistachios, almonds, hazelnuts, or macadamia. These are pretty unique in my opinion, and they're supremely delicious! I think they also make for excellent gifts (ask for the pretty gift boxes if they're meant for a special someone).
Where to buy:
In Dubai, you can buy dates everywhere, and I mean literally everywhere: the souks in Bur Dubai and Deira, stores like Wafi Gourmet, Bateel, and Casa Pons in shopping malls (every mall has at least two or three date stores), supermarkets (like Spinneys, Carrefour, and Waitrose), and at the airport. Here are some specific recommendations, based on where we buy dates every month:
Insider Tip: Given the huge variety of dates available, I highly recommend trying a bunch before you buy. Salesmen will be happy to let you try before you buy (except in some supermarkets where they might not have loose dates, just packed boxes), so don't be shy to ask.
How much it costs: 10 USD to 50 USD for 500 grams (½ kilograms. )The price of a box of dates depends on the variety and where it was grown, and can vary widely with premium dates costing three or four times as much as other varieties. It also depends on where you're buying your dates. That said, I think they're all generally good, and the only way you'll know which you prefer is by trying a few different varieties.
Here are some budget travel tips for visiting Dubai.
13. Date-stuffed chocolates
Many of the above-mentioned stores, as well as nearly every big supermarket in Dubai also sell premium chocolates stuffed with dates. These are really great too with the chocolate usually being a high-quality kind that melts in your mouth only to be replaced by the sweet chewiness of a date. Understandably, date-filled chocolates are a hit with kids!
I especially recommend getting these from Bateel—they've got milk, white, and dark chocolate options, with wanan and kholas date varieties coasted in Brazilian and Dominican chocolate. They are the perfect gift from Dubai for someone with a sweet tooth.
Where to buy: Bateel (multiple locations including the Dubai Mall)
Insider tip: You can ask to try before you buy.
How much it costs: 8-30 USD
14. Date cookies
Did you think we were done with the date souvenirs? Never! It wouldn't be right if I left this section without recommending date cookies—these are my absolute favorite with a cup of coffee or tea (always coffee, who are we kidding?!).
The date shops I mentioned also sell date cookies, which are tiny buttery cookies stuffed with pressed dates, oh so delicious. Bateel is a great place for date cookies— they are usually fresh.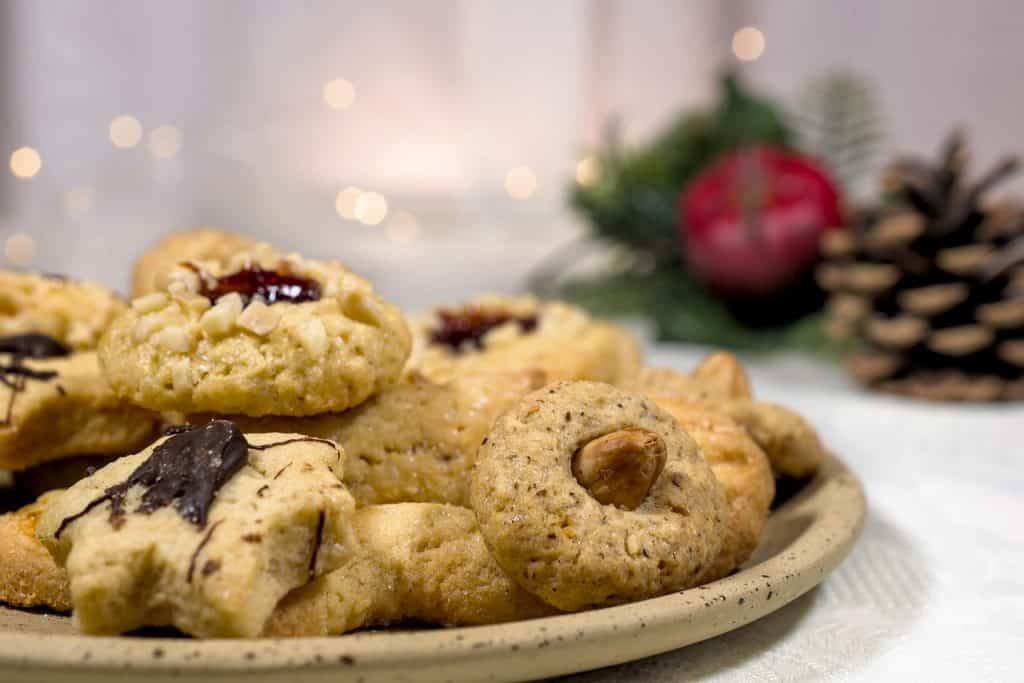 If you do end up buying these, be sure to consume them within a few weeks after your trip. Or simply buy a box at the beginning of your trip and snack on them every day you're in Dubai!
Where to buy: Bateel (multiple locations including the Dubai Mall)
Insider tip: If you're on a budget, buy a box of date cookies from any big supermarket, like Spinneys, Waitrose, Carrefour, or Emirates Co-op.
How much it costs: 8 to 30 USD and up for a box
15. Date jam
Both Bateel and Wafi Gourmet sell date jam, and you will also find date jam in the shops in the souks of old Dubai and in supermarkets. These are a great addition to any cheese or charcuterie board. The sweetness of date jam perfectly complements a cheese like gouda or manchego. Be sure to inform the salesperson that you plan to pack the jars in your suitcase so they can pack them properly to avoid any kind of leakage.
Where to buy:
Bateel (multiple locations including the

Dubai Mall

)

Wafi Gourmet (multiple locations including

Wafi Mall

and the

Dubai Mall

)

souks in old Dubai

big supermarkets like Spinneys, Carrefour, Waitrose.
Insider tip: If you buy this at a confectioner or gourmet store, you can ask to sample a little. Of course, this isn't possible in a supermarket.
How much it costs: 5-12 USD
16. Dried fruits and nuts
Other than dates, there are plenty of dried fruits and nuts to be sampled and bought as souvenirs from Dubai. Found in souks, supermarkets, and specialty stores in shopping malls, nuts such as pistachios, macadamia, almonds, walnuts, and cashews are sourced from around the region, from countries like Iran and Egypt, and are fresh and very high quality. Other dried fruits to buy include figs, prunes, and raisins.
You'll also find stuffed figs. One of my favorites, these are stuffed with pistachios or almonds, and are a nutritious snack, and a great edible souvenir from Dubai, in my opinion.
Where to buy:
Wafi Gourmet (multiple locations including

Wafi Mall

and the

Dubai Mall

)

Souks in Dubai

Deira Spice Souk
Insider tip: Sample before you buy to be sure it's all fresh. You'll find dried fruits and nuts at more affordable prices at the Spice Souk in Deira and at supermarkets (look for the Bayara brand).
How much it costs: Varies
17. Baklava
Baklava is a layered pastry, with filo pastry sheets layered with honey or syrup-sweetened chopped nuts and dried fruits. Baklava is routinely enjoyed as a teatime snack or dessert in many parts of the Mediterranean, Levant, and the Middle East. You'll find beautiful boxes of fresh baklava at confectionary stores like Wafi Gourmet, and Levantine bakeries, and you can ask to try them before you buy.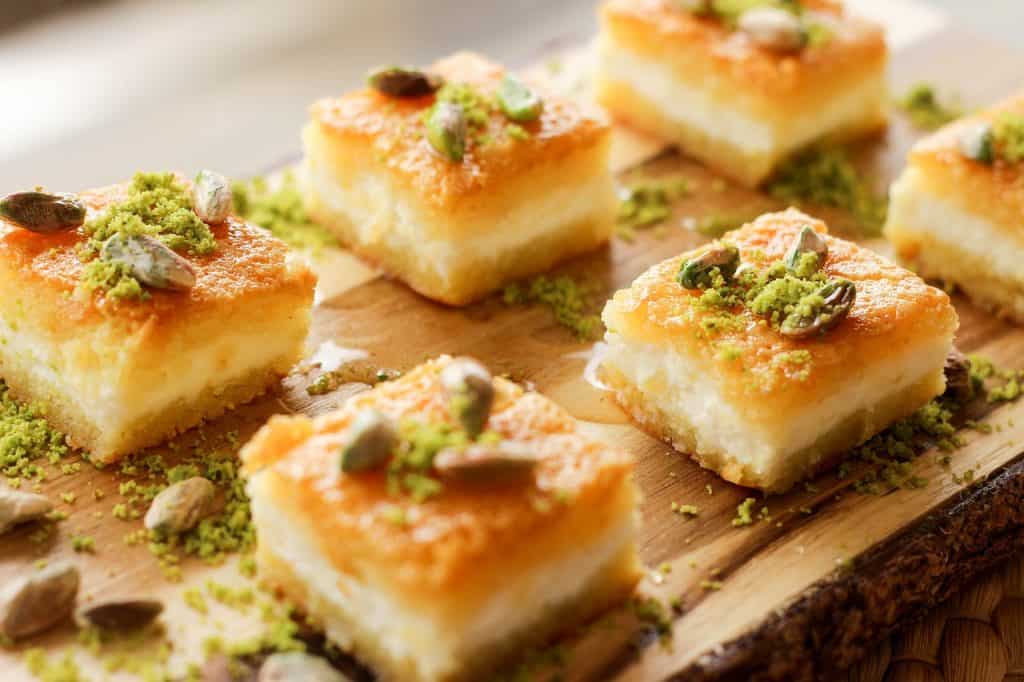 You'll also find these at big supermarkets like Spinneys and Waitrose, and while these are great too, of course, the baklava in bakeries and confectionary shops will be much fresher (and crispier too). Baklava also makes for a great gift for someone back home. Since it's only filo pastry, honey, and dried fruits, it won't go bad for at least a month.
Where to buy:
Bateel (multiple locations including the

Dubai Mall

)

Wafi Gourmet (multiple locations including

Wafi Mall

and the

Dubai Mall

)

souks in old Dubai

big supermarkets like Spinneys, Carrefour, Waitrose.
Insider tip: At the risk of being repetitive, try a few different types, they're not equal in sweetness, crispiness, and freshness.
How much it costs: Varies
18. Camel milk chocolate
While it might sound unusual, in the UAE, camel milk has been consumed for hundreds of years due to its health benefits. It's low in fat, high in protein and has a creaminess to it that makes it a great choice for making chocolate. Locally manufactured camel milk chocolates make for a unique edible souvenir to take back from your Dubai trip.
Where to buy:
supermarkets like Spinneys and Carrefour

Al Nassma Kiosks in shopping malls
Insider tip: From dark chocolate bars and camel-shaped chocolates to macadamia and honey-centered gourmet chocolate, there are many varieties available, some in elaborate gift boxes. Browse and taste, where possible, before you buy.
How much it costs: 7 to 30 USD (and up), depending on the variety and quantity you
buy.
19. Honey
Why would you lug jars of honey all the way back home when honey is easily available in most supermarkets around the world? Because the regional varieties of honey you'll find in the souks, supermarkets, and specialty shops in Dubai, such as local honey, Egyptian, Omani, Jordanian honey, and the much-coveted honey from Yemen, is some of the purest in the world.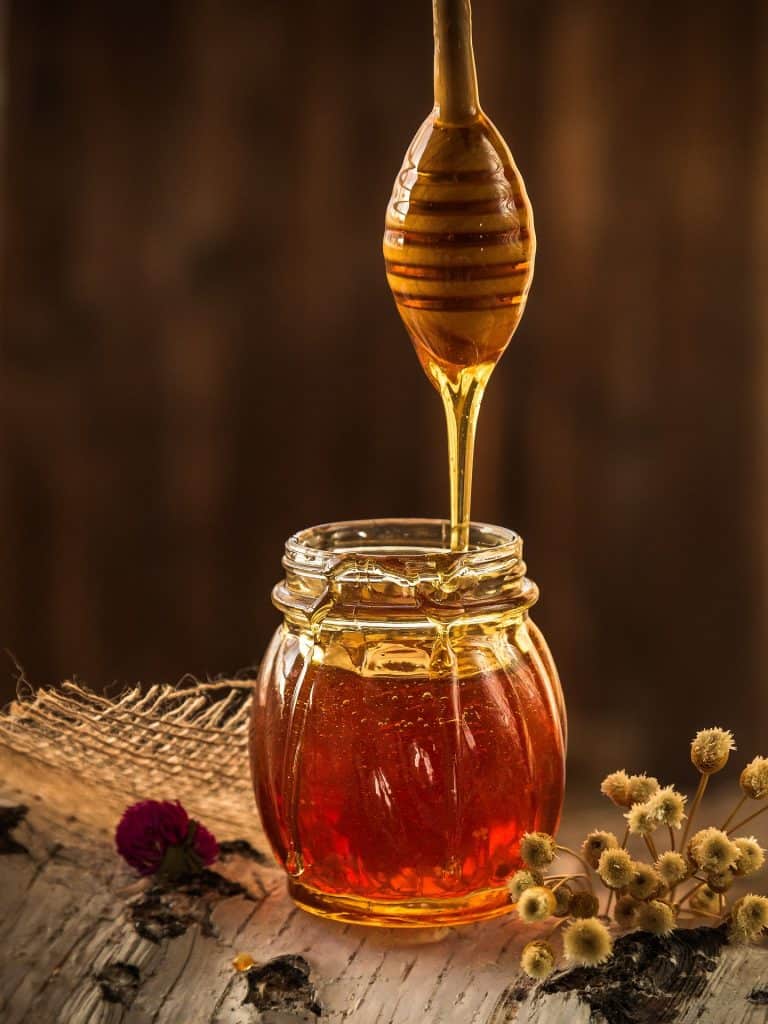 If it's the kind of thing that is not easily available in your city, then you absolutely should take back some.
Not only will you find pure honey in different varieties, you can also buy honey with nuts such as pistachios and almonds, or honey with herbs and spices such as cumin.
Where to buy:
Balqees Honey (

Dubai Mall

)

Wafi Gourmet (multiple locations including the

Dubai Mall

)

You'll also find quality honey in the souks, at the best prices.
Insider tip: Try a few different varieties before you buy. Of course this is not possible in the supermarkets or at the duty-free, but it's possible to do so when buying at the souks or in a specialty store.
Sellers might offer you a premium product called Royal Jelly- this is a nutrient-rich product made by worker bees to feed the queen bee, and is believed to have a ton of health benefits. Understandably, it's priced at a premium.
How much it costs: Varies widely depending on the variety. You can start as low as 10 USD for a small jar to even 100 USD for a higher quality one.
20. Spices
If it's your first time in Dubai, it's very likely you'll find yourself at the Spice Souk in old Dubai. This is an excellent place to shop for spices such as saffron, cumin, turmeric, cardamom, Kashmiri chili powder, cinnamon sticks, and others sourced from around the Middle East, North Africa and South Asia. These high-quality spices make for a suitable gift if the recipient is someone who loves to cook, or for yourself.
Where to buy: Spice souk, Deira
Insider tip: Instead of the usual, pick spices and spice mixes that are unique to the region, such as za'atar, loomi, dried rose petals, and bezar spice mix. Ask the vendors to try the spices before you buy.
If you ask, the friendly ones will also tell you how you can use them, and what kind of dishes they're good for in everyday use. Be sure to mention that you plan to pack them in your luggage so that they can wrap it securely to avoid spilling in your suitcase.
You'll also find spices at supermarkets at reasonable prices.
How much it costs: Varies according to the spice, origin, and quantity.
Need ideas for what to do in Dubai? Here are some affordable and free things to do in Dubai.
21. Mirzam Chocolate
You might not think of chocolate when you think of souvenirs to buy in Dubai, and while there isn't a lot of locally-manufactured chocolate, there is Mirzam Chocolate, a homegrown chocolate brand that manufactures its chocolate in the UAE. And it's really good!
They've got different types of chocolate with nuts, dark chocolate, caramels, truffles, chocolates with dates, drinking chocolate, and others, so ask to sample before you buy. They've got gorgeous gift boxes if you want to buy them as souvenirs or gifts for loved ones back home.
Where to buy: Mirzam Chocolate Makers, Al Quoz
You will likely also find Mirzam Chocolate at other cafes, specialty stores, big supermarkets, and cafes in Dubai.
Insider tip: You can actually visit their factory and store in Al Quoz for a tour to see how they make their chocolate. You can also taste varieties of their chocolate, which is a plus! Chocolate tours can be booked directly on their website.
How much it costs: 8 USD for single origin bars, 30-100 USD for gift boxes.
22. Gahwa (Arabic coffee)
The city has a vibrant coffee scene, evidenced by the amazing cafes in Dubai, but the history of coffee goes way back, much further back than the period when expats began to move to Dubai, and even before the UAE was formed. In Bedouin culture, offering a cup of gahwa or Arabic coffee has always been a sign of hospitality, something that desert tribes appreciated and reciprocated while traversing the harsh desert environment.
In 2015, Gahwa or Arabic coffee was included on the UNESCO Representative List of the Intangible Cultural Heritage of Humanity, thanks to the efforts of the UAE, Oman, Qatar and Saudi Arabia. If you're a coffee lover, you should definitely buy some Arabic coffee or gahwa, available as various blends, as a nice little reminder of your trip to Dubai.
Arabic coffee is often brewed with cardamom in a dallah (pot) to enhance the flavor. Occasionally, other spices might be added. It's served piping hot, usually with dates.
Where to buy:
Easily available in supermarkets in most shopping malls and in the souks.
Insider tip: The serving of gahwa is a sign of hospitality by the host. Both serving and drinking gahwa follows certain rules of etiquette.
Gahwa is pretty intense, so this one is strictly a good gift from Dubai for coffee lovers only.
How much it costs: 5 USD and up, depending on the quantity and brand of gahwa.
Other Souvenirs From Dubai That You Can Use
From fragrances and incense for your home, vibrant Persian rugs, and colorful lamps that will elevate your home decor to interesting books by UAE-based authors that offer rare insight into the Dubai life, here are more souvenirs from Dubai that you'll actually use.
23. Rosewater
In the Arab world, rosewater is often used as a fragrance, to hydrate the skin, and in recipes to add a nice rosy fragrance. You'll find rosewater being sold in shops in most souks in Dubai, and it's also possible to get a bottle in most supermarkets. It makes for a nice little gift, especially when it comes in a cute bottle.
Where to buy: Spice souk, Deira
Insider tip: Ask for Omani rosewater that is made from pink Damask roses that bloom in spring. The rosewater from these roses is prepared using traditional methods and is of very high quality.
How much it costs: Varies according to the type and origin of the roses.
24. Persian rugs and carpets
I won't lie—there will be a considerable amount of effort involved in lugging a heavy Persian rug back home from Dubai, but if you'd rather have a genuine Persian rug (or carpet) than an overpriced mass-produced rug from a popular retailer, then it's totally worth it.
Beautiful, elaborate Persian rugs, a prized collectors' item in the region for centuries, are a truly unique souvenir that you can take home from your Dubai trip. Handwoven Persian rugs (made in Iran) and those made in Turkey, Morocco, Afghanistan, Azerbaijan, and India cost a small fortune, considering they're made over a few years by skilled artisans from families where the craft is passed down through the generations.
Persian rugs are found in many Emirati homes and also adorn the homes of expats and other nationalities that live in Dubai.
The value of handmade rugs increases with time and many of the carpets and rugs that you'll find in reputed stores are antiques and have stories attached to them.
In modern times, splurging hundreds of thousands of dollars on a rug is a luxury that few can afford, so most shops these days also sell affordable Indian and Turkish wool rugs and machine-made rugs that are still beautiful and make for great souvenirs. Designs may be traditional or modern, but the cheapest ones are made from synthetic fibers, instead of the wool or wool-silk blend of other carpets.
Where to buy:
Insider tip: If you're interested in antique and vintage rugs, let the seller know—these are usually not displayed for customers, instead they're stocked in back rooms to protect them.
Don't be shy about letting sellers know your budget before they start showing you rugs. With how widely prices vary, you'd be saving both of your time and effort.
How much it costs: USD 1000 and up for woolen rugs, and USD 5000 and up for silk or wool-silk rugs. USD 100 and up for synthetic rugs.
25. Books by UAE-based Authors
I don't know about you but I think books by local authors or authors based in the city or country where I'm traveling make for excellent souvenirs. The local experiences of places, whether fictional stories or non-fictional accounts of the culture, people, place, and food are rich with context that the visitor experience can often be lacking in.
If you like to read or are looking for a Dubai souvenir for an avid reader, then consider one of these books by authors from Dubai or with stories based in the city.
Fiction
The Sand Fish by Maha Gargash (Novel)
Layover in Dubai by Dan Fesperman (Suspense/ thriller)
Romancing Dubai: a spicy secret billionaire, treasure hunt romance by Sassy Monroe (Romance/ beach read)
The Secret Life of Dubai's Street Cats by Bashayer Arif
Non-fiction
My Vision: Challenges in the Race for Excellence by His Highness Sheikh Mohammed bin Rashid Al Maktoum
Windtower: The Merchant Houses of Dubai by Peter Jackson and Anne Coles
Where to buy:
Kinokuniya,

Dubai Mall

Magrudys, multiple locations
Insider tip: These suggestions are just a start, my suggestion is to look for books that steer away from stereotyping life in Dubai.
How much it costs: Varies
26. Frankincense
An aromatic resin derived from the sap of the Boswellia tree, frankincense has been used as incense in the Arab world for thousands of years. The milky-looking sap hardens to form these resins, earning frankincense the nickname 'pearl of the desert'.
Not only does it fill your home with a rich, calming scent, it's also believed to have health benefits and relieve symptoms of cold, cough, and respiratory ailments. To use it as incense, place a small piece of frankincense on a piece of burnt coal and walk through each of the rooms in your house.
In the Gulf region, frankincense from the Dhofar region in Oman and from Yemen was (and still is) regarded as a prized item. In ancient times, the region became an important port in the frankincense trade attracting traders from around the world.
Frankincense, also known locally as lubaan, is one of the most authentic and culturally significant souvenirs in Dubai that you can take home from your trip.
Where to buy:
Souks in Bur Dubai and Deira
Insider tip: Frankincense sellers will have beautiful ornate incense burners, also known as mabkhara, for sale, on which you can place lit coal and frankincense. While shopping for frankincense in Dubai, look for Omani frankincense, especially from the Dhofar region, it's the highest quality that you can find.
How much it costs: 15 USD for 30-40 grams and up, depending on origin and quantity
27. Bakhoor
Used in a similar way as frankincense, bakhoor are agarwood chips that are burned over lit coal to aromatize homes and other spaces. The chips are usually soaked with other essential oils and other natural items such as jasmine, sandalwood, or amber to add interesting and soothing notes to the fragrance. They are then compressed into small blocks.
Bakhoor or bukhoor also makes for a great traditional souvenir from Dubai. You'll also find elegantly packed bakhoor boxes that are perfect for gifting.
It's a good idea to buy a beautiful mabkhara or incense burner at the same time, so that you have everything you need to use bakhoor when you return home after your trip.
Where to buy:
Souks in Deira and Bur Dubai

Arabian Oud (multiple locations including

Deira

)

Most shopping malls in Dubai
Insider tip: Bakhoor is available in various fragrances, and not all are created equal. Some fragrances are mild while others are stronger, and you're sure to find something that suits your taste if you try a few.
How much it costs: 15 USD and up for 100 gms, depending on the quality and quantity.
28. Set of Dallah (coffee pot) and finjan (cups)
Given the significance of gahwa or Arabic coffee in Emirati culture, it's no surprise that gahwa is traditionally served from beautiful coffee pots, known as dallah. The most distinguishing feature of the dallah is its long spout that makes it easy to serve the coffee the traditional way and big handle that makes it easy to hold the pot.
The cultural significance of the dallah to the Emirati identity is obvious from its symbolism on the one dirham coin which bears an image of the dallah. In the past, dallah coffee pots were handcrafted out of brass, silver, or copper, and for the wealthy, out of gold. The dallah was adorned with intricate designs engraved into its body.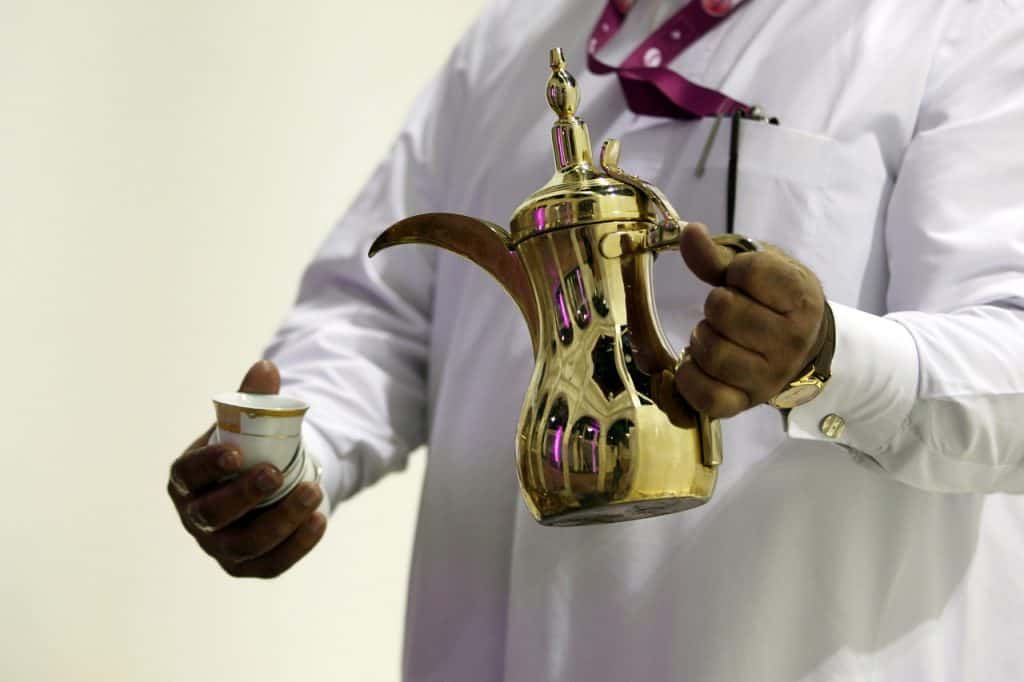 There were also different types of dallah, varying in weight and metal, depending on whether they were to be used for brewing the coffee, mixing it with spices, or for pouring coffee into cups as a final step.
While many modern homes will still have traditional coffee pots, contemporary coffee pots might be made out of ceramic, stainless steel, or glass, and manufactured in places like Turkey, Morocco, or India. While they might still retain the original shape of the dallah, they might bear modern hand painted motifs to reflect changing design tastes and preferences.
While you'll find dallah coffee pots being sold in the souks and shopping malls in Dubai, it might be a good idea to buy a set of dallah and 5 or 6 traditional cups known as finjan. Of course this is only if you intend on using or gifting the set of dallah coffee pot and finjan coffee cups for the purpose of drinking and serving Arabic coffee.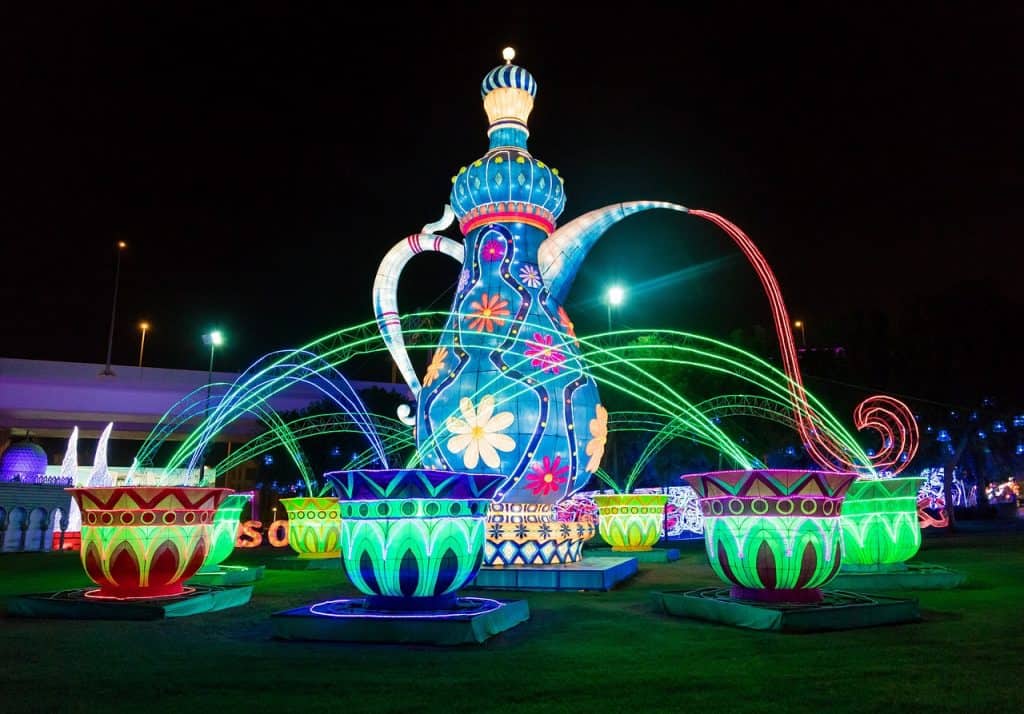 Purely decorative dallah coffee pots are also available for purchase if you intend to use them as an ornamental home decor item.
Where to buy:
Insider tip:
While it might be tempting to buy a traditional brass dallah, a more modern pot, or something in glass or ceramic might be a better idea if you plan on using it to serve coffee. Modern pots are easier to care for and clean.
How much it costs: 10 USD for ornamental dallah to 150 USD for higher quality dallah
29. Traditional Lanterns and Lamps
While wandering around the souks in Dubai, whether in Deira or in newer souks like Souk Madinat Jumeirah, you'll find yourself admiring ornate brass lanterns and colorful multi-layered mosaic lamps. These types of lanterns and lamps are routinely used to enhance the decor of traditional homes and gardens in the region, and might make an interesting addition to your own home.
I won't lie—I am not sure that all of them are produced in the Arab world or in countries like Turkiye and Morocco like most sellers will claim, but I do think they are absolutely stunning, and I've picked up a few from the souks for my own home over the years.
Other than being pretty souvenirs that remind you of your Dubai holiday, they also make for fantastic gifts for friends and family.
Where to buy:
Souks in Bur Dubai and Deira
Insider tip: Expect to bargain down to at least 60 to 70% of the initial price quoted by the seller.
For lamps, ask the seller to plug it in so you can check it's all working properly. For lanterns, inspect the piece to ensure there is no scratch or damage.
Ask the seller to wrap it nicely in bubble wrap so there is no damage while transporting the lanterns and/or lamps.
How much it costs: 15 USD and up, depending on design, size, and quality
30. Pottery and Ceramics
The history of the craft of pottery in the UAE goes back thousands of years, with earthen pots being used to transport and store food, grains, and water in the harsh desert environment. In modern times, pottery and ceramics serve more of an artistic purpose, with local artists experimenting and furthering the art in a way that ensures its relevance in current times.
If you're looking to support local artists and take home a beautiful souvenir that is made in the UAE, then consider buying ceramics and pottery that's handcrafted in a studio in Dubai. You'll find beautiful pottery, bowls, tableware, coffee cups, sculptures, and more that make for unique souvenirs and gifts from Dubai.
For pottery and ceramics that are a bit more affordable, visit the shops in Al Seef, Al Fahidi Historical Neighborhood, and the souks of Bur Dubai and Deira.
Where to buy:
Insider tip: Ask for your pottery or ceramic item to be wrapped securely so that it does not break in transit.
At some of these studios, you can also sign up for a pottery or wheel-throwing session.
How much it costs: 50 USD and up, depending on the item.
This post contains affiliate links. If you make a purchase using these, I might get a small commission with no extra cost to you, which goes towards running this site.