A wildlife sanctuary isn't exactly what comes to mind when you think of weekend escapes in the UAE or day trips from Dubai; picture-perfect resort pools, yes, beautiful beaches, also yes, but herds of spotted deer, Arabian Oryx, and sand gazelles? Not so much.
Just 8 kilometers off the western coast of Abu Dhabi, Sir Bani Yas Island is still something of a secret in the UAE and a worthy venture off-the-beaten-path. The legacy of the late ruler and founder of the UAE, Sheikh Zayed Bin Sultan Al Nahyan, Sir Bani Yas Island is home to a protected wildlife reserve where conservation programs work to save endangered species and those extinct in the wild.
Visitors can experience the island's unique ecosystem and wildlife by staying overnight at one of three resorts at Anantara Sir Bani Yas Island Resorts. I had the chance to stay at the Anantara Al Sahel Villa Resort in a rustic but luxurious safari-style villa located in the Arabian Wildlife Park and was blown away by the experience.
Join my Dubai Travel Planning Group on Facebook where you'll find plenty of free resources, practical information and insider tips about cool restaurants, cafes, instagrammable spots, attractions and things to do in and around Dubai.
What makes Sir Bani Yas Island special?
Named after the Bani Yas tribe, one of the oldest tribes on the Arabian Peninsula that were also among the first settlers on the island over 7000 years ago, Sir Bani Yas Island is no less than a success story of foresight, perseverance, and an understanding of the responsibility of every generation towards the world it inhabits.
The UAE's visionary founding father believed that protecting the country's heritage and wildlife was just as crucial as the progress towards modernity. He understood that conserving the region's wildlife was important to take responsibility for the future. In fact, Abu Dhabi translates in Arabic to 'Father of the Gazelle' in reference to the many Arabian Oryx that once inhabited the region that now makes up the emirate.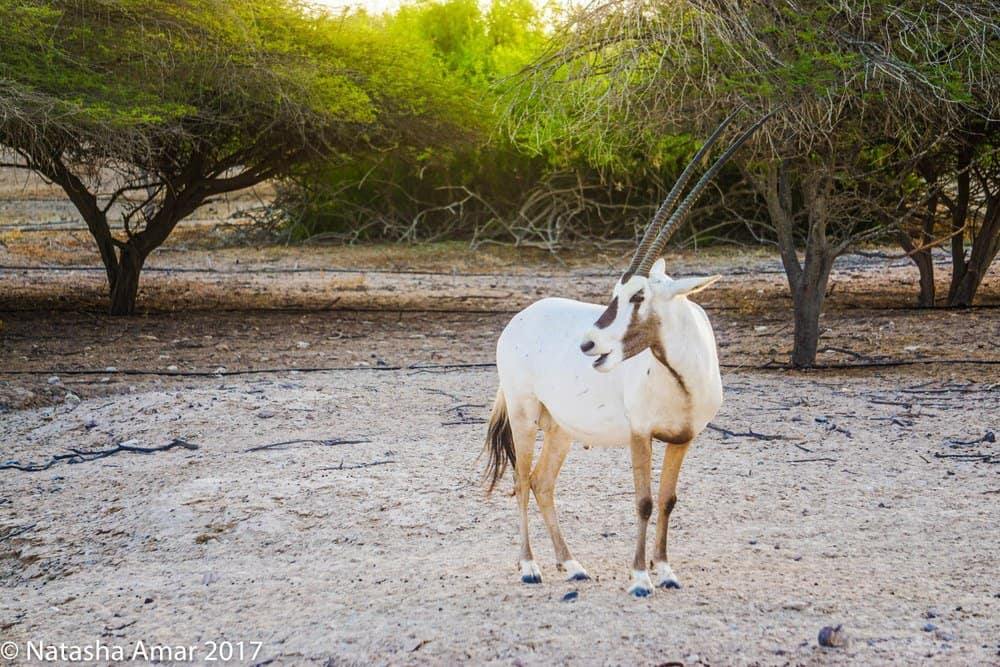 As their numbers dwindled, the late ruler Sheikh Zayed set about this initiative to conserve them and other indigenous species and gave them a home on Sir Bani Yas Island by creating an ecosystem that would nurture their growth. Thanks to his leadership, our generation and future ones can now see the majestic Arabian Oryx, which could well be the origin of the fabled unicorn, in its natural habitat.
But the conservation efforts don't end there; vulnerable and endangered non-indigenous species from far-flung corners of the planet have also found a home on Sir Bani Yas Island. These include the South African giraffe, eland, Urial sheep, Indian Axis deer, Indian antelope, East African Beisa Oryx, and Scimitar-horned Oryx that have been classified as extinct in the wild.
Sir Bani Yas Island is an outstanding example of sustainable tourism in the UAE and the region. As part of the project, the Greening of the Desert program led to the planting of resilient, indigenous plants and trees (such as the native ghaf) on the island that would make the environment suitable for wildlife to thrive. The island also works towards protecting its life-giving mangroves and restoring the equilibrium between man and nature with a seedling planted for every visitor to the island.
Check & Get Your UAE Visa Online.
Why Stay at Anantara Sir Bani Yas Island Resorts
While you can visit from Dubai or Abu Dhabi on a day trip, the long driving time means you won't be able to spend enough time on a day trip. Anantara offers the only resorts on the island, each with a different vibe to suit every taste.
Got more time in Abu Dhabi? It's worth checking out the Anantara Qasr Al Sarab for a desert getaway.
Highlights
The Al Sahel Villa Resort at Anantara Sir Bani Yas Island makes for an awe-inspiring weekend trip, thanks to its refreshing lack of unnecessary extravagance (that is so often seen in luxury hotels in the UAE) and its seamless, aesthetic integration into the natural surroundings of Sir Bani Yas Island. The rustic luxury lodges blend into the landscape of the Arabian Wildlife Park, so much that peacock families perch around your private plunge pool on the terrace and gazelles graze on shrubs nearby.
The Al Sahel Villa Resort is ideal for guests who want a quiet escape into nature, away from city life. Cell-phone reception can be spotty in the wildlife park, but count it as a welcome break from the constant noise and need to be 'social'.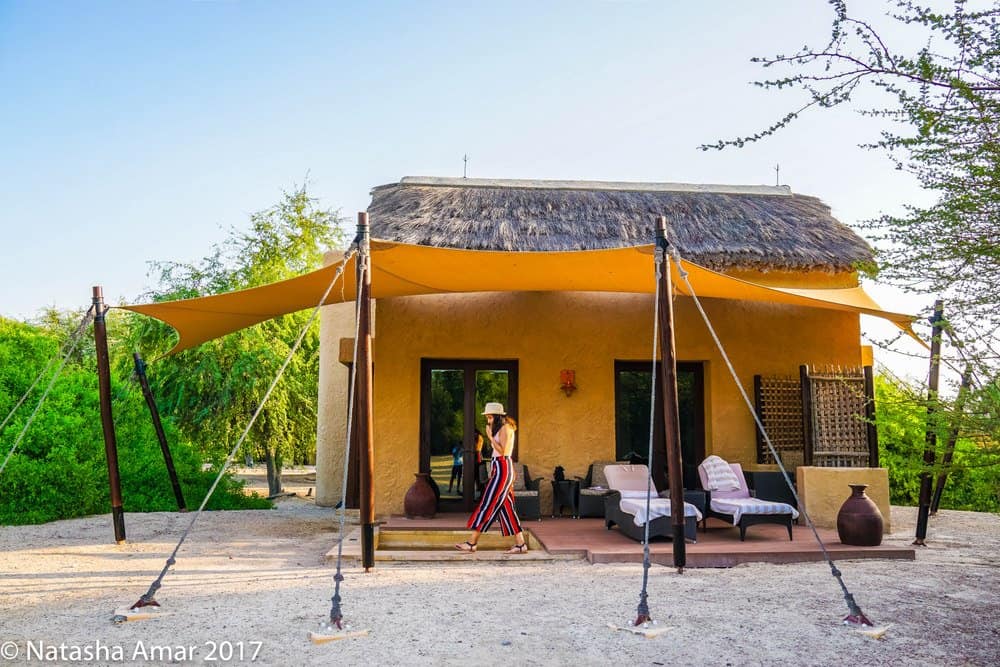 Inside the villa, you'll find an excellent, beautifully designed, and highly informative coffee-table book about Sir Bani Yas Island and the various species that call the island home, that makes for great reading.
The service is both friendly and impeccable. The staff is knowledgeable about the resort and the island and willing to go the extra step to find additional information they might not have. A special mention goes out to Karoliyna and Nuru for their excellent service.
Accommodation
Warm, earthy tones, dark wood, local fabrics, and luxurious modern touches mark the rustic décor of the spacious Al Sahel Villas. The beige mud and thatch-roof exterior is right at home within the Arabian Wildlife Park. The high ceiling beams, classic ceiling fan, plush leather chairs, and dreamy canopy bed can make you feel like you're in a classic safari adventure movie. There's a large couch and coffee table in the living area. During the day, natural light streams in through the large glass doors and windows that overlook the terrace and park.
The bathroom is spacious and luxurious with two vanity areas, a gorgeous free-standing carved bronze bathtub, and separate rain shower.
Strong Wi-Fi and a business desk means you can easily catch up on emails, though I can't imagine why you'd want to do that when you can converse with peacocks on your terrace instead.
Modern amenities like air conditioning, Nespresso coffee-machine, minibar, and flat-screen TVs ensure a comfortable stay.
Every villa comes with a private, temperature-controlled plunge pool on the terrace and it's a treat to watch the wildlife (peacocks and gazelles) up close from here. The wood terrace comes with a large couch, sun-loungers, and a small table and chairs.
Dining
Guests of Anantara Sir Bani Yas Island can choose from five dining venues such as The Palm (Middle Eastern cuisine), Amwaj (seafood), Al Shams (poolside and al fresco restaurant and bar serving Arabian specialties) at the Desert Islands Resort, Olio (Italian cuisine) at Al Yamm Villa Resort, and the safari-themed Savannah Grill (African cuisine) at the Al Sahel Villa Resort.
We dined at Savannah Grill and thoroughly enjoyed our meal of succulent spicy-sweet Peri Peri chicken with a side of rice and potato wedges followed by a sinful, moist chocolate cake. The service was friendly and prompt and we were glad to have gone with our server's recommendation.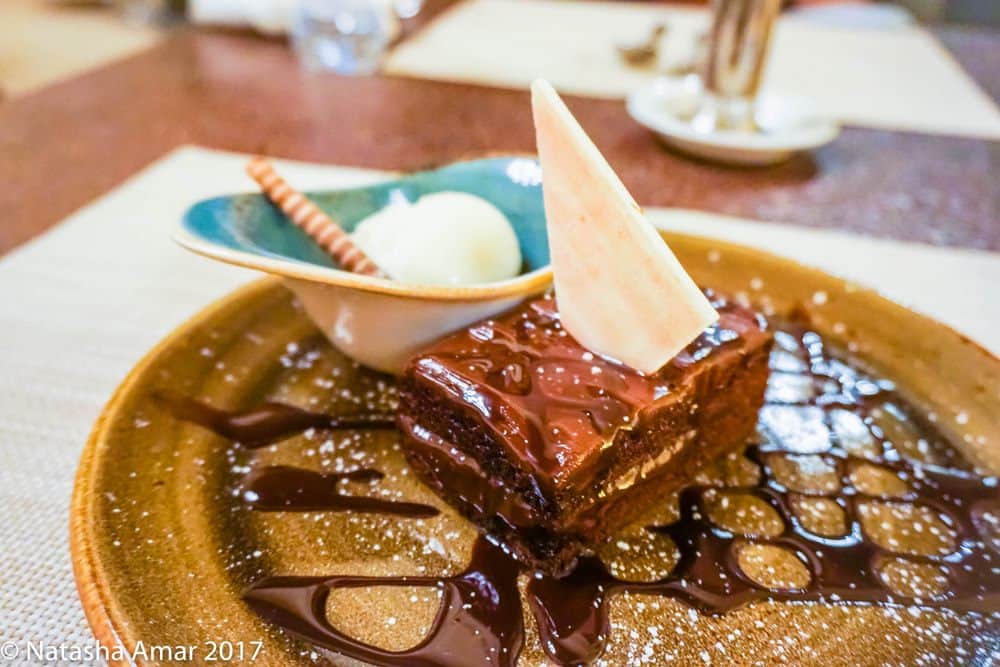 The breakfast spread was generous with a variety of smoothies and juices, cold cuts, smoked salmon, cheeses, fresh fruits, salads, breads, pastries, hot items like beans, sausages, and a live station to have your eggs made to order. Both the omelet and Eggs Benedict were outstanding.
Activities
Whether your idea of the perfect safari holiday is relaxing in your plunge pool as you watch the gazelles, going on a wildlife drive through the savannah, mountain biking through the rugged landscape, snorkeling to see the reefs, or horse riding along the beach, you're spoilt for choice at Anantara Sir Bani Yas Island Resorts.
Guests can make use of complimentary transportation services between the three resorts- Al Sahel, Al Yamm and Desert Islands Resorts to make use of the resort's pools, beach, and other activities. All activities should be booked in advance.
Nature and Wildlife Drive
The Nature and Wildlife Drive is an activity that must not be missed when staying at Anantara Sir Bani Yas Island, especially because this safari drive is the only one of its kind in the UAE and in this region, it's rare to see so many species in their natural habitat. On the recommendation of the staff, we booked our Nature and Wildlife Drive at 6.00am and it was absolutely worth it to wake up that early. Our safari guide was friendly and full of information about the island, Wildlife Park, and the flora and fauna, as well as the conservation programs.
On our drive, we spotted herds of gazelles, Arabian Oryx, Barbary sheep, blackbuck, cheetahs, and South African giraffes, among other species. As the landscape shifted from dry, rugged wadis and wild savannahs to green pastures, it struck me; we were moving through an ecosystem that was something of a miracle for the region, but one that came to be thanks to the vision of an extraordinary leader. It was here, in the desert land of the Middle East, that species like the vulnerable Indian antelope or blackbuck were being conserved and bred and sent back to India so they may flourish in the wild again.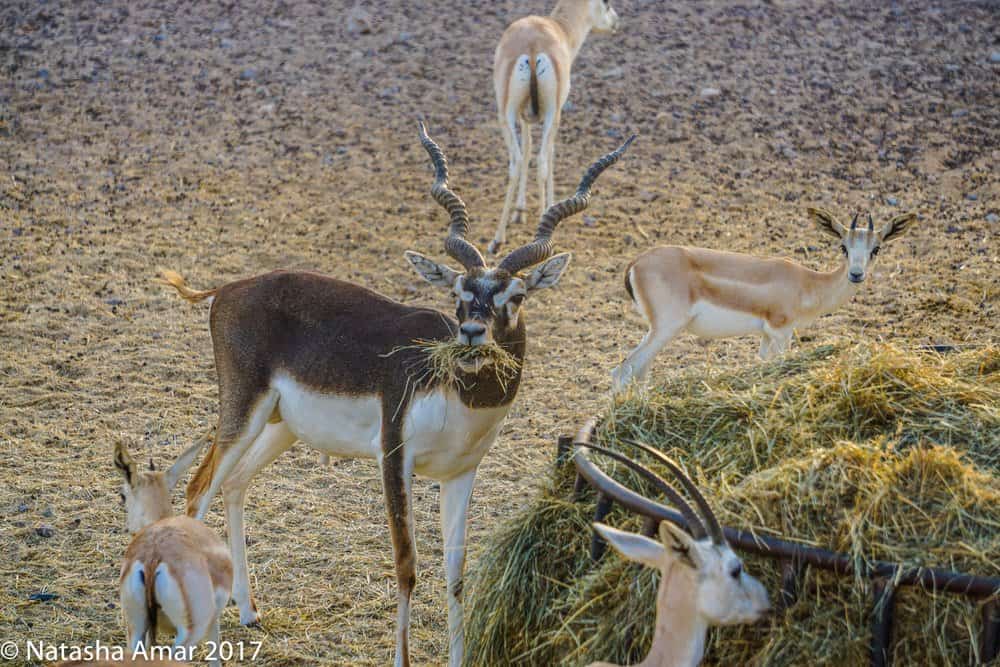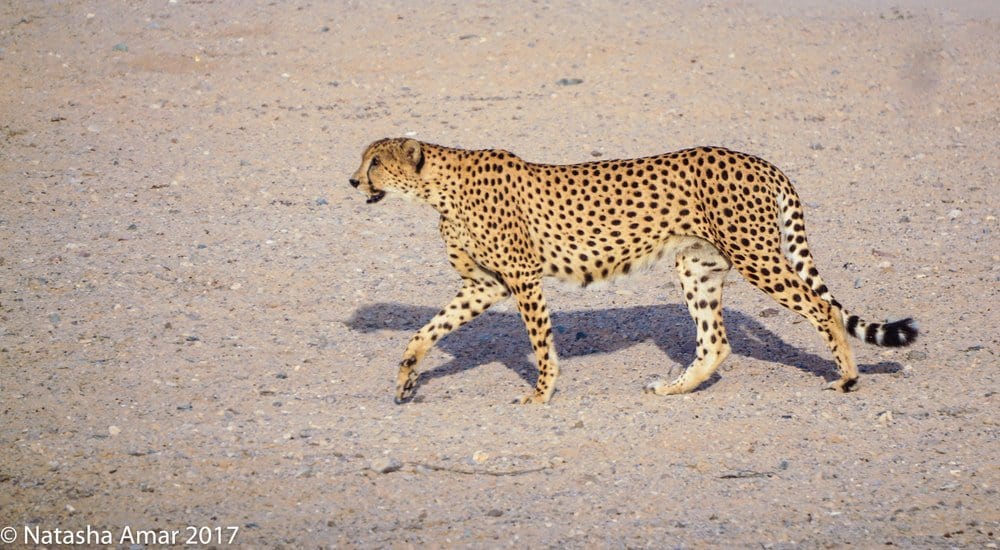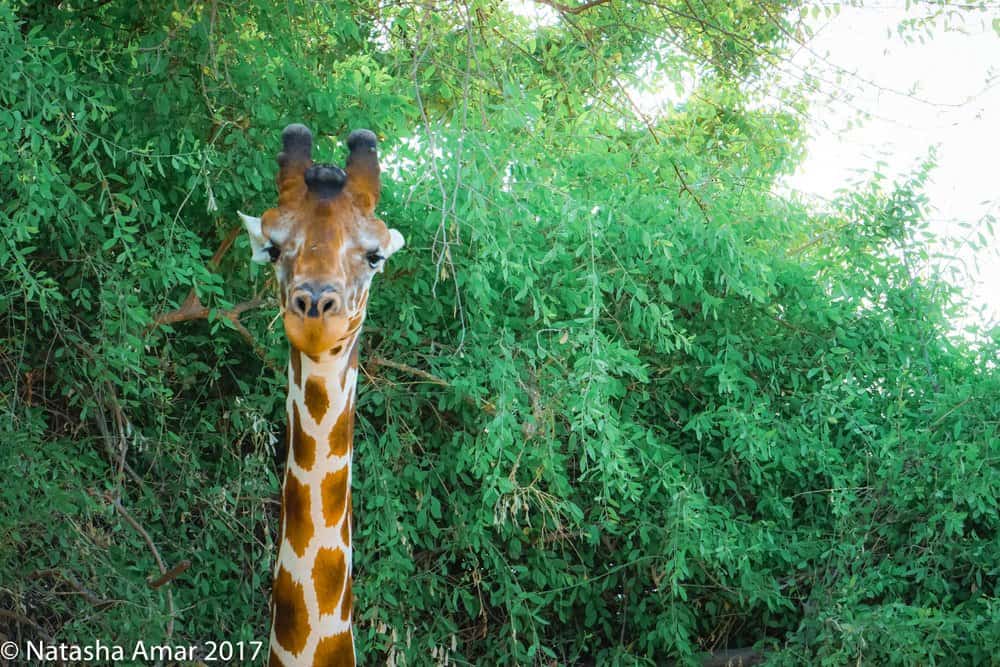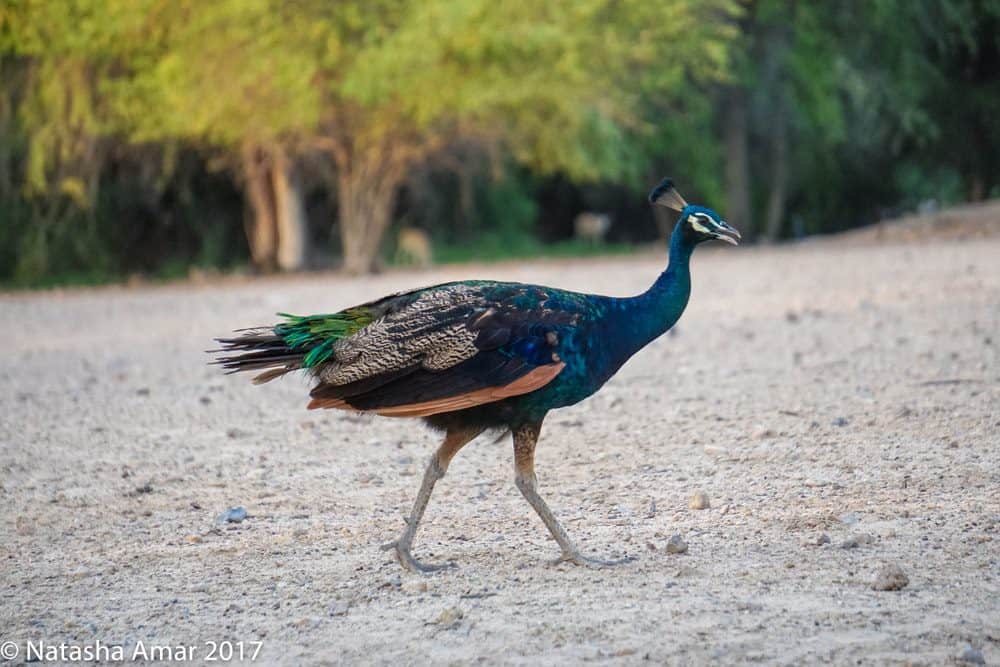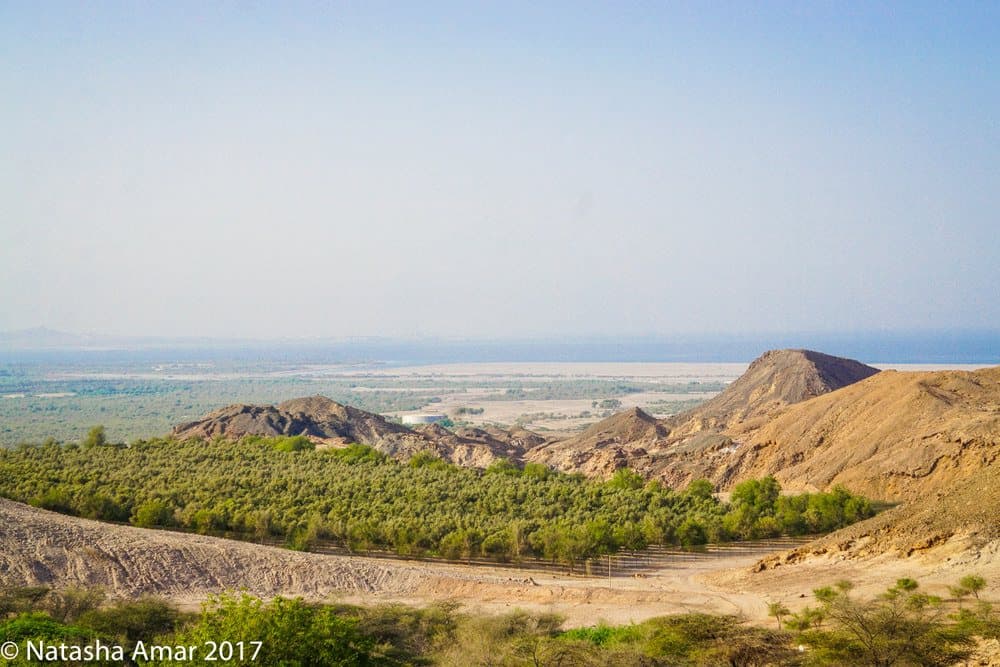 Other Activities
Visit the 6th century AD Christian monastery on Sir Bani Yas Island or take a Culture and History Tour to learn about the history of Sir Bani Yas Island.
Go on a guided mountain bike or horse-riding tour of the island.
Snorkelling and kayaking trips are on offer for all levels of experience.
Try your hand at land sailing on Sir Bani Yas Island.
A variety of nature walks are available on the island depending on your fitness levels, some of which can be self-guided. On these walks you can spot giraffes, flamingoes, gazelles, and appreciate the topography of natural salt-domed hilltops, rock formations, a mangrove lagoon, and the Arabian savannah.
After a day of exploration, head to the Anantara Spa to unwind with a range of body and facial treatments and massages that draw from the heritage and culture of the region.
The Al Sahel Villa Resort also has a beautiful large common swimming pool for guests.
Who It's For
Anantara Al Sahel Villa Resort is ideal for families, solo travelers, and couples who enjoy being in quiet, remote, natural environments and are looking to slow down, away from city life, for a few days. This place is obviously a treat if you love wildlife and are eager to learn about the indigenous species of Arabia. I can't imagine a better experience for children who need to come to places like this to learn that animals belong in their natural habitats, running wild and free, instead of in zoos, no matter how glorified.
Even if you're an active traveler, there are tons of activities from kayaking, mountain biking, and land sailing to horse riding, to keep you busy for days.
If your idea of a weekend getaway is incomplete without party-happy bars and clubs or if you're a group that would like to blast loud music in your villa post sunset, this is most definitely not the place for you. Just like any other safari experience, the code of conduct on the island asks that you respect the nature and wildlife, and any activity that would disturb the animals is prohibited.
Practical Information
While getting to Anantara Sir Bani Yas Island takes a while from both Dubai and Abu Dhabi, the long drive is most definitely worth it. Drive to Sir Bani Yas Island jetty in Jebel Dhanna on the E11 highway (3.5 hours from Dubai and 2.5 hours from Abu Dhabi, clearly signposted), take Exit 113 to park your car at the jetty and take the water taxi to the island. The water taxi is available at set times during the day, you'll need to book your seats in advance with the resort once you've confirmed your stay.
Planning your trip to Dubai? Join my Dubai Travel Planning Group on Facebook for FREE resources, tips, and updated and new info about cool restaurants, cafes, instagrammable spots, attractions and things to do in and around Dubai.
Visiting the UAE? Here's your guide to how to dress right in the UAE.
Book your stay or know more at Anantara Sir Bani Yas Island Resorts.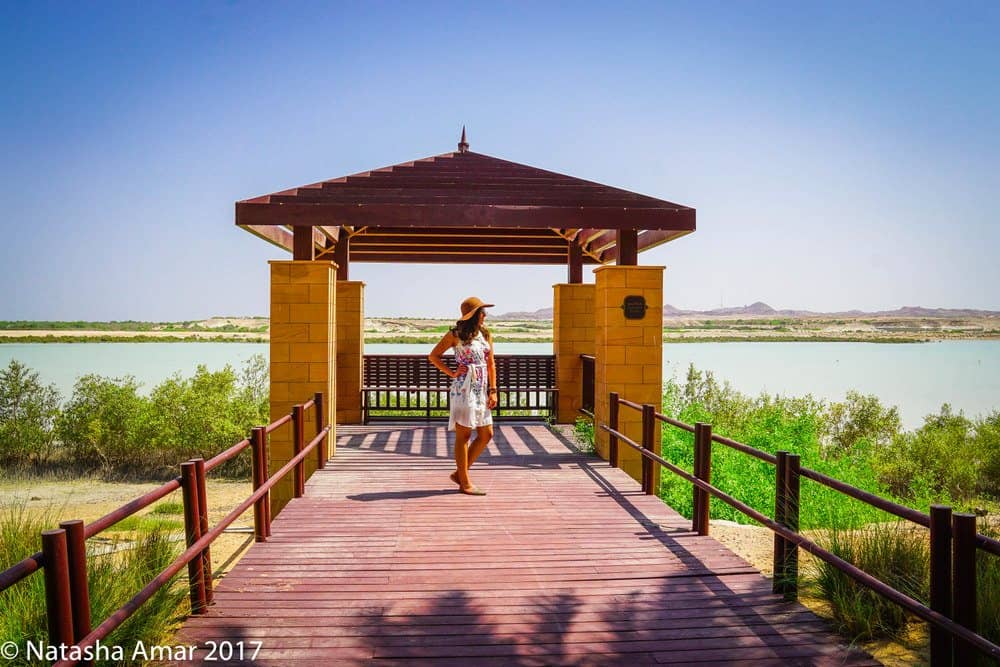 We stayed as guests of Anantara Sir Bani Yas Island Resorts. All opinions, as always, are honest and independent.