It's no secret that summer temperatures in Dubai are brutal- so much that I suspect not many people I meet on my travels believe me when I tell them the actual highest temperature of the season back where I come from. And I always tell them, because that's exactly why I am traveling out of Dubai during the summer. That brings us to the all-important question while planning your trip to Dubai: When is the best time to visit Dubai?
If we're speaking strictly weather-wise, the months between October and April are the best time of year to visit Dubai and winter, from November to February, is the best season to visit Dubai. The days are relatively pleasant with sunny afternoons, the skies are blue, with some cloudy and rainy days, and the evenings are nice enough to go running outdoors. It's the perfect time of year to wander around the city's interesting neighborhoods or shop for Dubai souvenirs in the souks by Dubai Creek, after a pleasant boat ride.
This is also a good time of year to take day trips from Dubai and visit places like Hatta, Al Ain, and Wadi Shees where nature trails await and you can also go kayaking.
But knowing the best time to go to Dubai that's right for you depends on more than just the weather- though the weather is a huge part of whether or not you will enjoy your Dubai holiday.
Still, the best month to visit Dubai also really depends on your budget– because hotel room rates and availability can vary wildly depending on tourist seasons, whether or not you mind tourist crowds, and if you're interested in attending certain special events or festivals in Dubai. By the way, if you're looking to plan your stay, you may find my guide to Dubai hotels and accommodations and my picks for the best places to stay in Dubai for couples useful.
So, as someone who calls Dubai home and would like you to enjoy your trip to Dubai, I've written up this detailed guide to the best time to visit Dubai, as well as the best months to visit Dubai, so that you know exactly what to expect, can pack right for Dubai, be mentally prepared for the weather in Dubai, and can have a wonderful time in my city.
Join my Dubai Travel Planning Group on Facebook for insider tips about cool restaurants, the best cafes in Dubai, instagrammable spots, attractions and things to do in and around Dubai.
Best Time to Visit Dubai for Good Weather
If the weather is your main concern, as it rightly should be, then the best time to visit Dubai for good weather is between October to March.
October is when the days and evenings begin to get cooler and it's nice to be outside again- to go to the beach, visit cool neighborhoods, and spend late afternoons poolside, instead of hiding in air-conditioned shopping malls and cinemas like we do all summer in Dubai.
But can you blame us? Daytime temperatures in summer in months like July and August can reach as high as 50°C or 122°F. Come October, and it begins to cool down little by little- but for many tourists it's still pretty hot and humid to be outdoors during the day, i.e. when you'd typically like to walk around and see the city.
October is also when the mood of the city begins to shift- just out of summer, Dubai residents are more cheerful, outdoor concerts, parties, and brunches (something that Dubai loves) are back, beach clubs open doors, and outdoor gyms, biking, hiking, and running clubs are active again. It's possible to do outdoor activities such as flyboarding.
Between October and March, it's much more pleasant to be outside, and you can take advantage of Dubai's newest tourist attractions- many that focus on being nature or outdoors, and plenty that are among the best cheap and free places to visit in Dubai, such as Global Village and Dubai Fountain. This is also an excellent time of year to plan a day trip from Dubai.
By the way, you can also join our Dubai Travel Planning Group on Facebook where you'll find plenty of free resources, practical information and insider tips to help you plan your trip to Dubai. Click on the image below to join.
Best Time to Visit Dubai with Family
These months from October to March-April are also the best time to visit Dubai with your family. Dubai temperatures in March range from 20°C (68°F) to 30°C (86°F).
Families with children tend to be active when it comes to sightseeing, and kids like to play outside- whether it's on trampolines at the park, on the beach, visit attractions such as the Aquaventure waterpark at the Atlantis or theme parks such as Legoland and Bollywood Parks.
If you plan to visit more than one theme park, consider getting a combo ticket for Dubai Parks and Resorts.
This means spending a lot of time outdoors- something you simply cannot do in Dubai weather in the summer. Understandably then, this is the peak tourist season and you'll find that some attractions (not all, because Dubai has fantastic planning in place like that) can be crowded.
By the way, the best time to visit the Dubai Miracle Garden is from November to April. After closing for six months during the Dubai summer, Dubai Miracle Garden reopens for the new season in November.
While December isn't as chilly as it might be back in your city, and we certainly don't have any snow in the city (except a little on the mountain peaks across the UAE on very cold days), in recent years, January and February have been the coldest months with evening temperatures in Dubai reaching to 15°C or 59°F.
For me, these months are among the best time to go to Dubai. That is when us Dubai residents like to bring out our leather jackets, hoodies, and cozy sweaters.
During the rest of the year, if you see us carrying jackets and blazers, it's to stay warm in the chilly air-conditioned shopping malls and offices! To know what to pack for Dubai, here's my guide to how to dress in Dubai.
Best Time to Visit Dubai for a Beach Holiday
If you're after a bit of sunshine and sand in your toes, then September end to December is a good time of year to visit Dubai for a beach holiday. Other than lying on the beach, you can also do plenty of watersports like flyboarding, jet ski, and kitesurfing.
March is also a great time to visit for pleasantly sunny, mildly warm days where you'd be comfortable spending afternoons on the beach and the sea is still comfortably warm to swim in (the same is true from October to December).
While January and February see colder, cloudier days, some with rainfall, there are still many many days in those months that are great for some beach time- so it's not like if you visit during that time you can't go to the beach.
In fact, pool and beachside brunches close for the summer in Dubai and are back in operation around October (and go on until March-April). September is more like shoulder season, so you might still find some great deals and discounts on hotels in Dubai.
If Dubai's beautiful beaches (and we have many nice ones) is what brings you to the city on holiday, it's a good idea to book your stay at a beach hotel so you can make the most of your time here. Don't be fooled into thinking that all beach hotels in Dubai are expensive- this is so not true- we have beach hotels for every budget, as I've mentioned in my guide to where to stay in Dubai.
Theoretically in Dubai, you can go to the beach all year-round, but the fact is that it's best avoided on certain particularly hot days in summer, like when the temperature is 50°C and it's the terrible kind of humid.
If you're coming for a beach holiday, you should read up on how to dress in Dubai, especially the rules, both written and unwritten, about swimwear on public beaches, to avoid causing public offence.
Best Time to Visit Dubai for Outdoor Activities
"But Natasha, do you even have outdoorsy activities in Dubai?" and "Is it not just all shopping malls and skyscrapers?" you might ask, and I'll say, "Yes, of course" to the first and "Not anymore," to the second.
Dubai loves adventure and being outdoors between October and March. As the days cool down after summer in Dubai, we're all aching to just get outside under the open skies or alongside a beach with crashing waves. If you want a taste of the outdoors in Dubai, then October to March is the absolute best time to visit Dubai. Then, it's great weather to take day trips from Dubai to places like Wadi Shees, Khorfakkan, and the Al Ain Oasis.
We've got tons of watersports, thanks to our gorgeous beaches- think flyboarding, windsurfing, parasailing, paddle-boarding, jetski, banana boat rides and more. If you make your way to the mountains in Hatta, you can go kayaking in Hatta Dam, hiking in the Hatta Mountain Conservation Area, ziplining, and mountain biking as well.
And of course, skydiving in Dubai means skydiving over fabulous views of the iconic Palm Jumeirah. For something a little less thrilling, you can also go ziplining across the beautiful Dubai Marina.
Dubai residents come from all the world, we're a melting pot of possibly every nationality on the planet- and we all bring our fitness routines from our countries of origin. You'll find everything from yoga to capoeira to stand up paddle-boarding here- a lot of it outdoors.
Outdoor fitness sessions, often free to attend, are super popular in Dubai. Beach Zumba, moonlit yoga, tai chi in the park- if you're looking to work out while holidaying in Dubai, you can totally do this outdoors if you come between October and March. You can also meet and work out with outdoor running clubs such as Dubai Creek Striders and biking clubs.
In recent years, Dubai has really changed from being a city where leisure and entertainment was available only indoors (and Dubai is a city that is always, always changing) but even the tourist attractions and sights are no longer restricted to being within concrete walls.
Not anymore.
We've got outdoor shopping malls (such as The Beach in JBR), food truck parks, trendy retail and leisure developments (such as Al Seef and La Mer) that are located on marina promenades and beachfronts, outdoor art, culture, and food festivals and markets (such as Sikka Art Festival and Ripe Market) – it's all happening outdoors between October and March, and is incredibly fun to visit.
Best Time to Visit Dubai for Cheap Hotel Room Rates
Now, let's get a little more serious, shall we? If you're wondering what is the best time to visit Dubai for cheap hotel room rates- I've got you.
Hotel room rates in Dubai can vary widely depending on the time of year you're visiting, how hot it is and the subsequent effect on incoming tourism. I've mentioned all of this and more in my detailed guide to the best hotels in Dubai (for every budget).
Speaking purely from a price perspective- the best time to visit Dubai for cheap hotel rates is between May and September. These are the hottest months in Dubai (especially June to August end) and so this is the cheapest time to go to Dubai. August is the hottest month in Dubai and hotel rates are rock-bottom.
During this time hotel room rates in nice, five-star hotels in prime locations well-connected by the metro can start at just under $100. If you go for serviced apartments in residential areas, again these are of a high standard and often come with swimming pools, saunas and gyms in the buildings, these might cost you as low as $50. That is more than what I pay for a hostel in Copenhagen.
The only big drawback of visiting during this time- it's HOT!
Luckily, you don't need to suffer Dubai's ruthless summer if you want a cheap hotel stay in Dubai. In my opinion, the shoulder season in the months of September and mid March-April is the best time to visit Dubai for cheap hotel room rates and relatively pleasant weather.
See also: How to go from Dubai Airport to City Center
Dubai in September is when the bulk of tourists have not yet arrived- so hotels are cheaper and the weather is only beginning to cool down a bit. While from 12pm to 4pm, it's still extremely hot, the rest of the time you're able to be outside, especially in the early evenings. This is also when outdoor events and festivals start returning around the end of the month.
The same is true for mid-March to April. Many tourists from the November- December peak tourist months have returned home from Dubai, people are back to work, but the weather is still pleasant. So, March is a good time to visit Dubai.
Mid-March to April and September is also the best time to visit Dubai to avoid tourist crowds. An advantage is faster entry into attractions like the Atlantis, The Palm, the Dubai Mall Aquarium, and the Global Village- all of which can get super busy from October to February.
April and September are also good months to visit Dubai with family– if you're a big family or group and need a couple of rooms. During this time, you can get a spacious hotel apartment with two or more bedrooms and a kitchen, at a great price- which means you can save on the cost of eating out for every meal.
Best Time to Visit Dubai for Desert Safari
Don't forget that one of the biggest tourist attractions, and top things to do in Dubai is to visit the desert on a desert safari. If this is your first time to Dubai, then please do not leave without seeing the majestic gold dunes of the Arabian desert. The desert is where nature in Dubai is truly wild and beautiful and utterly glorious.
On a Dubai Desert Safari, you'll be driving on desert dunes, sandboarding, watching the sunset on a camel ride, and possibly riding a quad-bike. Afterwards, you'll enjoy dinner and some kind of live, traditional entertainment in a camp setting.
So you'll be spending a lot of time outdoors, in the desert– and you'll only enjoy this if the weather is pleasant, not on sticky, burning hot summer days. So the best time to visit Dubai for desert safari is between October and March.
From October to March, the afternoons are still warm and sunny, but it's way more bearable. Winter being the best season to visit Dubai, from December to February, the evenings in the desert can be chilly, so definitely bring a jacket at that time of year.
To know what to wear on a Dubai desert safari, see my guide to how to dress in Dubai.
Best Time to Visit Dubai for Honeymoon
Dubai is a very popular honeymoon destination, both in the Middle East and in the Indian subcontinent.
I think what attracts honeymooning couples to Dubai are the luxurious hotels, beautiful beaches, world-class shopping, and once-in-a-lifetime experiences.
Want to have afternoon tea on the iconic sail-shaped seven-star hotel at the Burj Al Arab? Or watch the sunset from the Burj Khalifa? Want to see the Dubai Fountain on a romantic boat ride in a lake? It's all possible.
Want to fly over Dubai's beautiful cityscape? You can book a helicopter flight in Dubai.
Want to skydive? The views of Palm Jumeirah when you go skydiving in Dubai are nothing short of epic.
Want to see the city on a private luxury yacht? That's completely do-able in Dubai and guess what, you won't have to sell a kidney to do it!
Plus, you have to admit- Dubai is incredibly easy to get to- with direct flights to most international cities.
I picture the perfect Dubai honeymoon to have plenty of beach and pool time, a visit to the desert- either a romantic desert resort or desert safari, exploring the city and dining at romantic waterfront restaurants, sundowners at posh rooftop bars and lounges, and of course, plenty of shopping! For all of this, October to March is the best time to visit Dubai on a honeymoon.
Best Time to Visit Dubai for Shopping
Dubai is paradise for shoppers and if you're planning a trip to Dubai to indulge in a bit of (or say, a whole lot of) shopping- whether it's clothing, accessories, shoes, or electronics, then it's worth knowing the best time of year to visit Dubai for shopping, i.e. when the city has the best sales, discounts, deals, and shopping festivals.
Now, Dubai loves to get people to spend their money- so we've got plenty of sales happening year-round. Really, they're far too many to list- so I've picked the major shopping festivals in Dubai and included them below.
The Dubai Shopping Festival takes place from mid-December until early February. This annual shopping festival that attracts shoppers from all around the world thanks to amazing deals, discounts, and sales.
December is generally a great month to visit Dubai for shopping– there are plenty of sales and discounts around the city to encourage people to increase their holiday shopping. And boy, does it work- my December bank account statements look dismal at best.
At this time, there are many discounts to be found in the city's malls and markets- anywhere between 25% to 90% off on everything from clothing and furniture to cars and perfumes- we're talking thousands of retailers around Dubai. This is a great excuse to shop for your Christmas and holiday presents in Dubai.
This shopping festival is accompanied by fireworks, cultural shows, and performances across Dubai. There are also outdoor markets with custom and unique products created by the city's talented artists and designers.
What's worth knowing is that you'll also be able to enter a whole bunch of raffle draws to win prizes like fancy cars (Infiniti QX50, anyone?) to cash prizes of AED1,000,000! Simply spending money in the malls or retail areas means you'll be eligible to enter raffle draws to win prizes and gift vouchers- so this is the best time to get the most value for your money.
We have 3-day super sales in May and October and on those days, the shopping malls such as The Dubai Mall and Mall of Emirates are packed with eager shoppers looking to do some serious damage to their budgets! Expect discounts as much as 90%!
The end of May will also see the Eid-Al-Fitr celebrations, during which time you'll also find plenty of sales and discounts across Dubai.
June is also a fantastic month to visit Dubai for shopping. Now, I know it's very hot in June. But if your plan is to stay indoors and shop- then you're in luck.
Other than regular retail sales, June is when the Dubai Summer Surprises or DSS, another shopping festival, begins. DSS continues till the end of August- so if you're visiting Dubai in summer, here's another reason to spend all your time in the shopping malls, other than the terribly hot weather of course.
Generally speaking, electronics and tech is considerably cheaper in Dubai around the year compared to North America or Europe.
If you're looking to buy electronics or say a DSLR camera, or expensive headphones, then keep an eye out for GITEX Technology Week, an annual week-long event taking place from the end of September to the beginning of October. Not only can you see the latest technology and gadgets, there are also amazing discounts and freebies on consumer electronics.
Best Time to Visit Dubai for Festivals
If you want to experience Dubai's customs and traditions and things that make this melting pot of a city as unique and special as it is, then it's a good idea to visit Dubai during one of its major festivals.
Now, the best time to visit Dubai for festivals isn't as straightforward as it might be in other cities. Why? Because Dubai's multiculturalism means we celebrate Eid, Diwali, Christmas and more- and these festivals are spread through the year. So it really depends on what you'd like to experience.
If you find yourself in Dubai during the Holy Month of Ramadan, you should know this is a quieter time to be in Dubai. Fasting Muslims spend the entire day until sunset without food and water, and break the fast during an evening meal, that takes place after sunset, and is called Iftar.
Iftar parties where meals are more like feasts are common in Dubai with groups of colleagues, friends and families going out for Iftar dinners during the month. You can read my post on what to expect in Dubai during Ramadan.
The festival of Eid Al Fitr marks the end of the holy month and this is when Dubai feels festive with markets, shopping sales, live events, fireworks and more.
Eid Al Adha is also celebrated in August and while the temperatures are scorching, it's worth getting out to experience Emirati traditions, food and culture.
You might be interested to know that Dubai is home to a large Indian community, and us Indians love our festivals. Diwali, or the festival of lights, typically celebrated in early November, is a major Hindu festival, and let me tell you this- Diwali in Dubai is celebrated at a much grander scale than it is in Mumbai.
During the days leading up to Diwali, the city's neighborhoods with mainly Indian residents, such as Bur Dubai, Mankhool and Karama are lit up with thousands of lights in the balconies, Diwali dinners and parties are the norm, and there are fireworks (and firecrackers being lit). It's really festive and the city's residential lanes, all colorful and sparkly, look like they're little jewelry boxes.
And finally, Christmas, possibly the world's favorite holiday and festival is celebrated with much fanfare in Dubai. The month of December sees various Christmas markets spring up all over the city, magnificent Christmas trees are decorated in all the hotels and shopping malls, everyone is shopping for Christmas presents, and having the best time spending their money on Christmas brunches, dinners and parties.
Best Time to Visit Dubai for Events
It's worth knowing about the noteworthy arts, literature, culture and culinary events in Dubai to see if your visit to Dubai coincides with any of these. There's always something fun happening in Dubai.
The Standard Chartered Dubai Marathon is an annual marathon held in January that attracts runners from all over the world.
If you're a tennis fan visiting Dubai in February, get tickets to the Dubai Duty Free Tennis Championships.
Avid readers and writers should attend the Emirates Airlines Festival of Literature, held in February, that attracts authors from all around the world. There are talks, workshops, events and more.
Music lovers should not miss the Dubai Jazz Festival where the lineup includes artists such as Lionel Richie and One Republic, and Red Fest DXB, both held in February.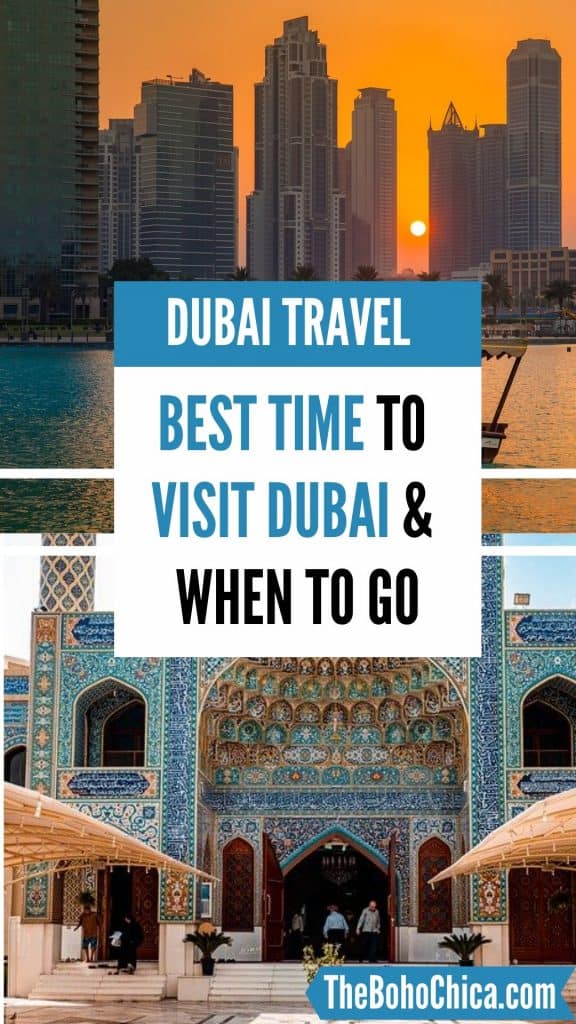 Taste of Dubai is a great food festival held in Dubai in March. There's live cooking, food fairs, live music, world-class acts and concerts and more.
Art Dubai is an annual art and cultural event that takes place over 3 days in March. Expect art events, exhibitions, film screenings, performance art, live concerts, workshops and sessions at Madinat Jumeirah, Al Seef, and other locations around Dubai.
The ten-day art fair Sikka Dubai at Al Fahidi Historical District is another cool event to attend in March.
If you find yourself in Dubai in March and are even mildly interested in horse racing, it's worth attending the Dubai World Cup held at Meydan Racecourse. The prizes at stake here are worth 35 million USD!
Cheapest Time to Go to Dubai
If your goal is to visit Dubai, see the main sights and attractions, and get the biggest bang for your buck- and you don't mind braving the harsh summer weather in Dubai, then the cheapest time to go to Dubai is between June and August.
Now, I've been there- I've traveled to places on a serious budget and all I wanted to do was go there at a time of year when I could afford it. For example, I went to Iceland in winter before it became a popular winter destination. That meant snowstorms and closed roads, but that also meant I could see most of what I wanted to see and stay in a single room in a guesthouse at a price I could afford.
It's a tradeoff- weather versus budget- and it depends on how much you're comfortable with spending on your Dubai trip.
The summer months from June to August are the hottest months in Dubai- so they work out to be the cheapest time to visit Dubai because there aren't as many tourists. Understandably, rates for hotels in Dubai are much lower. To boost tourism, many sights and attractions, such as Dubai Parks & Resorts, Aquaventure etc also offer discounted entry.
But remember August is the hottest month in Dubai, with highest temperatures between 48°C or 118.4°F and 52°C or 125.6°F, so you might not necessarily be able to go to these spots, and may instead find yourself hiding indoors in malls and hotels.
Whether you're visiting Dubai on your own or in a group or family, the savings in the off-season can be considerable.
Don't feel overwhelmed while planning your Dubai trip. Join my Dubai Travel Planning Group on Facebook for FREE resources, tips, and updated and new info about attractions and things to do.
Best Season to Visit Dubai
The best season to visit Dubai is winter, from November to February. Winter in Dubai is when we have pretty blue skies with clouds, sunny afternoons, and the city celebrates the good weather outdoors. Plus, it's a good time to get away from the extreme cold and snow in other parts of the world.
We don't really have a rainy season in Dubai- just a few rainy days in December, January and February. Some parts of the city can get a bit flooded during those days- but there are always advance weather warnings so you can be prepared.
Spring- in the months of March and April, is also a good season to visit Dubai. While the days are getting warmer, it's still nice enough to be outside, go to the beach, or to go on a Dubai desert safari.
Best Month to Visit Dubai
In my opinion, the best month to visit Dubai is December.
December is the perfect time to explore Dubai for many reasons; the weather is ideal- it's warm and sunny in the day with some cold days, the evenings are breezy, you can still go to the beach and swim in the sea, and it's also good weather to go to outdoor concerts, events, festivals and brunches.
December in Dubai is also great because the city has such a happy, festive vibe. Other than the many Christmas markets, you can also go to the Global Village. There are festive dinners, brunches, parties etc.
There are also many sales and discounts at the shopping malls, so if you're looking to shop, December is a good time to visit Dubai.
November, January, and February are also nice enough months to visit Dubai. So if you can't make it in December- don't fret. But if you've had enough of the cold where you come from, then don't think twice before booking that flight ticket to Dubai.
If you're visiting Dubai between November and February, you'll need to book your hotels in advance as the best hotels and apartments in Dubai can be all booked up during this high tourist season.
Hottest Month in Dubai
August is the hottest month in Dubai with sweltering temperatures between 48°C or 118.4°F and 52°C or 125.6°F, and humidity highs from 73% to 90%.
The weather in Dubai in August is unforgiving- the afternoons are the worst and it can often be impossible to be outdoors from 12pm to 4pm.
If you're visiting Dubai in summer, dress suitably, wear a hat and carry plenty of water. Sunscreen is your best friend.
Best Time to Visit Dubai by Month
Here's a breakdown of the best time of year to visit Dubai by month, to help you understand the kind of weather to expect and what to pack.
Dubai in January
In recent years, January has become the coldest month in Dubai with some rainy days. Dubai in January is lovely weather, the kind that makes us reach for a light jacket or cardigan in the evenings, and spend as much of our day outside as we possibly can.
For some people, this might be like spring back home, but this is as cold as our winter gets. The city's beaches are still busy on the weekends but for us it's too cold to swim in the sea. For plenty of people, it's warm enough.
January in Dubai is a great time to go on desert safari, or on a day trip from Dubai to Hatta where you can go kayaking, hiking and mountain biking.
Average temperatures: 14°C (57.2°F) to 24°C (75.2°F)
Dubai in February
The pleasant weather continues all of February in Dubai, and it's only slightly warmer than January. For us, as long as the temperatures are in this range, we're all happy and chirpy and never complain about the weather.
It's nicer to go into the sea in Dubai in February because it's slowly beginning to warm up again. If you visit Dubai during this time, you'll spend plenty of time exploring outdoor attractions such as La Mer and CityWalk, and Global Village.
This is also a good time of year to try the epic Dinner in the Sky experience or go on a hot air balloon flight over the desert.
Average temperatures: 16°C (60.8°F) to 25°C (77°F)
Dubai in March
In March, Dubai residents have long packed away their jackets and cardigans, and have begun to wish they could somehow control the temperature highs for the summer to remain what they are in this month. So, is March a good time to visit Dubai? Of course, it's an excellent time to come to Dubai- thanks to good weather, lesser crowds, and sunny days.
Beach weather is in full swing- with bright, sunny and warm afternoons and a sea that's comfortingly warm to swim in. It's still nice to be outdoors and exercise in parks, outdoor gyms and on marina promenades.
March is still a lovely time to visit Dubai and to try watersports such as kitesurfing and jetski, or to rent a sailboat or yacht and see the city from the water.
Average temperatures: 18°C (64.4°F) to 29°C (84.2°F)
Dubai in April
The temperature rises considerably in April, and while we Dubai residents tell ourselves it's 'still not too bad," the weather in Dubai in April might feel like what summer feels like where you come from.
Pack light fabrics, cool clothing, a hat, sunglasses, sandals and sunscreen. Check out my guide to how to pack for Dubai.
If you want cheaper hotel rates, then April is a good time to visit Dubai, seeing as it's shoulder season.
The afternoons are getting warmer this month, so it's smart to plan indoor activities for the sunniest hours from 12pm to 4pm, unless it's the beach you want to enjoy- in which case slather on the sunscreen generously and bring water.
Average temperatures: 21°C (69.8°F) to 33°C ( 91.4°F)
Dubai in May
In May, you begin to feel the heat of summer slowly creeping up- with considerably warmer evenings. While you might still be able to spend time outdoors, you won't enjoy it as much.
The sea is warm at this time, but it's probably too hot to be at the beach in the afternoon- it depends on where you come from and the kind of weather you're used to.
Some good things to do indoors, when it's too hot outside are to visit the Museum of Illusions, and skiing in Ski Dubai.
To visit Dubai in May, be sure to pack comfortable and light clothing, maxi dresses, linen shirts and trousers, and shoes that your feet can breathe in.
Average temperatures: 25°C (77°F) to 38°C (100.4°F)
Dubai in June
Welcome to summer in Dubai. The rising summertime temperatures in Dubai are only getting started so while it feels very hot, be rest assured that this isn't the worst.
You'll want to spend most of your time indoors- shopping, checking out the shopping malls, restaurants and nightlife. The evenings begin to feel humid as well.
Average temperatures: 28°C (82.4°F) to 40°C (104°F)
Dubai in July
July in Dubai is when the heat can be described as "burning hot". We also joke that were we to break an egg on the road in the afternoon, we'd straight up have fried eggs! Reportedly, a few people have tried this and they weren't amused.
Anyway, you'll most definitely want to seek refuge indoors in Dubai this month, and you won't even want to walk a few minutes to the metro station. If you brave that short walk, you will be sweating by the time you get to the air-conditioned metro station.
What about the beach, you ask? Forget about it- it's too hot.
Average temperatures: 30°C (86°F) to 41°C (105.8°F)
Dubai in August
August in Dubai is when humidity is at an all-time high, glass doors and windows are all fogged-up and as you walk from the shopping mall/hotel/metro entrance to your car or taxi, you find yourself asking, "Why, God, why?!"
It's a terrible time of month to be outside, let alone the beach. Pack a separate outfit for each day- you will sweat a lot, and bring light tops, skirts, maxi dresses, and men should bring t-shirts and shorts to keep cool. Open footwear will help to keep your feet cool.
Forget about walking tours at this time of year.
Average temperatures: 31°C (87.8°F) to 41°C (105.8°F)
Dubai in September
Dubai in September is a city of locals waiting for the weather to cool down. Mostly, we cannot believe how the days are still so warm. Though, it's time to start going to the beach again in the late afternoons.
Some people feel comfortable walking around early mornings and in the evenings at this time of year, but it can still be quite humid.
Average temperatures: 28°C (82.4°F) to 39°C (102.2°F)
Dubai in October
Come October and temperatures begin to fall to bearable levels. It's nice to go running outside again and beach and pool parties are back!
Outdoor attractions have slowly started opening their doors again.
Average temperatures: 24°C (75.2°F) to 35°C (95°F)
Dubai in November
The weather in Dubai in November is very pleasant, and it's great to be outdoors at all hours of the day and night. The afternoons can be a bit warm but we'll happily take those lovely beach days over cold, miserable and wet days in other cities.
Weekends in November are about going to the beach, poolside brunches and parties, exercising outdoors, open-air concerts, markets and more. It's a good time of year to go on a walking tour of old Dubai, seeing the souks and heritage neighborhood.
November is also the beginning of the high tourist season, so expect a lot of crowds- but again it's nothing like overcrowded cities in Europe reeling under the pressure of mass tourism.
If you plan to visit popular sights such as the Burj Khalifa, it's smart to buy tickets online in advance so you don't have to queue up.
Average temperatures: 20°C (68°F) to 31°C (87.8°F)
Dubai in December
Dubai in December has got its party hat and dancing shoes on. The weather is lovely, pretty blue skies, gorgeous pink sunsets, marathon training on the beach and plenty of pool time.
You'll find us at Christmas markets all month, sometimes wearing a light sweater or jacket on chilly evenings.
If you're visiting in December, it's perfect weather for a sunrise camel trek in the desert.
Average temperatures: 16°C ( 60.8°F) to 26°C (78.8°F)
Join my Dubai Travel Planning Group on Facebook where you'll find plenty of free resources, practical information and insider tips about cool restaurants, cafes, instagrammable spots, attractions and things to do in and around Dubai.
Looking to book a hotel in Dubai? Check out these great options:
This page contains affiliate links. If you make any purchases using these links, I may earn a small commission at no extra cost to you.
Tell me, have you visited Dubai? When did you go and how was your experience with the weather?