Located along the Gulf of Oman, the east coast of the United Arab Emirates is a fascinating region of rugged wadis, historic forts, shimmering beaches, sleepy towns, and lush farms hidden away among jagged mountain peaks. The gem of this coastline is most certainly Khor Fakkan (also spelt Khorfakkan) – a mid-size port city nestled among the Hajar mountains that extend from the UAE's east coast to northern Oman. Only a 90-minute drive from Dubai, Khorfakkan is an excellent day trip destination from the city that we locals love to visit during the cooler months for its natural beauty.
It surprises many visitors to know that Khor Fakkan is an enclave of the emirate of Sharjah, but is surrounded by territory that falls under the emirate of Fujairah. In fact, it is common for Khor Fakkan to be mistakenly included in the areas of Al Aqah and Dibba which lie just down the coast but are actually part of Fujairah.
While it may be small in size, Khorfakkan maintains a level of authenticity and intrigue that sets it apart from the larger cities in the UAE. Moreover, its diverse landscapes make it a hub for outdoor adventures – everything from water sports to hiking trails, and are a big reason why it's worth visiting.
The top places to visit in Khorfakkan also serve as an introduction to the long and rich history of this coastal town. Khorfakkan was invaded by the Portuguese in the 16th century, who wanted control of this natural harbour on the Gulf of Oman – a location of strategic importance on trading routes. Until the 1970s and 80s, date farming and fishing were the town's main sources of livelihood.
For avid fans of exploring the smaller cities in the UAE, Khorfakkan continues to top the list. There's a reason this city with a population of nearly 40,000 was voted the Best Arab Tourist City for 2023.
There are plenty of things to do in Khorfakkan, which justifies repeat visits and longer stays. With Khorfakkan's new tourist attractions like the Portuguese Fort and the Khorfakkan Amphitheater, and several more tourism initiatives being developed here and on the east coast, Khorfakkan (which is already quite popular with domestic tourists and nature lovers) is set to become an even more exciting and popular tourist destination in the UAE.
It's also good to know that there are many places to visit in Khorfakkan for free and plenty of restaurants and cafes where you can eat on the cheap, whether it's a seafood feast or a cup of karak (tea) and regag (bread).
Don't think twice before planning a trip to Khorfakkan, especially if you're after a road trip that is guaranteed to make you look at the UAE in a new light (truly). Here are some of our favourite places to visit in Khorfakkan.
When is the Best Time to Visit Khorfakkan?
The best time to visit Khorfakkan is from mid-October to mid-April when temperatures typically range from 28-35 degrees Celsius.
During the summer months, temperatures in the area can spike considerably, and the risk of heat stroke is high, so you're less likely to want to explore outdoors, which is where the bulk of Khorfakkan's attractions lie. While Khorfakkan is typically a few degrees cooler than the cities of Dubai and Abu Dhabi, the daytime temperatures in peak summer are still pretty high, especially if you aren't used to them.
Tip: As temperatures begin to rise in summer, many attractions, sights, museums, markets, and restaurants in the UAE close in the afternoons and might stay open later into the evenings. It's fairly common to see most places come alive beginning in the early evenings when the sun is lower and less intense. Keep this in mind to help navigate the heat, but also be prepared for places looking empty in the day and some crowds at popular tourist attractions in Khorfakkan in the evenings.
How To Get to Khorfakkan
The best way to visit Khorfakkan is with your own vehicle or by rental car (I find RentalCars has the cheapest options). Public transportation by bus from Dubai takes a minimum of 3 hours, and connects to Fujairah, from where you'd have to arrange another means of transportation to get to Khorfakkan. A taxi from Dubai, Abu Dhabi, or Sharjah would cost way more than what you'd pay for a day for a car rental, so self-driving is the best option.
If you're driving from Dubai, you'll find yourself on Emirates Road (E611), then turn onto Khorfakkan Road (S142/ E55) where you'll drive through the 2.7km Al Multaqa Tunnel, the longest land-based tunnel in the UAE. The entire journey takes around 1.5 hours from Dubai to Khorfakkan. The route winds through the mountains, but is paved the entire way and is therefore accessible even with a sedan.
There are no petrol stations along Khorfakkan Road, so just make sure you have a full tank before you turn off onto that road.
If you're going as a group and don't want to drive yourself, you might be interested in this guided tour to Khorfakkan.
Where to Stay in Khorfakkan
There's plenty to do in Khor Fakkan to keep you busy for a weekend so if you're looking for a place to stay in Khorfakkan, here are my suggestions.
This charming heritage-style hotel in the Old Souq and a short walk to the beach offers rooms and apartments with traditional decor and modern amenities.
Oceanic Khorfakkan Resort & Spa
The fanciest hotel in Khorfakkan, this luxurious hotel offers spacious rooms with modern amenities, a private beach, outdoor pool, watersports, spa, and restaurant.
Just across from Snoopy Island, this resort in Al Aqah, Fujairah has a private beach, swimming pool, watersports, and a nightclub.
Top Things to Do in Khorfakkan
Khorfakkan captures the essence of life in the UAE in a way that takes you back to its roots. It was home to fishermen, farmers, and pearl divers, clifftop forts, stone watchtowers, and coral stone-gypsum homes along the coastline. Even walking through the city today, there are echoes of the town's history everywhere and beautiful landscapes.
So whether you're seeking a beachside holiday or in the mood for an adventure, here are some of the top attractions in Khorfakkan to add to your list.
1. Enjoy The Spectacular Views at Al Suhub Rest Area
A 15-minute drive from Khor Fakkan city, the UFO-shaped complex at Al Suhub Rest Area which stands at a height of 600m above sea level, offers the most spectacular views in Khor Fakkan and all the way to the blue water of the Gulf of Oman. There are several switchbacks on the gorgeous road that leads to Al Suhub Rest House, and two viewpoints you can stop at along the way.
Opened in 2021, this new Khorfakkan viewpoint offers more than just incredible views – the complex houses a lounge, restaurant, prayer rooms, toilets, and outside is a kids playground and water features. There's plenty of parking space outside. A good time to go is early in the morning or in the evening for sunset views.
2. Relax on Khorfakkan Beach
Flanked by palm trees, Khorfakkan Beach is a 3km strip of powdery white sand stretching along the Gulf of Oman. Located along Khorfakkan Corniche, it is the largest beach in the city with a walking path the entire way.
Khorfakkan Beach is the perfect spot to lay out a towel and snooze but it's also a popular spot for beach activities in Khorfakkan. Grab a paddle and head out in a kayak or strap on your snorkel gear to explore the many offshore coral reefs. Quick tip: most rental companies only operate on weekends (especially in summer), so bring your own gear if you plan to visit during the week.
Besides watersports, there's a children's play area, swings, and football goalposts, making this beach popular with families on the weekends.
Khorfakkan Beach is within walking distance of several local restaurants and you'll also find a row of food trucks that operate in the evenings. Trust me – grab a bite to eat and find a picnic spot on the beach, you'll be in for a truly epic sunset.
3. Go Parasailing over the Gulf of Oman
One way to see Khorfakkan from a new perspective – sail high above the city while parasailing over the Gulf of Oman.
If you're an adrenaline seeker, one of the best beach activities in Khorfakkan involves strapping into a parachute and flying nearly a kilometre in the sky, pulled by a motorboat speeding through the water. Your bravery will be rewarded with sweeping views of the city in one direction, and the turquoise waters of the gulf in the other.
Multiple companies operate parasailing tours in Khorfakkan, most departing from Khorfakkan Beach. One of the most popular companies for parasailing is Al Marjan Marine Amusements (get in touch on Instagram). They also offer jet skiing and other beach activities in Khorfakkan.
4. Hike Al Rabi Trail
Al Rabi Trail is, by far, the hike I recommend the most in the UAE – it's perfect for beginner hikers, but still an exciting challenge. Not to mention, it has extraordinary views of the city as you trek along the ridges of the Hajar Mountains.
Al Rabi Hiking Trail is 5.5 kilometres roundtrip, beginning just past Al Rabi Tower (also known as Burj Al Rabi). This stone watchtower, one of a few defence watchtowers built to protect the east coast, was constructed in 1915 and stands on a hill high above the city. It is visible from most parts of Khorfakkan, a reminder of the longstanding history of the port city. The hike begins just after Al Rabi Tower. FYI, you can't actually go into the watchtower or climb it as it's a historical monument (which has been restored).
From the watchtower, the Al Rabi Mountain Trail continues past the nearby restaurant The View By Wave (a great choice for breakfast or a post-hike treat) and up a well-marked trail. There are a few different routes one can take up 395 meters to the peak. You'll ascend about 300m, so bring plenty of water. Make sure to keep an eye out for views of some hidden beaches along the way!
5. Take a Boat Trip to Shark Island
Don't let the name scare you away – Shark Island, just off the southeastern coast of Khor Fakkan is one of the most beautiful places to visit in Khorfakkan, loved by scuba divers in the region. The name derives from the harmless black-tip reef sharks that frequent the surrounding waters in the cooler months, though some claim the island itself looks like a shark fin emerging just off the shores of Khorfakkan.
Visitors can access Shark Island via a short boat ride from Khorfakkan Beach. It's the perfect place to relax and snorkel for an afternoon, so pack a picnic and your snorkel gear. Besides black-tipped reef sharks, you can expect to see rich marine life including anemone gardens, barracuda, and mackerel in these waters. Here's a full guide to planning a snorkelling trip to Shark Island.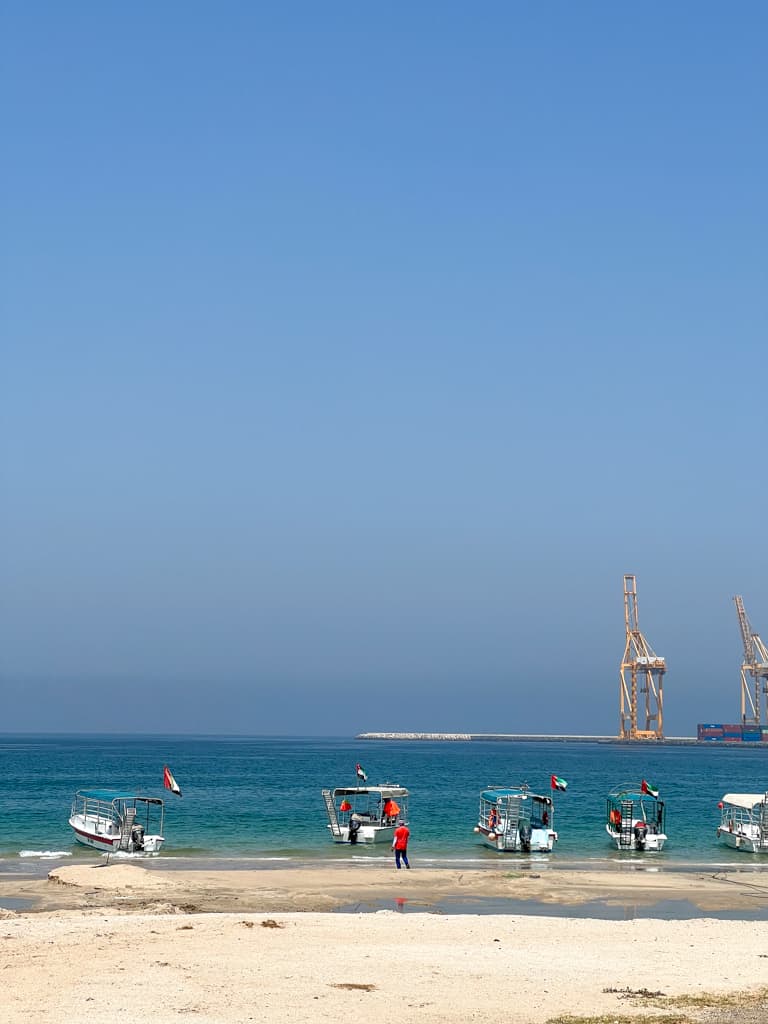 If you'd rather not swim, many boat operators offer boat tours around the island. You can discuss prices with the boat operators who line up along Khorfakkan Beach. They'll find you and approach you if you're walking around on the beach, but just in case you're looking for them, head to the part of the beach exactly opposite Sea Shore Hotel Apartments, next to the mosque Masjid al-Imam al-Bukhari.
Prices for the boat ride to Shark Island vary from 100AED to 250AED per person for the return trip, depending on how busy it is (cheaper in summer), and whether or not you're joining other travelers or have the boat all to yourself.
If you're interested, here is a guided snorkelling trip to the east coast (includes transportation from Dubai and a BBQ lunch).
6. Go Kayaking in Al Rafisah Dam
Al Rafisah Dam, located just 15 minutes up the road from Khorfakkan, is a stunning location to take in the beauty of the Hajar Mountains. Originally constructed in the 1980s, the dam creates a beautiful, serene pool of azure water surrounded by rugged peaks.
After you've parked, walk up to the observation deck with walkways that offer brilliant views over the dam. There's a children's playground and many shaded spots for a picnic, as well as a restaurant with seating on an outdoor terrace. There's also an ice-cream shop and a supermarket here, which might only be open on the weekends in summer.
Visitors to the dam can rent kayaks, donut boats, and pedal boats to explore on their own. Check out Al Khor Kayak, located here, for the most up-to-date timings.
There are also a few nature trails around the dam. To the left of the visitor centre, the trail takes you to a nature reserve where you can relax alongside some of the resident ducks. To the right of the visitor centre, Al Rafisah Trail takes you up the side of the mountain, where you'll get epic views over the entire dam. You can also keep going on this trail to the beautiful panoramic viewpoint at Al Suhub Rest Area (it's a 3 to 4-hour hike round trip). There are stone stairs here and a trail with scree, so wear proper hiking shoes if you want to do this trail.
A 1km long trail called The Walk takes you to the Najd Al Maqsar Heritage Village, across the road, whose centrepiece is a 300-year-old restored fortress and traditional houses.
Driving towards Khorfakkan from Dubai (or Sharjah), you can actually stop at Al Rafisah Dam on the way, before you get to Khorfakkan.
7. See the Khorfakkan Amphitheater
Inspired by classic Roman architecture, the Khor Fakkan Amphitheater is one of Khorfakkan's newest attractions. Constructed in 2020, this site at the foot of Al Sayed Mountain can hold up to 3,500 visitors at a time, facing out over the Gulf of Oman.
The Khorfakkan Amphitheater is a great place to relax and admire the views, or stop for a bite to eat at the adjacent restaurant. Although it's outdoors, the venue employs passive cooling features integrated into its design. The Khorfakkan Amphitheater occasionally hosts movies, concerts, and shows for visitors to enjoy. Check upcoming events at the amphitheatre here.
8. Explore the Portuguese Fort
Due to Khorfakkan's strategic coastal location on the Gulf of Oman, the city was a site of foreign occupation for centuries. Among these occupiers include Dutch, the Persians, and finally the Portuguese, who built a large fort on the banks of the city, close to what is now the Khorfakkan Port.
Originally constructed in 1635, the Portuguese Fort is a historical monument that now lies in ruins but has undergone significant restoration efforts to preserve the history and significance of the site. Adjacent to the fort is a small heritage village, dedicated to telling the story of Khorfakkan.
Each area of the heritage village is dedicated to telling a different part of Khorfakkan's story. Visitors can enter each of the houses here to learn about the traditional handicrafts of the Bedouin people or explore early Portuguese maps of the area. There is even a small coffee shop if you wish to grab a drink while exploring.
9. Feast on the Freshest Catch at the Khorfakkan Fish Market
If you're a seafood lover, pay attention because eating at the fish market is one of the best things to do in Khorfakkan. Located right beside the Khorfakkan Port, the fish market is one of the best places to find local seafood in the city. Seriously, it doesn't get fresher than this!
The Khorfakkan Fish Market is home to 17 small booths surrounding a central cleaning station. Just outside the fish market are many local restaurants that will prepare your fresh catch precisely to your liking. Grilled and spiced, fried, steamed – you name it, they've got it.
Note that the Khorfakkan Fish Market is open from 7am to 12pm and 4pm to 9.30pm daily. I recommend visiting in the morning when the catch is freshest. The nearby restaurants serve dishes prepared from fresh fish all day, so you can still visit and enjoy some local seafood dishes, even if you don't want to buy anything from the fish market.
10. Admire the Khorfakkan Waterfall
Nestled between the Khorfakkan Amphitheater and the shores of the beach, the Khorfakkan Waterfall is a tumbling, 43-meter-high man-made waterfall over the rugged sandstone of the Hajar Mountains. The waterfall stretches 45 meters along the road, inviting visitors to come stand alongside and cool down on a hot afternoon.
While the best waterfall views are from the bottom, visitors can also climb to the top of the waterfall to see the city of Khorfakkan from a new perspective. From one direction, you'll be able to see the towering spires of mosques in the city, from the other, the shimmering shores of the gulf.
11. Dive Into History at the Resistance Monument
With a stunning geometric design exterior built to resemble a warrior's helmet, the Resistance Monument in Khorfakkan pays homage to the courage of the people of Khorfakkan who resisted the Portuguese invasion of 1507, led by Commander Afonso de Albuquerque, for two days before the city fell.
Inside the monument, is a museum with Augmented Reality exhibits that history buffs will love. These tell the story of everyday life in the port town in the 16th century and lend an engaging and immersive human element to historical accounts of the invasion. Entrance to the museum is free but there are limited opening hours on Fridays from 4pm to 8pm.
12. Wander Around Khor Fakkan Old Souq
Spend a lovely hour or so wandering at the Khorfakkan Old Souq, a modern construction built like a traditional souk. This marketplace is a popular destination for both visitors and residents, offering a selection of local products, including high-quality spices, herbs, handicrafts, gahwa (Arabic coffee), frankincense, and other souvenirs. When you want to rest your legs, sit down at one of the cafes in the area for a karak tea and a snack. The cafes and shops here will probably be shut in the afternoons during the summer months.
13. Glimpse Into The Past at Hisn Khor Fakkan
Built to resemble the architectural style of the original fort from the 1950s and 1960s, the museum at Hisn Khor Fakkan offers insight into the history of the east coast of the UAE and the leadership of the Al Qawasim clan, whose descendants continue to rule the emirates of Sharjah and Ras Al Khaimah today.
Through photographs, artefacts, 3D models, archaeological exhibits, and engaging narratives, visitors can learn about the rich heritage of Khor Fakkan, and the nearby towns of Dibba Al-Hisn, Kalba, Wadi Al Hilo, and Wadi Shie. The museum galleries cover various periods, including the Bronze Age, Iron Age, Pre-Islamic Era, Islamic Era, and the region's modern history.
14. Walk The Nature Trail at Wadi Shees
Located in Wadi Shees, the 1.8km Wadi Shees Nature Trail is an easy trail that begins at an old residential village, comprised of charming stone houses and takes you past lush date plantations and picturesque farms surrounded by the rugged Hajar mountains. Along the way, you'll notice the narrow falaj (freshwater irrigation channels), an ancient system that has been in use for over 3000 years and was recently restored in this area in 2019. These channels transport water from mountain springs to the fertile lands of Wadi Shees, ensuring optimal farming conditions.
The region's cool micro-climate and abundant freshwater create a thriving ecosystem, supporting a diverse range of wildlife from native fish and dragonflies in the falaj channels to Arabian Spotted Eagle Owls, Caracal wild cats, and Blanford's foxes. While you're there, take a moment to appreciate the Alqawa Pond, located near the trail entrance. It's the ideal place for a peaceful picnic with the sound of birds and the water.
You can stop at Wadi Shees, a 20-minute drive from Khorfakkan, either on the way to Khorfakkan or on your way back to Dubai or Sharjah. Here are some other things to do in Wadi Shees.
15. Go Snorkelling at Snoopy Island
Located in Al Aqah, a 20-minute drive from Khorfakkan, this small rocky island off the Fujairah coast might look familiar – it resembles everyone's favourite cartoon dog lounging on his back, belly in the air! It's also known as Jazirat Al Aqqa and Jazirat Al Ghubba.
Thanks to ease of accessibility, Snoopy Island is one of the most popular snorkelling spots close to Khorfakkan and along the east coast of the UAE. The surrounding crystal clear water is home to many tropical fish, such as the rainbow-coloured parrotfish and square-shaped Arabian boxfish. If you're lucky, you might even spot a few turtles around the coral.
Guests at Sandy Beach Resort, whose Sandy Beach is located 100m away from Snoopy Island, receive complimentary beach access, but the resort also offers day passes beginning at 130 AED per person. Visitors can rent kayaks and snorkel gear at the beach.
16. Al Bidya Mosque
A 15-minute drive from Khorfakkan, Al Bidya Mosque in the village of Al Bidyah, Fujairah is the oldest mosque in the UAE still in use for worship and a well-preserved example of the region's unique heritage architecture. This 15th-century mosque is most notable for its irregular square shape and four multilayered domes supported by a central pillar.
There are two stone watchtowers above the mosque that are worthwhile for the views over the villages and the sea. If you plan on visiting the mosque, wear modest attire that covers the arms and reaches the ankles (for both men and women) and women need to cover their head with a scarf.
Frequently Asked Questions About Khorfakkan
Is Khor Fakkan worth visiting?
Khor Fakkan is absolutely worth visiting thanks to its beautiful coastline and Khorfakkan Beach, hiking trails such as Al Rabi Trail, atmospheric Old Souq and Khorfakkan Fish Market, and wealth of historical sites, interesting forts, heritage village, museums, and watchtowers. The good news is that some of Khorfakkan's best tourist attractions are also free to visit.
Are there sharks in Khor Fakkan?
Blacktip reef sharks are often spotted in the waters off the coast of Khor Fakkan and around Shark Island in the winter months, and are harmless to humans. Other species such as whale sharks have also been seen in these waters but they are not known to attack humans without provocation and the official advice is to leave them alone and get out of the water quietly.
Is Khor Fakkan waterfall natural?
The 45m-high Khor Fakkan Waterfall is a manmade waterfall that attracts visitors and picknickers to come cool down away from the sweltering heat.
What do you wear to Khor Fakkan?
In Khor Fakkan and the rest of the east coast where the towns and villages are quite traditional compared to the big cities, I recommend wearing modest clothing that is opaque, slightly loose, and covers the knees and shoulders. Expect to be doing some hikes and maybe visit a market with local fishermen, a museum, a traditional restaurant or two. Women should carry a scarf if they plan on going to Al Bidya Mosque, the oldest mosque in the UAE.
Is Khor Fakkan in Sharjah or Fujairah?
Khor Fakkan is an enclave of Sharjah, so it is in Sharjah, but it is surrounded by Fujairah.
What is Khor Fakkan known for?
Khor Fakkan is known for its stone watchtowers, stunning coastline with one of the few natural harbours in the UAE, beautiful beaches, and its history as an important port town in the region.
What is the meaning of Khor Fakkan?
Khor Fakkan translates to Creek of Two Jaws or Creek of Two Traps referring to its setting in a natural cove
How many kilometres from Fujairah to Khor Fakkan?
It's nearly 30km from Fujairah Town Centre to Khor Fakkan, and the drive between the two takes about 30 minutes.
How much is taxi from Fujairah to Khor Fakkan?
Taxi from Fujairah to Khor Fakkan can cost between 85 to 100 AED.
Is parking free in Khor Fakkan?
Parking is free only in some places in Khor Fakkan but it is paid in many of the tourist sights such as Sheikh Khaled Street, Khor Fakkan Corniche, Al Rafisah Dam, and Shees Park.
How much is the parking fee in Khor Fakkan? What time is parking in Khor Fakkan chargeable?
There is paid parking in several areas of the city, including Sheikh Khaled Street, Khor Fakkan Corniche, Al Rafisah Dam, and Shees Park. Parking fees are applicable from 8am to 10pm, except on Fridays when parking on Sheikh Khaled Street is free. The charges are Dhs 2 for one hour, Dhs 5 for two hours, Dhs 8 for three hours, and Dhs 12 for five hours.
Which are Khor Fakkan's new tourist attractions?
Khor Fakkan's new tourist attractions include Al Suhub Rest House (opened in 2021) which offers breathtaking panoramic views, the Museum at the Resistance Monument with AR exhibitions (opened in 2023), and the Khorfakkan Amphitheatre and Khorfakkan Waterfall (opened in 2020).
What are some places to visit in Khorfakkan for free?
Al Rafisah Dam, Al Rabi Tower Trail, Khor Fakkan Waterfall, Khor Fakkan Beach, Khor Fakkan Corniche, and the Old Souq are some places to visit in Khorfakkan for free.
Keep Exploring the UAE
While the cities of Dubai and Abu Dhabi might have captured your attention while planning your trip around the UAE, it's worth taking a day or two to explore the smaller towns of the UAE, such as Khorfakkan, even if it's on a day trip from Dubai. If you're interested in seeing more of the UAE, you'll find plenty of inspiration in my guide to day trips from Dubai.
This post contains affiliate links. If you make a purchase using these, I might get a small commission with no extra cost to you, which goes towards running this site.
Author Bio: This post was co-written by Virginia Taylor, travel blogger and photographer at BrokenBoots Travel.