Updated on 4th February, 2020.
Your complete guide to the Dubai dress code for both women and men, all year round.
This post contains affiliate links. If you buy any items using these links, I get a small commission at no extra cost to you. As an Amazon Associate I earn from qualifying purchases.
If it's your first time visiting Dubai, you may rightly be confused about what to wear in Dubai and what to pack for Dubai, considering that:
The weather in Dubai is infamously hot. Like it goes up to 50 degrees Celsius in summer. (So you've got to plan carefully when to visit Dubai)
The UAE is an Islamic country but Dubai is surprisingly modern.
The social media influencers and celebrities you see posting updates from Dubai, perched on its skyscrapers or riding camels in the desert are dressed in itsy bitsy shorts. Dubai fashion seems to be at the forefront of international trends.
But you know that the locals are always dressed modestly.
These jarring contrasts in a city, where over 70% of the population is made of expatriates and Western culture is predominant, can leave you wondering about the right Dubai dress code. I know that not everyone understands how to pack for Dubai because ever so often readers will write to me with questions like:
Do you have to wear an abaya or burqa (or traditional Dubai clothing) in Dubai?
What can women wear in Dubai?
Can you wear a bikini on the beach in Dubai?
Can you wear short dresses in Dubai?
Can you wear shorts in Dubai?
Can you wear ripped jeans in Dubai
Exactly how conservatively, should you dress in Dubai?
I've heard you should only wear loose clothing in Dubai, should I bring only linen pants, scarves and long-sleeved shirts?
What To Wear in Dubai
First, let me say this: Dubai is a city in the UAE, which is an Islamic country. The local culture is Islamic, even though a majority of the population in Dubai is made up of expats, many (but not all) of whom are from the West. Traditional Dubai clothing is modest, classic and beautiful, and modern versions can also be high-fashion.
When it comes to the all-important question of what to wear in Dubai as a tourist, the answer is simple- wear clothing that is modest, elegant and appropriate for the weather, as it is for the culture.
You might be interested in my guide to the best time to visit Dubai to help you understand the weather and know what to expect.
Women can wear summer dresses, jumpsuits, skirts and tops, jeans, leggings and even shorts, while men would dress like they would anywhere else- so shirts, t-shirts, shorts, trousers, and jeans.
You are also welcome to wear your national dress in Dubai, as long as it is modest- you'll see many nationalities like Indians and others from the subcontinent wearing their national attire such as saris and salwar kameez.
As someone who was born and raised in Dubai, and spent most of my adult life here, I squirm in irritation when I see someone dressed inappropriately in a shopping mall, to the movies, or on the metro. It's easy for me to see, quite plainly and obviously, why a certain attire might be completely wrong in Dubai.
So I decided to write this guide to what to wear in Dubai in the hope that it helps you pack right and know how to dress in Dubai, but also forces you to think about the implications of how you behave as a tourist when you're abroad, and how, a little respect and regards goes a long way to appreciate cultures that might be vastly different from our own.
Check & Get Your UAE Visa Online.
I'm all for cultural exchange and female empowerment, and so are the locals in the UAE. You only have to look to the achievements of the fierce, independent Emirati women here to know that.
And even as the hardcore feminist that I am, I believe that dressing respectfully is a matter of showing regard for the sanctity of local culture in someone else's home.
Do Tourists Have to Wear Traditional Dress?
Dubai is a fashionable, modern, and cosmopolitan city where a majority of the population is made up of expats from all over the world. Tolerance is one of the pillars of Emirati society and culture and no, you do not have to wear the traditional dress. Women don't have to cover their heads with a headscarf in Dubai either.
But What is the UAE Traditional Dress in Dubai?
If you've seen photos, you might already know that the UAE traditional dress of robes for both men and women is beautiful. The black robe for women is called the abaya and the white one for men is called the kandora.
Women's abayas will often have ornate designs and embroidery on them, and modern high-fashion versions will have all kinds of creative motifs on them. The headscarf worn by local women in the UAE is called shayla- it covers the head and shoulders but the face is usually not covered.
Do not confuse a shayla with a burqa (which usually covers the entire face and has a thin mesh layer for the eyes) or a niqab (a veil for the face which leaves the eyes open).
Some women, usually older generation, might wear a niqab or burqa but a vast majority of Emirati women wear a shayla.
The locals wear this dress with pride and not because they're forced to, because they're not. Some Emiratis do not wear the local dress at all times and some do. If you want to try wearing the local dress as a tourist, you're allowed to.
How Fashionable is Dubai?
I've traveled a fair bit and after spending long periods of time in other cities, I can safely say that Dubai is a very fashionable city, like London, Milan, and New York. Dubai loves dressing up and the city's residents love showing off their brands (if they own them) and/or their creativity and individual sense of style.
When it comes to your packing list for Dubai, don't feel like you have to play safe.
Denim Jacket/ Cold-shoulder Top/ Striped Dress/ Sunglasses/ Jeans/ Sleeveless top/ Oxford shoes
Dressing in Dubai, whether it's going to work, or on casual weekends, or going out at night, people are generally well turned out, elegant, or edgy, or smart, or nerdy, or whatever their style is.
Of course, just like in every city, there are people who are more relaxed in their dressing but a majority of Dubai residents make the effort to look good and well put together when they leave home.
How Much Skin is Too Much?
This is where the unspoken rules of dressing right come into play. Now to be honest, I've read similar 'how to dress in Dubai' posts where the authors talk about how it's okay to wear what you want in Dubai because everyone does it anyway.
I strongly disagree and here's why:
When I travel someplace new, whether it's Sweden, Georgia, Italy, Nepal, or Bangladesh, I make the effort to dress to blend in, so that I don't offend the locals and I am a good representative of my culture, as someone who knows how to be respectful.
I don't care if there are other tourists who don't give two hoots about dressing appropriately and even if there are a large number of them, I am not going to be one of them.


In Dubai, how much skin show is okay largely depends on where you're dressing for. Think about if there will be many locals where you're going- the shopping malls, cinema, park, mosque, cultural event, local restaurant, or just expats- beach club party, boozy brunch, and nightclub etc.
If you're going to a place with a mix of both, then dress in a way that is not offensive to the local culture.
Check & Get Your UAE Visa Online.

What Not To Wear in Dubai
For Women
I'll go into details in the following sections of this post but as a general rule, too much cleavage is frowned upon, so avoid plunging necklines.
When it comes to wearing shorts in Dubai, even by tourists, use this as a quick guide- Thigh grazing shorts, booty shorts, hot shorts, and mini-skirts that barely cover the bum, they're not a good choice in Dubai, unless you're wearing them at the beach.
Off-shoulder tops in Dubai are okay in most, not all places. I personally would not wear an off-shoulder top in a crowded souk in old Dubai or Deira, or in a shopping mall (where the AC makes it quite cold)- but I'd be okay wearing it to brunch or a party or to the beach.
Sheer tops and dresses where some or all of your lingerie is visible is also inappropriate.
Of course you can wear leggings in Dubai- at the airport or the gym or to the supermarket or wherever. But transparent leggings with short tops are a real eyesore; no one in Dubai wants to see your polka dotted underwear through your thin leggings, so please, just don't. You can of course wear them with long tops, shirts or dresses that cover your bum.
Avoid super low-waist jeans that bare your bum and more when you sit.
Crop tops are okay if you wear them with high-waisted bottoms, and don't bare your midriff except at beaches or nightclubs. They're not okay in shopping malls.
Leave the Brazilian bikini thongs at home or wear them at hotel pools only.
It's perfectly okay to wear sleeveless or short-sleeved tops and dresses, and it's also okay to wear fitted clothes. Knee-length dresses and shorts that are a bit above the knee are also okay, except in places where there might be a dress code to cover the knees and shoulders. The same is true of off-the-shoulder tops that are in fashion these days.
For Men
Men can wear vests and shorts but keep the short shorts for the beach.
You can wear shorts with smart collared and other t-shirts or shirts elsewhere, as long as you don't look sloppy. Many restaurants, bars, and clubs have a no shorts or sneakers policy for men.
Men absolutely should not be shirtless or bare-chested- that is acceptable only at the beach.
When you're packing outfits for Dubai ask yourself: Is this classy or can this look trashy?
You want to bring it if you can answer Yes to the first question and No Way to the second.
But It's Hot: What To Wear in Dubai in Summer
The need to dress sensibly does not mean you have to cover yourself in yards of fabric, especially in summer when it's hot and not exactly the best time to visit Dubai. Like I said, Dubai is fashionable and you'll find that people here are dressed like they would be in any big city.
From fitted denims, dungarees, skirts, shirts, tops, and dresses, to jumpsuits and shorts, here's how to dress in Dubai.
What To Wear to Public Places in Dubai
By public places I mean the shopping malls, metro, parks, souks and markets, restaurants, cafés, food or other festivals, and cultural events, you get the idea.
Women can wear nice tops, shirts, t-shirts with fitted jeans, or trousers, or knee-length skirts, knee-length, maxi or midi dresses, summer dresses and jumpsuits.
The Dubai dress code for female tourists is about maintaining the rules of modesty that don't make local families uncomfortable in their own home.
Shopping malls in Dubai have a dress code and while some malls enforce these more strictly than others, it's best to dress modestly to avoid being in the situation where a security person has to come to tell you to cover up. Your clothes should be at least till the knee and your shoulders should be covered, so if you're wearing a tank top or racer back, bring a shawl, cardigan or light jacket to cover up.
Plus keep in mind that the malls in Dubai are air-conditioned- so while this may seem peculiar, it is true that it can get very cold indoors even when it's very warm outside- you'd rather be covered up than not!
Skirts in Dubai are okay- but again mind the length of your skirt and think about where in Dubai you're headed.
Mini-skirts are okay in a bar or club or for a brunch or to the beach, but they're not a good choice for the mall or a souk. Maxi or midi-skirts, on the other hand, are okay to be worn in most places.
Generally speaking, summer dresses in Dubai, especially maxis work very well and are great for the weather too.
Jacket/ Floral maxi/ Striped maxi/ Scarf/ Sandals/ Cross-body bag
If you're going to old Dubai or the souks of Deira, expect that you'll be walking around a lot in areas with a South Asian population (Indians, Pakistanis, Bangladeshis etc,) as well as Iranians, Syrians, and others from around the region, some who work in construction or retail in the local markets and souks, away from the glitzy shopping malls and the expat areas of new Dubai.
It's best to dress modestly here- cover your bare shoulders with a light scarf and don't wear something too short to avoid second glances.
Tshirt/ Shorts/ Fitted pant/ Sunglasses/ Shirt/ Shoes
Wearing Shorts in Dubai
The question of can women wear shorts in Dubai is perhaps the most common one. The simple answer is Yes, women can wear shorts in Dubai but that is not recommended everywhere.
While packing shorts for Dubai, bring the most modest pair you own- extremely short shorts are frowned upon, except at the beach.
You should not wear shorts where the dress code explicitly asks that you cover your shoulders and knees (such as shopping malls).
You also should not wear shorts in the more conservative parts of the city such as some parts of old Dubai, Deira and the souks. It is okay to wear shorts in new Dubai areas such as Marina and JBR where mostly expats live.
Can men wear shorts in Dubai? Of course, except where more formal dress codes are enforced- such as some hotel restaurants and bars.
What To Wear in Dubai for Men
This guide has detailed advice for what to wear in Dubai for both men and women in individual sections. But briefly, men must dress appropriately as well while adhering to the dress codes for each place, especially restaurants and bars.
Men can wear shirts, t-shirts, shorts, trousers, and jeans, but should refrain from wearing vests and tanks except at the beach or gym. It's not acceptable for men to be shirtless in public anywhere except at the beach or poolside.
What To Wear to a Mosque in Dubai
Some mosques in Dubai are open to the public for set tours and it should be common sense to dress modestly there. In fact, the only thing you should think about when planning what to wear in a Dubai mosque is dressing appropriately in terms of covering up.
Women should wear pants, trousers, or a maxi skirt or dress and ensure that you're not baring your shoulders, cleavage, back, knees, or midriff. Bring a scarf for your head, though you will most likely be asked to slip an abaya (traditional black robe) on top of what you're wearing and will be given a shayla (head scarf) as well.
Men should wear shirts or t-shirts (with sleeves) and full-length pants or jeans.
Interested in culture in Dubai? Here's a guide for the culture lover.
Culottes (trousers)/ Denim shirt/ Jeans/ Long skirt
What To Wear to the Desert in Dubai
You're most likely going to go on a desert safari in Dubai, and spend an afternoon and evening in the desert. During the day, it gets very hot and sunny and you'll be doing activities like riding on a camel, sandboarding, and riding a quad-bike on dunes.
So pick a desert safari outfit in Dubai, that is light and practical like linen trousers, jeans, or light joggers paired with a casual t-shirt or shirt.
Women should avoid shorts and short dresses, not only because they're uncomfortable to do these activities in but also because the evenings can get quite chilly (so bring a warm jacket or shawl).
Long skirts and dresses are fine if you think you can ride a quad-bike and camels (although I wouldn't).
Moreover, bear in mind that you might be meeting and interacting with local guides on your desert safari- it's best to show up looking like you respect their culture and have been mindful of modesty with respect to your clothing choices.
Scarf/ Baseball cap/ Skinny pants/ Sneakers/ Top/ Backpack
Men can wear shorts or light and comfortable trousers or jeans with a t-shirt or shirt. In winter, be sure to bring a jacket because it gets really cold.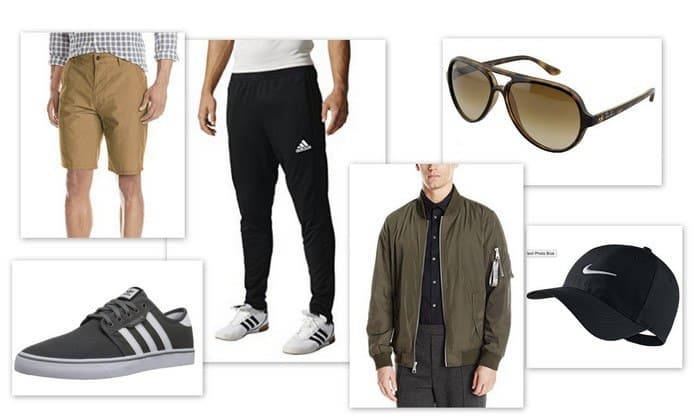 Shorts/ Shoes/ Joggers/ Bomber jacket/ Sunglasses/ Cap
Wear comfortable covered shoes that are practical for activities and don't let the hot sand into your feet. Wear sunglasses and don't forget to put on lots of sunscreen to avoid sunburn.


Like nature and wildlife? Why not visit and stay at the only real wildlife safari in the UAE or visit the hot springs and picnic on a mountain in Jebel Hafeet?
What To Wear to the Beach in Dubai
Beachwear is allowed on public beaches in Dubai- but strictly on the beach only. Women can wear bikinis and swimwear at the beach and pool, but leave your skimpy Brazilian thongs home because they're not appropriate at public beaches.
Flip-flops in Dubai are great but only for the beach. For malls and other places where you'll be walking a lot, wear comfy sandals, shoes, or sneakers.
Coverup/ Crochet swimsuit/ Beach tote/ Strapless swimsuit/ Sunglasses/ Sandals
You're not allowed to wear swimwear anywhere else other than the beach or pool, that means you can't walk on the roads or sit at the beachside cafes and promenades in Dubai in your swimwear. You'll need to cover up with shorts and a tank top, sundress, kaftan, or maxi. So don't forget to pack a cover-up- that is an essential must-have when it comes to Dubai's beach dress code.
If you're going to the beach, don't show up to take the metro there in skimpy shorts and a transparent top thrown over a bikini. The metro is a public place where you should be dressed modestly (see section for public places).
Swim shorts/ Sunglasses/ Tank/ Hat/ Flipflops
If you're looking for general advice and tips for travel to Dubai, you'll find this page useful.
What To Wear to Nice Restaurants and Bars in Dubai
On your Dubai holiday, you're sure to go to classy restaurants and bars with a semi-formal or formal dress code. The key is to dress to look both elegant and trendy.
Women can wear jumpsuits, rompers, dresses, or tops and shirts with pants, jeans, or skirts and shoes (sneakers might not be allowed). Of course, in such restaurants, the majority of which are in international hotels, it's okay if your dress, skirt, or outfit is a little above the knee and your outfit is strappy or has a deep back. But keep it classy and bring a jacket or shawl to cover up while getting there or after you leave.
Jumpsuit/ Dress/ Clutch/ Earring/ Top/ Shoes
For such restaurants and bars, men should pack a few dressy shirts and polo t-shirts, pants, and dark wash jeans (that aren't ripped) along with formal or semi-formal shoes, as many restaurants and bars have a dress code for shoes. Keep your sneakers for the daytime and casual dining venues and bars.
Is There a Burj Khalifa Dress Code?
If you're going up to the observation deck at the Burj Khalifa, the world's tallest skyscraper, then you don't need to worry about a dress code- just dress as you would in public places in Dubai- and you'll probably want to look nice for the photos.
However, a Burj Khalifa Dress Code applies if you're visiting Atmosphere, the restaurant and lounge that is located at the Burj Khalifa. You can see the Burj Khalifa dress code for Atmosphere here in detail- but briefly put, no shorts, t-shirts, caps, trainers, flip-flops and athletic wear.
What To Wear to Nightclubs in Dubai
The nightclubs in Dubai are located inside international hotels and you'd dress just as you would in any other city with an active nightlife.
Ladies, wear covered shoes and know that some fancier places will only let you in if you're wearing heels.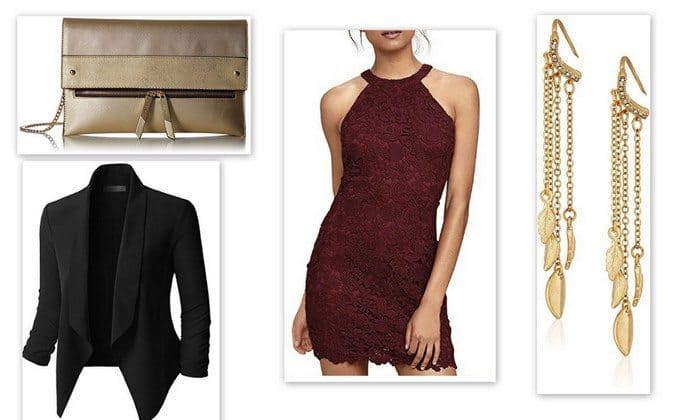 The same is true for men- no shorts or sneakers. Many venues have a strict dress code for shoes- so dress smartly if you plan on going clubbing in Dubai and want to avoid disappointment. Wear dress shoes and full-length trousers.
Beige shirt/ Dress shoes/ Trousers/ Navy shirt
What To Wear to Business Meetings in Dubai
If you're mixing pleasure with business in Dubai and wondering how to dress in Dubai, know that people are always dressed well in business settings.
Men may wear suits and blazers with formal shoes and office wear for ladies in Dubai includes formal dresses, suits, formal tops, and shirts with pencil skirts and trousers.
What to Wear to the Dubai Opera
If it's your first time in Dubai, you should try to watch a show at the Dubai Opera, it's a fantastic experience if you can afford it. While there's no official dress code at the Dubai Opera, I wouldn't exactly show up in jeans or biker shorts and a leather jacket.
I've seen it happen and I think it takes something out of the opera experience.
I recommend dresses, or tops with pants or skirts, with a nice jacket for women and a suit or a shirt and trousers with a nice jacket and bowtie for men. You can also choose to wear an evening gown or tuxedo if you like, there are plenty of very nicely and formally dressed opera-goers at the Dubai Opera.
But if that feels too over the top and if you're packing light, a nice dress for women and a shirt with trousers for men will do just fine.
However, without going into too much detail and to let you decide how formally you want to dress for the opera, here are some outfit suggestions:
Dress/ Clutch/ Shoes/ Black dress/ Earrings/ Jacket
What Accessories Should I Pack for Dubai
For Women
For Men
Pack a cap or hat for sunny afternoons.
You'll also need a smart pair of sunglasses.
Bring a cross-body bag for daytime exploration if you need more space than your wallet.
What Shoes To Wear in Dubai
As a general packing rule, for both men and women, bring a pair of shoes that you can walk around the city and malls in, an athletic pair for the desert, flip-flops or sandals for the beach, and a pair that you can wear to a semi-formal or formal dinner, club, bar, or opera (heels for women and closed shoes that aren't sneakers for men).
What To Wear in Dubai in Ramadan
This is one question I get asked a lot (how to dress in Dubai during Ramadan) and contrary to the popular 'wear what you want' advice that's frequently dished out, I'm going to say just the opposite:
Please don't wear what you want, please do cover up- it shows respect for what is a very holy time for all the Muslims who are fasting in the country.
While I do wear short dresses and skirts while going out to dinner or bars during the rest of the year, I pay special attention to my wardrobe during Ramadan.
Out come the longer maxi and midi dresses, nice tops with trousers and jeans, and the bare shoulders or bare backs are covered up with a blazer or jacket. Plunging necklines and thigh-grazing shorts with crop tops are a faux pas during Ramadan.
Top/ Sandals/ Wide-leg pants/ Maxi dress/ Scarf/ Bag
Bear in mind that going out during the evening in Ramadan means you'll be in the company of iftar (the meal where the fast is broken at sunset) attendees at dining venues or night markets or malls- people who have been fasting and praying through the day before breaking the fast at sunset. So dress modestly (but not sloppily) to be respectful. Here's a guide to Ramadan in Dubai, if you're interested.
It follows then that if you're invited to someone's home for iftar, show up on time and dressed modestly with your shoulders and knees covered. Women can wear a maxi dress with sleeves, or a top or shirt with a long skirt, pants or jeans that aren't ripped. Men can wear a shirt or collared t-shirt with jeans or trousers (no shorts or ripped jeans).
Do You Need Winter Clothes in Dubai?
Winter in Dubai lasts from December to March, but our winter is nothing like what you might be used to back home. Down jackets and parkas and fur coats have no use in Dubai. You can read my guide to the best time to visit Dubai to help you understand the weather.
Our winter is much milder- with temperatures ranging from 17 degrees celsius on colder days to mid-20s on other days. Light sweaters, mid-weight jackets, leather jackets, light shawls, scarves, sweatshirts, hoodies, and cardigans work well in winter in Dubai.
You won't need gloves and hats, unless you're visiting the mountains around the UAE and Oman in winter.
Looking to book a hotel in Dubai? Check out these great options:
Get Your Dubai Visa Online
Looking to book your next trip? Check out the following services I use:
Additional Reading
Where To Stay in Dubai: The Dubai Hotel Accommodation Guide for Every Budget
What to Wear in Dubai: The Ultimate Guide
Best Places to Visit in Dubai for Cheap & Free
Should You Rent a Car on your Dubai Vacation?
13 Countries to Visit From Dubai On Your Holiday
Stay at the Only Wildlife Safari Resort in the UAE
20 Signs I've Been in Dubai Too Long
A Guide to the Holy Month of Ramadan
Dubai Through the Eyes of an Old-Timer
Almost Wonderland at Dubai Miracle Garden

If you're a Dubai resident, I'd love to hear if you'd add something to this list or your own tips on what to wear in Dubai. If you've visited Dubai, I'd love to know if you found it easy to dress right. If you're visiting Dubai soon and have questions on how to dress in Dubai, feel free to ask and I'll do my best to help.
Dubai is an expensive city. If you're visiting on a budget, you might be interested in my guide to the best cheap and free things to do in Dubai.
For a laugh at us Dubai kids, read 20 Signs You've Been in Dubai Too Long.
This post contains affiliate links. If you buy any items using these links, I get a small commission at no extra cost to you. As an Amazon Associate I earn from qualifying purchases.