The city of Al Ain in UAE feels like a calm and refreshing escape from the urban bustle of both Dubai and Abu Dhabi, making it a great weekend getaway, or even an easy day trip from Dubai. It is especially enjoyable when the weather allows for time outdoors, like it does from October to April. Moreover, Al Ain is closer than you think, at just a 90-minute drive from Dubai.
For those of us who grew up in Dubai, Al Ain actually reminds us of what our city looked like before the skyscrapers, flyovers and Bond movie-like bridges. Al Ain roads, flanked by date palm trees, are quieter. There's no crazy traffic rush, and you can see the sky over the lovely (not intrusively towering) houses, villas, and buildings. For anxious drivers like me, Al Ain feels soothing and tranquil.
Another interesting thing about Al Ain is that it is the birthplace of His Highness Sheikh Zayed Bin Sultan Al Nahyan, the country's founding father. He had a deep attachment to the city and took personal initiative in conserving its culture, heritage, and lush green landscape. The city is also home to the Al Ain Oasis — the first UNESCO World Heritage Site in the UAE.
If you're new to the UAE or feel tired of the same old brunch-beach-mall weekends and feel like you need to go to someplace different without splurging on air tickets, — I recommend you to take a short trip to Al Ain.
You might also be interested in my posts about what to wear in Dubai, best romantic hotels in Dubai, and the most interesting Dubai day trips.
Top Things to Do in Al Ain
Visit the Al Ain Oasis
This vacation, head to the Al Ain Oasis and swap the regular sight of towering skyscrapers with tall palm trees. This place consists of the oasis, the Jebel Hafeet Mountain and the Hili Archaeological Park.
The cool and leafy Al Ain Oasis is spread over 1,200 hectares and is home to 147,000 date palms in active farms. The ancient falaj irrigation system of channels is still in use across the oases. This irrigation technique dates back to 1,000BC and is unique to this region. The only other place I've seen it is in Oman, while hiking through the villages in Jabal Akhdar. To get a better insight, you can go to the information center that explains the significance and the features of the oases.
If you're curious about the history of the region, and you should rightly be because so little is known about it, visit the Hili Archaeological Gardens. Here you'll get to see monuments and relics of the Umm an-Nar culture dating back to 2,500 BC, including a fort from the Bronze Age.
Enjoy the Mountain Views at Jebel Hafeet
Located 1,240 meters above sea level, Jebel Hafeet is not only the U.A.E's second highest peak, the road to get there is also one of the most scenic routes in the country. This road trip is very popular with local residents on weekends, especially during the cooler months.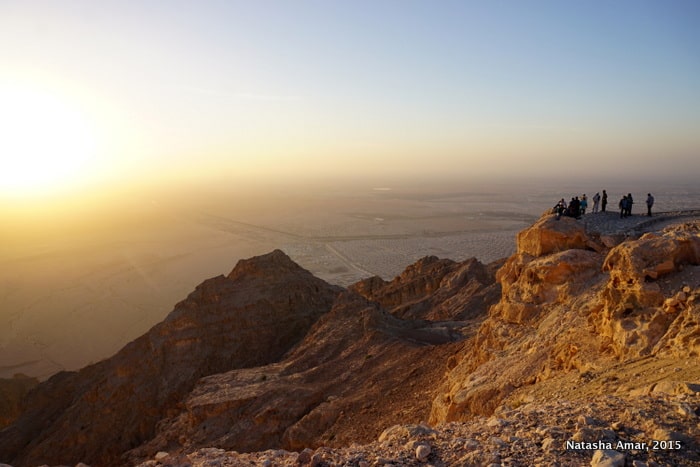 It's a great idea to set up a picnic at the top and enjoy the magnificent views of Al Ain. Ensure that you catch the sunset; watch as the sky turns to rose-gold and melts into blazing orange before night falls. The road to Jebel Hafeet is an easy drive.
Camp or Stay at Green Mubazzarah
If you have more time on your hands, make a quick stop at the base of Jebel Hafeet in Green Mubazzarah, and dip your toes in the hot spring. You can camp overnight at the campground here. If you like the idea of a little more luxury, consider renting one of their affordable chalets.
Wake up to the chirping of birds in the midst of rolling green hills, offering a magnificent view of the mountains! This area has a park, a lake with pedal boats and several barbeque areas. You can also find few small restaurants here. What I like best about Green Mubazzarah is that it doesn't feel too commercial or crowded.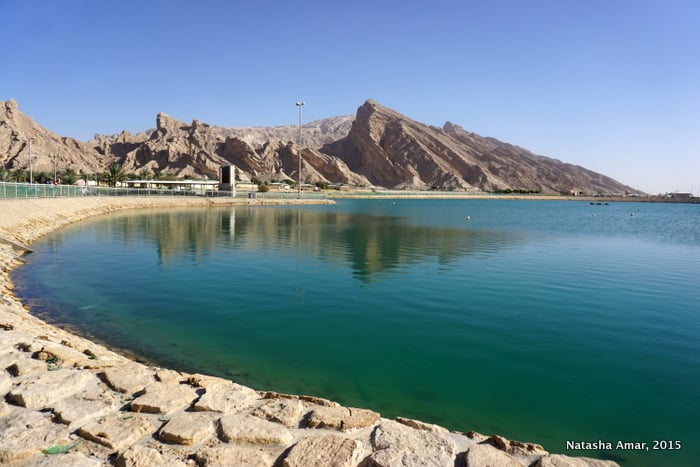 Go Rafting at Wadi Adventure
Craving a bit of thrill in the UAE? Just next to Green Mubazzarah is the adventure park Wadi Adventure. Here, you can test your rafting skills with a few hours of whitewater rafting over rapids in the manmade wadis. The provision of facilities is top-notch with utmost safety, and there are rapids for every level. Many professional teams practice here too.
Delve Into the History
A must-see on your Al Ain itinerary should be the 19th-century Al Jahili Fort — an excellent (and Instagram-worthy) example of traditional mud brick architecture, and one of the most impressive forts in the UAE. The fort with its watchtower was originally a defensive structure for the oasis.
It also served as the summer house of the ruler. You'll find that despite the hot weather the fort feels pleasantly cool when you step in. This is because cold water pipes were inserted in the walls during renovations, in order to constantly maintain a low temperature of about 22 degrees. Today, it has become a site of cultural events and exhibitions. One of these exhibitions is dedicated to British explorer Sir Wilfred Thesiger, who traversed the Empty Quarter in the 1940s.
In the neighborhood, you will find Al Ain National Museum — the oldest museum in the UAE, and Al Ain Palace Museum — the former residence of the late Sheikh Zayed Bin Sultan Al Nahyan. They're both enlightening spots if you're curious to know about the history of Al Ain and the UAE.
Visit the Al Ain Zoo
Personally, I am not a big fan of zoos. However, keeping my personal preferences aside, Al Ain Zoo is considered to be one of the most sought-after zoos. It seems to be especially fun for kids.
It is more like a center for endangered animals, like desert antelopes, white Rhino, and gazelles in a natural setting. Here, you'll also find Arabian Oryx, who are bred in a natural habitat of sand dunes and shaded waterhole. Wear comfortable shoes, carry your hat and bring along a water bottle. Also, expect crowds during the weekends.
Browse the Markets
If you're a visiting tourist in the UAE, want that obligatory camel photo, or want to see one of the last few authentic markets in the UAE, head to the Al Ain Camel Market — the largest livestock market in the country. You can drive or walk around the market, where you'll see camels of all ages and strengths, in camel pens.
If the market is empty, like on a sunny afternoon, don't be surprised to have curious camel herders come up to you with a request to take photos of their camels. What's more is, they might put one arm around you and pose to be photographed too!
Both men and women are expected to dress modestly. Take a bottle of water and carry 10 AED bills for tips. On your way back, visit the Souk Al Bawadi, which stands next to Bawadi Mall. Here you can find souvenirs, carpets and rugs, and other traditional items.
Souk Zafarana is another interesting place for souvenirs like traditional coffee pots and cups, oud, frankincense, saffron, henna, dates, abayas for women, and kanduras for men. Remember, bargaining is the norm here. Always seek permission before photographing merchandise.
Additional Reading
Where To Stay in Dubai: The Dubai Hotel Accommodation Guide for Every Budget
What to Wear in Dubai: The Ultimate Guide
Best Places to Visit in Dubai for Cheap & Free
Chedi Al Bait Sharjah: Tasteful Luxury in a Heritage Setting
How to Spend 48 Hours in Sharjah
Should You Rent a Car on your Dubai Vacation?
13 Countries to Visit From Dubai On Your Holiday
Stay at the Only Wildlife Safari Resort in the UAE
20 Signs I've Been in Dubai Too Long
A Guide to the Holy Month of Ramadan
Dubai Through the Eyes of an Old-Timer
Almost Wonderland at Dubai Miracle Garden
I hope this post gives you interesting reasons to visit Al Ain. If you're looking for things to do in Abu Dhabi, definitely take a day trip to Al Ain.
If you have been to Al Ain or you live there, tell me, would you like to add any other points to this list? By the way, there are plenty of budget hotels in Al Ain, so it's a good idea to stay there over the weekend.
Looking to book a hotel in Dubai? Check out these great options:
Get Your Dubai Visa Online